Wer war/ist

Baby Boy Warren

? - CDs, Vinyl LPs, DVD und mehr
Baby Boy Warren
Detroit entwickelte schnell seine eigene Szene für urwüchsigen Down Home Blues. John Lee Hooker war der Star, aber es gab noch jede Menge Platz, zum Beispiel für Baby Boy Warren, einem sehr guten Gitarristen, dessen faszinierende Diskografie sich über ein ganzes Feld von winzigen Labels erstreckt, die ihm weder viel Promotion noch sonst irgendetwas bieten konnten.
Robert Henry Warren wurde am 13. August 1919 in Lake Providence, Louisiana, geboren, wuchs aber vom Babyalter an in Memphis auf. Ein älterer Bruder verpasste dem Jungen seinen Spitznamen, der sich bis ins Erwachsenenalter hielt. Memphis Minnie war einer seiner frühen Einflüsse, zusammen mit dem lokalen Bluesmann Little Buddy Doyle, mit dem er gelegentlich im W.C. Handy Park spielte. Warren landete 1942 in der Motor City, wo er bei General Motors arbeitete und den Blues spielte, wann und wo er nur konnte.
Der schwere, erdige My Special Friend Blues war 1949 eine Hälfte von Warrens Debüt-78er (auf der er vom Pianisten Charley Mills begleitet wurde). In Detroit aufgenommen, wurden die Titel merkwürdigerweise kurz hintereinander auf drei verschiedenen Labels veröffentlicht. Die ersten beiden, das kurzlebige Prize- und Idessa Malones Staff-Label, waren lokale Firmen. Dann fand die Platte ihren Weg zu Ivin Ballens Gotham-Label in Philadelphia. Staff lizenzierte darauf folgende Warren-Singles an Federal und Swing Time, die ihn beide Johnny Williams nannten. Danach nahm Warren unter eigenem Namen für Sampson, Joe Von Battles J-V-B, Blue Lake (ein Unterlabel der Marke Parrot des Chicagoer Diskjockeys Al Benson) und Drummond auf. Excello veröffentlichte 1962 eine Single von Warren, aber dabei handelte es sich um zwei Master aus dem Jahr 1954.
Nachdem lange nichts von ihm zu sehen und zu hören war, tauchte Warren in den frühen 70er-Jahren wieder auf und spielte auf dem Ann Arbor Blues Festival 1973. Er starb am 1. Juli 1977 an einem Herzanfall.
Bill Dahl
Chicago, Illinois
Electric Blues 1939-2005. - The Definitive Collection!
Weitere Informationen zu Baby Boy Warren auf de.Wikipedia.org
Für die Filterung wurden keine Ergebnisse gefunden!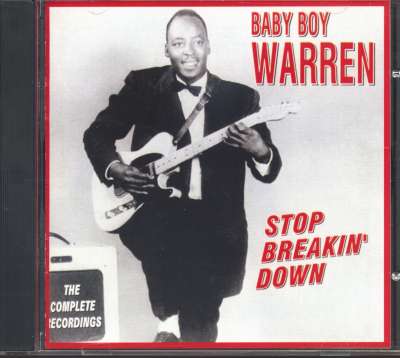 'Baby Boy' Warren: Stop Breakin' Down (CD)
Art-Nr.: CDOFF5901


Dieser Artikel ist gestrichen und kann nicht mehr bestellt werden!
(2001/Official) 22 Tracks - Great guitar-piano Blues from Louisiana born Bluesman 'Baby Boy' Warren! Anthology covering the years 1949-1973! Special Limited Collectors Edition!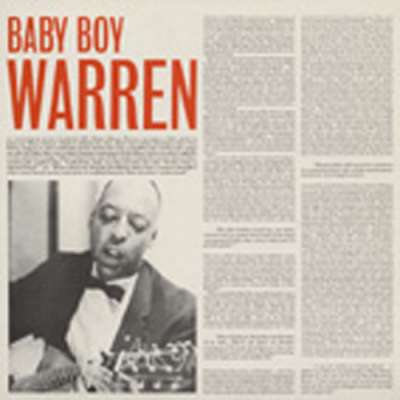 Baby Boy Warren: Baby Boy Warren
Art-Nr.: BBW001


Dieser Artikel ist gestrichen und kann nicht mehr bestellt werden!
(?) (?)