Der Artikel wurde erfolgreich hinzugefügt.
Artikel-Nr.:

BCD16195

Gewicht in Kg.:

0.115
1-CD mit 36-seitigem Booklet, 30 Einzeltitel, Spieldauer 77:45 Minuten. Der blinde Texaner...
mehr
Leon Payne: I Love You Because
1-CD mit 36-seitigem Booklet, 30 Einzeltitel, Spieldauer 77:45 Minuten.
Der blinde Texaner Leon Payne (1917-1969) ist dadurch weltweit bekannt, dass er Klassiker wie I Love You Because, You've Still Got A Place In My Heart und weitere Hits schrieb, darunter zwei Songs, die durch die Hank Williams Versionen in aller Munde sind, They'll Never Take Her Love From Me und Lost Highway. Da er viele Lieder schrieb, wurde die Tatsache verdrängt, dass er auch ein vitaler und vielseitiger Sänger war, der von 1941 bis in die Sechzigerjahre aufnahm. Obwohl er im Südwesten der USA ein bedeutender Künstler war, war er im Rest der Vereinigten Staaten kaum bekannt.
Leon Payne nahm für Capitol, Bluebird, Bullet, Decca, Starday, 'D' und TNT auf. In seiner Capitol-Zeit (1949-1953) erreichte er seinen künstlerischen Höhepunkt und produzierte seine schönsten Titel. In diesem Zeitraum enstanden grosse Hits wie I Love You Because, kleinere Hits wie I'm A Lone Wolf, weniger beachtete und unterbewertete Titel wie I Miss That Gal, If I Could Live My Life Over und Poke Salad Greens. Hier ist das beste der Capitol-Zeit zusammengestellt, neben obigen Titeln I Hate To Leave You, A Link In The Chain Of Broken Hearts, Mailman und Weeping Willow sowie diverse unveröffentlichte Stücke, insgesamt 30 Lieder.
Artikeleigenschaften von

Leon Payne: I Love You Because
Albumtitel:

I Love You Because

Genre

Country

Preiscode

AH

Artikelart

CD

EAN:

4000127161956

Gewicht in Kg:

0.115
Payne, Leon - I Love You Because

CD 1
01
I Love You Because
02
I Miss That Gal
03
Poke Salad Greens
04
A Link In The Chain Of Broken Hearts
05
I Hate To Leave You
06
Find Them, Fool Them, And Leave Them
07
You've Still Got A Place In My Heart
08
I'm A Lone Wolf
09
If I Could Only Live My Life Over
10
How Can I Help It
11
Mail Man
12
Lolita
13
Did I Forget To Tell You
14
Sister Sue Polka
15
I Just Said Goodbye To My Dreams
16
It's Many A Mile Back Home
17
I Don't Know Why
18
Weeping Willow
19
Lonely And Blue Over Someone
20
Restless Heart
21
Lyin' To My Heart
22
Fatal Letter
23
I Want You To Love Me
24
I Couldn't Do A Thing Without You
25
Farewell Waltz
26
Wouldn't It Be Wonderful
27
Teach Me To Forget
28
By Your Side
29
Empty Dreams
30
Golden Harvest
LEON PAYNE Summer 1949, Houston, Texas. Lee Gillette, head of Capitol Records'...
mehr
"Leon Payne"
LEON PAYNE
Summer 1949, Houston, Texas. Lee Gillette, head of Capitol Records' country music division, arrives in Texas to cut a few field sessions with Texas-based artists. From Dallas, where he waxes sides by rising star Hank Thompson and by the cross-eyed harmonica-playing singer Aubrey Gass, he heads southeast to Houston to record hot new signee Leon Payne, late of the independent Bullet label. Gillette is joined in Houston by the veteran songwriter, producer and publisher Fred Rose of Nashville's burgeoning Acuff-Rose publishing company. Payne is a top songwriting prospect and Rose wants to be there to insure that his songs are cut right, not sacrificed to bad production or a flashy band. Neither he nor Gillette like what they hear, however.
Payne's recent records for Bullet had been straightforward hillbilly records, with simple, raw backings dominated by Billy Turner's Bashful Brother Oswald-inspired steel and Red Hayes' mournful fiddle. But for his first Capitol session, Payne has ambitiously augmented his usual four-piece backing group -- itself a far more sophisticated group than that heard on Bullet -- with two fiddlers, bringing the total to three, and a backing female vocal trio. It is not what Gillette nor Rose had in mind. Smooth western swing and swing-influenced country was still in vogue to a certain extent in Houston in 1949 and especially on the West Coast, but its popularity was fading fast nationally, on record if not yet in the dance halls. Gillette and Rose were looking for a more streamlined, hillbilly style, like another of Rose's rising stars Hank Williams, who'd recently scored with Payne's song Lost Highway on MGM

Gillette and Rose send the vocal trio and the extra fiddlers home and tell Payne and his band to keep it simple, to go with what brought Payne to this point in the first place: the sound he had on his Bullet hits like Lifetime To Regret. By the end of the year, Payne's love ballad to his wife Myrtie, I Love You Because, is atop the country charts on its way to becoming an all-time standard, and Leon Payne looks poised to become one of country music's top stars.
* * * *
Although he had firmly established his reputation as one of the best songwriters working in country music, Leon Payne was unlikely star material when he inked his major label contract with Capitol. Blind from very early in life, with a quirky voice that had mellowed and matured considerably over the years -- it had once been almost femininely high-pitched and often unsure --Payne had been kicking around the music business since the middle 1930s and had first recorded in 1941, though only recently with any success.
He could write songs, however. By the dozens. And he had a knack both for straightforward but beautiful melodies and deeply affecting, often very witty lyrics. He had the musical background and sensibilities to write pop songs and could do exactly that when the mood struck him. Though he was something of a teller of tall tales in life, he had no pretensions when it came to music. For every jaunty pop song he wrote like Sister Sue Polka or Jitterbug Jive, there were rawly emotional and unashamedly simple country songs like Lost Highway or Lifetime To Regret. His best songs may be those that combined directness and sincerity with lyrical and musical sophistication, an approach epitomized by I Love You Because.
Unfortunately, in a purely commercial sense, at least, Payne never followed through on the promise of I Love You Because. He continued to write hundreds of songs, both excellent and indifferent, and recorded prolifically into the 1960s. He remained something of a star, too, albeit mostly on a regional level. His recordings were, with few exceptions, consistently strong to the end and he deserves a major reissue. This set is a start, and many of his early, important Bullet sides, including Lifetime To Regret, Lost Highway, and They'll Never Take Her Love From Me are available in Bear Family's box set devoted to various Nashville-based independent labels (BCD 15854). Bear Family here collects the cream of Payne's Capitol years (1949-53), including not only classic ballads like I Love You Because, but jaunty blues like I Miss That Gal and Mailman, and novelties like the jumping Poke Salad Greens or the leering and topical I'm A Lone Wolf, plus several previously unissued tracks.
Leon Payne I Love You Because
Read more at: https://www.bear-family.com/payne-leon-i-love-you-because.html
Copyright © Bear Family Records
Bewertungen lesen, schreiben und diskutieren...
mehr
Kundenbewertungen für "I Love You Because"
Bewertung schreiben
Bewertungen werden nach Überprüfung freigeschaltet.
Weitere Artikel von Leon Payne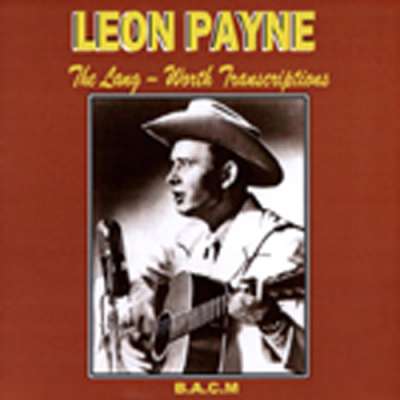 Leon Payne: The Lang-Worth Transcriptions
Art-Nr.: CDD295


Sofort versandfertig, Lieferzeit** 1-3 Werktage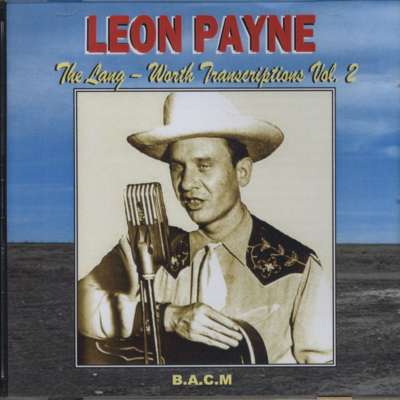 Leon Payne: The Lang-Worth Transcriptions Vol.2
Art-Nr.: CDD355


Sofort versandfertig, Lieferzeit** 1-3 Werktage