Der Artikel wurde erfolgreich hinzugefügt.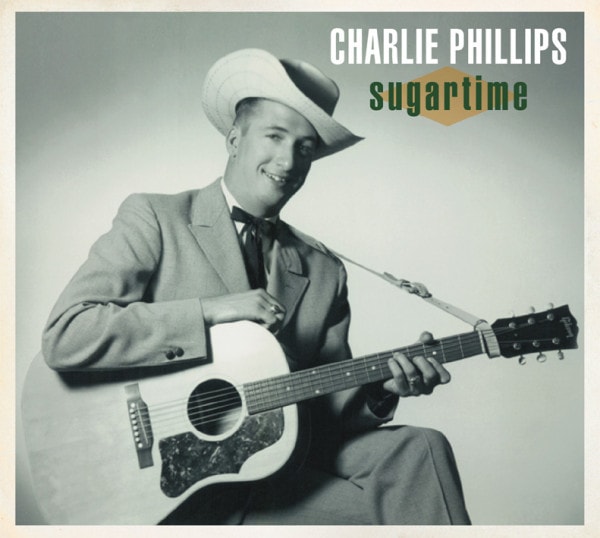 15,95 € *
16,95 € *
(5,9% gespart)
inkl. MwSt. / zzgl. Versandkosten
Sofort versandfertig, Lieferzeit** 1-3 Werktage
1-CD-Album Digipak (4-seitig) mit 72-seitigem Booklet, 35 Einzeltitel. Spieldauer ca. 86 Minuten....
mehr
Charlie Phillips: Sugartime
1-CD-Album Digipak (4-seitig) mit 72-seitigem Booklet, 35 Einzeltitel. Spieldauer ca. 86 Minuten.

Sein Song Sugartime ist einer der meistgecoverten und bestverkauften Titel des 20. Jahrhunderts. Charlie Phillips zählt eher zu den Unbekannten der Tex-Mex-Musikgeschichte, er war ein Zeitgenosse von Buddy Holly. Alle Charlie-Phillips-Originalsongs bis 1967, dazu die besten Lieder späterer Jahre und neun zuvor unveröffentlichte Titel! Charlie Phillips wird begleitet von Buddy Holly, Jerry Allison,
Glen Campbell, Al Casey und den besten Sessionmusikern aus Nashville. Im Booklet gibt es viele nie gezeigte Fotos.

Mit seiner Vier-Oktaven-Stimme gehört Charlie Phillips zu den gefühlvollsten und vielseitigsten Sängern, die jemals aus West-Texas kamen. Gleich bei seiner ersten Profi-Session (mit Buddy Holly an der Gitarre) entstand Sugartime - einer der meistgecoverten Songs des 20. Jahrhunderts. Der Folgetitel Be My Bride erschien erstmals auf der CD 'That'll Flat Git It, Vol. 9' (Bear Family, BCD 15971) - es ist der einzige Titel auf dieser Kopplung, der bislang in Europa erschienen ist; so selten ist das hier angebotene Material!

Bonus-Songs? Bitte schön: Wir haben die zuvor unveröffentlichten Original-Demos von Sugartime (1956) und vom Rockabilly-Klassiker Faker (1958). Außerdem gibt es das Studio-Master von You're My LSD, das fast zu gut ist, um wahr zu sein. Und wir bieten ein Konzert-Medley mit Whole Lotta Shakin / Johnny Be Goode /The Twist / Rock Around The Clock / Sugartime: Hier wird Charlie Phillips von Mitgliedern der Texas Playboys begleitet - eine bisher völlig unbekannte Seite des Künstlers.

Charlie Phillips hat für die ausführliche Booklet-Biographie mit John Ingman zusammengearbeitet. Sie passt bestens zu der anderer Kollegen aus West-Texas, die Bear Family im Angebot hat:
The Crickets (BCD 15599), Buddy Knox & Jimmy Bowen (BCD 16872), Terry Noland (BCD 15428) und Roy Orbison (BCD 15407, 15461, 15916 & 16423)
Video von Charlie Phillips - Sugartime
Artikeleigenschaften von

Charlie Phillips: Sugartime
Albumtitel:

Sugartime

Genre

Country

Preiscode

AR

Edition 2

Deluxe Edition

Artikelart

CD

EAN:

4000127168405

Gewicht in Kg:

0.2
Phillips, Charlie - Sugartime

CD 1
01
I'm Trapped
02
The Bridge I Can't Burn
03
Souvenirs Of Sorrow
04
Be Careful, Go Easy, Walk Slow
05
Sugartime
06
Be My Bride
07
Too Many Tears
08
Faker
09
One Faded Rose
10
No More Sugartime
11
Welcome To The Wedding
12
Guess I'll Never Learn
13
Now That It's Over
14
No One To Love
15
'Till Sunday
16
Cancel The Call
17
You're Moving Away
18
Later Tonight
19
This Is The House
20
Please Help Me Believe
21
The Streets Of Loneliness
22
Big Ball 's In Cowtown
23
Rainbow In The Valley
24
Twenty Fools Ago
25
Blue Blue Bottle
26
Who Are You
27
I Walk Alone Tomorrow
28
Hurry Up Sundown
29
IÆm Giving Her Love
30
I'll Take What's Left Of You
31
Listen (Could It Be Her)
32
Phoney Angel
33
You're My LSD
34
R&R Medley
35
Sugartime (demo)
Charlie Phillips Sugartime is an irresistibly catchy tune which deservedly became one...
mehr
"Charlie Phillips"
Charlie Phillips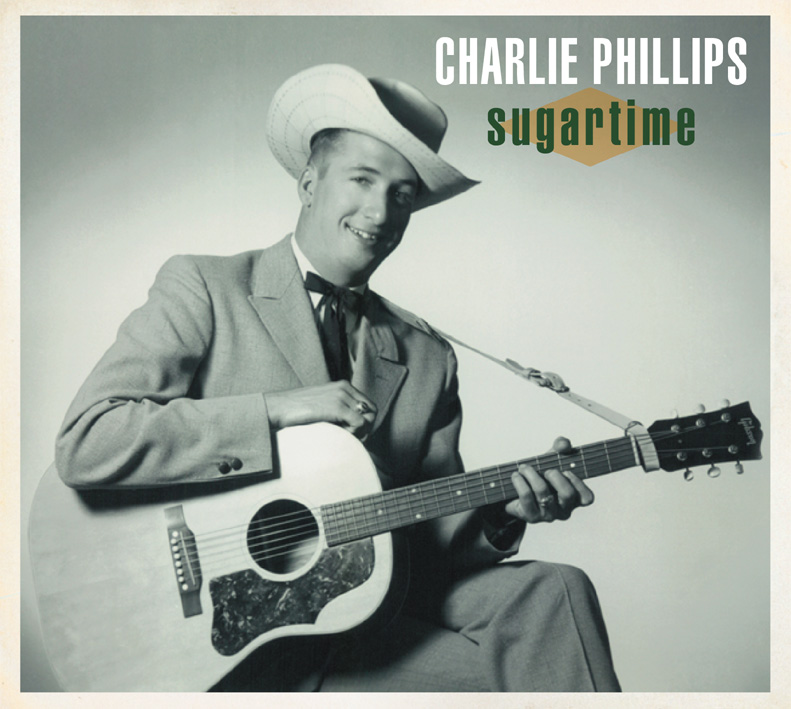 Sugartime is an irresistibly catchy tune which deservedly became one of the biggest hits of the 1950s; spawning many cover versions that have been used as the basis of countless radio and TV commercials. Composer royalties have allowed Charlie Phillips a more comfortable lifestyle than he could have imagined whilst feeding cows on the family farm. He has been honoured as Radio WSM's 'Mr DJ USA', appeared at most of the top country venues including the Grand Ole Opry, Louisiana Hayride, Big D Jamboree, Red Foley's Ozark Jubilee on ABC-TV, Town Hall Party, and Las Vegas nightclubs. He's worked in all facets of radio work and as a concert booker and promoter. Along the way, he has handled just about every country star of the latter half of the 20th century. In October 2004 he was inducted into the Western Swing Hall of Fame.
Charlie retains a warm, rich four octave range combining a pronounced West Texas drawl with a smooth vocal delivery that makes him one of the very best singers from the Texas Panhandle. After starting his career in Norman Petty's studio (with Buddy Holly as a sideman) he had one session in New York and then signed to Columbia for whom he cut a mixture of dramatic ballads and gentle mid-tempo items with typically big Nashville productions of the era. After this, Charlie recorded for Longhorn and Reprise followed by sessions for several smaller labels. In retrospect he was one of the most overlooked and under-rated country artists of the 1960s. This package includes all his material issued up to the end of 1967 and a selection of other recordings; many of which are previously unissued.
Charlie was born in Clovis Hospital on July 2 1937; the youngest of five children born to Albert Frank and Catherine Louella Phillips (known as Frank & Kate, respectively). Frank was born in Mount Ida, which is in the Quachita National Park, Arkansas – about 70 miles west of Little Rock. He served in the last stages of World War I and on returning to civilian life became a sharecropper close to Seymour, in Baylor County, Texas. About 1920 he bought land in Parmer County, close to Farwell. Although in Texas, the Phillips' land was only eight miles from Clovis, New Mexico. The family prospered to the point that they eventually owned some 3000 acres; growing cotton, wheat, corn and Sudan grass. Naturally Charlie grew up on the farm but says he made more money from breeding and selling pedigree dogs than from selling pigs and cows. It's a hobby he retains and he currently owns six Australian Silky Terriers. Frank had been in a musical quartet in his youth and was always singing around the house and farm. He encouraged his family to take up music but Charlie was the only one to do so professionally. Sadly, Frank died in a traffic accident in 1949 but Kate took over the farm and continued to increase its size
By the age of three, Charlie was standing on the kitchen table singing to family and friends but the real encouragement came from Mrs. Erma Jobes, the music teacher at Farwell Junior High School. She organised a quartet around Charlie. The boys played assemblies and sometimes performed at other schools in the area doing comedy skits and short plays as well as singing. It was to be valuable experience for his professional career.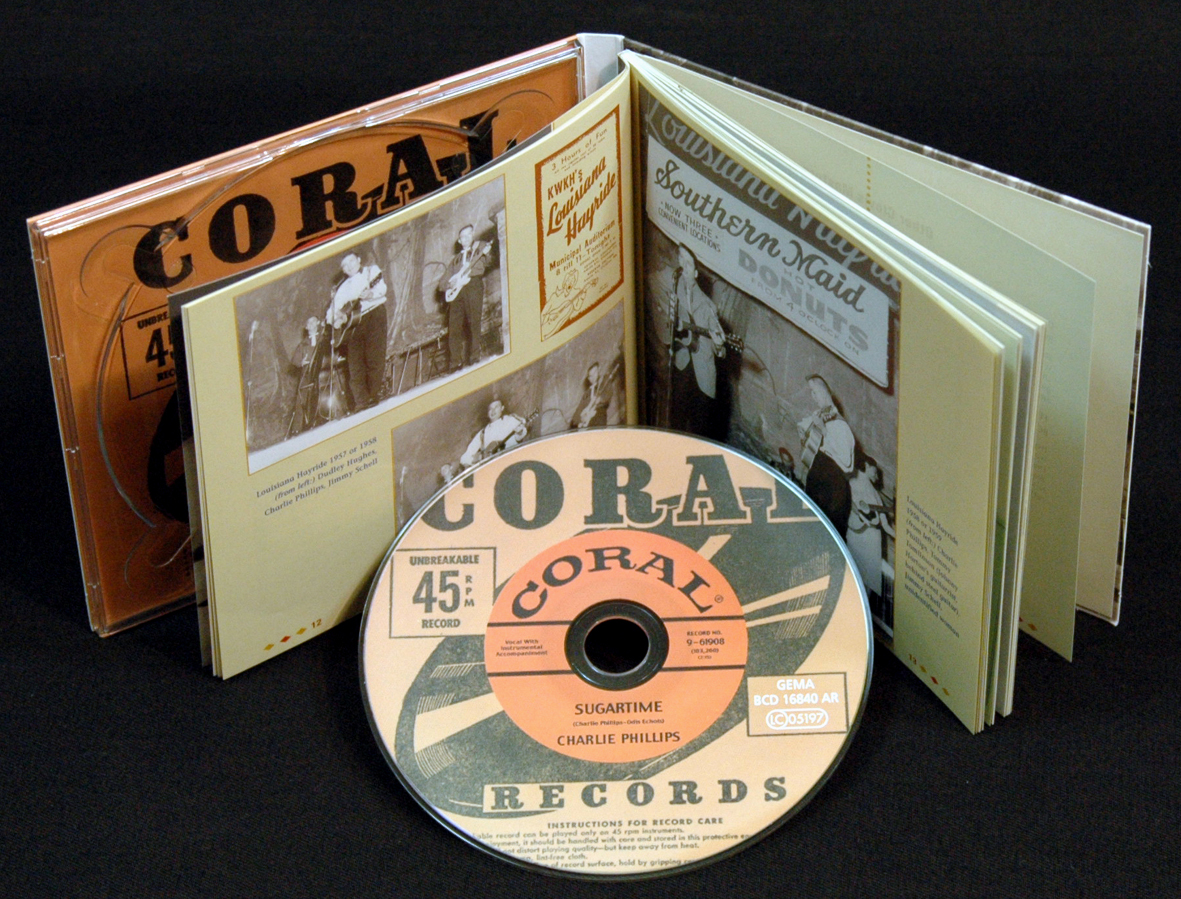 Outside school, Charlie started performing with Jackson Toombs but quickly formed the Countryside Boys with his cousin James Norton and Jimmy Schell, the son of a local farmer. They performed titles such as Almost and Too Old To Cut The Mustard and were soon cutting acetates at Norman Petty's home (before the famous studio existed) and at Bob Tucker's garage studio, both in Clovis. Petty was already a radio personality so Charlie was very familiar with him. The platters included Release Me, Bully Of The Town, Swanee River and Skater's Waltz. Two later songs were to become important for his professional career: Big Ball's In Cowtown and Rainbow In the Valley. Big Ball is an age-old tune but the inspirational cut was by Hoyle Nix & His West Texas Cowboys released on the Dallas based Talent label (709) early in 1949. Rainbow is a Mac Wiseman track from early 1953.
The most significant move was to cut Put Your Arms Around Me (a Tennessee Ernie Ford song) and Courtin' In The Rain (T Texas Tyler). He took the acetate to Jimmy Self, who was already the top DJ in the area with an afternoon show on Clovis Radio KICA. Charlie recalls: "I was delighted when Jimmy started playing 'Put Your Arms Around Me' on his show and he even listed it on his charts for a few weeks. At that time local charts meant whatever the compiler wanted it to mean but it was fantastic to hear my music on air. It was Jimmy who encouraged me to start writing my own material, pointing out that you can't make a living out of cover versions. Thanks partly to this experience I was playing in nightclubs long before I was 16. If you were big enough and walked into clubs confidently then no one asked questions." Sadly, the acetate disappeared many years ago.
Jimmy Self was born in Amarillo and worked as a DJ, singer, drummer, and concert promoter. After one long tour as a drummer for Hank Thompson's Brazos Valley Boys, he settled in Clovis to work for KCLV about 1953 and remained in the area for the rest of his life, apart from a stint drumming for Merl Lindsay's Oklahoma Night Riders. He later worked for Radio KICA, Clovis and KENM, Portales before buying KZOL, Farwell. He sold this station to become manager of Norman Petty's KTQM-FM and KWKA-AM; a job which had previously been rejected by Charlie!
Charlie Phillips Sugartime
Read more at: https://www.bear-family.com/phillips-charlie-sugartime.html
Copyright © Bear Family Records
Bewertungen lesen, schreiben und diskutieren...
mehr
Kundenbewertungen für "Sugartime"
Bewertung schreiben
Bewertungen werden nach Überprüfung freigeschaltet.
Weitere Artikel von Charlie Phillips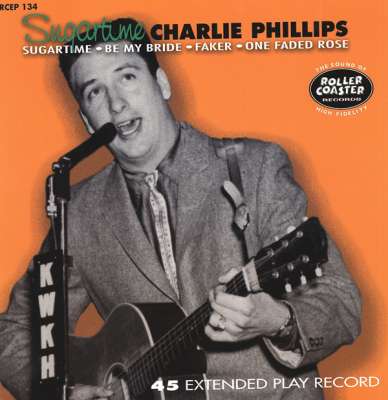 Charlie Phillips: Sugartime 7inch, 45rpm, EP, PS
Art-Nr.: RCEP134


Sofort versandfertig, Lieferzeit** 1-3 Werktage