Der Artikel wurde erfolgreich hinzugefügt.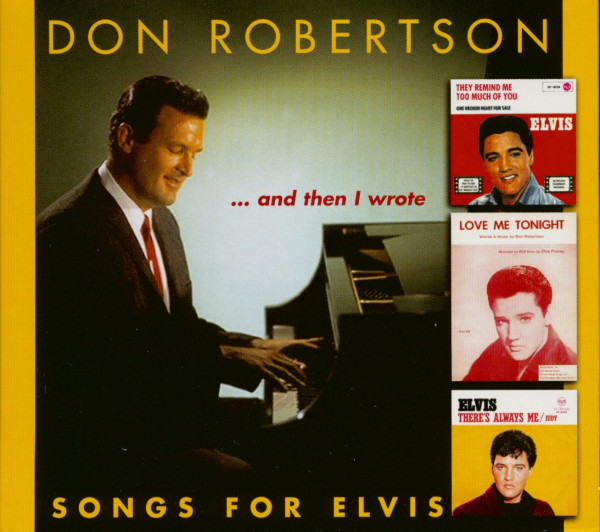 14,95 € *
16,95 € *
(11,8% gespart)
inkl. MwSt. / zzgl. Versandkosten - Abhängig vom Lieferland kann die MwSt. an der Kasse variieren.
Sofort versandfertig, Lieferzeit** 1-3 Werktage
Artikel-Nr.:

BCD16654

Gewicht in Kg.:

0.2
1-CD DigiPac (6-seitig) mit 36-seitigem Booklet, 26 Einzeltitel, Spieldauer 60:35 Minuten....
mehr
Don Robertson: And Then I Wrote - Songs For Elvis (CD)
1-CD DigiPac (6-seitig) mit 36-seitigem Booklet, 26 Einzeltitel, Spieldauer 60:35 Minuten.
Hier kommt ein rarer Leckerbissen für alle
Elvis Presley
-Fans und –Sammler! Nein, nicht schon wieder endlos recycelte Outtakes – dies hier sind die Original-Demos, die
Elvis
für einige seiner besten und berühmtesten Songs als Vorlage erhielt! Und alle werden sie vom Komponisten höchstpersönlich interpretiert:
Don Robertson
. Zu den
Elvis
-Klassikern, die hier in ihren Originalversionen zu hören sind, gehören
They Remind Too Much Of You; Anything That's Part Of You; Starting Today; There's Always Me; Love Me Tonight; I Met Her Today; What Now, What Next, Where To
und
I'm Counting On You
.
Don Robertson
hat aber nicht nur für
Elvis
komponiert,
Don Robertson
ist auch der 'Erfinder' der sogenannten 'Slip-Note-Piano-Technik', die dann
Floyd Cramer
populär gemacht hat – in vielen Liedern der vorliegenden Titel-Kollektion wird dieser einmalige Stil hier präsentiert.
Dies ist also mal ganz was anderes im Zusammenhang mit Elvis Presley – und zudem etwas ganz Außergewöhnliches und Besonderes. Elvis-Anhänger und alle, die ein Ohr haben für die wahre Kunst, populäre Songs zu schreiben, werden über diese Zusammenstellung jubeln!
Video von Don Robertson - And Then I Wrote - Songs For Elvis (CD)
Artikeleigenschaften von

Don Robertson: And Then I Wrote - Songs For Elvis (CD)
Albumtitel:

And Then I Wrote - Songs For Elvis (CD)

Genre

Rock'n'Roll

Preiscode

AR

Edition 2

Deluxe Edition

Artikelart

CD

EAN:

4000127166548

Gewicht in Kg:

0.2
Don Robertson F ew events seem less likely than the meeting of these two men: Donald Irwin...
mehr
"Don Robertson"
Don Robertson
F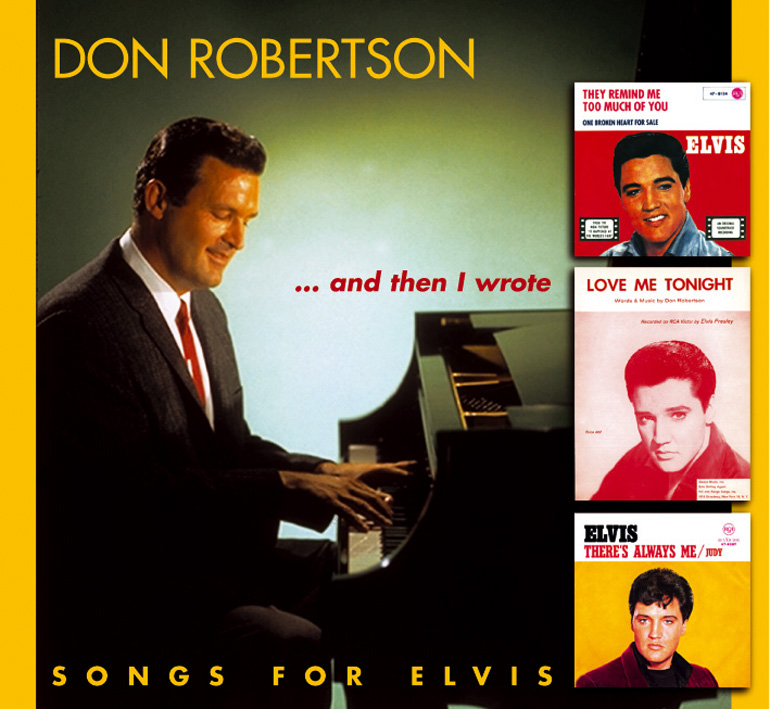 ew events seem less likely than the meeting of these two men: Donald Irwin Robertson, born in Peking, China, on December 5, 1922, and Elvis Aaron Presley, born in Tupelo, Mississippi, on January 8, 1935.
The distance between them was even greater than that suggested by their age and the distance between their birthplaces. One was the son of a renowned physician – the head of the Department of Medicine at Peking Union Medical College; the other grew up in a two-room shack, while his father served two years at Mississippi's notorious jail, Parchman Farm. What brought them together was music. Eventually they became friends. This seems remarkable enough, but what's really stunning is that Don Robertson actually helped to mold Elvis Presley's ballad style. The 'King' recorded fourteen of Don Robertson's songs, starting with I'm Counting On You at his first RCA recording session in January 1956, and ending with I Really Don't Want To Know in 1970 
When I'm Counting On You was released, Don had already made himself a name as songwriter and artist. Though he was gifted, he had worked hard and long at his career. It was his mother Ruth who taught him the piano, while the family lived in China: "My mother was a good amateur pianist and poet and playwright. We had an upright piano in the house in Peking." She noticed him picking out tunes on the piano before he was four. When they returned to Chicago in 1927, she started him with a teacher. "I began making up songs with words and music at about age seven, began writing poetry around this time, too and continue to this day. As a child, I wanted to be a concert pianist. I was also a boy soprano in a church choir."  His early piano training was classical. In his high school days, he turned to jazz and pop.
The summers of Don Robertson's childhood were spent at Birchwood Beach, near Harbert, Michigan, where the Robertson family became good friends with the poet and folk historian Carl Sandburg and his family. Robertson remembers: "At the time when I used to visit the Sandburg home, he was working on a collection of folk songs which later was published in a book called 'The American Song Bag'. Carl often played guitar and sang. One time he showed me a few chords for me to play on my $6 Sears & Roebuck guitar. My parents didn't think much of cowboy songs but they admired Sandburg, and Sandburg loved those songs. That was inspiring to me."  Before the age of ten, Don had picked up guitar on his own and learned to sing and play cowboy and folk songs.
His professional life as a pianist began at age fourteen when he played school dances, and later worked in clubs. It was expected that Don and his two brothers would become physicians like their father who, incidentally, is credited with having founded the world's first blood bank during World War I. Both of Don's brothers fulfilled the family prophecy, but Don dropped out of university in his fourth year. He was more attracted to the Chicago Musical College where he studied piano, orchestration and composition. His biography on the Nashville Songwriters Association's Hall of Fame website mentions as former occupations: pre-med student, delivery boy, photo copy service, and electronics lab assistant. If you were a Robertson this made you the black sheep of the family.
 Radio listeners in the greater Chicago area were the first to hear Don Robertson's arrangements. This was in the early 1940s, when Don got a job on a radio show called 'Say It With Music' at WGN. The first act he arranged for was a girl trio, the Brandt Sisters, accompanied by piano and organ. This led to an engagement as an arranger and accompanist for the Dinning Sisters, a prominent Chicago girl trio consisting of identical twins, Ginger and Jean, and their older sister Lou. "I was intrigued by their voicing. It was all new to me and terribly exciting. They also introduced me to a whole repertoire of country songs I had not heard before. I fell hopelessly in love with what we now call traditional country music."  Don toured with the Dinnings to various cities, including New York and Los Angeles, and worked with them at Columbia Pictures, as well as at Disney Studios and Capitol Records, and on radio shows such as the Bing Crosby Show. He not only fell in love with country music; he fell in love with, and married, Lou Dinning. 
In 1945, Don moved to Los Angeles, earning a little money making demos with his wife, Lou, for songwriters and publishers, as well as playing six nights a week in a local nightclub. His first steady day job was rehearsing artists at Capitol Records, including such well known singers as Frank Sinatra and Dean Martin, but his first recording contract was with London Records. Don's early records set a pattern which he maintained throughout the 1950s: he played piano and Lou Dinning sang, while he would often sing harmony parts, as he did for example on On The Hudson Day Line (London 16008). The flip side, Gamblin' Fever, gave him a chance to sing some parts alternating with Lou, in a western swing style reminiscent of Bob Wills.
Don Robertson ...And Then I Wrote - Songs For Elvis
Read more at: https://www.bear-family.com/robertson-don-...and-then-i-wrote-songs-for-elvis.html
Copyright © Bear Family Records
Bewertungen lesen, schreiben und diskutieren...
mehr
Kundenbewertungen für "And Then I Wrote - Songs For Elvis (CD)"
Bewertung schreiben
Bewertungen werden nach Überprüfung freigeschaltet.
Weitere Artikel von Don Robertson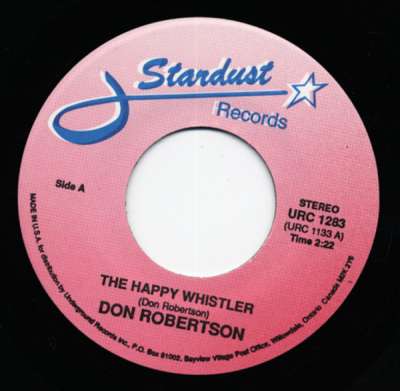 Don Robertson & Chris Barber's Jazz Band: The Happy Whistler b-w Petite Fleur 7inch, 45rpm
Art-Nr.: 45URC1283


Artikel muss bestellt werden