Der Artikel wurde erfolgreich hinzugefügt.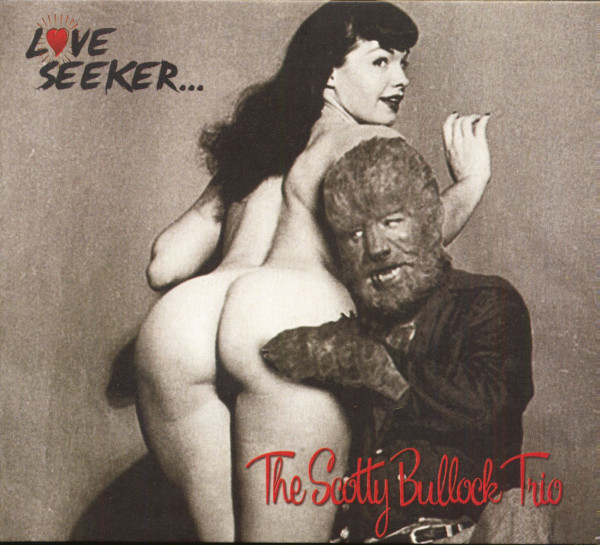 Artikel-Nr.:

CDMRR110

Gewicht in Kg.:

0.065
(My Redemption Records) 14 Tracks - Eine Kapelle unter dem Einfluss musikalischer...
mehr
The Scotty Bullock Trio: Love Seeker... (CD)
(My Redemption Records) 14 Tracks -

Eine Kapelle unter dem Einfluss musikalischer »Betäubungsmittel« wie Beat, Surf, Rockabilly, Country & Western, Rock sowie einer kleinen Prise Punk machte sich Anfang 2015 auf den Weg, um gemeinsam diese altbekannten Elemente zu einer höchst würzigen Mischung zu verarbeiten, die es in sich hat. Garantiert frei von elektronischen Zusätzen. Nach dem altbewährten Motto ›Less is sometimes more‹ und musikalische Berührungsängste verachtend, steigt das Scotty Bullock Trio auf die Bretter, die die Welt bedeuten und treibt das Publikum mit wachsender Begeisterung in die Paranoia.

»Der flotte Dreier« serviert den Hörern ohne Umwege Sounds aus einer Zeit, als die noch gar nicht erfundene Rockmusik in den Startrampen stand, und kaum zu halten war, um hoch hinaus in die Stratosphäre des Wahnsinns zu starten. Mit ihrem Debütalbum »Love Seeker« prescht dieses Trio Infernale nun mit Vollgas durch die oft von Einheitsbrei geprägte Musiklandschaft, um sich genau davon abzusetzen. 13 packende Songs geladen mit hochoktanigem Beat erzählen was die drei Jungs so beschäftigt. Bandleader, Sänger und Gitarrist Scotty Bullock beherrscht nicht nur den »Twang«, auch das Songwriting geht bei den meisten Titeln auf ihn zurück. So ist »Memphis Trucker« eine Hommage an den bekanntesten und wohl auch größten Rock'n'Roll Performer aller Zeiten, dessen Todestag sich am 16. August zum 40.tenmal jährt, den die Band als ihren »Schutzpatron« bezeichnet und dessen Gitarrist auch Scotty hieß. Felix Wenz (Vocals/ Pro & Contrabass) und Harry Weber (Vocals / Drums) ergänzen Scotty perfekt zum Trio und performen live und im Studio auch mehrere Juwelen der Rock'n'Roll Geschichte, von Link Wray, Jerry Reed bis zu »His Bobness« Dylan.

Zum hookigen »Hipster!« wurde ein stylischer Video-Clip gedreht, die Remix-Version beschließt als Bonus-Track dieses Album. Auf ein Wort zum Cover: dem eigentlich längst antiquierten, aber im Zuge des nicht endenden »Vintage &Old School«-Booms wieder hip gewordenen Wolfman ist die Rolle des »Love Seekers« wie auf den pelzigen Leib geschrieben. Bettie Page, die Grand Madame und Pinup-Ikone der Rockin60ies tut ihr Übriges. Man kann sich kaum vorstellen, was solche Bilder in einer noch prüden Zeit auslösten, als die Jugend mit dem Rock 'n'Roll ein Werkzeug erhielt, um sich endgültig von angestaubten Ansichten und dem weit verbreiteten »Das tut man doch nicht!« zu befreien. Und auch heutzutage teilen sich immer noch die Meinungen des »seriösen Volkes« beim Anblick eines nackten Frauenhinterns. Love Seeker... isn't everybody seekin for love somehow?
Artikeleigenschaften von

The Scotty Bullock Trio: Love Seeker... (CD)
Albumtitel:

Love Seeker... (CD)

Genre

Rock'n'Roll

Artikelart

CD

EAN:

4059251145745

Gewicht in Kg:

0.065
Scotty Bullock Trio, The - Love Seeker... (CD)

CD 1
01
Love Seeker
02
White Lies And Barflies
03
Hipster!
04
Guitar Man
05
Jack The Ripper
06
This Is The Life
07
Untrue
08
Wagon Wheel
09
The Road
10
'49 Mercury Hell
11
Miss Anna
12
Memphis Trucker
13
40 Miles To Vegas
14
Hipster! (Radio Edit)
Bewertungen lesen, schreiben und diskutieren...
mehr
Kundenbewertungen für "Love Seeker... (CD)"
Bewertung schreiben
Bewertungen werden nach Überprüfung freigeschaltet.