Der Artikel wurde erfolgreich hinzugefügt.
Neil Sedaka
The Complete - 1956-1966 (8-CD Deluxe Box Set)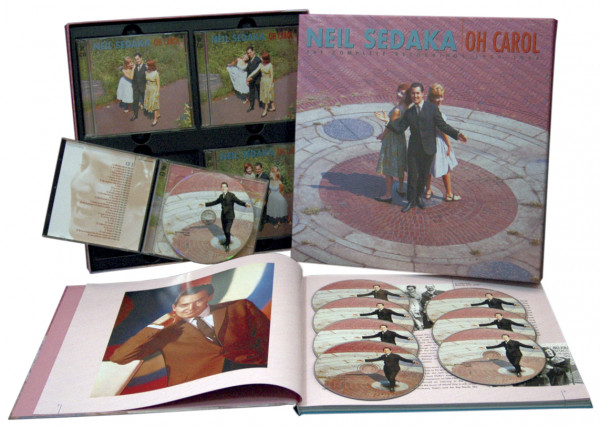 Dieser Artikel ist gestrichen und kann nicht mehr bestellt werden!
Benachrichtigen Sie mich, sobald der Artikel lieferbar ist.
Artikel-Nr.:

BCD16535

Gewicht in Kg.:

2.2
8-CD Box (LP-Format) mit 108-seitigem gebundenem Buch, 220 Einzeltitel, Spieldauer 574:33...
mehr
Neil Sedaka: The Complete - 1956-1966 (8-CD Deluxe Box Set)
8-CD Box (LP-Format) mit 108-seitigem gebundenem Buch, 220 Einzeltitel, Spieldauer 574:33 Minuten.
Neil Sedaka
ist eines der wenigen wahren Genies der Popmusik, seine Hoch-Zeit waren die Jahre 1956 bis 1966. Er komponierte Hits für
Connie Francis
(
Stupid Cupid, Where The Boys Are
und andere), und hatte seine eigene Plattenkarriere als eines der Gründungsmitglieder der legendären The
Tokens
begonnen. 1958 unterschrieb er einen Vertrag bei RCA und landete eine unübertroffene Reihe von Hits, darunter einige der unverwechselbarsten Songs jener Jahre:
The Diary, I Go Ape, Oh! Carol, Stairway To Heaven, You Mean Everything To Me, Run Samson Run, Calendar Girl, Little Devil, Happy Birthday Sweet Sixteen, Breaking Up Is Hard To Do, Next Door To An Angel, Let's Go Steady Again
und viele, viele andere. Titel wie diese ebneten den Weg für Künstler wie etwa
Neil Diamond
,
Elton John
,
Barry Manilow
– und sogar für sein eigenes Comeback!
Diese 8-CD-Box deckt Neil Sedakas Goldenes Jahrzehnt ab, wie keine andere Zusammenstellung. Sie enthält seine seltenen Aufnahmen für Melba, Decca, Legion und Pyramid (viele bis jetzt nie wiederveröffentlicht!) sowie seine kompletten Einspielungen für RCA, darunter 15 bislang unveröffentlichte Master. Viele der RCA-Tracks wurden von Bill Inglot erstmals in echtem Stereo abgemischt.
Diese Box enthält ferner alle fremdsprachigen Neil Sedaka-Aufnahmen in Deutsch, Hebräisch, Italienisch, Japanisch und Spanisch – außerdem hören wir Neil Sedakas persönliche Grüße zu Weihnachten, zu Neujahr, Rundfunkansagen, sowie eine besondere Botschaft an seine japanischen Fans und Lieder aus Filmen!
Das gebundene Buch enthält viele seltene Fotos. Der Text wurde von Brian Gari in Kooperation mit Neil Sedaka geschrieben.
Artikeleigenschaften von

Neil Sedaka: The Complete - 1956-1966 (8-CD Deluxe Box Set)
Albumtitel:

The Complete - 1956-1966 (8-CD Deluxe Box Set)

Genre

Rock'n'Roll

Preiscode

HK

Edition 2

Deluxe Edition

Artikelart

Box set

EAN:

4000127165350

Gewicht in Kg:

2.2
Neil Sedaka am 13. 3. 1939 in New York City. Erfolgreicher Songschreiber im Team mit...
mehr
"Neil Sedaka"
Neil Sedaka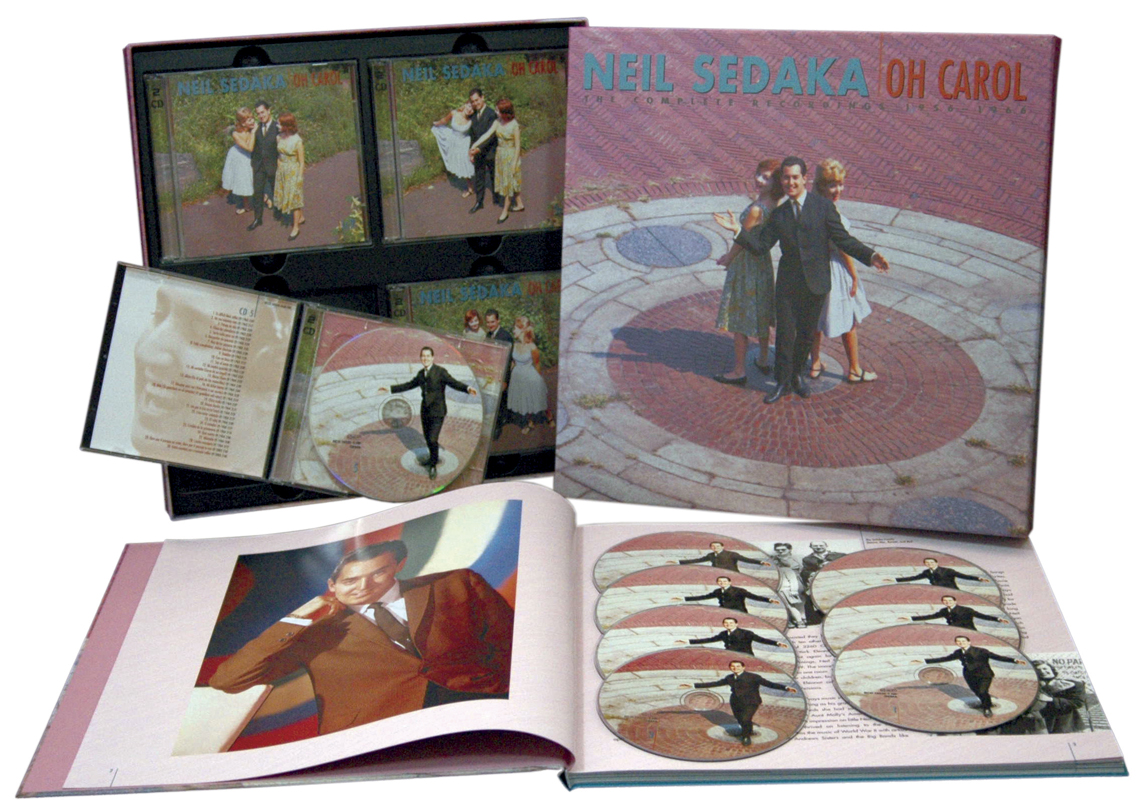 am 13. 3. 1939 in New York City. Erfolgreicher Songschreiber im Team mit seinem Schulfreund, Nachbarn und Dauerpartner Howard Greenfield (Texte), speziell während der 50er und 60er Jahre. Bis heute komponierte Neil Sedaka über 1000 Titel. Ab 1958 gehörte er zum Autorenstamm der legendären Songschmiede im New Yorker "Brill Building'. Ein Jahr später unterschrieb er einen Vertrag als Interpret bei RCA. Zu Sedakas Klassikern gehören "Oh Carol' (gerichtet an seine Ex-Freundin Carole King, die mit dem Song "Oh Neil' antwortete), 'Breaking Up Is Hard To Do', "Venus In Blue Jeans' und "Is This The Way To Amarillo'. War in den USA (30 Hits von 1958 bis 1980) und in England (18 Hits zwischen 1959 und 1975) gleichermaßen erfolgreich.

In Brooklyn wurde eine Straße nach Neil Sedaka benannt, er ist Mitglied der Songwriters' Hall Of Fame. 1987 veröffentlichte er die Autobiographie - Laughter In The Rain: My Own Story' (Putnam Books). Der Sänger ist seit über 40 Jahren mit seiner Frau Leba verheiratet- im Duett mit Tochter Dara kam er 1980 in die US-Top 20 ('Should've Never Let You Go'). Zu seinen aktuelleren CD- Veröffentlichungen zählen "Classical Sedaka' (unter anderem mit Beethoven-, Chopin- und Rachmaninoff-Interpretationen) von 1995 und ' - Tides Of Love And Other Passions' 1998.

Aus dem Bear Family Buch - 1000 Nadelstiche von Bernd Matheja - BFB10025 -
Es gibt nur sehr wenige Leute im Showbusiness, die den Status erreicht haben, den Neil Sedaka erreicht hat. Wer sonst hat als Sänger, Songwriter und Pianist vergleichbare Erfolge erzielt? Er schockierte Skeptiker, die dachten, seine Karriere sei 1966 vorbei, um im nächsten Jahrzehnt noch größer zu werden. Und wenn das noch nicht genug ist, nahm er einen Song von ihm auf, der sich in den 60er Jahren millionenfach verkaufte, und nahm ihn als Ballade auf, was ihm ein ganz neues Leben einhauchte und ihn zu einer Chart-Top-Platte machte. Es gibt nicht eine andere Person, die diese erstaunliche Leistung beanspruchen kann.
Alles begann, als die vierundachtzig Pfund schwere Eleanor Appel (geboren am 31. Oktober 1916) Mac Sedaka (1913-1981), einen New Yorker Taxifahrer, in einem Social Club in Brooklyn traf, als sie alle siebzehn Jahre alt war. Während Eleanor mit jemand anderem tanzte, kam Mac dazu. Er nannte sie Skinny, als sie die Nacht durchtanzten. Er fuhr sie sogar in seinem Checker Cab nach Hause. Trotz ihrer regelmäßigen Verabredungen war Eleanor nicht in Mac verliebt. Ihr Bruder Sydney machte deutlich, dass Mac in sie verliebt war und einen festen Job hatte. Mac war ein sephardischer Jude und Eleanor, eine Aschkenasierin. Sie nannte sein Volk die schwarzen Juden. Sie heirateten am 4. Juli 1936. Es war nicht die Hochzeit des Jahrhunderts.... oder des Jahres. Macs neuer Schwager und seine Frau begleiteten sogar das Brautpaar in den Flitterwochen. Sie ließen sich auf der Voorhies Avenue in Brooklyn nieder. Als Neils Schwester Ronnie am 4. September 1937 geboren wurde, war die Wohnung in der Voorhies Avenue einfach zu klein. Mac's Eltern, Marie und Nisim, bestanden darauf, dass sie sich ihnen in einer Zweizimmerwohnung mit zehn weiteren Familienmitgliedern im zweiten Stock der 3260 Coney Island Avenue in Brooklyn, New York, anschließen. Eleanor wurde davor gewarnt, aus gesundheitlichen Gründen wieder schwanger zu werden, aber trotz der Warnungen trat Neil am 13. März 1939 in die Welt ein. Die unmittelbare Familie Sedaka lebte alle zusammen in einem Raum. Die Nähe führte zu viel Liebe für Kinder, aber es gab immer noch keine tiefe Liebe für Mac. Eleanor kontrollierte die Familie und traf alle Entscheidungen.
Es gab immer Musik im Haus.... vielleicht nicht immer erfreulich, da seine Großmutter die türkischen Platten, die sie aus dem alten Land gerettet hatte, herausbrachte. Es waren die amerikanischen Platten von Tante Molly, die den kleinen Neil wirklich beeindruckt haben. Schon mit drei Jahren blühte Neil auf, als er den Moylan-Schwestern zuhörte. Es war die Musik des Zweiten Weltkriegs mit Künstlern wie den Andrews Sisters und den Big Bands wie Glenn Miller, die Neils ganzes Leben veränderte. Lieder wie Chattanooga Choo Choo Choo wurden seine Favoriten. Er erfand sogar seine eigenen kleinen Shows mit Ronnie, wo sie die Andrews Sisters imitierten. Ronnie war sein wahrer Begleiter. Er hatte keine anderen Jungen in seinem Alter für Freunde wie die meisten Kinder. Er hatte nur seine Mutter (die ihn nie etwas für sich tun ließ), seine Tanten und seine Schwester. In der ersten Klasse war er als Weichei bekannt. Sein Vater arbeitete lange Stunden in seinem Taxi. Er versuchte, sich Zeit für Neil zu nehmen und tat es, aber es war hart. Ab 1946 hörte Neil einen Diskjockey namens Martin Bloch, wo er zum ersten Mal Les Paul und Mary Ford hörte, die einen großen Einfluss auf Neils Overdubbing-Stil auf seinen eigenen Platten haben sollten. Er hörte und imitierte auch Johnnie Ray. Als er in den Chor der zweiten Klasse kam, der von einer Frau Glantz geleitet wurde, war sein Talent bewiesen - und Frau Glantz' Vorschlag, Klavier zu spielen. Eleanor Sedaka nahm einen Teilzeitjob an, um ein gebrauchtes Klavier zu kaufen, an dem ihre Achtjährige bei einem lokalen Lehrer namens Murray Newman Unterricht nehmen konnte.
Ronnie musste auch Unterricht nehmen. Es war jedoch Neil, der innerhalb von sechs Monaten in Buch Sechs der John-Thompson-Serie sprang. Dieser Unterricht führte zu einem Vorsingen an der renommierten Juilliard School in Manhattan, wo Neil ein Klavierstipendium erhielt und 1947 unter der Leitung von Edgar Roberts studierte. Er übte vier Stunden am Tag und gab sein erstes Konzert an einem Samstag mit einer Originalkomposition aus Miss Shaeffers Literatur- und Musikunterricht. Als sein dreizehnter Geburtstag näher rückte, stürzte Eleanor Neil verzweifelt in die hebräische Schule, damit er in der jüdischen Tradition Bar Mitzvahed sein konnte. In der hebräischen Schule entdeckte der Kantor Neils unglaubliche Stimme und bat ihn, jeden Samstag aufzutreten. Sein Auftritt in seiner Bar Mitzvah war ein großer Erfolg ohne trockenes Auge im Tempel! Als er in die siebte und achte Klasse der öffentlichen Schule ging, spielte er klassisches Klavier für die anderen Kinder, aber er war nicht der, den sie auf Partys wollten. Damals beschloss er, die Pop-Hits des Tages zu erlernen, um populärer zu werden. Während seines ersten Jahres an der Lincoln High School wurde Neil von einem Lehrer namens Bill Medine gefragt, ob er der Musikcamp-Berater in einem Sommercamp namens Echo Park in Lake George, New York, sein möchte. Neil wird bezahlt und bekommt den ganzen Sommer im Camp umsonst. Er akzeptierte und half nicht nur beim Anlegen von Standardmusicals, sondern schrieb auch originelle Songs, die noch heute dort aufgeführt werden!
Am 11. Oktober 1952 wurde Neil von der
Bewertungen lesen, schreiben und diskutieren...
mehr
Kundenbewertungen für "The Complete - 1956-1966 (8-CD Deluxe Box Set)"
Von:
Edgardo Valentino D. Olaes
Am:
21.10.2017
Good Hit Songs
Very popular hits of NS.
Von:
Redecker
Am:
13.03.2014
As is always the case, comes with a fat booklet with story, pictures and session details.
Blue Suede Shoes # 101 Marc Bristol
Bewertung schreiben
Bewertungen werden nach Überprüfung freigeschaltet.
Weitere Artikel von Neil Sedaka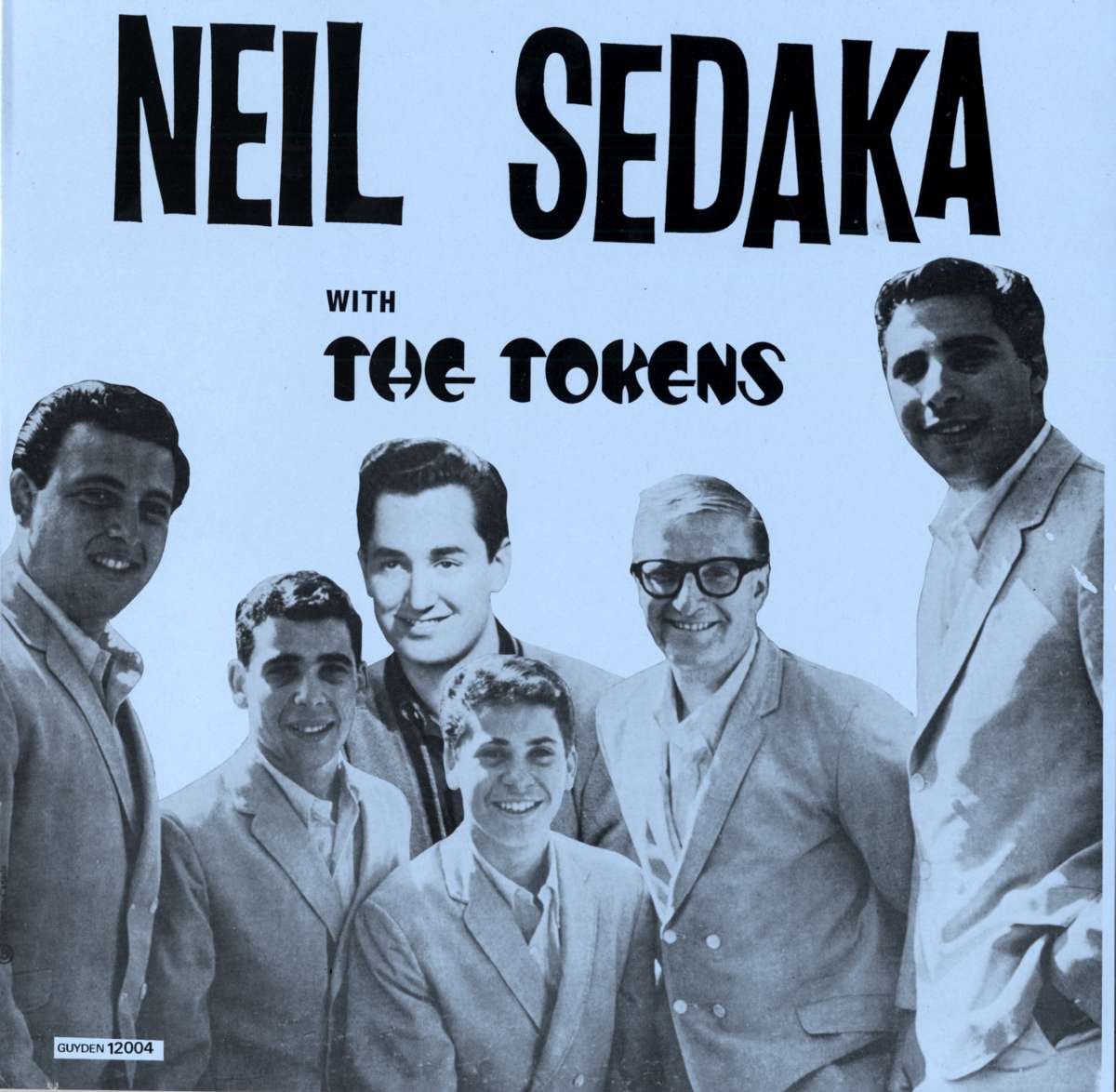 Neil Sedaka: Neil Sedaka With The Tokens (LP)
Art-Nr.: LPGUY12004


Sofort versandfertig, Lieferzeit** 1-3 Werktage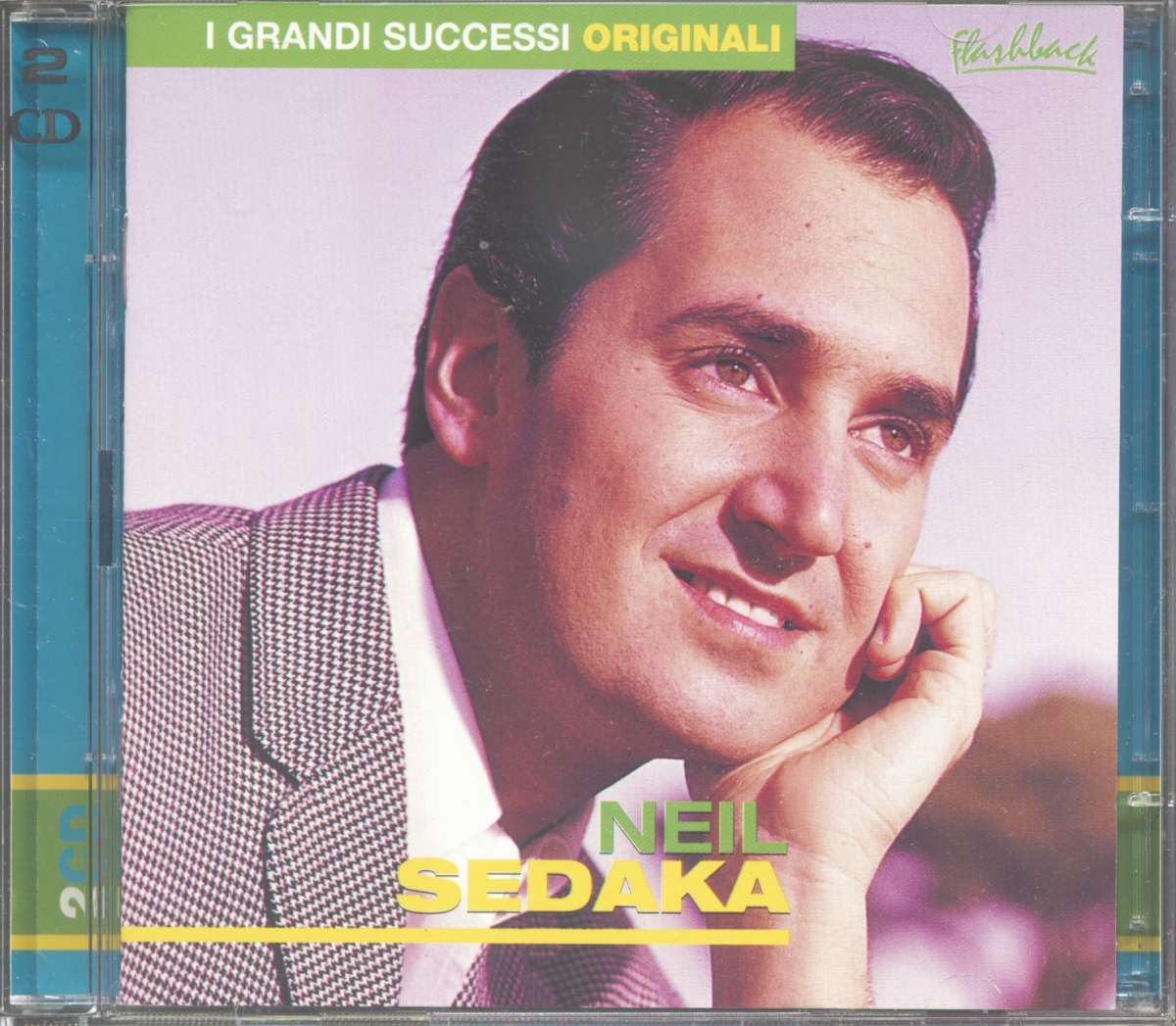 Neil Sedaka: I Grandi Successi Originali (2-CD)
Art-Nr.: CDBMG99262


Sofort versandfertig, Lieferzeit** 1-3 Werktage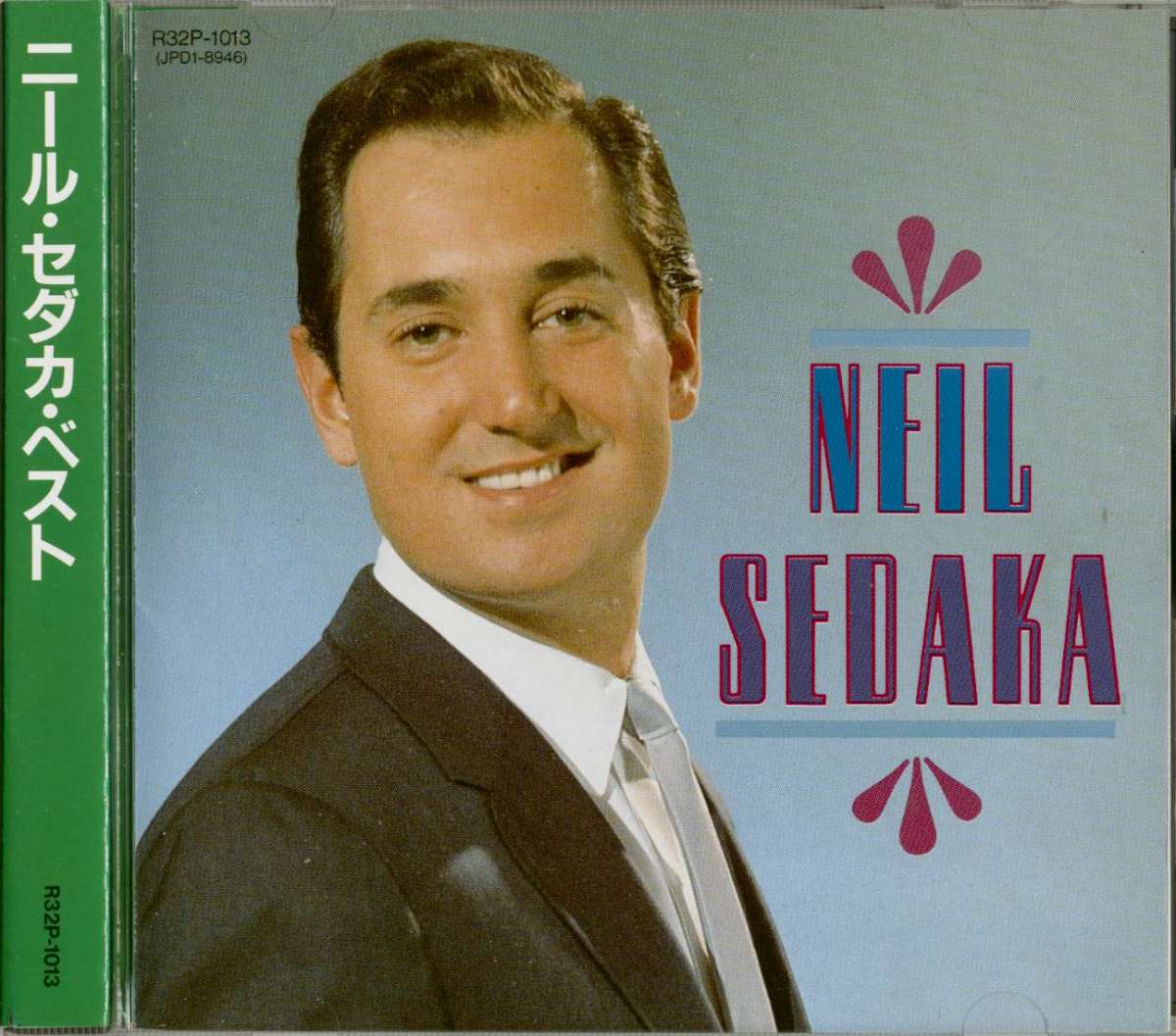 Neil Sedaka: Neil Sedaka (Japan CD)
Art-Nr.: CDR32P1013


Sofort versandfertig, Lieferzeit** 1-3 Werktage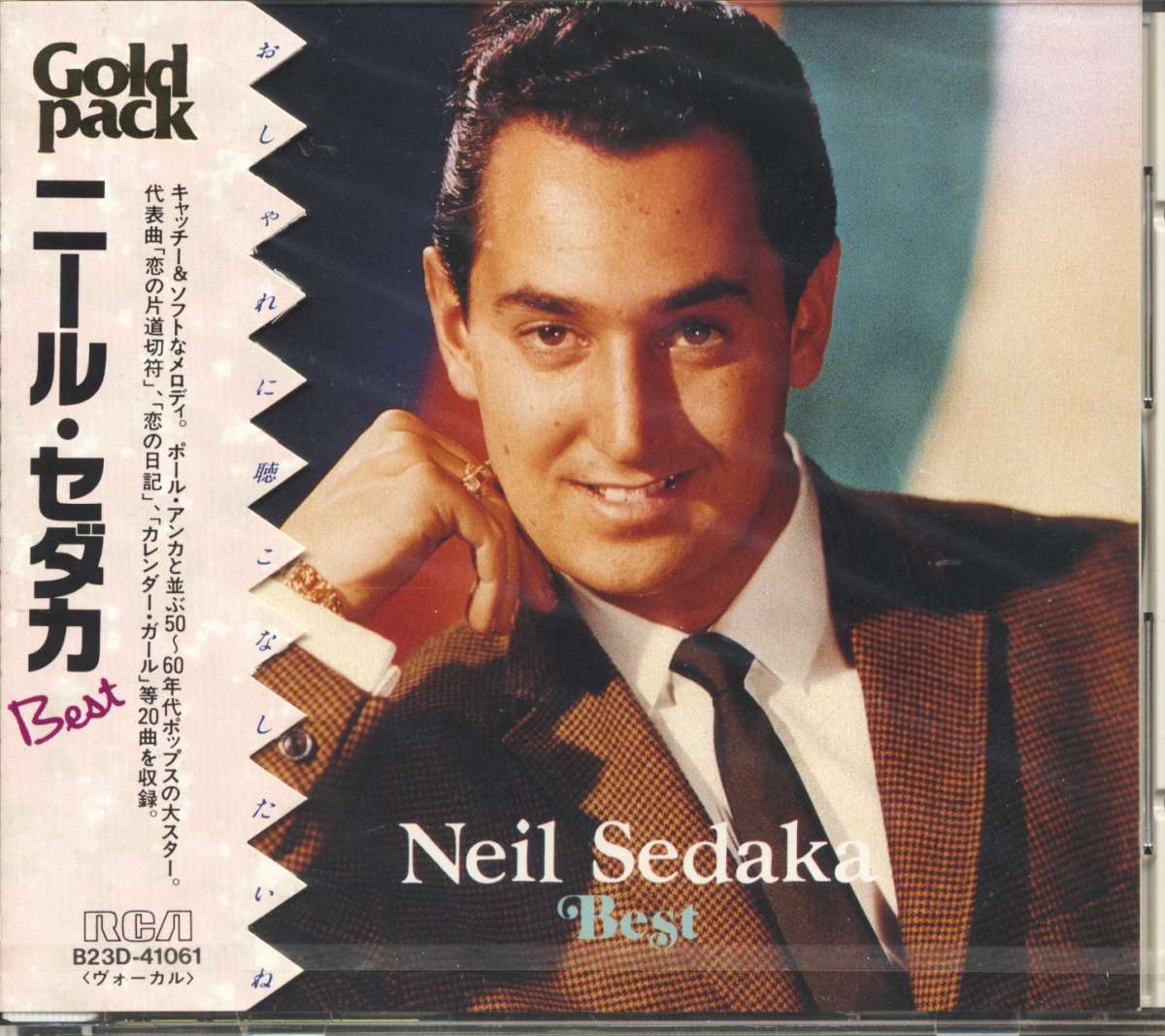 Neil Sedaka: Best (CD, Japan)
Art-Nr.: CDB23D41061


Sofort versandfertig, Lieferzeit** 1-3 Werktage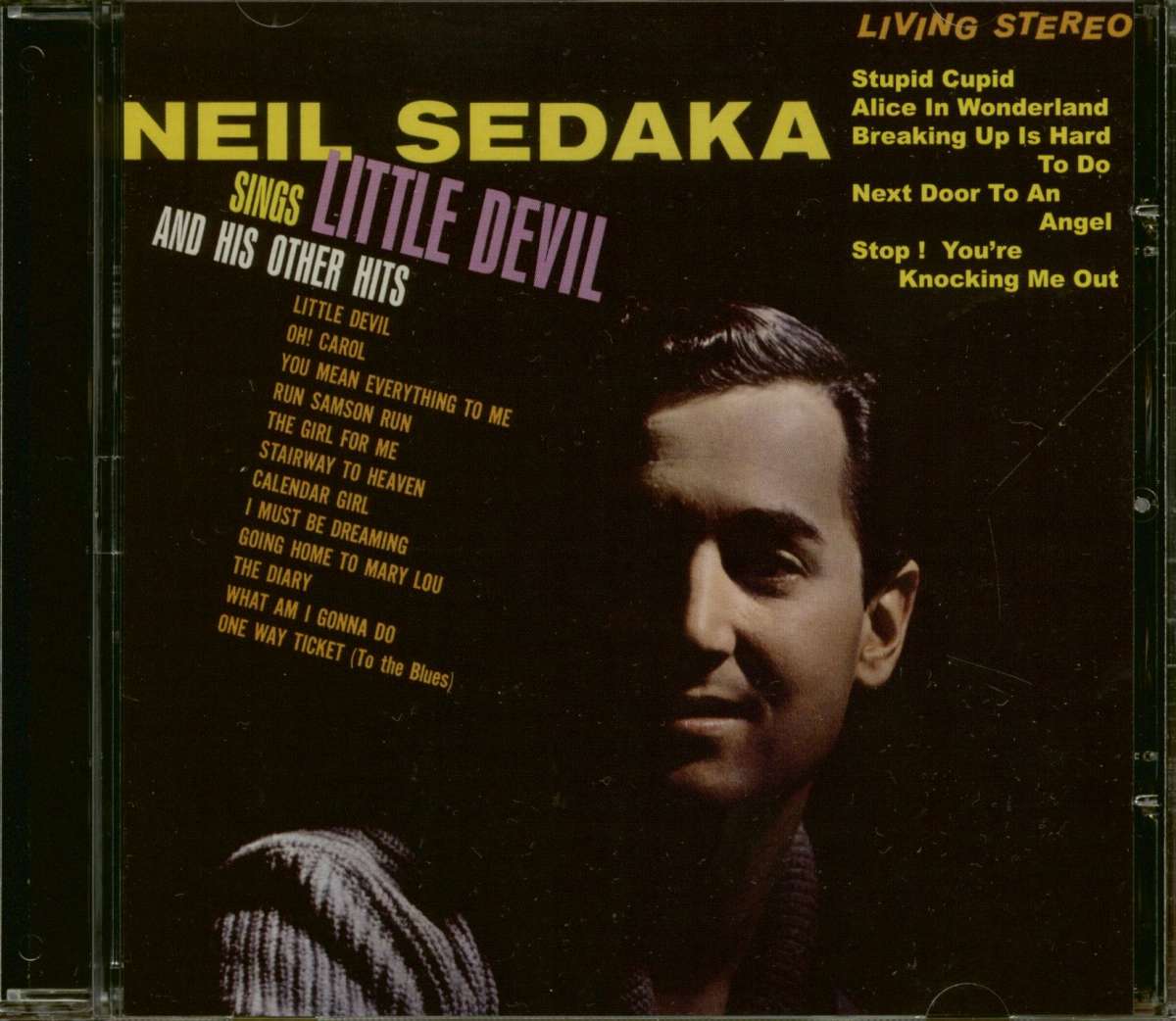 Neil Sedaka: Sings Little Devil And His Other Hits (CD)
Art-Nr.: CD3931032


Artikel muss bestellt werden