Der Artikel wurde erfolgreich hinzugefügt.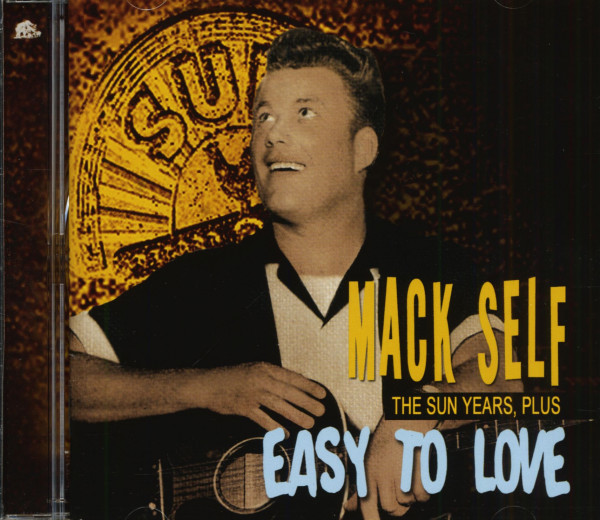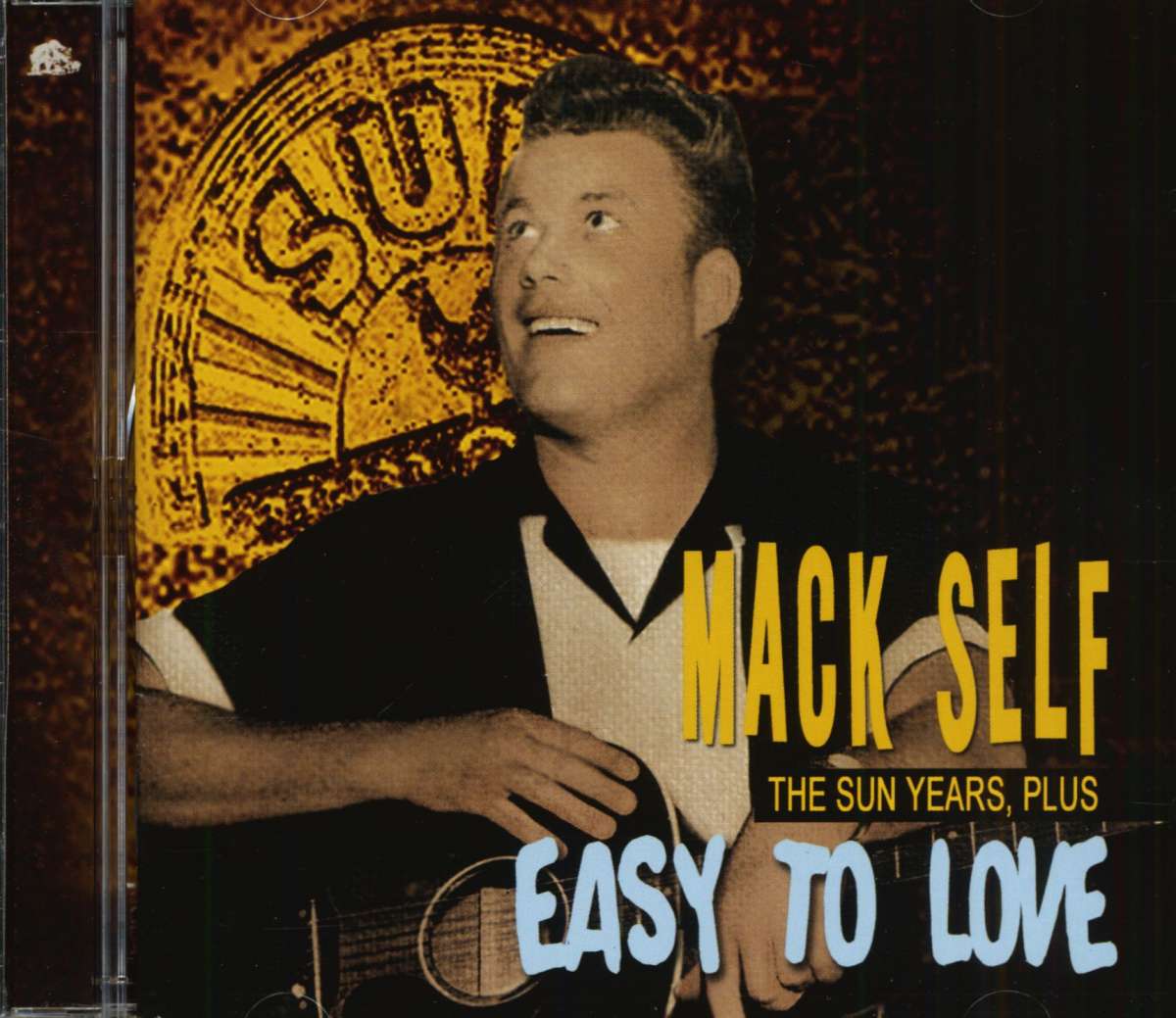 13,95 € *
15,95 € *
(12,54% gespart)
inkl. MwSt. / zzgl. Versandkosten - Abhängig vom Lieferland kann die MwSt. an der Kasse variieren.
Sofort versandfertig, Lieferzeit** 1-3 Werktage
1-CD Album mit 32-seitigem Booklet, 31 Einzeltitel. Spieldauer ca. 71 Minuten. Country-Musiker...
mehr
Mack Self: Easy To Love, The Sun Years, Plus
1-CD Album mit 32-seitigem Booklet, 31 Einzeltitel. Spieldauer ca. 71 Minuten.
Country-Musiker
Mack Self
kam von Arkansas nach Memphis, um jeweils eine Single für
Sun Records
und Phillips International aufzunehmen, doch so fängt die Geschichte von
Mack Self
nicht an. Die finden Sie in den dreißig Einzeltiteln, seinen kompletten Einspielungen, und dem Bonus-Interview, in dem
Mack Self
seine eigene Geschichte mit eigenen Worten erzählt. Abgerundet wird das Ganze durch seltene Fotos.
Sam Phillips
hatte die Möglichkeit, mit zwei Musikern aus Helena, Arkansas, zu arbeiten: mit
Conway Twitty
(=
Harold Jenkins
) und mit
Mack Self
. Er entschied sich für
Mack Self
. Finanziell hat sich das für
Sam Phillips
zwar nicht ausgezahlt – aber dieses CD-Album mit den Frühwerken von
Mack Self
belegt, dass
Sam Phillips
' Entscheidung mal wieder die richtige war!
Die Hälfte der von
Self Mack
für Sun aufgenommenen Songs gab es während der 50er Jahre auf zwei Vinyl-Singles. Den Rest des Materials fanden Sun-Historiker erst fast 30 Jahre später – und das Warten hat sich gelohnt!
Titel wie
Going Crazy
und
Lovin' Memories
unterstreichen, daß
Mack Self
Rockabilly nur so aus dem Ärmel schütteln konnte. Aber damals war
Sam Phillips
von Sun Records viel mehr an seiner reiner Country Music interessiert – eine mutige Wahl und im Grunde konträr dazu, daß Sun im guten –und immer noch wachsenden- Ruf stand, Musik von wilden Typen aus dem Süden auf den Markt zu werfen. Dennoch beweisen die beiden Veröffentlichungen von
Mack Self
auf Sun und für Phillips International, wie stark seine unverfälschter Country-Stil
Sam Phillips
beeindruckt hatte.
Easy To Love
bleibt für immer einer der schönsten Country-Titel jener Jahre, und wir präsentieren ihn hier in gleich drei Versionen – die sich punktuell von der auf Sun 273 veröffentlichten Fassung unterscheiden.
Everyday
und
Mad At You
(hier ebenfalls in bisher unveröffentlichten Einspielungen zu hören) haben gleichermaßen nichts von ihrer Kraft eingebüßt. Es sind völlig zeitlose Aufnahmen, hervorragende Kompositionen und blitzsauber gespielt.
Mack Self
standen die besten Sun-Musiker zur Seite, darunter
Stan Kesler
,
Bill Cantrell
,
Billy Riley
,
Johnny Bernero
,
Roland James
,
Jimmy Van Eaton
,
W. S. Holland
und
Martin Willis
. Sie alle sind auf der neuen CD dabei!
Dieses CD-Album enthält wirklich jeden Song, den Mack Self in 706
Union Avenue
zwischen 1955 und 1959 aufs Band gebracht hat. Dadurch – und durch die Ergänzung mit unveröffentlichten Fassungen und auch falschen Starts – ist endlich der beste musikalische Blick auf
Mack Self
's Sun-Zeit möglich. Bis dato nie gezeigte Fotos und neues Interview-Material des Sun-Experten
Hank Davis
auf diesem CD-Album, ergänzen das Projekt noch intensiver. Außerdem haben wir acht Songs hinzugefügt, die er nach seiner Zeit bei Sun Records zwischen 1960 und 1972 in Memphis eingespielt hat.
Beendet wird die Kopplung mit einigen Erinnerungen an diese legendären Zeiten – gesprochen von Mack Self höchstpersönlich! Als ultimativen Höhepunkt gibt es etwas, das bis heute noch nie weltweit zu hören gewesen ist:
Mack Self
auf der akustischen Gitarre, ganz spontan gespielt – seine Verbeugung vor den Sun-Ereignissen während jener unvergeßlichen Ära!
Artikeleigenschaften von

Mack Self: Easy To Love, The Sun Years, Plus
Albumtitel:

Easy To Love, The Sun Years, Plus

Genre

Rock'n'Roll

Preiscode

AH

Artikelart

CD

EAN:

4000127165190

Gewicht in Kg:

0.115
Mack Self was inducted into the Rockabilly Hall of Fame in 1998. As Mack, himself, would tell...
mehr
"Mack Self"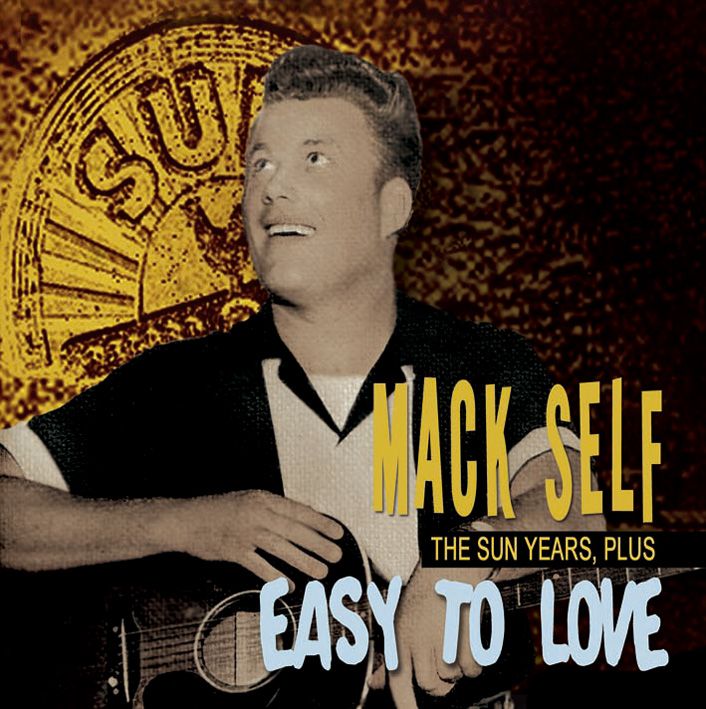 Mack Self was inducted into the Rockabilly Hall of Fame in 1998. As Mack, himself, would tell you, that probably has as much to do with his association with the legendary Sun label as it does any strong leaning on his part toward pure rockabilly. Strictly speaking, Mack never was a rocker. At least not in the sense that Sun label-mates Billy Riley and Sonny Burgess were. Riley and Burgess, by the way, shared more than a label affiliation with Mack; all three men hail from Arkansas.
The similarities, however, pretty much stop at the state line. Unlike Riley and Burgess, Mack Self was and is pure country. Sun label owner Sam Phillips, to his enormous credit, allowed Mack to be just what he was. Three of the four tracks issued by Mack on the original Sun and Phillips International labels were unabashed country songs during a period when Sun was dominated by southern wildmen. The releases adjacent to Mack's Easy To Love (Sun 273) include Ray Harris's Greenback Dollar (Sun 272)and Carl Perkins' That's Right (Sun 274). Billy Riley's Red Hot (Sun 277) came along two months later, and Jerry Lee's Great Balls Of Fire (Sun 281) barely a month after that. The same was true of Mack's Mad At You, issued on Phillips International 3548. Adjoining releases on the label included Charlie Rich's Rebound, Carl Mann's Rockin' Love and Sonny Burgess' Sadie's Back In Town. All in all, Mack's "pure as country water" offerings were surrounded by some pretty hard-edged rockin' company
Even Mack's uptempo songs like Mad At You contained down home lyrics like "My cow's gone dry/The hens won't lay." His Going Crazy – a track that never saw light in the 1950s - offers lines like "You got me barkin' like a dog/ rootin' like a hog/ skinning saplings/ eatin' paw paws. " It doesn't get much more country than that.
For all his back-country charm, Mack Self remains beloved by rockabilly fans and collectors. This is pretty easy to understand. Years of Sun archaeology has unearthed undeniable rockabilly gems by Mack like Vibrate and Lovin' Memories. Although they were never released during the 1950s, these tracks provide strong credentials for Mack's Hall of Fame status. At a personal level, Mack Self is a man who, as Johnny Cash sang, "was there when it happened." Self's sessions included players like Roland Janes, Stan Kesler, Jimmy Van Eaton, Johnny Bernero, W. S. Holland, Billy Riley and Martin Willis. The man in the control room hitting the record button was either Jack Clement or Sam Phillips. The bottom line is that Mack's name appears on nearly a dozen tape boxes full of songs recorded at what he calls "that little ole rinky dink studio" in Memphis. He's the real deal. In fact, it's good to remind ourselves that Sam Phillips auditioned both Mack Self and Harold Jenkins (a/k/a Conway Twitty) – an Arkansas running buddy of Mack's – at just about the same time. Phillips passed on Twitty and decided to work with Mack.
At the least, Mack Self is a survivor. Settling into a comfortable chair, Mack begins to summarize his life. "I'm Mack Self. I was born in 1930. I'll be 77 years old the 22nd day of May. My daddy was a farmer and he played the fiddle. My mother played the guitar and they got me started. After that I taught myself. The first performing I did was at a street dance in Barton, Arkansas. I was about 15 years old and I sang two Hank Williams songs. I went up there with a guy named Henry Henderson. He told me about the dance and we decided to go. We stopped at a little 'grab all' grocery store out in the country and Henry got us something to drink. I took a shot of it and said, 'That's good. What is it?' He said, 'That's Bobcat wine.' I never drank nothing before that and I really still don't drink. But when I got up there I was feelin' pretty good. It woke me up a little bit. Made my nerves get right, you know?
"They had a good band, at that dance. John Hughey (Conway Twitty's steel guitarist) might have been playing with them. I'm not sure but I know they had a good steel man. I finished my songs and folks went crazy. I thought, 'Man! I'm gonna try this a while!'
Mack Self Easy To Love, The Sun Years, Plus
Read more at: https://www.bear-family.com/self-mack-easy-to-love-the-sun-years-plus.html
Copyright © Bear Family Records
Bewertungen lesen, schreiben und diskutieren...
mehr
Kundenbewertungen für "Easy To Love, The Sun Years, Plus"
Von:
Rainer R.
Am:
15.06.2017
Bewertung schreiben
Bewertungen werden nach Überprüfung freigeschaltet.
Weitere Artikel von Mack Self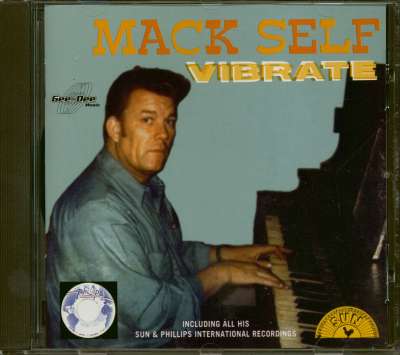 Mack Self: Vibrate (CD)
Art-Nr.: CDGEE270130


Sofort versandfertig, Lieferzeit** 1-3 Werktage