Der Artikel wurde erfolgreich hinzugefügt.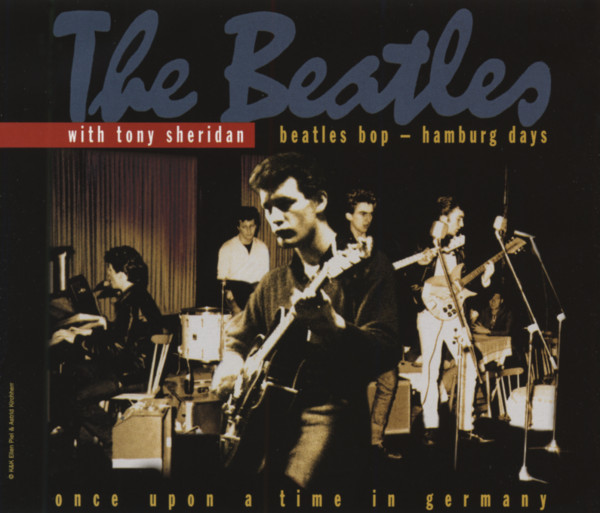 19,95 € *
29,95 € *
(33,39% gespart)
inkl. MwSt. / zzgl. Versandkosten - Abhängig vom Lieferland kann die MwSt. an der Kasse variieren.
Sofort versandfertig, Lieferzeit** 1-3 Werktage
Artikel-Nr.:

BCD16583

Gewicht in Kg.:

0.2
2-CD mit 100-seitigem Booklet (englisch, inklusive weltweiter Diskografie), 38 Titel, Spielzeit...
mehr
Tony Sheridan & The Beatles: Beatles Bop & Hamburg Days (Deluxe 2-CD)
2-CD mit 100-seitigem Booklet (englisch, inklusive weltweiter Diskografie), 38 Titel, Spielzeit 94:46 Minuten.
The Beatles
Set mit 2 CDs, 38 Songs und einer Spielzeit von 94:50 Minuten.
Das ist der definitive Beatles-Hammer zum großen Jubiläum: Vor 60 Jahren spielten die Liverpooler - noch ohne
Ringo Starr
und unter dem Namen Beat Brothers - mit
Tony Sheridan
in Hamburg ihre erste(n) Schallplatte(n) ein.
Die Produzenten-Legende
Bert Kaempfert
überwachte die ersten Aufnahmen, die dann von der
Polydor
veröffentlicht wurden. Seit nunmehr vier Jahrzehnten zählen diese Songs zu den gesuchtesten aus der Frühzeit der 'Fab Four': Sammler schieben weltweit für bestimmte Ausgaben bzw. Versionen kleine Vermögen über den Tisch - wenn denn überhaupt noch intakte Vinyl-Exemplare angeboten werden.
Seit den 80er Jahren gab es mehrfach CD-Editionen zum Thema Beatles-Frühwerke, die aber nicht selten lediglich aus acht Songs und einem Blättchen Buntpapier als 'Booklet' bestanden. Die angebotenen Fassungen waren stets kaum mehr als ein willkürlich zusammengeschobener Song-Mix - ohne Rücksicht darauf, daß von jedem der Titel mehrere unterschiedliche Einspielungen, Abmischungen oder Varianten existieren.
Nach einer Idee des Hamburger Journalisten und Buchautoren Bernd Matheja ('
1000 Nadelstiche
') und in Zusammenarbeit mit dem schwedischen Beatles-Spezialisten Hans Olof Gottfridsson
('The Beatles - From Cavern To Star-Club') präsentiert
Bear Family Records
jetzt erstmals das Gesamtwerk der Kooperation von Tony Sheridan mit den Beatles/Beat Brothers: Insgesamt 38 (!!!) Versionen aus den sogenannten 'Polydor Years' - unter größtmöglicher Sorgfalt überspielt von zum Teil verschollen geglaubten oder nie zuvor aufgefundenen Originalbändern: Stereo- und Mono-Versionen, nachträglich von US-Studiomusikern veränderte bzw. ergänzte Fassungen (in Europa bis dato nicht erschienen), abweichende Aufnahmen mit neuem Text, geschnittene Medley-Ausgaben etc..
Hochatmosphärische Fotos und gesuchte Cover-Reproduktionen ergänzen eine Veröffentlichung, ohne die ab sofort keine Beatles-Kollektion mehr komplett ist und die für internationales Aufsehen sorgen wird.
DER ERSTE AUFENTHALT IN HAMBURG, HERBST 1960
Für den größten Teil des Herbstes 1959 bestand die Gruppe, die noch unter dem Namen Quarry Men oder Johnny and the Moondogs bekannt war, aus John Lennon, Paul McCartney und George Harrison, aber im Januar 1960 stieß Johns Schulkamerad vom Liverpool College of Art, Stuart Sutcliffe, zur Band und machte sie zu einem Quartett. Sutcliffe war ein talentierter junger Mann, aber seine Talente erstreckten sich nicht auf die Musik. Er war jedoch mit John befreundet und wurde der Bassist.
Für John, Paul, George und Stuart waren das Frühjahr und der Frühsommer 1960 ausgefüllt mit Schulabschlussprüfungen, einer Tournee durch Schottland als Support von Johnny Gentle und einer wechselnden Besetzung am Schlagzeug. Sie schmiedeten Pläne, nach dem Schulabschluss professionelle Musiker zu werden, und Anfang 1960 nahmen sie den Vorschlag von John und Stuart Sutcliffe auf, sich in Beatles umzubenennen. Neben Sutcliffe betrat 1960 ein weiteres neues Mitglied die Szene. Es war Pete Best, ein Schlagzeuger, der eilig für das erste Engagement der Beatles in Hamburg im August 1960 rekrutiert wurde.
Das berüchtigte St. Pauli-Viertel in Hamburg war eine neue Erfahrung für die fünf jungen Burschen aus Liverpool. Das Nachtleben der Stadt und die langen Stunden auf der Bühne ließen sie schnell zu versierteren Musikern und erfahreneren jungen Männern werden. Sutcliffe nannte seine Freunde, den großen Romeo John Lennon und seine beiden Stalwarts Paul und George", die
Casanovas
von Hamburg.
Der erste Aufenthalt in Hamburg war kein großer Erfolg. Mit Bruno Koschmider, dem Manager der Clubs, in denen sie arbeiteten, verstanden sie sich nicht besonders gut. Nach einer Weile bekamen sie Ärger mit der deutschen Fremdenpolizei, weil George Harrison minderjährig war und Paul McCartney und Pete Best beschuldigt wurden, ihr Quartier in Brand gesetzt zu haben. Deshalb waren sie alle, außer Stuart Sutcliffe, rechtzeitig zu Weihnachten wieder zu Hause in Liverpool. Ironischerweise war Sutcliffe, der sich in Briefen darüber beklagt hatte, dass er des Musikerlebens überdrüssig war und derjenige zu sein schien, der am liebsten nach Hause zurückkehren wollte, der einzige, der blieb. Er hatte ein deutsches Mädchen namens Astrid Kirchherr kennengelernt, die seine Freundin wurde. Astrid sollte ihre eigene Rolle in der Geschichte der Beatles spielen, da sie eine der ersten Fotografen war, die die frühen Jahre der Gruppe dokumentierte.
ÜBER DIE AUFNAHMEN
Die ersten professionellen Aufnahmen der Beatles wurden ursprünglich auf Zweispurband gemacht. Die Musik wurde auf einer Spur aufgenommen, der Gesang auf einer anderen. Diese wurden dann für die Veröffentlichung gemischt. Leider sind die originalen Zweispuraufnahmen verloren gegangen oder überspielt worden, und alles, was übrig geblieben ist, sind verschiedene Abmischungen mit unterschiedlich starkem Hall. Diese neuen Transfers von diesen Bändern sind immer noch klarer als jede frühere Ausgabe dieser ersten Beatles-Aufnahmen und bringen uns näher als je zuvor an diese Sessions, die nun vierzig Jahre alt sind. Die Rekonstruktion, wer was gespielt hat, basiert auf akustischen Beweisen sowie auf Informationen, die aus Plattencovern, Originalbriefen und alten und neuen Interviews mit den Anwesenden gewonnen wurden. Hans Olof Gottfridsson hat diese Rekonstruktion mit besonderer Unterstützung von Richard Moore durchgeführt.
WICHTIGER HINWEIS: Im Gegensatz zu anderen veröffentlichten Berichten wurde keines der fraglichen Stücke im 'Studio Wandsbek', auch bekannt als 'Studio Rahlstedt', aufgenommen! Alle 1961er Beatles/Tony Sheridan-Songs wurden in der Friedrich-Ebert-Halle aufgenommen.
Kritiken:
'Dieses Set koppelt alle bekannten Aufnahmen in 38 (!) Mono- wie Stereo-Varianten. Die Stücke klingen grandios wie nie.' (C.Böhm in Audio 12/01)

Artikeleigenschaften von

Tony Sheridan & The Beatles: Beatles Bop & Hamburg Days (Deluxe 2-CD)
Albumtitel:

Beatles Bop & Hamburg Days (Deluxe 2-CD)

Genre

Beat

Edition 2

Deluxe Edition

Preiscode

BH

Artikelart

CD

EAN:

4000127165831

Gewicht in Kg:

0.2
Tony Sheridan & The Beatles During their first stint in Hamburg, the Beatles met Tony...
mehr
"Tony Sheridan & The Beatles"
Tony Sheridan & The Beatles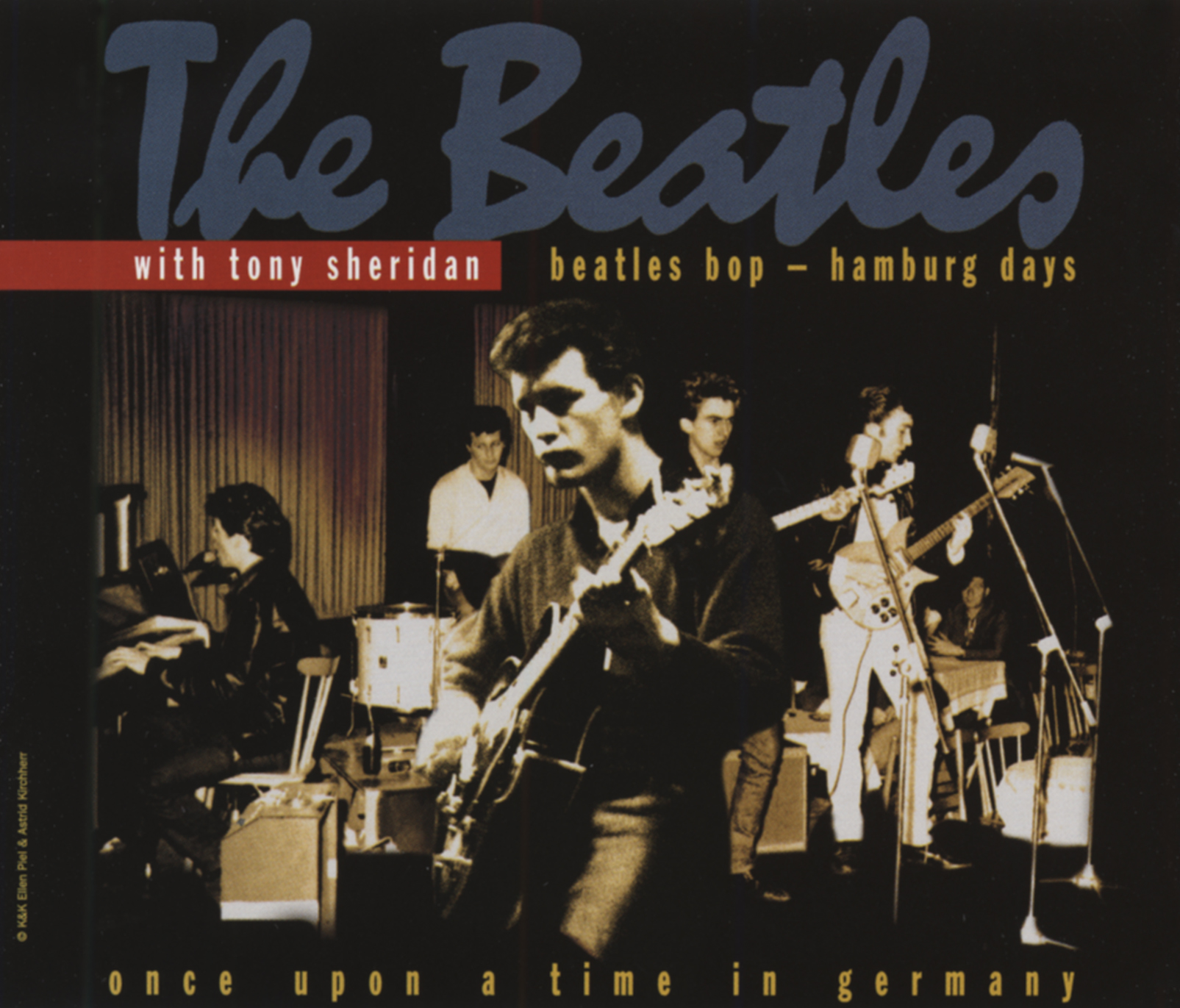 During their first stint in Hamburg, the Beatles met Tony Sheridan, born Anthony Esmond Sheridan McGinnity. Sheridan was a British-born musician from Norwich who had arrived in Hamburg on June 5, 1960, as a member of a band called The Jets. There, he quickly became a star of the local club scene and his success beckoned others to follow. Like many other teenagers in the 50s, Sheridan had started his musical career in a skiffle group. Later in the 50s, he had joined British rock star Vince Taylor, and played with his band on a recording session in 1958. After leaving Taylor's Playboys in 1959, Sheridan worked as a session musician in London for a while and appeared as a guitarist on Jack Good's TV-show 'Oh Boy!' Besides working as a session musician, Sheridan had also worked as a support act for Cliff Richard and Conway Twitty, and in the spring of 1960, he and his trio toured Britain with Gene Vincent and Eddie Cochran.
"They [the Beatles] used to sit in with Tony Sheridan at the Top Ten Club – he helped them and they learned a lot from him."
(Fellow Liverpool musician Howie Casey, 'Mersey Beat,'1963)
Tony Sheridan & The Beatles Beatles Bop & Hamburg Days
Read more at: https://www.bear-family.de/sheridan-tony-und-the-beatles-beatles-bop-und-hamburg-days.html
Copyright © Bear Family Records
Bewertungen lesen, schreiben und diskutieren...
mehr
Kundenbewertungen für "Beatles Bop & Hamburg Days (Deluxe 2-CD)"
Von:
Gunter
Am:
08.07.2021
TOP - a must have!!!
TOP - a must have!!!
Bewertung schreiben
Bewertungen werden nach Überprüfung freigeschaltet.