Der Artikel wurde erfolgreich hinzugefügt.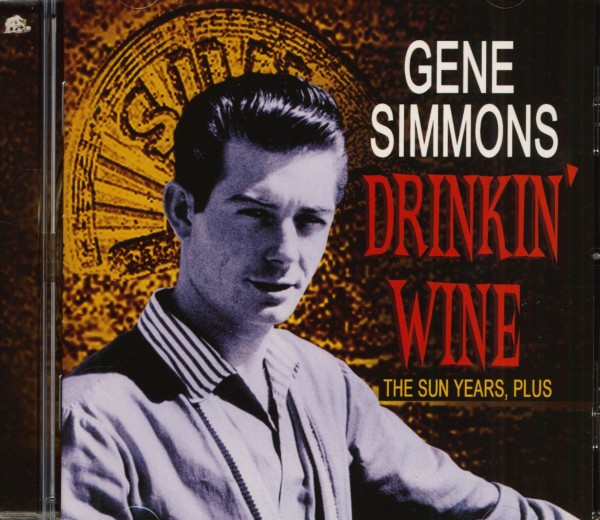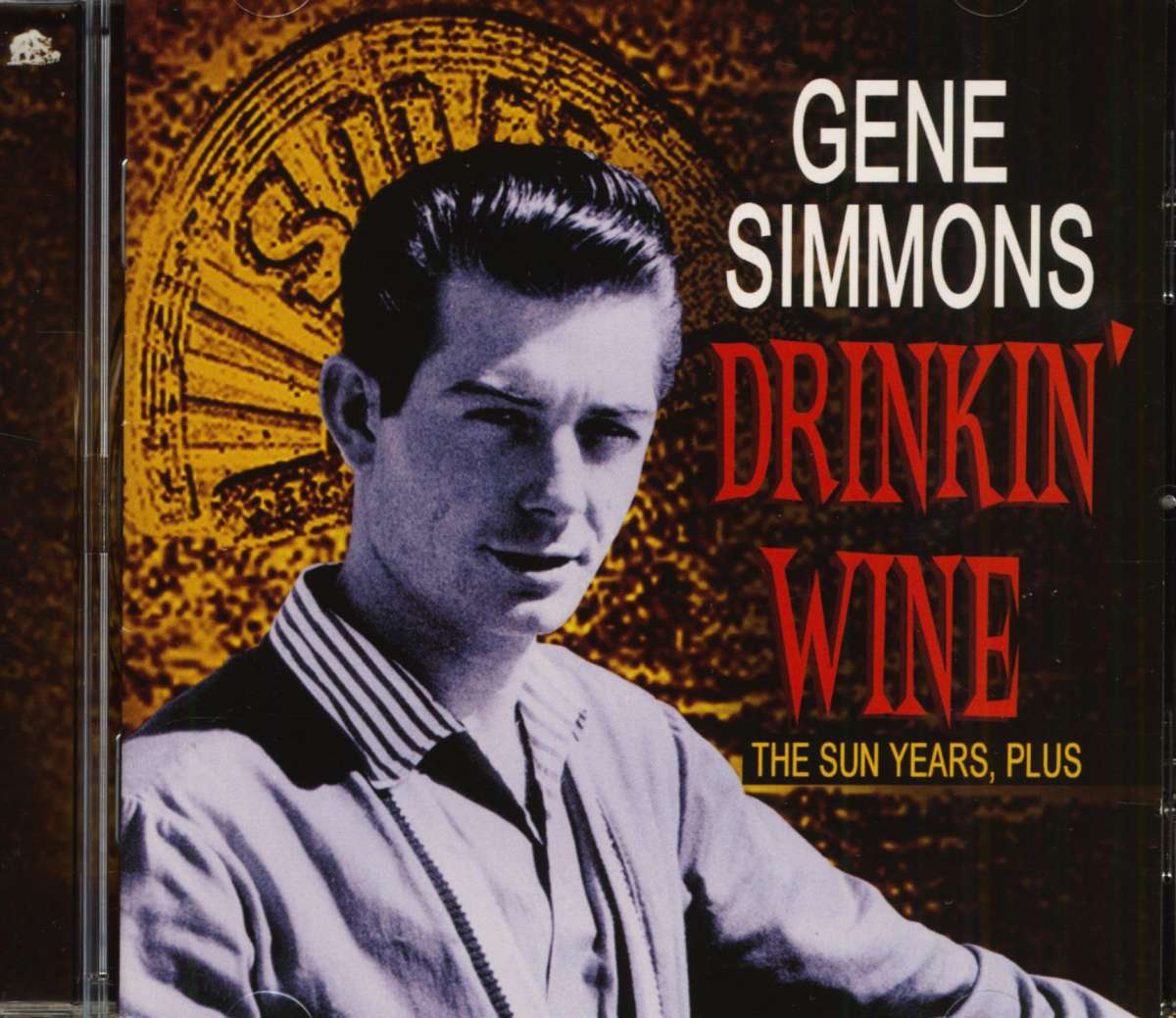 13,95 € *
15,95 € *
(12,54% gespart)
inkl. MwSt. / zzgl. Versandkosten - Abhängig vom Lieferland kann die MwSt. an der Kasse variieren.
Sofort versandfertig, Lieferzeit** 1-3 Werktage
1-CD Album mit 36-seitigem Booklet, 33 Einzeltitel. Spieldauer 84 Minuten. • Endlich Genugtuung...
mehr
Gene Simmons: Drinkin' Wine - The Sun Years, Plus
1-CD Album mit 36-seitigem Booklet, 33 Einzeltitel. Spieldauer 84 Minuten.
• Endlich Genugtuung für eine unterbewertete Legende des Sun-Labels,
Gene Simmons
!
• Seltene und vielfach unveröffentlichte Sun-Klassiker in lupenreinem, restauriertem Klang!
• Rockabilly erster Güte von einem Typ, der in Elvis' Heimatstadt aufwuchs!
• Extra: Gene Simmons erste Aufnahmen fürs Checker-Label, eingespielt in einem anderen Studio in Memphis – ein Titel bislang unveröffentlicht!
Gene Simmons nahm gerade mal eine Platte für
Sun Records
auf ... und die kam erst Jahre später auf den Markt. Doch dieses eine Album kratzt nur an der Oberfläche von Gene Simmons langjährigen Engagements mit dem Label Sun Records, das bis in jene Tage zurückreicht, als Elvis noch bei Sun war.
Hier entdecken Sie alles, darunter die seltene Single 'Drinkin' Wine'/'I Done Told You' von Gene Simmons und die unveröffentlichten Songs, die ursprünglich nicht verwendeten Aufnahmen und die extrem seltene Hi-Aufnahme von 'Goin' Back To Memphis', die auf Chess veröffentlicht wurde.
Bei vielen Pop-Fans und –Historikern gilt Simmons als musikalische 'Eintagsfliege', als 'One-Hit-Wonder'. Das ist falsch! Denn schon rund ein Jahrzehnt, bevor Gene 1964 mit Haunted House einen Bestseller landete, hatte er viele Songs geschrieben, war in Schmuddel-Kneipen aufgetreten und hatte im winzigen Sun-Studio in der
Union Avenue
etliche Titel aufgenommen. Zwar ist nur eine einzige Platte auf dem Original-Sun-Label erschienen, aber viele seiner anderen Sun- Einspielungen sind über die Jahre eher wahllos und zufällig im Zuge des nicht enden wollenden Sun-Recyclings unter die Leute gebracht worden.
Das vorliegende CD-Album versammelt erstmals ganz gezielt alle wichtigen Aufnahmen von Gene Simmons für Sun Records. Das heißt: Hier gibt es lückenlos jeden Titel, den Gene Simmons in der 706 Union Avenue aufs Band gebracht hat, viele sogar in unterschiedlichen Fassungen. Dabei sind seine frühesten Tupelo-Demos und auch die ausgefeilteren Studioarbeiten – sie alle belegen wie nie zuvor den Einfluß des Südstaaten-Blues auf die Musik von Gene Simmons. Ein weiterer Höhepunkt ist das unverwechselbare Leadgitarren-Spiel von Gene's Bruder
Carl Simmons
.
Neue Interviews des kompetenten Sun-Archäologen
Hank Davis
garantieren auch textlich das bislang umfassendste Porträt dieses ewig unterschätzten Künstlers. Als willkommenes Extra auf diesem Album präsentieren wir die ersten drei Songs, die Gene Simmons 1959 in den Hi Records Studios in Memphis aufgenommen hat von denen zwei auf dem Checker-Label erschienen sind.
Fazit: Dies ist die bis dato ausführlichste Würdigung eines der begeisterndsten Rockabilly-Stars des Sun-Labels - Gene Simmons.
Artikeleigenschaften von

Gene Simmons: Drinkin' Wine - The Sun Years, Plus
Albumtitel:

Drinkin' Wine - The Sun Years, Plus

Genre

Rock'n'Roll

Preiscode

AH

Artikelart

CD

EAN:

4000127167583

Gewicht in Kg:

0.115
Gene Simmons A small crowd gathered around one of the tables at a recent Record Collector...
mehr
"Gene Simmons"
Gene Simmons
A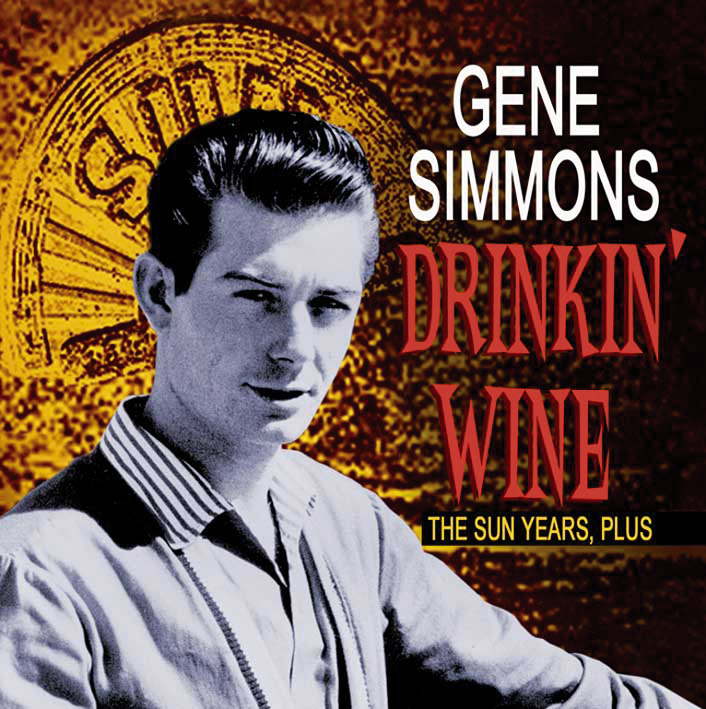 small crowd gathered around one of the tables at a recent Record Collector convention. A fan approached the bored looking dealer and asked, "Do you have anything by Gene Simmons?"
The dealer reached into a stack of garage-sale looking LPs and produced two albums by Kiss. The buyer looked at them blankly and said, "Not this Gene Simmons. I'm looking for the real one."
Now it was the dealer's turn to look blank. A few other collectors drew closer to hear the conversation. "You know," the buyer persisted, "the guy who used to record for Sun."
"And Hi", somebody added. "Don't forget 'Haunted House.'"
"And Chess," someone else said. "I've got some singles on Checker and Argo."
"Yeah, but he cut those at Hi," somebody corrected.
The dealer, whose musical knowledge apparently trailed off south of 1975, looked shell-shocked. "There was another Gene Simmons?!" he asked meekly.
Yes, there certainly was. In fact, if you count the 1940s actress Jean Simmons, there were at least two of them. Here, we're going to confine our attention to the Gene Simmons who came to Sun records sometime around 1955, hung around the studio for about three years, and then wandered across town to the Hi studio, just when that other Memphis label was beginning to get its act together. In the process he recorded a lot of primitive sounding, bluesy and very collectable sides.
The real Gene Simmons, as our collector friend so eloquently put it, was no stranger to microphones. He sang into them at 706 Union Avenue in Memphis, and on lots of stages at local clubs and in makeshift studios at radio stations. During the early years, if a friend had a halfway decent home tape recorder, Gene sang into that as well. When they were kids during the late 1940s and early '50s, Gene and his older brother Leon entertained strangers in the town courtyard for spare change. Even though they were more involved in agricultural work than the music business, Gene and his brothers (by now Carl had joined them) did their share of singing into make-believe microphones that were crafted out of tree branches, picked up in the fields they were plowing. Singing into tree-branch microphones was an image Gene shared with more than one interviewer long after his recording of Haunted House hit the pop charts in 1964.
Gene Simmons Drinkin' Wine - The Sun Years, Plus
Read more at: https://www.bear-family.de/simmons-gene-drinkin-wine-the-sun-years-plus.html
Copyright © Bear Family Records
Bewertungen lesen, schreiben und diskutieren...
mehr
Kundenbewertungen für "Drinkin' Wine - The Sun Years, Plus"
Von:
Nathan
Am:
24.11.2017
Bewertung schreiben
Bewertungen werden nach Überprüfung freigeschaltet.
Weitere Artikel von Gene Simmons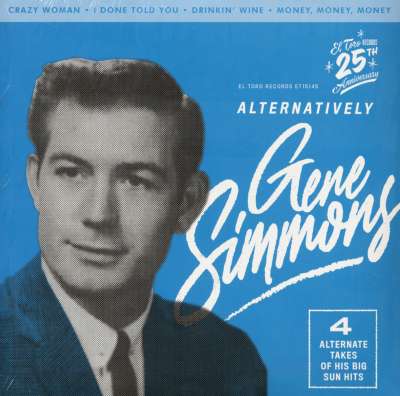 Gene Simmons: Altermatively (7inch, EP, Colored Vinyl, 45rpm)
Art-Nr.: 45ET15145


nur noch 2 verfügbar
Sofort versandfertig, Lieferzeit** 1-3 Werktage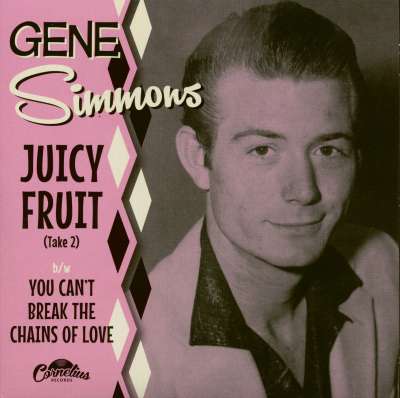 Gene Simmons: Juicy Fruit - You Can't Break The Chains Of...
Art-Nr.: 45CO4510


nur noch 2 verfügbar
Sofort versandfertig, Lieferzeit** 1-3 Werktage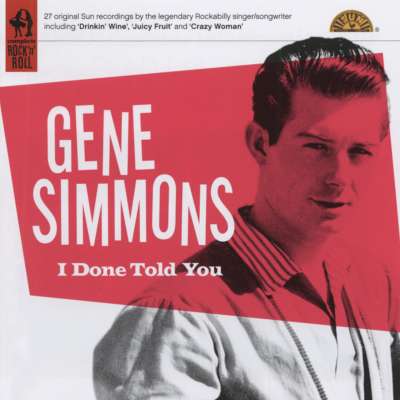 Gene Simmons: I Done Told You
Art-Nr.: CDSROLL834


Sofort versandfertig, Lieferzeit** 1-3 Werktage