Der Artikel wurde erfolgreich hinzugefügt.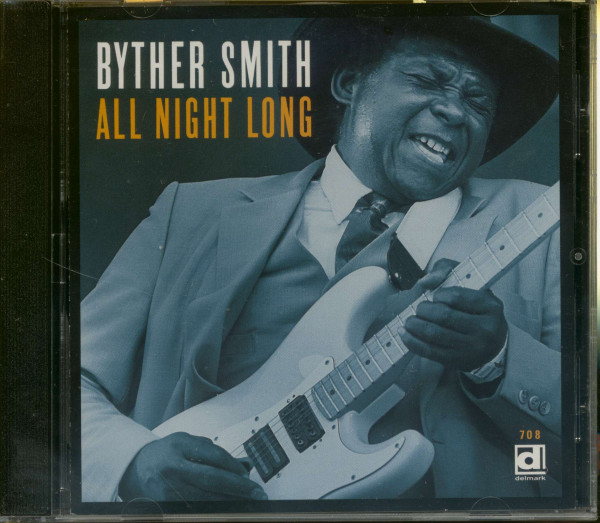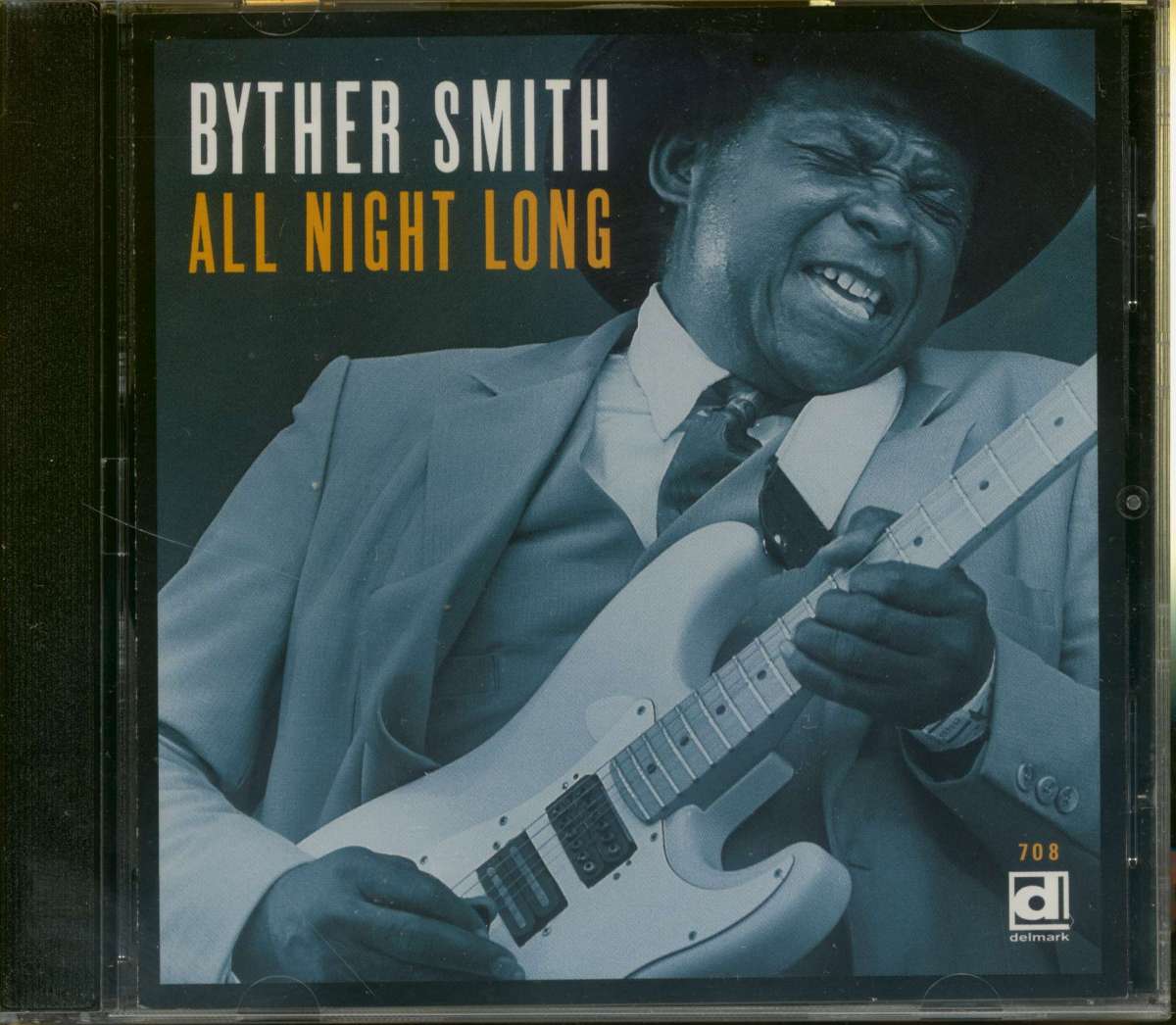 inkl. MwSt. / zzgl. Versandkosten - Abhängig vom Lieferland kann die MwSt. an der Kasse variieren.
nur noch 2x verfügbar
Sofort versandfertig, Lieferzeit** 1-3 Werktage
Artikel-Nr.:

CDDE708

Gewicht in Kg.:

0.107
(1997 'Delmark') (62:07/13) Nach 'Mississippi Kid' erneut ein fantastisches Album...
mehr
Byther Smith: All Night Long
(1997 'Delmark') (62:07/13) Nach 'Mississippi Kid' erneut ein fantastisches Album voller Spielfreude und packenden neuen Songs.
Byther Smith
etabliert sich derzeit als eine treibende Kraft des Blues moderner Prägung in
Chicago
. Wer ihn noch nicht kennt, doch gerne eine flüssig gespielte Gitarre und eine ausgezeichnete Band hört, die nicht nur lässig groovt, sondern auch bei langsamen Blues Spannung produziert, sollte mal hier reinhören
Byther Smith, the former boxer, is a scrapper, a hard worker and a musician who now fights his fight from stage and studio, sweating out his rage as he dances in his corner, sparring with the audience, battling with the world. He takes his anger and muscles it into his instrument, knocking off hunks of raw emotions in dissonant chords and in jabbed, stabbed, and lacerated notes. He spits it into his lyrics, and shouts it in strangled, unashamed cries and fiery exhortations.
Byther worked with many of the greats including
Otis Rush
,
Muddy Waters
,
Little Walter
,
Jimmy Reed
and, for six years, Junior Welles. His first Delmard album, Mississippi Kid (Delmark 691), received critical acclaim including this quote from David Whiteis of the Chicago Reader: "'Smitty' is as powerful a blues poet as any working today." All Night Long features thirteen new Byther Smith original composition
Artikeleigenschaften von

Byther Smith: All Night Long
Albumtitel:

All Night Long

Genre

Blues

Preiscode

VCD3

Artikelart

CD

EAN:

0038153070823

Gewicht in Kg:

0.107
Byther Smith The Natural Rhythm Social Club is a modest urban juke on the corner of 59th and...
mehr
"Byther Smith"
Byther Smith
The Natural Rhythm Social Club is a modest urban juke on the corner of 59th and Damen on Chicago's South Side. It's a working-class neighborhood, predominantly African-American – the type of community that originally gave rise to the blues. Here, the music and its spirit continue to inform the day-to-day lives of people who work hard, play hard, and struggle to contend with the unpredictable, often daunting, realities of life in 21st Century urban America. These days, though, the "blues" that's usually considered popular in neighborhoods like this is the R&B-influenced amalgam of styles known variously as "soul-blues" and "southern soul."
The more traditional twelve-bar postwar sound, at least according to stereotype, has lost its ability to capture the minds and hearts of contemporary African-American listeners. But on the evening of Friday, August 17, 2007, Byther Smith brought his rugged ensemble of musical stalwarts to deliver a blast of straight-ahead Chicago blues as raw and uncompromising as anything that has ever emanated from the Windy City, and the crowd responded with rapture throughout the night. His performance, as usual, was both a throwback to the music's postwar glory days and a timeless celebration of the struggles and triumphs of the human spirit. Smitty may not be as well-known, even in Chicago, as legendary figures like Muddy Waters, Elmore James, and Nowlin' Wolf; his name may not often be invoked along with the likes of Robert Johnson and Lightnin' Hopkins when the subject of "blues poets" comes up.
But in his own unpretentious and utterly dauntless way, he has earned a place in the same pantheon. If you think that's an overstatement, just listen to "Give Up My Life For You." "Baby Jesus died!" Smitty hollers, in a voice as corrugated and wounding as a sun-baked Mississippi dirt road. "He died for this world!" He then follows it up with the harrowing clincher: "I am 'Baby' – don't let Him die for you, girl!" Few, if any, other contemporary bluesmen could conjure up a lyric so layered with surrealistic juxtapositions of meaning, imagery and flat-out anguish—and that's just the first verse.

Smitty can be just as riveting when he's revisiting others' material. He cagily melds ideas and influences drawn from the postwar blues legacy, and in so doing imbues even the tried-and-true with new and exciting life. Here he digs into the Magic Sam Iickbook for his recreation of Rice Miller's "Don't Start Me Talkin'" – and in the process transforms a trickster's ode to signifying and troublemaking into a threat from a belligerent soul bent on wreaking havoc and leaving decimation in his wake. His take on the venerable "Rock Me" theme also invokes Sam's trademark riff, but again, Smitty makes the material his own: when Muddy Waters sang the song, it was taut with erotic tension, yet it promised release and pleasure later on; Smitty's leathery vocals, which pack a punch as potent as the ones his fists delivered back in his boxing days, make it clear that this Lothario does not intend to be denied, and may the Lord have mercy on any poor soul who tries it. (As he sings on "If You Love Me": "I don't care how bad I mistreat you, if you love me you won't let me down" – hearts, flowers, and romance these blues are not.) It's never possible, of course, to say for certain what fuels the muse of a creative artist; but even a cursory overview of the Byther Smith story reveals a set of experiences that could almost serve as a template for the archetypical blues life. He was born in Monticello, Mississippi on April 17, 1933.
Both of his parents died before he was one year old, and a few years later one of his sisters perished in a house fire. When he was fifteen, he left the Mississippi farm on which he was then living with an aunt and an uncle, and headed West. In Prescott, Arizona, he worked with cattle and played acoustic bass in a country band. This was also when he began to cultivate his interest in boxing –for a man who'd had to fight to live virtually since the day he was born, earning a living through fisticuffs must have seemed like the most natural thing in the world. Some time in the '50s he moved to Chicago. There, under the tutelage of his cousin J.B. Lenoir (whose classic "Mama Talk To Your Daughter" Smitty refers to here, albeit somewhat obliquely, on "Your Mama's Crazy"), he took up the guitar and began to gig around the local clubs. He attained a measure of neighborhood celebrity and he recorded a few sides for small labels; but it wasn't until the '80s, when he began to tour more widely and he recorded his first full-length LP (1988's Housefire, on the Razor label)...
Bewertungen lesen, schreiben und diskutieren...
mehr
Kundenbewertungen für "All Night Long"
Bewertung schreiben
Bewertungen werden nach Überprüfung freigeschaltet.
Weitere Artikel von Byther Smith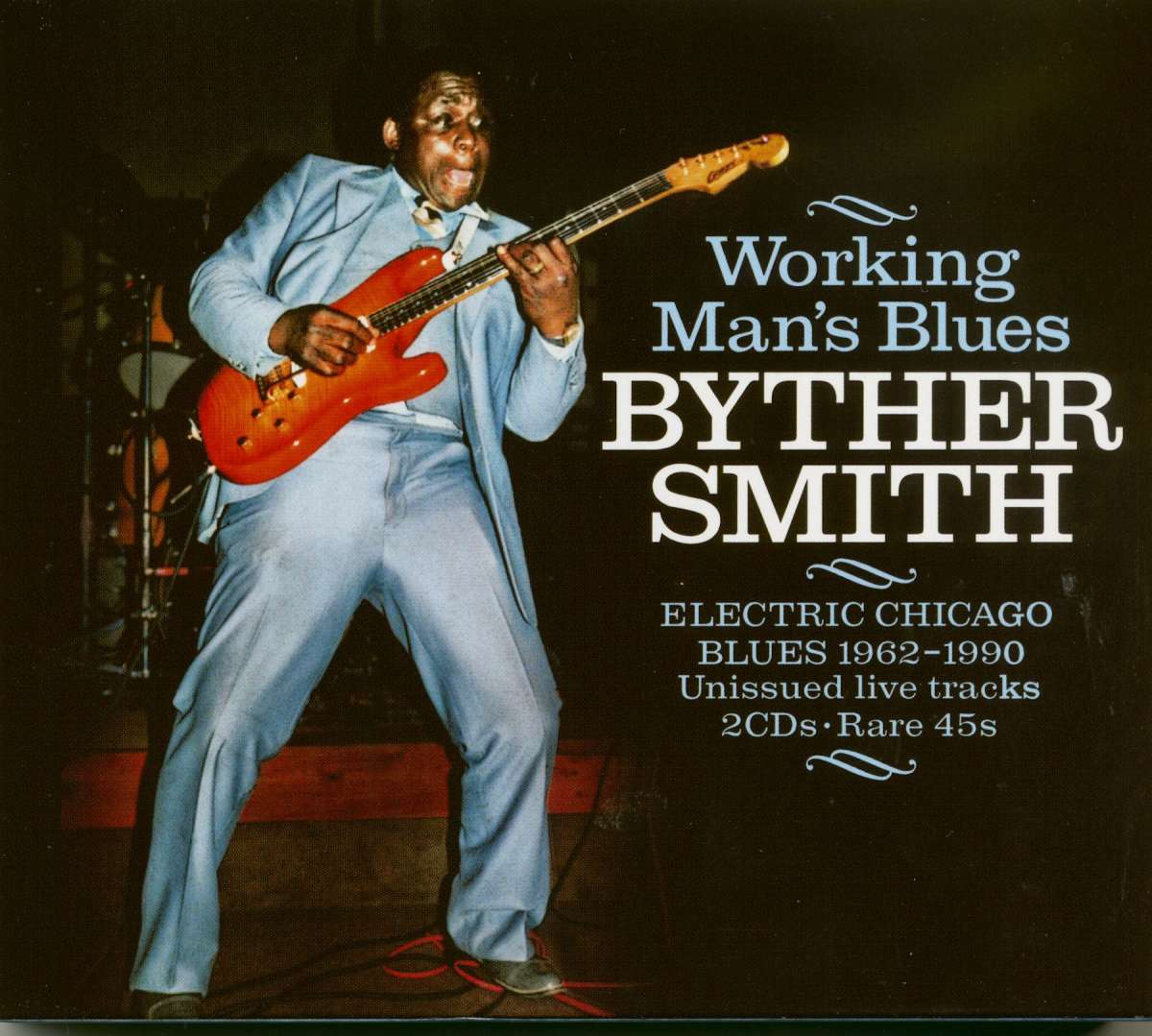 Byther Smith: Working Man's Blues (2-CD)
Art-Nr.: CDJSP2510


lieferbar innerhalb 1-2 Wochen (soweit verfügbar beim Lieferanten)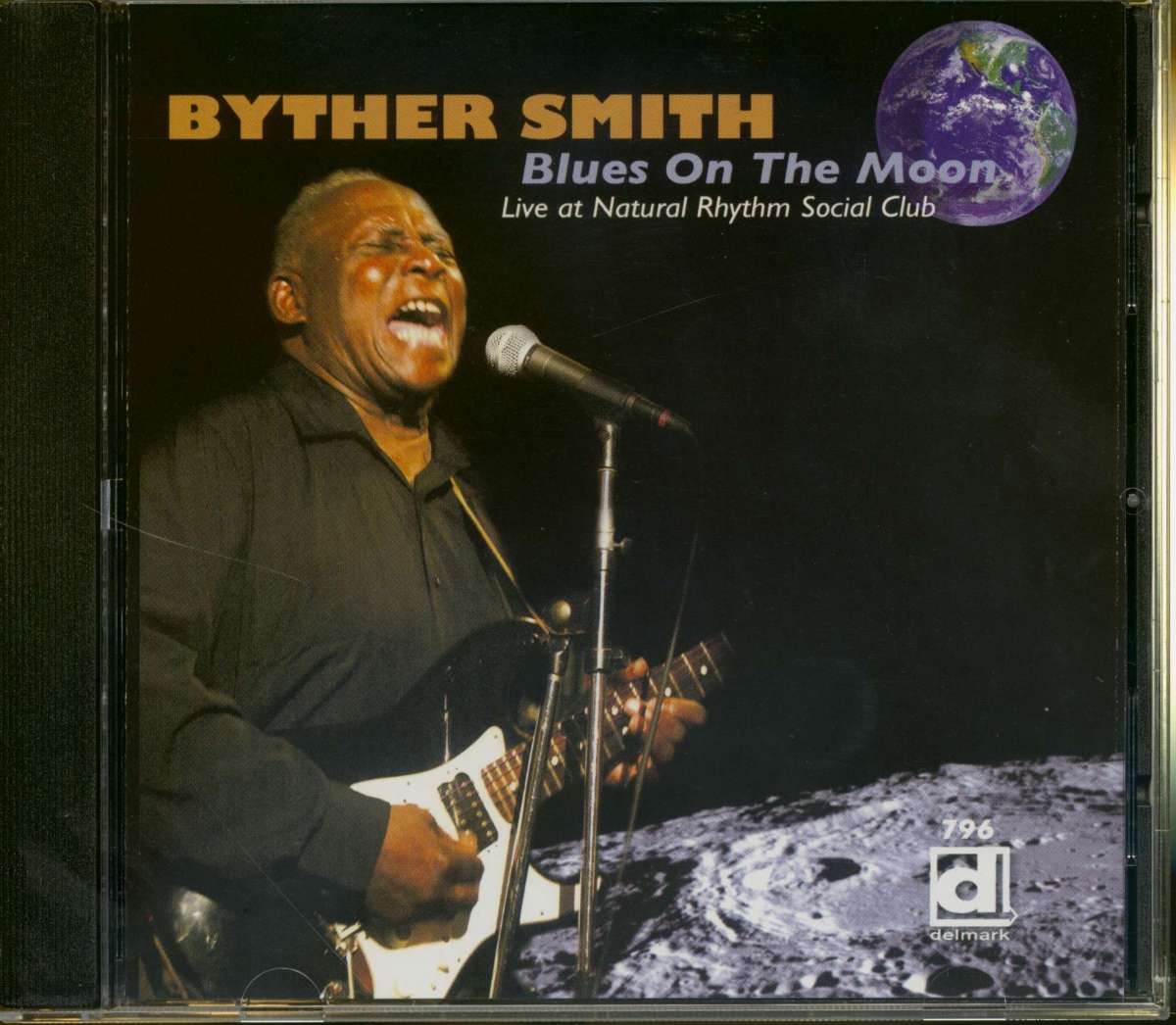 Byther Smith: Blues On The Moon: Live At The Natural Rhythm
Art-Nr.: CDDE796


nur noch 1 verfügbar
Sofort versandfertig, Lieferzeit** 1-3 Werktage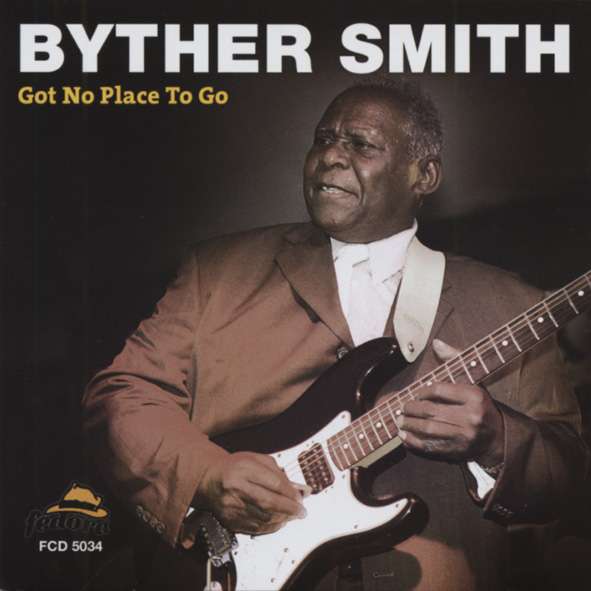 Byther Smith: Got No Place To Go
Art-Nr.: CDFCD5034


Artikel muss bestellt werden