Der Artikel wurde erfolgreich hinzugefügt.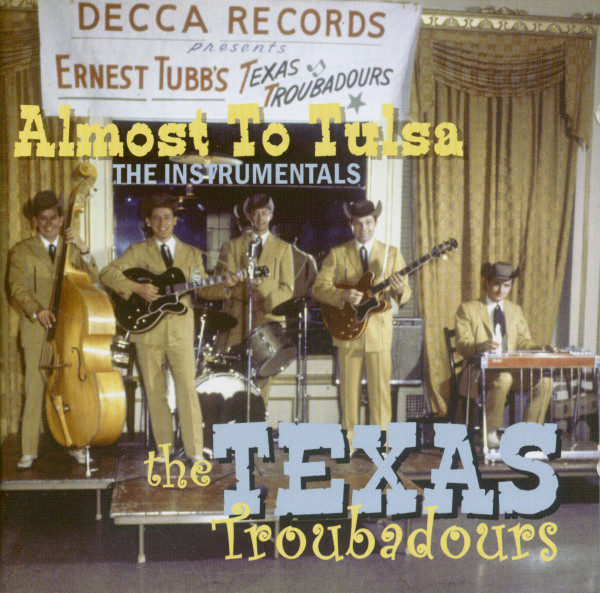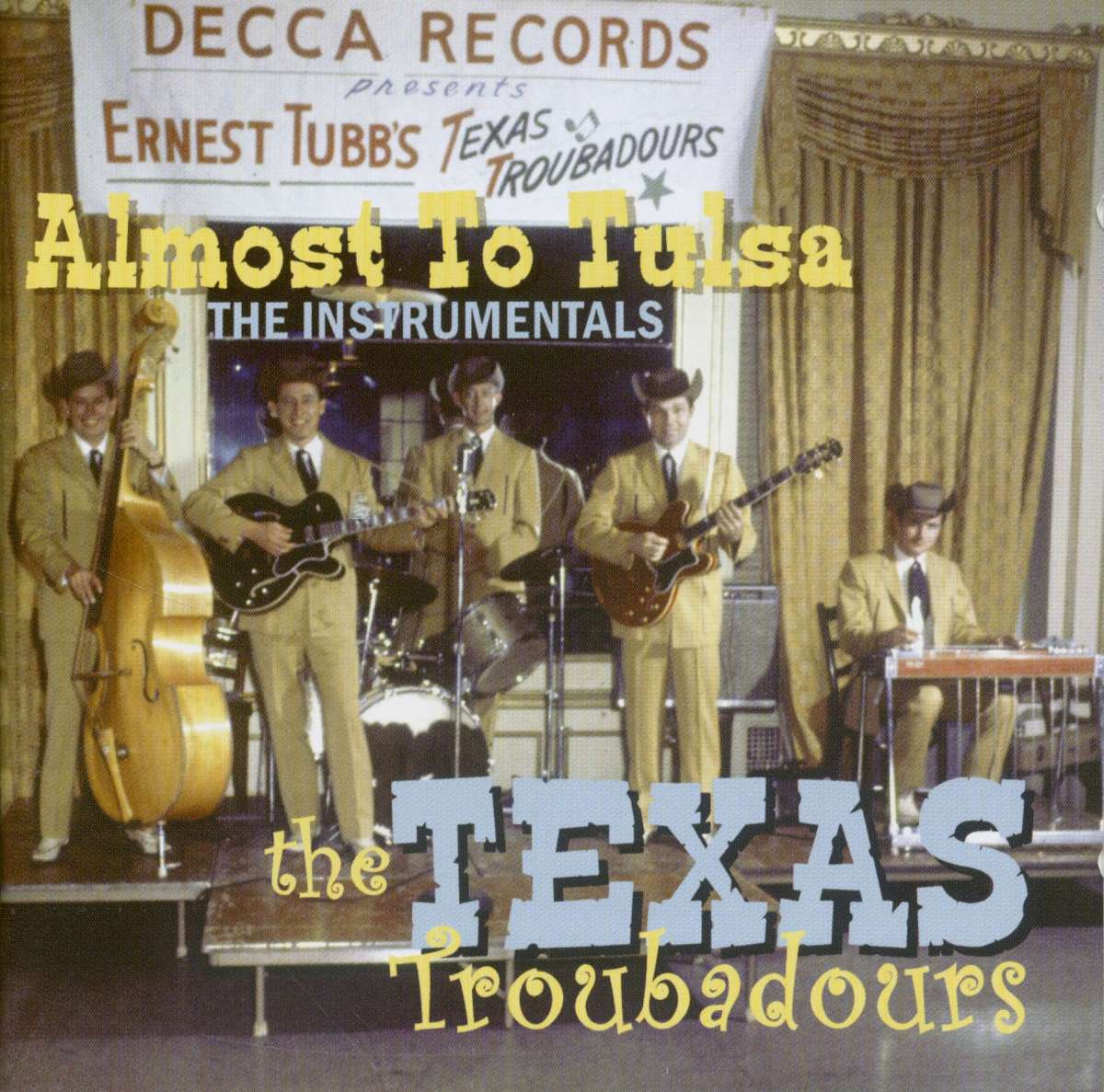 13,95 € *
15,95 € *
(12,54% gespart)
inkl. MwSt. / zzgl. Versandkosten
Sofort versandfertig, Lieferzeit** 1-3 Werktage
1-CD mit 44-seitigem Booklet, 36 Einzeltitel. Spieldauer ca. 82 Minuten. Eine...
mehr
TEXAS TROUBADOURS: Instrumentals
1-CD mit 44-seitigem Booklet, 36 Einzeltitel. Spieldauer ca. 82 Minuten.

Eine Pflichtanschaffung für Fans des Hillbilly Jazz! Super-heißes Picking der coolsten Country-Band der Welt, den Texas Troubadours von Ernest Tubb! Größtmöglicher Hörgenuss durch die gelungene Songauswahl von Troubadours-LPs aus den 60s und 70s! Mit unveröffentlichten Titeln!

Fans von Instrumental-Songs mit Hot- und Steel Guitar dürften die Aufnahmen der Texas Troubadours aus den 60er Jahren bekannt sein – sie lieferten diese Titel parallel zu ihrem eigentlichen Job als Begleitmusiker auf Tourneen von Ernest Tubb ab. Bear Family präsentiert ein Novum: Erstmals gibt es alle Instrumentals der Texas Troubadours auf einer Zusammenstellung – Songs, die zuvor nur auf Vinyl bzw. auf der dritten und vierten Ernest Tubb-Box zu haben waren! Darunter sind Steel Guitar Instrumentals des überragenden Buddy Emmons und regelrechte Explosionen des phänomenalen Teams Leon Rhodes/Buddy Charleton. Verglichen mit dem, was die beiden hier an Schnellfeuer-Attacken aus den Sixties zünden, waren Top-Aufnahmen von Speedy West und Jimmy Bryant aus den Vierzigern eher nur Schüsse mit der Armbrust.
Artikeleigenschaften von

TEXAS TROUBADOURS: Instrumentals
Albumtitel:

Instrumentals

Genre

Country

Preiscode

AH

Artikelart

CD

EAN:

4000127159465

Gewicht in Kg:

0.115
Texas Troubadours - Instrumentals

CD 1
01
Rose City Chimes (Buddy Emmons: steel instrum
02
Danny Boy
03
Tuxedo Junction
04
Almost To Tulsa
05
Leon's Guitar Boogie
06
C-Jam Blues
07
Cool It
08
The Waltz You Saved For Me
09
Rhodes'-Bud Boogie
10
Walking The Floor Over You
11
Honey Fingers
12
Steel Guitar Rag
13
Lover's Waltz
14
Panhandle Rag
15
Gardenia Waltz
16
Redskin Rag
17
Texas Troubadour Stomp
18
E.T. Blues
19
Nashville Shuffle
20
Jamming With C And C
21
Cain's Corner
22
Big Beaver
23
12th Street Rag
24
Ridgetop Stomp
25
Cocoanut Grove
26
Red Top
27
Take That
28
Twilight Over Texas
29
Leon's Guitar Boogie
30
Buddie's Boogie
31
This Ain't The Blues
32
Four Wheel Drive
33
Blue Wind
34
Highland Swing
35
Greensleeves
36
Leon's Guitar Boogie
The Texas Troubadours Diehard country music fans know that certain well-known singers had...
mehr
"TEXAS TROUBADOURS"
The Texas Troubadours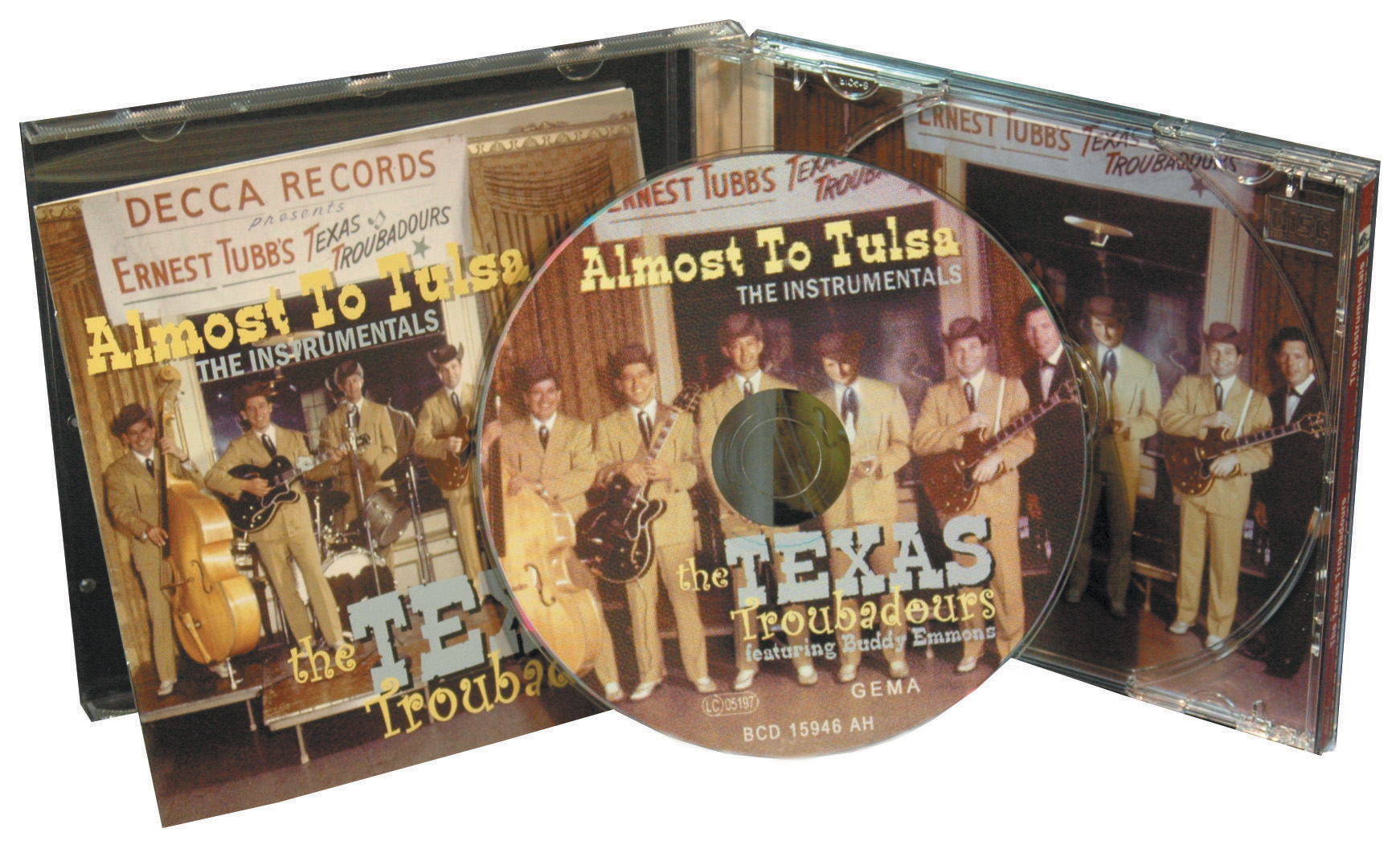 Diehard country music fans know that certain well-known singers had backing bands that achieved legendary status on their own. At the top of the heap, rabidly discussed by fans, worshipped by fellow musicians, were bands that included 'star sidemen,' or musicians that achieved fame on their own without benefit of a hit record. Ernest Tubb was well known for including 'star sidemen' in many of the various line-ups of his Texas Troubadours. Tubb had first achieved success in the 1940s and would continue touring with dozens of different line-ups of Troubadours over the next five decades before retiring from the road in 1982.
Some of the best-known Troubadours during the early years included the brothers Jimmie and Leon Short, and lead guitarists 'Butterball' Paige and Billy Byrd. Tubb's road bands varied from good to excellent, from well rehearsed to ragged, depending on the chemistry and the virtuosity of the musicians in the group. Tubb was quite like many country music stars of the era in that he insisted his bands play note-for-note from his records, and not venture out on wild improvised solos during his shows. What made him different was that outside of his showcase set, he encouraged his groups to do whatever they wanted to do during their opening warm-up sets.
Part of the reason for this was a shift in the sort of shows that Ernest Tubb was playing after rock 'n' roll decimated country music's audience in the mid-1950s. Tubb went from playing fairs and auditoriums to playing the dance hall circuit that required his band to play for several hours, keeping the dancers on the dance floor for an evening's worth of entertainment.
As a result of this shift, beginning in the late 1950s with Buddy Emmons' arrival in the group, through several incarnations of the band until the mid-1970s, the Texas Troubadours became known as one of the most adventurous, free-swinging and musically entertaining bands in the country music business. Tubb biographer Ronnie Pugh has dubbed this line-up of the Texas Troubadours as 'The Great Band,' and the recordings on this set certainly testify to this fact.
The backbone of 'The Great Band' was Jack Drake on bass, as much responsible for the music included herein as any single person.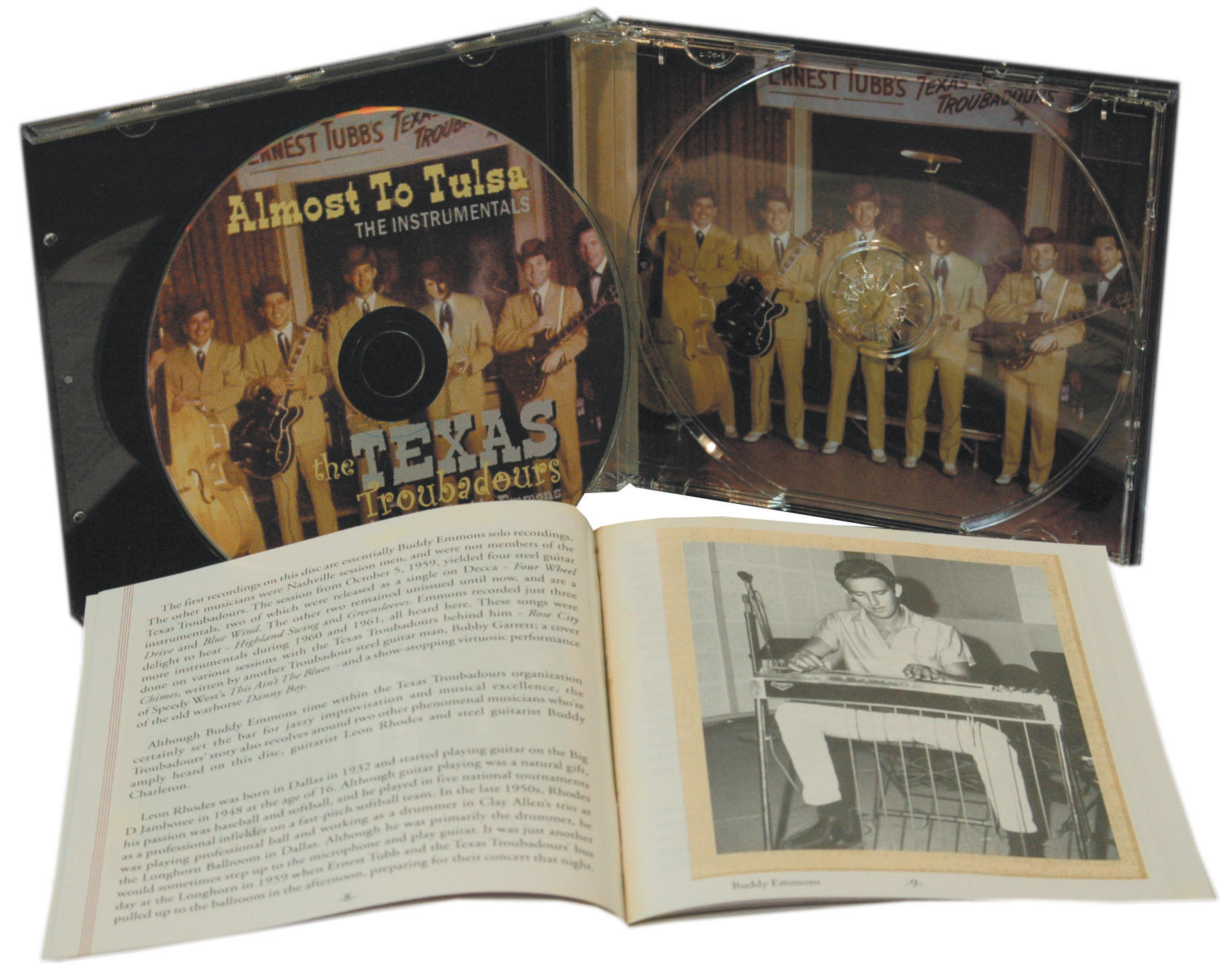 Drake, the bass-playing brother of legendary steel guitarist Pete Drake, had been playing with Tubb since 1944 (with just one brief absence), and was Tubb's right-hand man for decades. Drake was the man Tubb entrusted with the job of hiring musicians, and as such, Drake took his job seriously. Drake was constantly watching the local opening acts while on tour, taking down phone numbers and addresses of musicians he felt might be good for the Texas Troubadours, if not immediately then somewhere down the line.
Several other stable musicians stayed in the Troubadour uniforms for many years. On drums in the early 1960s was a blonde Swede from the Pacific Northwest, Jan Kurtis Skuggstad, who shortened his name to simply Jan Kurtis during his stint with the band. Kurtis can be heard on some of the earlier recordings on this collection. Replacing Kurtis in 1962 was Jack Greene, touted by Tubb as "my big-eared singing drummer." Greene would firmly establish himself as a singing star in his own right in later years, but during his tenure with the Troubadours, he endeared himself to Tubb by not only singing and playing drums, but also by showing his expertise with bus repair whenever Tubb's tour bus, 'The Green Hornet,' broke down in the middle of nowhere.
from booklet BCD15946 - TEXAS TROUBADOURS Instrumentals
Read more at: https://www.bear-family.de/texas-troubadours-instrumentals.html
Copyright © Bear Family Records
Bewertungen lesen, schreiben und diskutieren...
mehr
Kundenbewertungen für "Instrumentals"
Bewertung schreiben
Bewertungen werden nach Überprüfung freigeschaltet.