Der Artikel wurde erfolgreich hinzugefügt.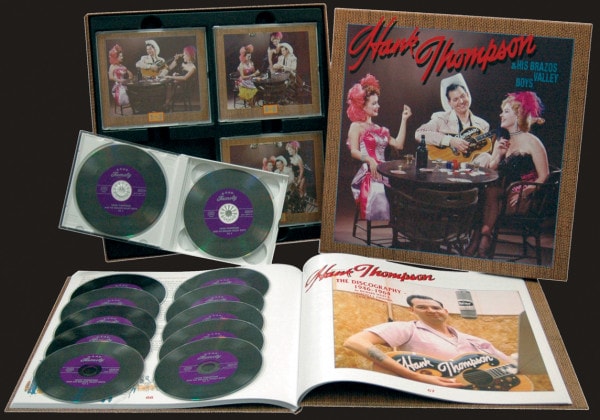 209,95 € *
219,95 € *
(4,55% gespart)
inkl. MwSt. / zzgl. Versandkosten - Abhängig vom Lieferland kann die MwSt. an der Kasse variieren.
Sofort versandfertig, Lieferzeit** 1-3 Werktage
Artikel-Nr.:

BCD15904

Gewicht in Kg.:

2.6
12-CD Box (LP-Format) mit 84-seitigem gebundenem Buch, 329 Einzeltitel. Spieldauer ca. 856...
mehr
Hank Thompson: And His Brazos Valley Boys (12-CD Deluxe Box Set)
12-CD Box (LP-Format) mit 84-seitigem gebundenem Buch, 329 Einzeltitel. Spieldauer ca. 856 Minuten.
Exemplare der 1996er-Box von
Hank Thompson
& The Brazos Valley
Boys
sind immer wieder in Auktionen aufgetaucht und wechselten dort zu Preisen von bis zu 500 Dollar (!) den Besitzer. Prima, aber nur dann, wenn man gerade mal 500 Dollar übrig hatte... Und jetzt die wirklich gute Nachricht für alle, die sich die Box bei ihrer Erstveröffentlichung nicht besorgt haben: Wir fanden in unserem Lager noch 500 Begleitbücher zur Box und haben daraufhin 500 Exemplare der Box selbst nachpressen lassen. Die Box ist also wieder lieferbar! Aber dran denken: Früher Vogel fängt den Wurm, wer auch diesmal zu spät kommt, den bestrafen neue Auktionen! Also: Zugreifen, bevor der Preis wieder auf astronomische 500 Dollar klettert!
Zu Beginn seiner Karriere nahm Hank Thompson Honky Tonk Music im Stil von
Ernest Tubb
auf. Mit diesem Sound bescherte er kleinen Schallplattenfirmen regionale Hits. Nachdem er 1947 bei Capitol einen Vertrag unterschrieben hatte, ließen große Hits nicht lange auf sich warten und E.T. persönlich führte Hank im Jahre 1949 bei der Opry ein. Hank fand jedoch schnell heraus, dass er etwas anderes wollte, ging zurück nach Texas und stellte eine dynamische Besetzung seiner Brazo Valley Boys zusammen. Unter der Leitung von Billy Gray war es nun eine
Western
Swing Band, die tanzbare Musik zu Hanks Honky Tonk-Gesang lieferte ein Konzept, das
George Strait
30 Jahre später erneut mit Leben erfüllte und eine überaus erfolgreiche Annäherung der beiden miteinander verwandten texanischen Stile bot. Das Ergebnis waren wegweisende Hits wie The Wild Side Of Life , Rub-A-Dub-Dub ,
Wake Up
,
Irene
, Honky Tonk Girl , Wildwood Flower und Squaws Along The Yukon .
Neben Hanks ausdrucksstarkem Gesang waren die Steelguitar-Virtuosen Lefty Nason (der Mann, der den einmaligen 'Hank-Thompson-Steel-Sound' entwickelte), Curly Chalker, Bobby Garrett und Bobbie White zu hören. An ausgezeichneten Fiddlern wirkten u.a. Curly Lewis,
Keith
Coleman und Billy Armstrong mit, als Gitarristen Hanks Freund
Merle Travis
und gelegentlich
Joe Maphis
. Diese 12-CD-Edition präsentiert sowohl die gesamten Aufnahmen von Thompson aus den Jahren 1946/47 für Globe und Bluebonnet als auch sämtliche von 1947-64 für Capitol entstandenen Titel.
Außerdem enthält diese Box alle drei
Live
-LPs, darunter 'Hank Thompson At The Golden Nugget' von 1961, das erste Live-Album von einem Solo-Countrysänger überhaupt! Die Edition enthält ein 84-seitiges gebundenes Buch mit seltenen Fotos und Erinnerungsstücken aus Thompsons privatem Archiv, eine komplette Diskografie und eine Biografie auf neuestem Stand von Rich Kienzle.
Video von Hank Thompson - And His Brazos Valley Boys (12-CD Deluxe Box Set)
Artikeleigenschaften von

Hank Thompson: And His Brazos Valley Boys (12-CD Deluxe Box Set)
Albumtitel:

And His Brazos Valley Boys (12-CD Deluxe Box Set)

Genre

Country

Edition 2

Deluxe Edition

Preiscode

LK

Artikelart

Box set

EAN:

4000127159045

Gewicht in Kg:

2.6
Hank Thompson NACHRUF / HANK THOMPSON Alles an Hank Thompson war damals neu....
mehr
"Hank Thompson"
Hank Thompson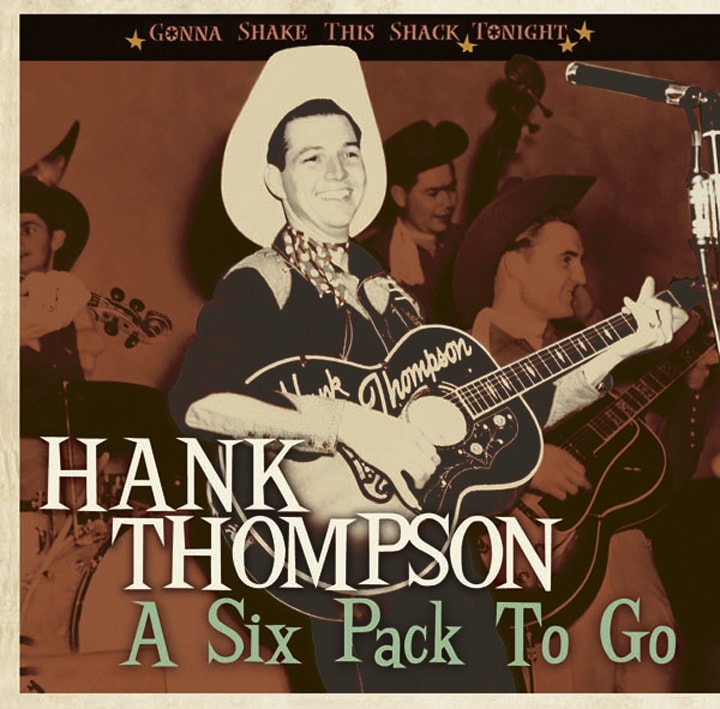 NACHRUF / HANK THOMPSON
Alles an Hank Thompson war damals neu. Er war einer der ersten Country-Sänger, der auf Bänder aufnahm, und er spielte als Erster ein Live-Album ein. Jahrelang steuerte er sein eigenes Flugzeug zu seinen Auftritten. Von schrottigen Anlagen in den Tanzhallen hatte er die Nase voll, also konzipierte und baute er seine eigenen. Die begehrte Mitgliedschaft in der Grand Ole Opry erhielt er 1949, doch ihm stanken sowohl die schlechte Bezahlung als auch die musikalisch konservative Grundhaltung in Nashville, und darum zog er sich schnell wieder nach Texas zurück.
Thompson, in Waco geboren, hatte eine Vorliebe für Gene Autry, die Carter Family, Vernon Dalhart, Jimmie Rodgers, Ernest Tubb sowie die Opry, und er stand weniger auf den Western Swing lokaler Größen wie der Light Crust Doughboys und von Milton Brown. Im Alter von 10 Jahren bekam er 1935 seine erste Gitarre. Mit seinem Gesang gewann er dermaßen viele Amateurwettbewerbe im Theater seiner Heimatstadt, daß ihn der Sender WACO für die montags bis freitags laufende Show 'Hank The Hired Hand' verpflichtete. Die letzte Ausgabe lief im Januar 1943 – am selben Morgen, als er zur Marine mußte. 1946 kehrte er zurück, studierte erfolgreich Elektronik. Mit seiner neuen Band, den Brazos Valley Boys, spielte er von Ernest Tubb beeinflußten Honky Tonk. Bereits im Herbst hatte er seinen ersten regionalen Hit Whoa Sailor auf dem örtlichen Globe-Label. Im Jahr darauf bestritt er das Vorprogramm für Tex Ritter in Waco – und Ritter empfahl ihn Capitol Records. Dort wurde Humpty Dumpty Heart 1948 Thompsons erster landesweiter Hit.
Die Bedingungen änderten sich, die Dancehall-Szene war angesagt. Hank instruierte den Gitarristen Billy Gray, die Brazos Valley Boys zu einer Western Swing-Tanzkapelle umzufunktionieren – ohne jazzige Instrumentalsoli, für die er sowieso nie allzu viel übrig gehabt hatte. In der Gegend um Dallas kamen jedoch stets nur wenige Zuschauer, darum ging Thompson 1951 nach Oklahoma City. Dort spielte er einen Sound, der ebenso unverwechselbar war wie etwa der von Lefty Frizzell oder Ray Price – er verband seinen heiteren Honky-Tonk-Gesang mit einer swingenden Begleitmusik. Die hochklassige Qualität der Band sorgte in nur einem Jahrzehnt für diverse Auszeichnungen. Ab 1953 spielte sein Kumpel Merle Travis auf fast allen Hank-Thompson-Sessions und bei vielen Live-Tourneen.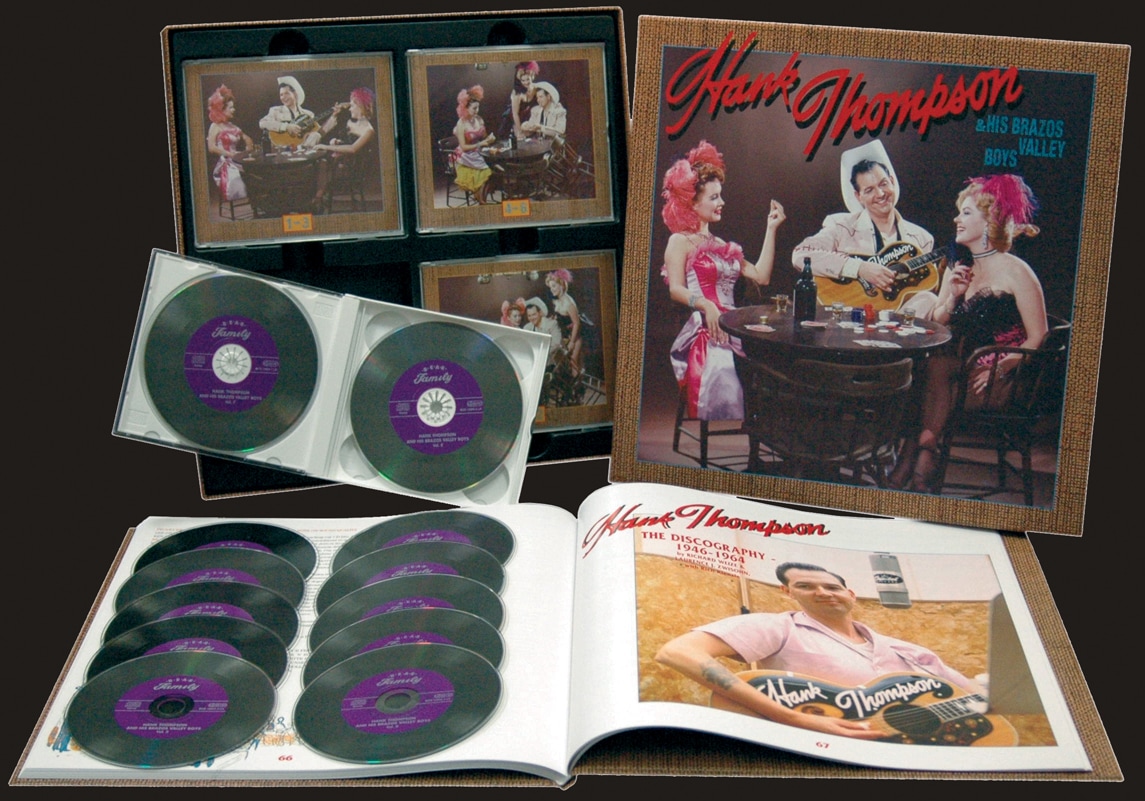 Wie gut Hank mit Balladen umgehen konnte, machte 1952 sein größter Hit deutlich, eine Cover-Version von Jimmie Heaps The Wild Side Of Life. Die Nummer war außerdem Grundlage für den Answer-Song It Wasn't God Who Made Honky Tonk Angels von Kitty Wells (ihr erster Hit). Auch I'll Sign My Heart Away war – neben vielen anderen – eine Top-Ballade. Dennoch: Für Hanks ausgezeichneten Ruf sorgten in erster Linie Tempo-Songs wie Wake Up Irene, Rub-A-Dub-Dub, A Fooler A Faker, Honky Tonk Girl und A Six Pack To Go. Seine Hits hielten während der 50er und 60er Jahre den Western Swing im Gespräch, als dieser Sound eigentlich aus der Mode gekommen war.
1952 wurde Jim Halsey Hanks Manager, und er brachte neue Ideen mit. Zum Beispiel sorgte er für die lange Kooperation zwischen Hank und Falstaff Beer – und das in einer Zeit, als es kaum Sponsoren für Country-Künstler gab. Halsey war es auch, der Capitol Records vorschlug, 1961 einen Thompson-Auftritt im Golden Nugget von Las Vegas mitzuschneiden – so wurde Hank der erste Country-Musiker, der eine Live-Platte aufnahm. Thompson und Capitol trennten sich 1964. Nach zwei Jahren bei Warner Bros. folgten 13 weitere bei Dot/MCA, für die in Nashville aufgenommen wurde. Auch die Zeit bei Dot sorgte für einige große Hits. Dennoch: Im Begleitbuch zum Bear-Family-Box-Set erinnerte sich Hank: "Wenn ich mir erst eine Dot-Scheibe auflege und danach eine aus der Capitol-Zeit, erkenne ich sofort, daß bezüglich der gesamten Präsenz und Qualität Welten dazwischen liegen." 1989 wurde Hank in die Country Music Hall Of Fame aufgenommen.
Hank lebte in Keller (Texas), nordwestlich von Dallas, ging weiter auf Tournee und spielte – nach Auflösung der Brazos Valley Boys – mit lokalen Bands zusammen. Zu seinen späten Alben gehören zum Beispiel 'Hank Thompson And Friends' (1997, eine kaum beworbene Scheibe mit vielen Stars auf Curb) und das bessere 'Seven Decades', 2000 auf High Tone erschienen. Vergleichbar mit Porter Wagoner – ebenfalls einer aus der Hall Of Fame – war auch Thompson aktiv bis zu seinem Lebensende. Dann und wann spielte er doch wieder mit den Brazos Valley Boys, die sich als eigenständige, unabhängige Band reformiert hatten und integrierte sie in seine 'Sunset Tour'. Am 8. Oktober 2007 war er Headliner einer Show in Waco – der Gouverneur von Texas erklärte das Datum zum 'Hank-Thompson-Tag'. Noch im Oktober diagnostizierten die Ärzte bei Thompson schnell voranschreitenden Lungenkrebs. Am 4. November erklärte Hank seinen Rücktritt aus dem Musikgeschäft – zwei Tage später war er tot. Anstelle von Begräbnisfeierlichkeiten versammelten sich Freunde und Fans in Billy Bob's Texas in Fort Worth – sie gedachten auf diese Weise am 14. November eines bemerkenswerten Künstlers und seiner Karriere. 2008 wird im Rahmen der Bear-Family-Erfolgsreihe 'Gonna Shake This Shack Tonight' eine Folge mit 33 Hank-Thompson-Songs erscheinen
Read more