Der Artikel wurde erfolgreich hinzugefügt.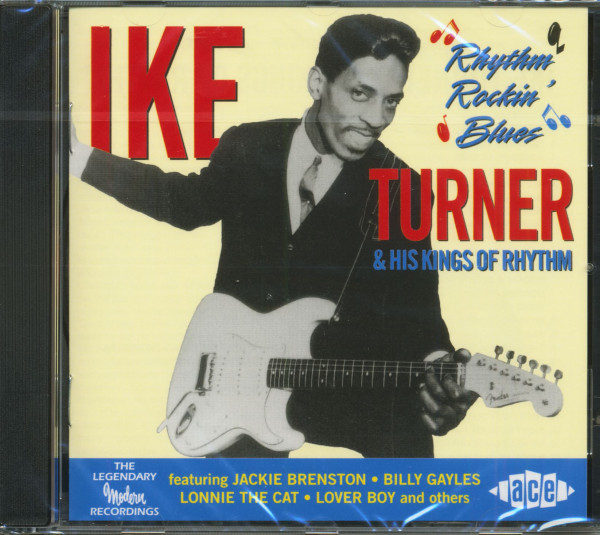 inkl. MwSt. / zzgl. Versandkosten - Abhängig vom Lieferland kann die MwSt. an der Kasse variieren.
nur noch 1x verfügbar
Sofort versandfertig, Lieferzeit** 1-3 Werktage
Artikel-Nr.:

CDCHD553

Gewicht in Kg.:

0.107
(ACE Records) 21 Tracks - (1951-54 'Modern/RPM') (60:14) Anfang des Jahres lag der...
mehr
Ike Turner: Rhythm Rockin' Blues (CD)
(ACE Records) 21 Tracks - (1951-54 'Modern/RPM') (60:14)
Anfang des Jahres lag der legendäre IKE TURNER in seinem Krankenbett in einer Wohnung in Los Angeles und erholte sich von einer kleinen Operation an einer Rückenschmerzen. Er rief schließlich an und sagte, er könne mir nur eine Stunde geben, da er nach Memphis zu einer Präsentation in den Sun Studios flog. Joe Bihari und ich kamen schließlich am Freitagnachmittag um 4 Uhr bei Turner an. Er begrüßte uns an der Tür, im Schlafanzug und Bademantel, und führte uns in sein Schlafzimmer und beschwerte sich über seinen wunden Hintern. Er rutschte wieder unter die Laken, als wir uns um sein Bett versammelten. Scharf wie ein Specht, fing er an, über sein frühes Leben zu sprechen: über das Aufwachsen in Clarksdale und das Vorurteil, das es damals gab - das Schwimmbad am Ende seiner Straße war "Whites Only", und dass, wenn es irgendwelche Mädchen gäbe, die einen schwarzen Mann baden würden, "auf die andere Seite der Straße gehen müssten". Wenn Sie Ihren Kopf drehen würden, würde die Polizei Sie einweisen: "Als sich das Gespräch aufheizte, fing Ike an, noch schneller zu reden. Ab und zu stotterte er - sein Memphis-Delta-Akzent brauchte fast schon Untertitel, um ihn zu verstehen. "Hey Joe", sagte er, "erinnerst du dich, als der Sheriff aus der Stadt geflohen ist?" Ich habe Ausrüstung in den Kofferraum deines Autos geladen.... Sie mochten es nicht, wenn du mit ihren Niggern herumalberst... Hast du gesehen, dass sie eine Wagenladung von State Troopers in Khaki hatten?" Joe Interject - "Ike, erinnerst du dich an den Auftritt in Blackfish Lake, Arkansas, wo der örtliche Sheriff das Geld an der Tür nahm?". Ihre Erinnerungen bedeuteten, dass die Zeit bald abgelaufen war und ich das Interview beenden musste, um Ike seinen Flug erwischen zu lassen. 29 Jahre war es her, dass ich Ike zum ersten Mal in einem Londoner Hotel getroffen hatte. Anschließend tourte er mit der Ike & Tina Turner Revue durch Großbritannien. Tina war damals mit dem von Phil Spector produzierten River Deep, Mountain High an der Spitze der britischen Charts. Ike hatte nichts mit dieser Platte zu tun, aber er leitete die Biographie der Revue, die jetzt bei Headline Books erschienen ist. Es enthält Ikes erste Aufnahme, Rocket 88 (erschienen bei Chess wie bei Jackie Brenston), während der Rest der Aufnahmen einige seiner besten Produktionen für Modern Records von 1954-56 enthält. Auf der CD sind seine Blues-Gitarre und sein rollender Piano mit einem Boogie-Beat zu hören. Es beleuchtet einige der Sänger, die er entdeckte, darunter Dennis'Longman' Binder, Lonnie "The Cat", J.W. Walker, Johnny Wright und der verstorbene Billy Gayles. Auf allen Seiten fungieren die Kings Of Rhythm als Begleiter, und Ike selbst taucht unter der Verkleidung des Lover Boy auf: Turner war viele Jahre lang der Dreh- und Angelpunkt der Moderne und arbeitete als Talentsucher für Joe Bihari, einen Go-getter, ein gutes Paar Hände im Studio und einen guten Musiker. Mit Tina als Sängerin wurde er schließlich international erfolgreich. Als sie sich in den 70er Jahren trennten und ihren eigenen Weg gingen, konzentrierte sich die Öffentlichkeit auf die Details ihrer Beziehung und nicht auf Ikes musikalisches Erbe. Jetzt ist Ike mit seiner Seite der Geschichte und einer neuen Revue wieder auf der Bühne, der Fokus kann sich wieder auf seine Musik richten. Die Frage ist, wird er es wieder groß machen?
Artikeleigenschaften von

Ike Turner: Rhythm Rockin' Blues (CD)
Albumtitel:

Rhythm Rockin' Blues (CD)

Genre

Blues

Artikelart

CD

EAN:

0029667155328

Gewicht in Kg:

0.107
Turner, Ike - Rhythm Rockin' Blues (CD)

CD 1
01
Rocket 88 (& JACKIE BRENSTONE)
Ike Turner
02
The Way You Used To Treat Me (& LOVER BOY)
Ike Turner
03
I Miss You So (& DENNIS BINDER)
Ike Turner
04
Nobody Wants Me (& DENNIS BINDER)
Ike Turner
05
The Wild One (& IKE TURNER)
Ike Turner
06
Medley (& IKE TURNER): Feeling Good-Love My
Ike Turner
07
Baby-Please Love Me-Boogie Chillen'-Dust My
Ike Turner
08
Broom-Rockin' & Rolling-Hoochie Coochie Man-
Ike Turner
09
Woke Up This Morning
Ike Turner
10
Sitting And Wondering (& J.W.WALKER)
Ike Turner
11
Early Times (& DENNIS BINDER)
Ike Turner
12
The World Is Yours (& JOHNNY WRIGHT)
Ike Turner
13
Suffocate (& JOHHNY WRIGHT)
Ike Turner
14
Talking About Me (& LITTLE JOHNNY BURTON)
Ike Turner
15
Walk My Way Back Home (& LITTLE J. BURTON)
Ike Turner
16
I Ain't Drunk (& LONNIE `THE CAT')
Ike Turner
17
The Road I Travel (& LONNIE `THE CAT')
Ike Turner
18
Night Howler (& BILLY GAYLES)
Ike Turner
19
My Heart In Your Hands (& BILLY GAYLES)
Ike Turner
20
A Woman Just Won't Do (& BILLY GAYLES)
Ike Turner
21
I'm Tired Of Being Dogged Around (& GAYLES)
Ike Turner
22
You Got Me Way Down Here (& DENNIS BINDER)
Ike Turner
23
Love Is Scarce (& LOVER BOY)
Ike Turner
24
Nobody Seems To Want Me (& LOVER BOY)
Ike Turner
Ike and Tina Turner evolved one of the most dramatically successful rock stage acts of the...
mehr
"Ike Turner"
Ike and Tina Turner evolved one of the most dramatically successful rock stage acts of the Seventies after a career em­bracing most forms of blues and soul. Ike Turner was born in Clarksdale, Mississippi, deep in the Delta cotton belt, on Nov. 5, 1931. A disc-jockeying job at station WROX led to the formation of the Kings Of Rhythm, a band of local musi­cians led by Turner. Their first record was 'Rocket 88' (Chess, 1951), sung by Jackie Brenston, a disc which is often cited as the first rock'n'roll recording.
Next, he became a talent scout in the southern states for Modern Records, fixing sessions by Bobby Bland, B, B. King, Howlin' Wolf and others. With the arrival of rock'n' roll in 1956, Turner moved north to St Louis, recording and playing in clubs with the Kings Of Rhythm. With them he evolved a revue format featuring various singers, while play­ing piano and guitar himself.
He found the focal point for the act in Annie Mae Bul­lock, who was born on Nov. 26, 1938 in Brownsville, Tennes­see, and moved to Knoxville, where she sang in the choir of her father's church. She was known at first as Little Ann, but her first record, 'A Fool In Love', was credited to Ike and Tina Turner. Released on Sue in 1960, it reached No. 2 in the R&B charts, No. 27 in the pop charts and eventually sold a million. That success led to the formation of the Ikettes (of which P. P. Arnold, Merry Clayton and Bonnie Bramlett have been members at one time) to back Tina, and the con­struction of the stage act which has persisted until the present day, in its essential features.
Like many black artists, Ike Turner has proved himself able to adapt to changing moods in both black and white audiences while still producing worthwhile music on many of the thirty-odd albums he and Tina have recorded for Sue, Warner Bros., Philles, Blue Thumb and United Artists amongst others. Perhaps surprisingly, they have had few major hits. 'It's Gonna Work Out Fine' (Sue, 1961), a fiery blues classic, was the most successful until their Top Ten version of 'Proud Mary' (Liberty, 1971), the funky, futuristic `Nutbush City Limits' (United Artists, 1973) and 'Sweet Rhode Island Red' (1974). In 1966, Ike Turner relinquished production control to Phil Spector for the remarkable 'River Deep — Mountain High'. It reached only No. 88 in America but was a Top Three record in Britain.
By the Seventies, Ike had his own studios, Bolic, and recorded a highly personal solo album, Blues Roots (United Artists, 1971), which suggested that the increasingly spec­tacular and regimented stage act, centred on Tina's flaunting sexuality, might be less than satisfying for him.
Bewertungen lesen, schreiben und diskutieren...
mehr
Kundenbewertungen für "Rhythm Rockin' Blues (CD)"
Bewertung schreiben
Bewertungen werden nach Überprüfung freigeschaltet.
Weitere Artikel von Ike Turner
Ike Turner & The Kings Of Rhythm: Live In Concert 2002
Art-Nr.: DVDCHF1014


Sofort versandfertig, Lieferzeit** 1-3 Werktage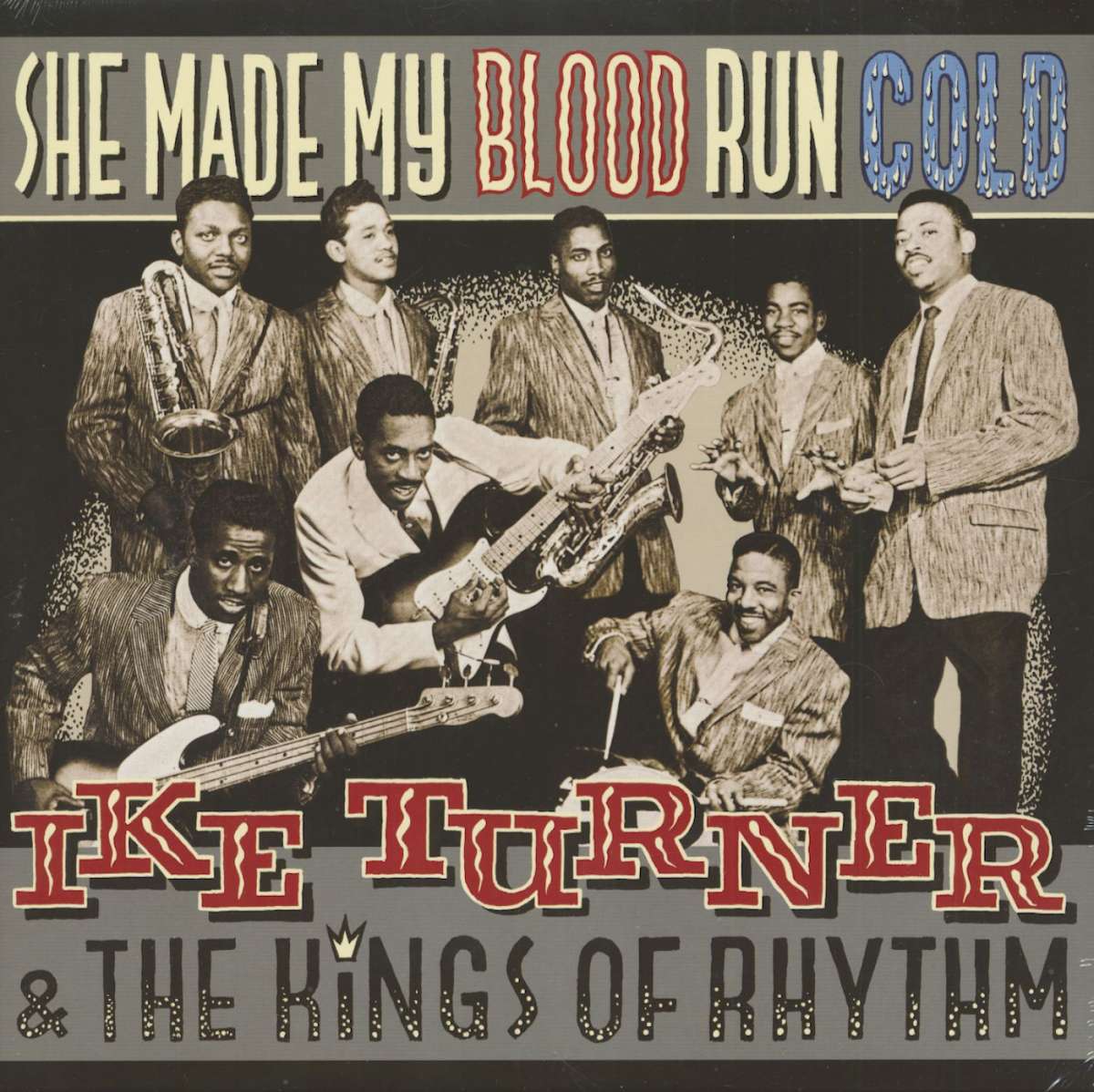 Ike Turner & His Kings Of Rhythm: She Made My Blood Run Cold (LP)
Art-Nr.: LPSR3502


nur noch 1 verfügbar
Sofort versandfertig, Lieferzeit** 1-3 Werktage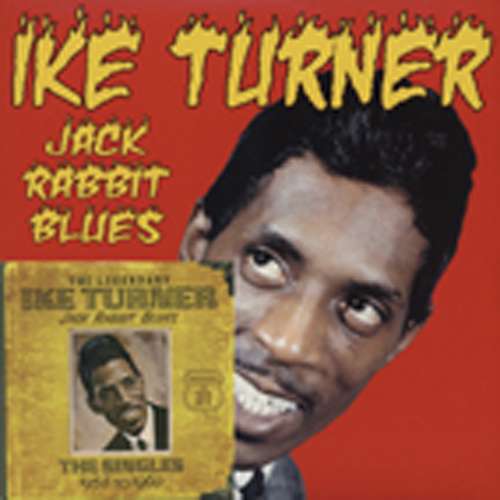 Ike Turner & Others: Jack Rabbit Blues-Singles 1958-60 & 10'Vinyl
Art-Nr.: CDSEC041


Artikel muss bestellt werden
Ike Turner: Down & Out: Recordings 1951-59
Art-Nr.: LPJR3


Artikel muss bestellt werden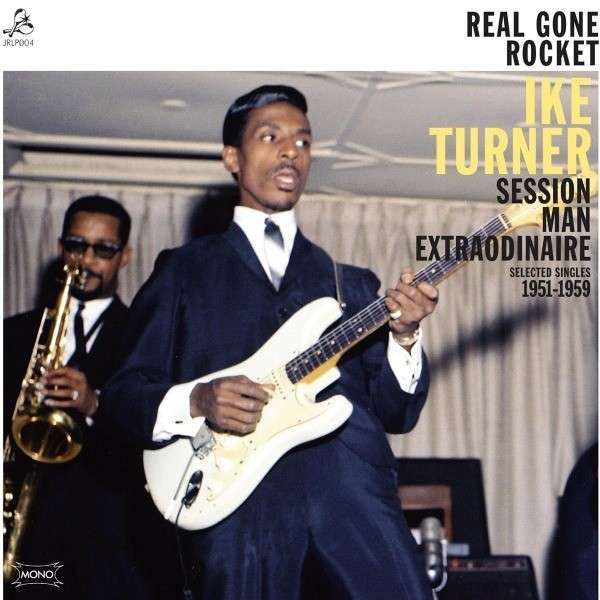 Ike Turner: Real Gone Rocket: Session Man Extraordinaire
Art-Nr.: CDJR04


Artikel muss bestellt werden