Der Artikel wurde erfolgreich hinzugefügt.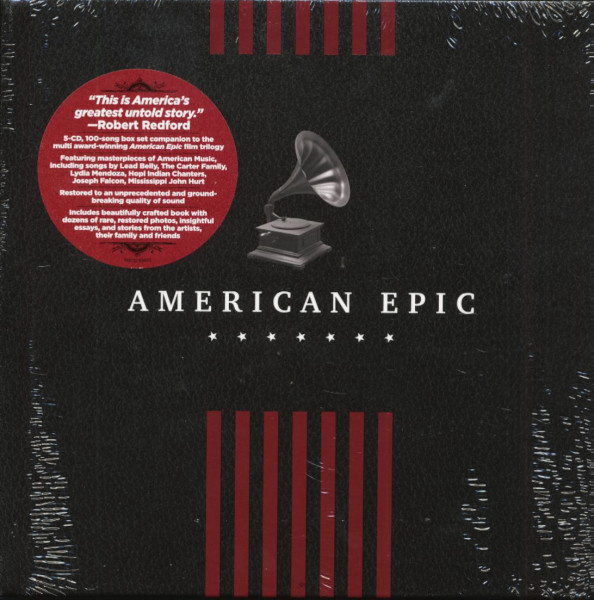 Benachrichtigen Sie mich, sobald der Artikel lieferbar ist.
44,95 € *
59,95 € *
(25,02% gespart)
inkl. MwSt. / zzgl. Versandkosten - Abhängig vom Lieferland kann die MwSt. an der Kasse variieren.
Artikel derzeit nicht verfügbar, Lieferfristen von bis zu 2-3 Wochen sind zu erwarten. (soweit verfügbar beim Lieferanten - kann schneller gehen, manchmal aber leider auch nicht)
Artikel-Nr.:

CDSNY99692

Gewicht in Kg.:

0.675
(2017/Sony Legacy) 100 Tracks - Book and 5 CDs box set companion to the multi award-winning...
mehr
Various: American Epic (5-CD-Book Set)
(2017/Sony Legacy) 100 Tracks -
Book
and 5 CDs box set companion to the multi award-winning 'American Epic' film trilogy, featuring masterpieces of American Music! The soundtrack to the films that tell the story of the beginning of American popular music!
Video von Various - American Epic (5-CD-Book Set)
Artikeleigenschaften von

Various: American Epic (5-CD-Book Set)
Albumtitel:

American Epic (5-CD-Book Set)

Genre

Soundtracks & Musicals

Edition 2

Legacy Edition

Artikelart

CD

EAN:

0888750996923

Gewicht in Kg:

0.675
Various - American Epic (5-CD-Book Set)

CD 1
01
The Coo
Clarence Ashley
02
On The Road Again
Memphis Jug Band
03
The Panama Limited
Bukka White
04
Indian War Whoop
Hoyt Ming & His Pep Steppers
05
'tain't Nobody Business If I Do (Part 1)
Frank Stokes
06
K C Railroad Blues
Andrew & Jim Baxter
07
I Am Bound For The Promised Land
Alfred G. Karnes
08
Cottonfield Blues (Part 2)
Garfield Akers
09
I Wish I Was A Mole In The Ground
Bascom Lamar Lunsford
10
Down On Penny's Farm
Bentley Boys
11
Foldin' Bed
Whistler's Jug Band
12
Greenback Dollar
Weems String Band
13
Tallahatchie River Blues
Mattie Delaney
14
Walk Right In
Cannon's Jug Stompers
15
Bury Me Under The Weeping Willow
The Carter Family
16
Old Dog Blue
Jim Jackson
17
Bayou Teche Waltz
Columbus Fruge
18
Cool Drink Of Water Blues
Tommy Johnson
19
Train On The Island
J.P. Nester
Various - American Epic (5-CD-Book Set)

CD 2
01
My Heart Keeps Singing
Elder J.E. Burch
02
Ninety
Julius Daniels
03
I Get My Whiskey From Rockingham
Earl Johnson And His Clodhoppers
04
Death's Black Train Is Coming
J.M. Gates
05
Waiting For A Train
Jimmie Rodgers
06
Darling, Where Have You Been So Long
Tenneva Ramblers
07
Rocky Road
Alabama Sacred Harp Singers
08
Ma Blonde Est Partie
Amédée Breaux, Ophy Breaux & Cleoma Breaux
09
Peg And Awl
Carolina Tar Heels
10
Chocolate To The Bone
Barbecue Bob
11
Down On Me
Eddie Head & His Family
12
Prenez Courage
Cleoma Breaux With Joseph Falcon & Ophy Breaux
13
Pickin' Off Peanuts
Dilly & His Dill Pickles
14
Just Because
Nelstone's Hawaiians
15
Dupree Blues
Willie Walker
16
Ladies On The Steamboat
Burnett & Rutherford
17
Mamma, 'Tain't Long Fo' Day
Blind Willie McTell
Various - American Epic (5-CD-Book Set)

CD 4
01
Hard Time Blues
Lane Hardin
02
Down The Dirt Road Blues
Charley Patton
03
Poor Boy, Long Ways From Home
Banjo Joe
04
Hastings Street
Blind Blake & Charlie Spand
05
See That My Grave's Kept Clean
Blind Lemon Jefferson
06
Gonna Have 'lasses In The Morning
Golden Melody Boys
07
New Orleans Stop Time
Bumble Bee Slim & Memphis Minnie
09
I'm Gonna Die With My Hammer In My Hand
Williamson Brothers & Curry
10
Last Kind Words Blues
Geeshie Wiley
11
Banjoreno
Dixieland Jug Blowers
12
It's A Good Thing
Beale Street Sheiks (Frank Stokes & Dan Sane)
13
Trust In God And Do The Right
Blind Willie Davis
14
Someday Baby Blues
Sleepy John Estes
15
Lonesome Road Blues
Sam Collins
16
Future Blues
Willie Brown
17
Bull Doze Blues
Henry Thomas' Ragtime Texas
18
Brown Skin Gal (Down The Lane)
Massey Family
19
Henry Lee
Dick Justice
20
Old Country Rock
William Moore
21
La Danseuse (The Dancer)
Derma Lachney & Blind Uncle Gaspard
22
My Black Mama, Parts 1 & 2
Son House
23
Cypress Grove Blues
Skip James
Various - American Epic (5-CD-Book Set)

CD 5
01
Cross Road Blues
Robert Johnson
02
Mal Hombre
Lydia Mendoza
03
Sunshine Special
Frenchy's String Band
04
Old Jim Kinnane's
Robert Wilkins
05
Les Blues De Voyage (Travel Blues)
Arnedee Ardoin & Dennis McGee
06
The Lost Child
Stripling Brothers
07
I'm Gonna Cross The River Of Jordan Some Of These Days
Jaybird Coleman
08
Tomi Tomi
The Aloha Serenaders, featuring Sol K Bright
09
Sittin' On Top Of The World
Mississippi Sheiks
10
James Alley Blues
Richard 'Rabbit' Brown
11
The Indian Tom Tom
Big Chief Henry's Indian String Band
12
Blues In A Bottle
Prince Albert Hunt's Texas Ramblers
13
Je Me Suis En Alle
Bartmon Montet & Joswell Dupuis
14
Dark Was The Night, Cold Was The Ground
Blind Willie Johnson
15
E Mama Ea
Sol Hoopii & His Novelty Trio
16
Ghost Dance
Truett & George
17
Woke Up This Morning (With My Mind On Jesus)
Roosevelt Graves & Brother
18
Allons A Lafayette
Joseph Falcon
19
Corrido De Joaquin Murrieta, Parts 1 & 2
Los Madrugadores
20
Denomination Blues, Parts 1 & 2
Washington Phillips
Bewertungen lesen, schreiben und diskutieren...
mehr
Kundenbewertungen für "American Epic (5-CD-Book Set)"
Grossartig
Grossartiger Soundtrack zur gleichnamigen Dokumentation, die ich jedem Liebhaber dieser Musik sehr ans Herz legen kann. Sehr aufwendig produzierte Edition - die CDs befinden sich in einem aufwendig gestalteten, mit vielen Fotos versehenen Begleitbuch zur Musik. Grossartige Tonqualität.
Von:
Martin Feldmann
Am:
02.07.2017
Empfehlenswerte Kollektion
Dieses 5-CD-Book-Set (passend zur gleichnamigen Film-Trilogie) lädt zu einer musikalischen Reise in die Prewar-Ära der USA ein. Der Trip führt in die Südstaaten, die Ost- und die Westküste sowie in den Mittleren Westen. Bei den z.T. sehr raren Aufnahmen wechseln sich Blues, Cajun, Gospel, Folk, Tex-Mex, Songs der American Natives (Indianer) sowie Hawai'i-Musik ab. Aber der frühe Blues ist hier der Schwerpunkt. Zu hören sind u.a. afroamerikanische Blues-Legenden wie Robert Johnson, Tommy Johnson, Charley Patton, Blind Lemon Jefferson, Barbecue Bob, Big Bill Broonzy, Mississippi John Hurt, Skip James, Son House, Ma Rainey, Bumble Bee Slim & Memphis Minnie.
Die Tonqualität der technisch relaunchten 100 Stücke ist erstaunlich gut.
Die CDs stecken in stabilen Hüllen am Ende des Buchs (ca. 100 Seiiten). Das Werk ist reich illustriert (mit seltenen Fotos) und voll von Informationen.
Ein Muss für Leute, die sich für (afro-)amerikanische Musikgeschichte interessieren.
Bewertung schreiben
Bewertungen werden nach Überprüfung freigeschaltet.
Weitere Artikel von Various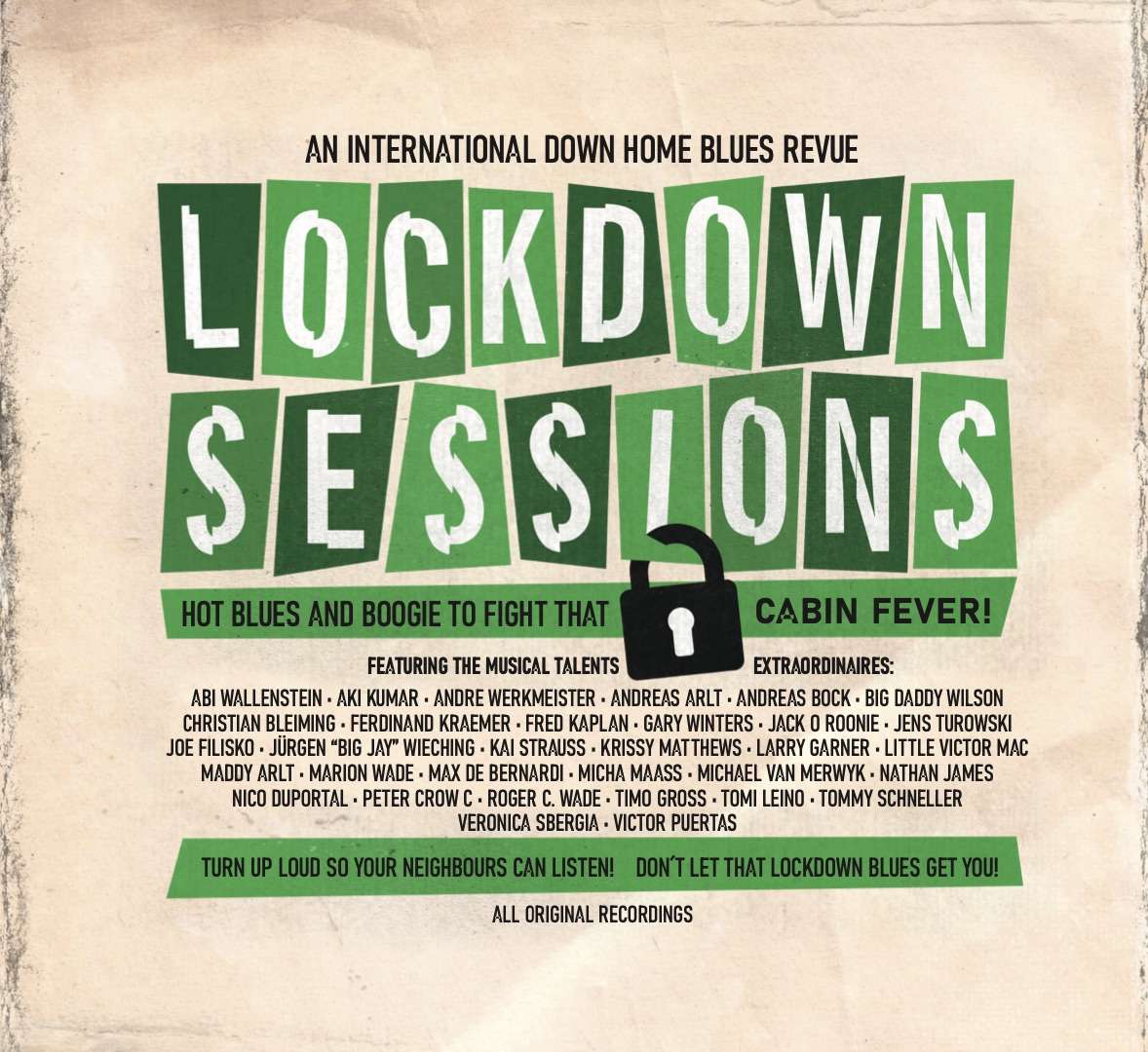 Various: Lockdown Sessions - A Downhome Blues Revue (2-CD)
Art-Nr.: CDCCD11112


Artikel muss bestellt werden
Various: Rock And Roll Mystery LP-Set (3-LP)
Art-Nr.: LPMYSTERY3


Sofort versandfertig, Lieferzeit** 1-3 Werktage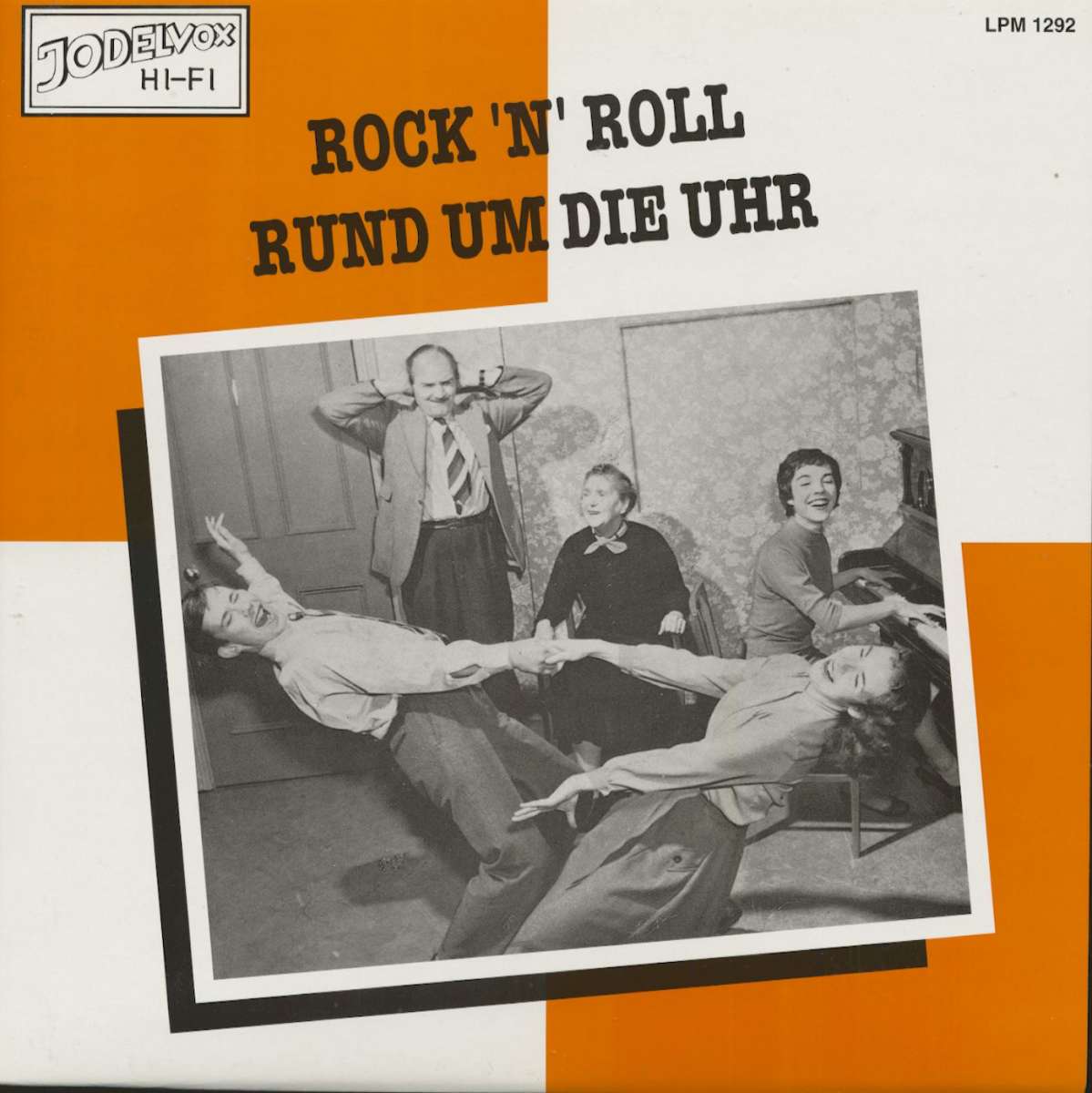 Various: Rock'n'Roll rund um die Uhr Vol.1 (LP)
Art-Nr.: LPJOVO1292


Sofort versandfertig, Lieferzeit** 1-3 Werktage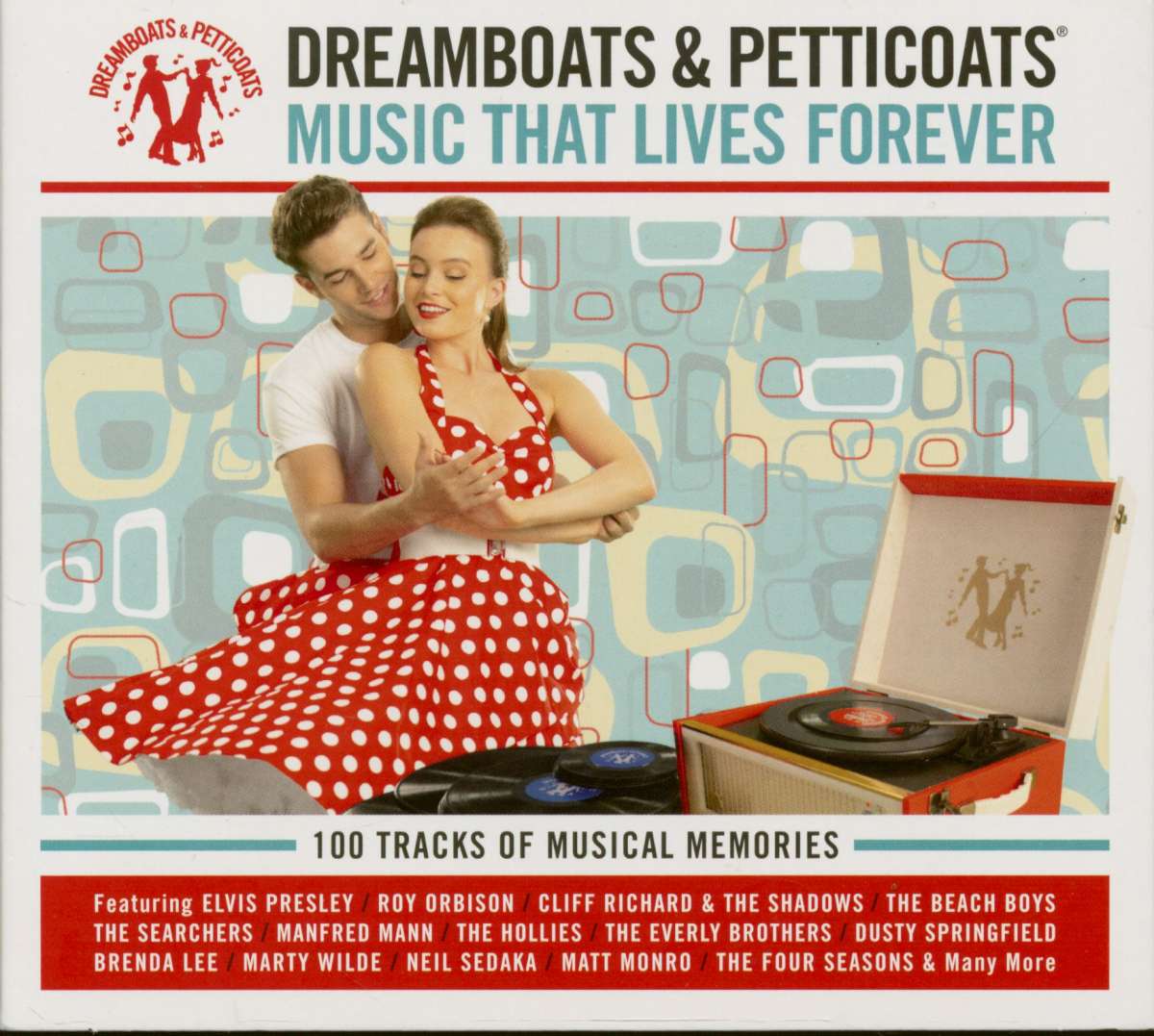 Various Artists: Dreamboats and Petticoats - Music That Lives...
Art-Nr.: CD5391113


Sofort versandfertig, Lieferzeit** 1-3 Werktage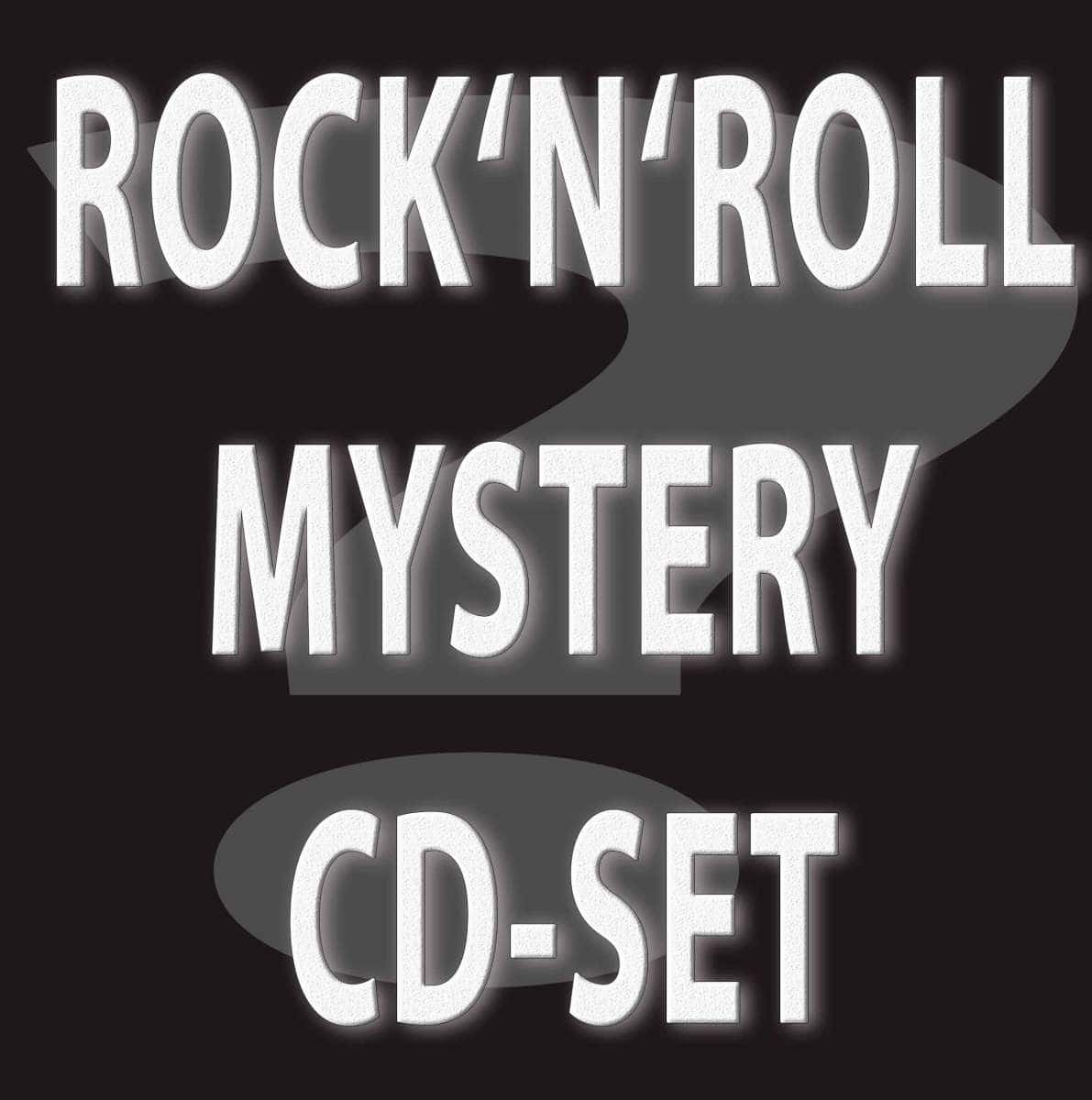 Various: Rock And Roll Mystery CD-Set (3-CD)
Art-Nr.: CDMYSTERY3


Sofort versandfertig, Lieferzeit** 1-3 Werktage