Der Artikel wurde erfolgreich hinzugefügt.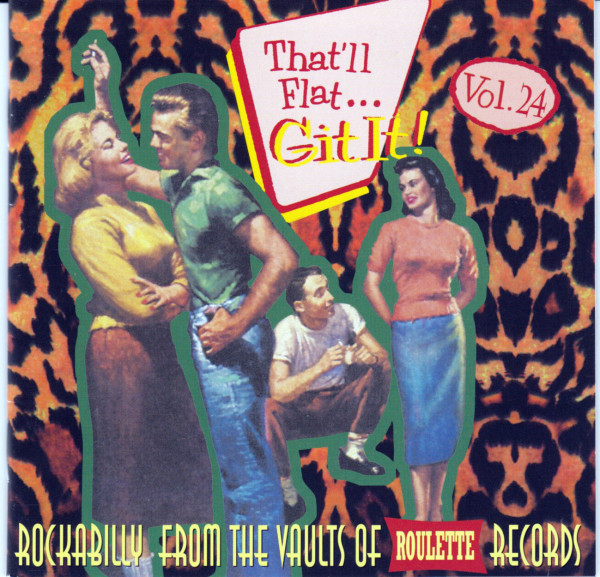 13,95 € *
15,95 € *
(12,54% gespart)
inkl. MwSt. zzgl. Versandkosten
Sofort versandfertig, Lieferzeit** 1-3 Werktage
Artikel-Nr.:

BCD16724

Gewicht in Kg.:

0.115
1-CD mit 52-seitigem Booklet, 36 Einzeltitel. Spieldauer ca. 79 Minuten. Rockabilly aus den...
mehr
Various - That'll Flat Git It!: Vol.24 - Rockabilly From The Vaults Of Roulette Records (CD)
1-CD mit 52-seitigem Booklet, 36 Einzeltitel. Spieldauer ca. 79 Minuten.
Rockabilly aus den Archiven von Roulette Records!
Roulette Records wurde im Januar 1957 von mehreren Veteranen der New Yorker Musikszene gegründet.
Anders als zum Beispiel Atlantic gab es keine künstlerische Vision dahinter, es sei denn, viel Geld als künstlerische Vision zu verdienen.


Es gab Partner, stille Partner und wahrscheinlich verstummte Partner.
Der Partner mit der längsten Beteiligung der Musikindustrie war der Musikverlag Phil Kahl, der 1944 in die Musik von Santly-Joy Music eingestiegen war. Er leitete das Musikverlag Disneys East Coast und gründete 1954 einen Musikverlag (Planetary, Kahl und Patricia Music) mit
Clubbesitzer Morris Levy.
Anscheinend hat Levy (dessen Name normalerweise wegen seiner Mob-Verbindungen von "notorischen" vorangestellt wird) zufällig Musikverlag entdeckt.
Er hatte einige Leute aus ASCAP aus seinem Club, Birdland, geworfen, als sie gefordert hatten, dass er sie dafür bezahlen würde, Musik zu spielen.


Dann hatte er im Gespräch mit seinem Anwalt herausgefunden, dass man tatsächlich Geld sammeln konnte, wenn man seine Lieder in Clubs spielte, also beschloss er, ein Musikverlag zu werden.
"Ich liebe meine Veröffentlichung", sagte er Dorothy Wade und Justine Picardie.
"Es ist sehr intim, sehr gradlinig und redet nie mit dir." Das Veröffentlichen war immer meine erste Liebe, ich habe nur mit Platten getäuscht, um mehr zu veröffentlichen. "


Im November 1955 erwarb Phil Kahls jüngerer Bruder Joe Kolsky (der Familienname war Kolsky) eine 50% ige Beteiligung an den Rama-, Gee- und Tico-Labels des doo-wop-Rekordpioniers George Goldner.
Etwa ein Jahr später entschieden sich Kolsky, Kahl, Levy und Goldner für ein neues Label, Roulette.
Allein der Name war eine wunderbare Metapher für das Musikgeschäft.
Es ist wahrscheinlich, dass Deejay Alan Freed, den Levy in irgendeiner Funktion bewältigte, einen stillen Anteil am Label hatte (Levy sagte später, dass Freed fünfundzwanzig Prozent besaß).


Die ursprüngliche Partnerschaft dauerte nicht lange.
Goldner produzierte nie etwas für Roulette und Billboard gab am 6. April 1957 bekannt, dass "[Goldner] seine Interessen an den Roulette-, Rama-, Gee- und Tico-Labels direkt an Morris Levy verkauft hat".
Goldner fuhr fort, Gone and End Records zu starten, aber würde diese an Levy in einem seiner vielen Momente der Not verkaufen, weshalb das Gone / End-Repertoire in diese Sammlung aufgenommen wurde.
Schon vor Goldners Ausscheiden erkannte Levy, dass Roulette jemanden brauchte, der das fehlende musikalische Talent versorgen konnte. Deshalb brachte er Hugo Peretti und Luigi Creatore von Mercury als tägliche Manager ein.
Luigi sagte Peter Guralnick, dass sie 50% des Labels für 1000 Dollar gekauft hätten, aber wenn Freed 25% besäße, wäre es unwahrscheinlich, dass Levy, Kahl und Kolsky nur 25% besessen hätten.


In den späten 1950er Jahren verkaufte Alan Freed seinen Anteil an Roulette an einige Mob-Charaktere, die Levy nicht nennen würde, und es ist unklar, wie Levy Freeds Anteil zurückeroberte ... aber er tat es.
Um die gleiche Zeit gingen Hugo & Luigi als unabhängige Produzenten zu RCA, aber sie gaben ihren Anteil an Roulette bis 1965 nicht offiziell ab. Levy machte ihnen klar, dass ihre ursprüngliche $ 1000 Investition nicht an Wert gewonnen hatte und ihren Anteil wiedererlangte
für eintausend.


Im Jahr 1962 kündigten Kahl und Kolsky Roulette an, um Diamond Records zu gründen. Roulette überlebte jedoch bis 1977 oder 1978 immer noch Rekorde, obwohl sie größtenteils aus seinem umfangreichen Rückenkatalog stammen.
Levy's Imperium wuchs auch auf die Bereiche Fertigung, Gestellung und Einzelhandel, aber Mitte der 80er Jahre begann alles zu entwirren, als FBI-Abhörmaßnahmen ein verwirrtes Netz von Kriminalität enthüllten.
1988 verkaufte er Roulette an Rhino Records für Nordamerika und EMI / Capitol für den Rest der Welt.
Etwa zur gleichen Zeit erwarb EMI auch Levy's wertvollen Musikverlagskatalog.


Am 21. Mai 1990 starb Levy im Alter von 62 Jahren an Leberkrebs, während er seine Strafe ansprach und so den Rap schlug.
Phil Kahl starb am 13. März 2000 in Florida im Alter von 83 Jahren.
(Colin Escott, Bear Family Records 2006)

Jede CD wäre zum größten Teil eine 30-Songs-Jukebox von feinstem Rockabilly, die je für die großen Labels aufgenommen wurde.
Wir beschafften die besten Klangbänder und brachten sie zu den besten Mastering-Ingenieuren, und dann haben wir die Verpackung auf ein neues Level gebracht.
Wir haben das Slogan des ersten Rockabilly-Deejay Dewey Phillips, "That's Flat Git It!", Übernommen.


Wir suchten nach bisher unveröffentlichten Fotos und versuchten alle Künstler zu finden, die noch nie zuvor gefunden wurden.

Das Ergebnis ist eine wirklich definitive Rockabilly-Serie, die jetzt auf 28 Bände läuft.
Artikeleigenschaften von

Various - That'll Flat Git It!: Vol.24 - Rockabilly From The Vaults Of Roulette Records (CD)
Albumtitel:

Vol.24 - Rockabilly From The Vaults Of Roulette Records (CD)

Genre

Rock'n'Roll

Preiscode

AH

Artikelart

CD

EAN:

4000127167248

Gewicht in Kg:

0.115
Various - That'll Flat Git It - Vol.24 - Rockabilly From The Vaults Of Roulette Records (CD)

CD 1
01
I Got A Rocket In My Pocket
LLOYD, Jimmy (JIMMIE LOGSDON)
02
She's Mine
STRICKLAND, Johnnie
03
My Baby's Gone
BOWEN, Jimmy
04
Rock-A-Bop-A-Lina
BILLY & DON HART
05
Long, Long Walk
RIVERS, Johnny
06
Baby Take Me Back
LARUE, Roc
07
Satellite Rock
TATE, Joe
08
Jeri Lee
SHADES
09
High School Blues
VICKERY, Mack
10
Crazy About You
MALOY, Vince
11
Where The Rio De Rosa Flows
LLOYD, Jimmy (JIMMIE LOGSDON)
12
Hole In My Bucket
DAVIES, Bob
13
Janis Will Rock
ROCK-A-TEENS
14
Rock 'N' Roll Mama
TATE, Joe
15
Only One
ROBERTS, Don 'RED'
16
Guitar Hop
SHADES
17
Romeo Joe
SKEE BROS
18
You're Gone Baby
LLOYD, Jimmy (JIMMIE LOGSDON)
19
You've Got What It Takes
STRICKLAND, Johnnie
20
Doggone It Baby (alt.)
ROCK-A-TEENS
21
Leapin' Guitar
CHAPPARALS
22
Rock To The Music
DAVIES, Bob
23
Baby Come Back
RIVERS, Johnny
24
Baby, Baby
SHADES
25
Goin' Wild
ISLE, Jimmy
26
I'm Free
TATE, Joe
27
Goin' Back To St. Louis
VICKERY, Mack
28
Hubba Hubba Ding Ding
MALOY, Vince
29
That's Rock 'N' Roll
RIVERS, Johnny
30
Never Anymore
DAVIES, Bob
31
Lotta Boppin' (alt.)
ROCK-A-TEENS
32
School Bus
SHADES
33
I Guess It's Love
TATE, Joe
34
Found
STONE, Jimmy
35
Don't Say Maybe
ROBERTS, Don 'RED'
36
You're Driving Me Mad
CAMPBELL, Jo Ann
That'll Flat Git It CDs Album-Serie produziert von Bear Family Records 'That'll Flat...
mehr
"Various - That'll Flat Git It!"
That'll Flat Git It
CDs Album-Serie produziert von Bear Family Records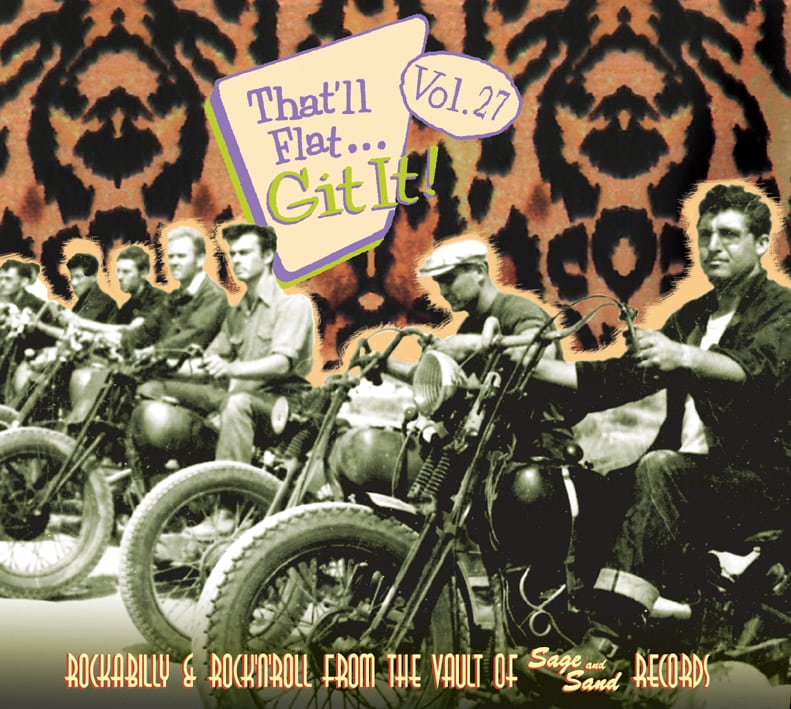 'That'll Flat Git It!' das war das verbale Erkennungszeichen des Memphis Disc Jockeys Dewey Phillip, der keinen geringeren als Elvis Presley erstmalig im Radio spielte... Und 'That'll Flat Git It' heisst unsere Bear Family Records Rockabilly CD-Album Serie! Wer kennt nicht die legendären Lanspielplatten wie die 'MGM Rockabillies', die 'Chess Rockabillies', die 'Rare Rockabilly' Zusammenstellungen der Firma MCA, oder die Columbia Zusammenstellungen. Alle Rockabillykracher, die auf diesen LPs enthalten waren, gibt es bei uns auf CD-Album plus mindestens doppelt so vieler weiterer Rockabilly Songs!
Einzigartige That'll Flat Git It! Rockabilly-Serie
Wir machten uns auf die Suche nach den am besten klingenden Bändern. Ließen sie dann von den führenden Mastering-Spezialisten bearbeiten und haben auch in puncto Verpackung neue Maßstäbe gesetzt. Als übergeordneten Serien-Titel wählten wir ' That'll Flat Git It!', das verbale Erkennungszeichen des ersten Rockabilly-Discjockeys Dewey Phillips.
Außerdem suchten wir unveröffentlichtes Fotomaterial und machten all jene Interpreten ausfindig, nach denen bis dahin vergeblich geforscht worden war.
Unterm Strich steht unsere einzigartige That'll Flat Git It! Serie
Bewertungen lesen, schreiben und diskutieren...
mehr
Kundenbewertungen für "Vol.24 - Rockabilly From The Vaults Of Roulette Records (CD)"
Bewertung schreiben
Bewertungen werden nach Überprüfung freigeschaltet.
Weitere Artikel von Various - That'll Flat Git It!