Der Artikel wurde erfolgreich hinzugefügt.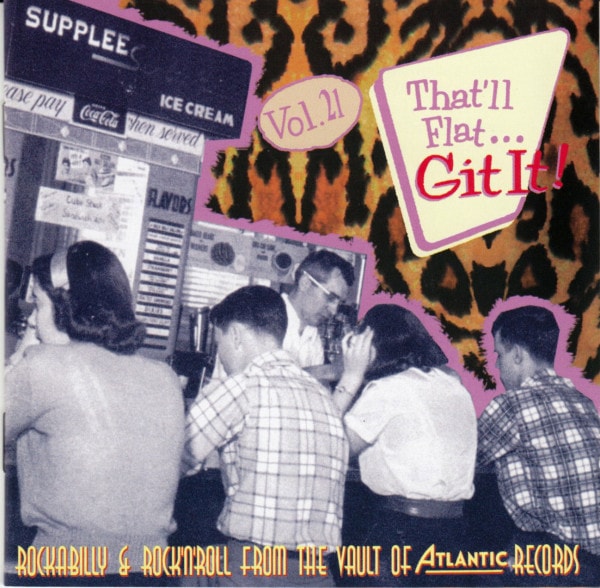 13,95 € *
15,95 € *
(12,54% gespart)
inkl. MwSt. / zzgl. Versandkosten
Sofort versandfertig, Lieferzeit** 1-3 Werktage
1-CD mit 51-seitigem Booklet, 29 Einzeltitel. Spieldauer ca. 64 Minuten. Rockabilly aus den...
mehr
Various - That'll Flat Git It!: Vol.21 - Rockabilly From The Vaults Of Atlantic (CD)
1-CD mit 51-seitigem Booklet, 29 Einzeltitel. Spieldauer ca. 64 Minuten.
Rockabilly aus den Archiven von Atlantic Records!
Der Unterhaltungsmogul David Geffen erinnerte sich an ein frühes Gespräch, in dem er Ahmet Ertegun, den Mitbegründer von Atlantic Records, fragte, wie man im Musikgeschäft Geld verdient.
Ertegun sagte, er würde demonstrieren, und er stand von seinem Stuhl auf, beugte sich vor und schlurfte langsam durch den Raum.
Geffen verstand es nicht, also tat Ertegun es zweimal.
Schließlich erklärte er: "Wenn Sie Glück haben, stoßen Sie auf ein Genie, und ein Genie wird Sie reich machen."
Ertegun war Mitbegründer von Atlantic Records, stieß in Genies ein, verdiente Geld und starb so sehr, wie er es hoffte.
Bei einem Rolling Stones Konzert fiel er am 29. Oktober 2006 hinter die Bühne und verstarb am 14. Dezember im Alter von 83 Jahren.


Erteguns exotischer Hintergrund war für einen Rekordbranche-Pionier ungewöhnlich.
"Als ich zwei Jahre alt war", erzählte er dem "Slate" -Magazin, "mein Vater, der Rechtsberater von Kemal Atatürk war [Atatürk, für die im Dunkeln der Nahost-Geschichte war der Gründer der post-osmanischen Türkei]
wurde in die Schweiz entsandt, um die Türkei beim Völkerbund zu vertreten, er war auch der türkische Botschafter in der Schweiz und war danach der türkische Botschafter in Frankreich.


So verbrachte ich mehrere Jahre meiner Jugend in Paris und ging dann nach London und war während der Regierungszeit von George V. Botschafter beim Gerichtshof von St. James.
Dann gingen wir nach Washington, als er Botschafter in den USA wurde. Als ich etwa 8 oder 9 Jahre alt war, nahm [mein Bruder] Nesuhi 1932 Cab Calloway und später Duke Ellington im Palladium in London mit.
Ich hatte nie schwarze Menschen gesehen, außer ich hatte Bilder von großen Künstlern wie Josephine Baker gesehen.


Und ich hatte noch nie etwas so Glorreiches gehört wie jene schönen Musiker, die große weiße Schwänze trugen und diese unglaublich glänzenden Hörner mit Drums und Rhythmusschnitten spielten, wie man sie auf Platten nie gehört hat.
Also wurde ich ziemlich früh Jazzfan und ging danach nicht mehr vom Weg ab.
1936 wurde beschlossen, dass jeder türkische Bürger einen Nachnamen wählen sollte.
Davor waren die Menschen einfach als "Sohn von James" bekannt, oder was auch immer.
Mein Vater, Munir, wählte den Nachnamen Ertegun, was bedeutet, "in einer hoffnungsvollen Zukunft zu leben".


Munir Ertegun starb 1944 und wurde in Washington begraben.
Am Ende des Zweiten Weltkriegs begleiteten seine Frau und seine Tochter seine Überreste zurück in die Türkei, aber Ahmet und Nesuhi blieben.
Am Graduiertenkolleg entdeckte Ahmet Max Silvermans Quality Radio Repair Shop, einen lokalen Laden, der sich gerade in Platten aufgeteilt hatte.
Um die gleiche Zeit freundete sich Ahmet mit Herb Abramson an, einem Zahnarztsstudenten, der A & R für National Records handhabte.
Abramson war in Erteguns Augen ein Held und wollte mit ihm Geschäfte machen.


Sie unterhielten sich mit Silverman, aber er zog sich heraus.
Ertegun wandte sich dann an den Familienzahnarzt Dr. Vahdi Sabit, der 10.000 US-Dollar durch Umsiedlung seines Hauses aufstellte.
Sie gründeten das Unternehmen im September 1947 in New York, und es wurde im folgenden Monat gegründet.
Abramson war Präsident;
Ertegun war Vizepräsident und Abramsons Frau Miriam war Vizepräsidentin und Büroleiterin.
Der Atlantik begann wenige Monate vor dem Inkrafttreten des Verbots von 1948, also war das erste Jahr hart.
Sie haben bis zur Deadline aufgenommen, ein paar alte Aufnahmen und ein paar ausländische Aufnahmen gekauft und ein paar Bootleg-Sessions durch das Verbot gemacht.
Die frühen Aufzeichnungen waren überwiegend Jazz.


Atlantic machte 1949/50 sein erstes Unternehmen in Hillbilly-Musik und veröffentlichte sieben 78er in seiner Folk & Western-Serie und ein weiteres auf seinem ersten Tochter-Label Plaza.
Das vorherrschende Geräusch war Akkordeon-getriebene Ostküstenlandmusik, ein Stil, der landesweit gefallen war.


Das ganze Projekt würde von allen außer Obsessiven völlig vergessen sein, wenn nicht die Tatsache, dass Bill Haley (und man kann es auf Bear Fellows erschöpfendem frühen Haley-Set 'Rock'n'Roll Arrives' hören) gehört.



Jede CD wäre zum größten Teil eine 30-Songs-Jukebox vom feinstem Rockabilly, die je für die großen Labels aufgenommen wurde.
Wir beschafften die besten Klangbänder und brachten sie zu den besten Mastering-Ingenieuren, und dann haben wir die Verpackung auf ein neues Level gebracht.
Wir haben das Slogan des ersten Rockabilly-Deejay Dewey Phillips, "That's Flat Git It!", Übernommen.


Wir suchten nach bisher unveröffentlichten Fotos und versuchten alle Künstler zu finden, die noch nie zuvor gefunden wurden.

Das Ergebnis ist eine wirklich definitive Rockabilly-Serie, die jetzt auf siebenundzwanzig Bände läuft.
Artikeleigenschaften von

Various - That'll Flat Git It!: Vol.21 - Rockabilly From The Vaults Of Atlantic (CD)
Albumtitel:

Vol.21 - Rockabilly From The Vaults Of Atlantic (CD)

Genre

Rock'n'Roll

Preiscode

AH

Artikelart

CD

EAN:

4000127167217

Gewicht in Kg:

0.115
Various - That'll Flat Git It - Vol.21 - Rockabilly From The Vaults Of Atlantic (CD)

CD 1
01
My Pink Cadillac
WILLIS, HAL
02
Swingin' Baby Doll
GATES, DAVID
03
Ding Dong Dandy
HENDERSON, AL
04
Judy
REDELL, TEDDY
05
Rockin' Country Style
REEVES, GLENN
06
Piano Nellie
BRANT, BOBBY
07
This Is The Night
THOMPSON, BUDDY
08
Weekend
KINGSMEN
09
Rakin' And Scrapin'
BEARD, DEAN
10
Too Hot To Handle
SIMMONS, JIMMY
11
Rumble Tumble
MAD MAN TAYLOR
12
Long Tall Sally
GREENE, BARBARA
13
Big Betty
RAY & LINDY
14
Jupiter C
PAT & THE SATELLITES
15
Bop-A-Dee Bop-A-Doo
WILLIS, HAL
16
Walkin' And Talkin'
GATES, DAVID
17
Mary Jane
HENDERSON, AL
18
Party Party
BEARD, DEAN
19
Better Believe It
KINGSMEN
20
Can't You See
REDELL, TEDDY
21
Drinkin' Wine Spo-Dee-O-Dee
REEVES, GLENN
22
Rave On
WEST, SONNY
23
I've Got A Good Thing Going
THOMPSON, BUDDY
24
Rock'n'Roll Espanole
MAD MAN TAYLOR
25
The Lover's Curse
EVERETT, BRACEY
26
Slippin' And Slidin'
GREENE, BARBARA
27
Jeanette
CASTLE KINGS
28
Jungle Girl
THOMPSON, JUNIOR
29
The Cat Walk
KINGSMEN
That'll Flat Git It CDs Album-Serie produziert von Bear Family Records 'That'll Flat...
mehr
"Various - That'll Flat Git It!"
That'll Flat Git It
CDs Album-Serie produziert von Bear Family Records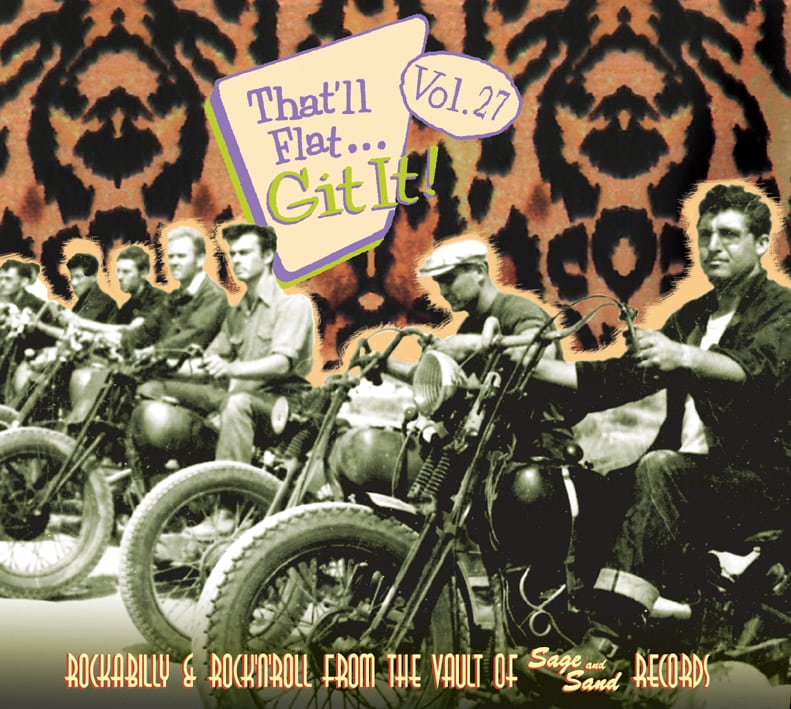 'That'll Flat Git It!' das war das verbale Erkennungszeichen des Memphis Disc Jockeys Dewey Phillip, der keinen geringeren als Elvis Presley erstmalig im Radio spielte... Und 'That'll Flat Git It' heisst unsere Bear Family Records Rockabilly CD-Album Serie! Wer kennt nicht die legendären Lanspielplatten wie die 'MGM Rockabillies', die 'Chess Rockabillies', die 'Rare Rockabilly' Zusammenstellungen der Firma MCA, oder die Columbia Zusammenstellungen. Alle Rockabillykracher, die auf diesen LPs enthalten waren, gibt es bei uns auf CD-Album plus mindestens doppelt so vieler weiterer Rockabilly Songs!
Einzigartige That'll Flat Git It! Rockabilly-Serie
Wir machten uns auf die Suche nach den am besten klingenden Bändern. Ließen sie dann von den führenden Mastering-Spezialisten bearbeiten und haben auch in puncto Verpackung neue Maßstäbe gesetzt. Als übergeordneten Serien-Titel wählten wir ' That'll Flat Git It!', das verbale Erkennungszeichen des ersten Rockabilly-Discjockeys Dewey Phillips.
Außerdem suchten wir unveröffentlichtes Fotomaterial und machten all jene Interpreten ausfindig, nach denen bis dahin vergeblich geforscht worden war.
Unterm Strich steht unsere einzigartige That'll Flat Git It! Serie
Bewertungen lesen, schreiben und diskutieren...
mehr
Kundenbewertungen für "Vol.21 - Rockabilly From The Vaults Of Atlantic (CD)"
Von:
Roy Bean (Bopper)
Am:
21.11.2017
perfect
Barbara Greene killer! all good
Auch hier gilt: das Reinhören funktioniert hier nur für den Bruchteil einer Sekunde. Leider! Oder ist das nur bei mir so?
Bewertung schreiben
Bewertungen werden nach Überprüfung freigeschaltet.
Weitere Artikel von Various - That'll Flat Git It!