Der Artikel wurde erfolgreich hinzugefügt.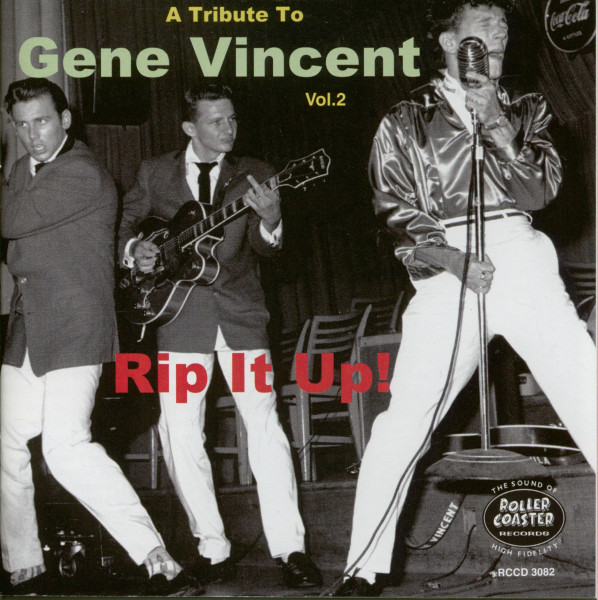 Benachrichtigen Sie mich, sobald der Artikel lieferbar ist.
16,15 € *
17,95 € *
(10,03% gespart)
inkl. MwSt. / zzgl. Versandkosten - Abhängig vom Lieferland kann die MwSt. an der Kasse variieren.
Artikel derzeit nicht verfügbar, Lieferfristen von bis zu 2-3 Wochen sind zu erwarten. (soweit verfügbar beim Lieferanten - kann schneller gehen, manchmal aber leider auch nicht)
Artikel-Nr.:

CDROLL3082

Gewicht in Kg.:

0.11
(Rollercoaster Records) 51 tracks - 36 page booklet Mit dabei sind: Gene Vincent & The...
mehr
Gene Vincent & Others: Rip It Up - A Tribute To Gene Vincent Vol.2 (2-CD)
(Rollercoaster Records) 51 tracks - 36 page booklet

Mit dabei sind:
Gene Vincent
& The
Blue Caps
, Cliff Gallup,
Eddie Cochran
,
Johnny Carroll
,
Buddy Knox
, Moustique,
Cliff Richard
&
The Shadows
,
Graham Fenton
,
Sonny James
,
Sounds Incorporated
,
The Outlaws
, The Houseshakers...und viele mehr!
Dieses 2CD-Paket folgt auf Rollercoasters äußerst erfolgreiche 2016er Veröffentlichung 'A Piece At A Time - A Tribute To Gene Vincent' CDROLL3062.
Hier wird die
Hommage
mit weiteren 51 Tracks fortgesetzt, auf denen Gene selbst sowie eine Reihe anderer Künstler zu hören sind, die alle mit der Legende Gene Vincent verbunden sind. Das 36-seitige Booklet enthält ausführliche Informationen zu jedem Titel sowie viele seltene Fotos und Illustrationen.
Video von Gene Vincent & Others - Rip It Up - A Tribute To Gene Vincent Vol.2 (2-CD)
Artikeleigenschaften von

Gene Vincent & Others: Rip It Up - A Tribute To Gene Vincent Vol.2 (2-CD)
Albumtitel:

Rip It Up - A Tribute To Gene Vincent Vol.2 (2-CD)

Genre

Rock'n'Roll

Preiscode

VCD6

Edition 2

Deluxe Edition

Artikelart

CD

EAN:

5012814030826

Gewicht in Kg:

0.11
Gene Vincent Eugene Vincent Craddock wurde am 11. Februar 1935 in Norfolk, Virginia...
mehr
"Gene Vincent & Others"
Gene Vincent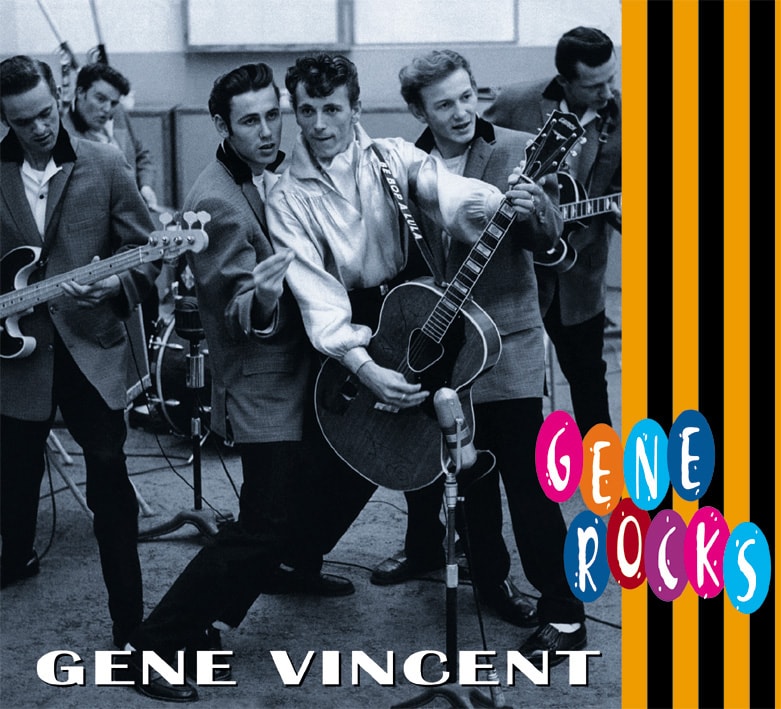 Eugene Vincent Craddock wurde am 11. Februar 1935 in Norfolk, Virginia geboren. Tatsächlich war die genaue Reihenfolge seiner Vornamen im Laufe der Jahre Gegenstand einiger Diskussionen, und als Gene seinen Antrag auf eine Sozialversicherungskarte ausfüllte, gab er seinen Namen als Vincent E. Craddock an, und obwohl der 11. Februar auf seiner Geburtsurkunde erscheint, behauptete seine Mutter immer wieder, er hätte den 17. lesen sollen, während seine Schwester Evelyn den 22. bevorzugte. So war es immer bei Gene. Nichts war so, wie es schien, und selbst die einfachsten Dinge hatten die Angewohnheit, im Streit zu enden.
Er genoss eine unauffällige Kindheit und kam nie über eine Ausbildung in der achten Klasse hinaus. Am 19. Februar 1952, im Alter von 17 Jahren, schied er aus und meldete sich bei der Marine im nahegelegenen Richmond, Virginia, an. Nach der Grundausbildung wurde er als Deckhelfer auf der USS Chuckawan eingesetzt und mit der Zeit zum Kesselmann aufgerüstet. Er füllte die langen Stunden an Bord, indem er sang und klimperte, aber nur zur Entspannung und nie mit Gedanken an Ruhm und Reichtum.
Seine einzige Leidenschaft, außer Mädchen, war das Motorradfahren. Bis Mitte 1955 hatte er von seinem ersten kleinen Fahrrad zu einem mächtigen Triumph aufgerüstet und eine Versetzung an Land vollzogen, wo er als Versender am Marinestützpunkt in Norfolk arbeitete.
Die Episode, die das Leben von Gene Craddock für immer veränderte, fand im Juli 1955 statt, und wie üblich gibt es mehrere verschiedene Versionen des Vorfalls. Es ist jedoch allgemein anerkannt, dass eine Frau, die einen Chrysler fuhr, eine rote Ampel übersprang und eine widerliche Kollision ihn mit einer bleibenden Verletzung an seinem linken Bein zurückließ, die fast über dem Schienbein abgetrennt worden war.
Die Ärzte bevorzugten die Amputation und im Nachhinein wäre dies die beste Option gewesen, aber er kämpfte immer gegen die ultimative Lösung und lebte den Rest seines Lebens in verschiedenen Graden von Schmerzen. Sechs Monate lang war er in und aus dem Portsmouth Naval Hospital und humpelte auf Krücken mit seinem ganzen Bein in Gips. Diese ohnehin schon schwere Verletzung wurde noch verschlimmert, weil er offensichtlich nicht bereit war, die Wunde auszuruhen, und die Ärzte waren mehrmals gezwungen, das Bein neu zu setzen, weil es nicht zufriedenstellend heilte.
In der Zeit seiner Genesung fand ein weiteres Ereignis statt, das die Zukunft von Gene Craddocks Leben prägen sollte. Zwei Nächte lang, am 11. und 12. September 1955, kam Elvis Presley nach Norfolk, und Gene war unter den Zuschauern im Stadtauditorium, als Teenager ihn randalierten und mobbten und buchstäblich seine Kleider für Souvenirs zerrissen. Die Publikumsreaktion auf Presley muss einen dramatischen Effekt auf den Youngster gehabt haben, dessen eigene Karrierechancen nicht mehr sehr vielversprechend waren. Von da an war das Singen von Rock'n' Roll alles, was Gene jemals mit seinem Leben anfangen wollte.
Presleys Auftritt in Norfolk, Virginia, wurde von einem lokalen Radiosender, der WCMS, gesponsert, und als sie im Februar 1956 nach Nachwuchstalenten für eine neue Show "Country Showtime" riefen, überwand Gene seine Schüchternheit und sang Presleys Song "Heartbreak Hotel", was genügend Wirkung hatte, um sich für das Finale zu qualifizieren, das im Carnival Room in Norfolk stattfand. Diesmal spielte er einen unbekannten Song Be-Bop-A-Lula, unterstützt von den Virginians, die die WCMS-Hausband waren und einen, Ervin Williams, in ihr Line-Up auf Rhythmusgitarre nahmen. Gene erregte so viel Aufsehen, dass er und die Virginians schnell zu Stammgästen auf der'Country Showtime' wurden und an den Wochenenden sogar ein paar Live-Shows auf einem lokalen Autoparkplatz spielten.
Es war der WCMS-Discjockey Bill'Sheriff Tex' Davis, der die Weitsicht hatte, die Karriere des jungen Gene Craddock richtig anzukurbeln. Einige Monate zuvor hatte er auf der Disc Jockey Convention in Nashville kurzen Kontakt mit Ken Nelson von Capitol Records aufgenommen. Er rief ihn in Kalifornien an und wurde mit unerwarteter Begeisterung empfangen. RCA hatte vor kurzem Presleys Vertrag von Sun gekauft und mit ihrer größeren Finanzkraft und ihrem überlegenen Vertriebsnetz wurde er schnell zum Star. Capitol hatte keine Rock'n'Roll-Sänger, die mit RCA konkurrieren konnten, und obwohl Ken Nelson kein persönliches Interesse an der Musik hatte, war er klug genug, um zu erkennen, dass sie auf diesen neuesten Zug aufsteigen mussten, und zwar schnell.
Sheriff Tex Davis versammelte eine Gruppe lokaler Musiker, bestehend aus Ervin'Willie' Williams von den Virginians an der Rhythmusgitarre, Leadgitarrist Cliff Gallup, Jack Neal am Kontrabass, sowie dem fünfzehnjährigen Schuljungen Dickie Harrell am Schlagzeug, und am 9. April nahmen sie ein Demo von Be-Bop-A-Lula auf, das ordnungsgemäß nach Nelson am Capitol geschickt wurde. Drei Wochen lang hörten sie nichts, aber als er schließlich anrief, war es ein begeisterter Ken Nelson, der sie nach Nashville einlud, um eine Platte zu machen.
------
Geboren als Vincent Eugene Craddock am 11.2.1935 in Munden Point, Norfolk, im US-Staat Virginia. Mit 15 machte er sich älter, weil er zur Armee wollte und wurde im Korea-Krieg eingesetzt. Bei einem Motorradunfall wurde er 1953 so schwer verletzt, dass er für den Rest seines Lebens immer gehbehindert ist. 
Ein Jahr später wurde Gene Vincent deswegen aus der Armee entlassen. Für die nächsten 2 Jahre wirkte er bei verschiedenen lokalen Rundfunksendungen mit. 1956 bekam er seine große Chance, als er den Discjockey Sheriff Tex Davis kennenlernte. Gemeinsam komponierten sie den Song "Be-Bop-A-Lula ". Im August desselben Jahres war die Platte in der ganzen Welt in den Hitparaden. "Race with the Devil ", "Blue-Jean-Bop " und "Jumps Giggles and Shouts " waren seine großen Hits. Außerdem drehte er 2 Filme: "The Girl can 't help it" (1957 mit Little Richard) und "Hot Rod Gang " (1959).

1960 kam Gene Vincent nach England auf Tournee mit seinem Freund Eddie Cochran. Am 17.4.1960 fuhren beide im Taxi zum Flughafen und verunglückten. Eddie Cochran starb dabei, Gene Vincent wurde schwer verletzt ins Krankenhaus eingeliefert. Von diesen Verletzungen hat sich Gene Vincent nie mehr richtig erholt. Zeitweise wurde sogar befürchtet, dass sein linkes Bein amputiert werden müsse. Im Oktober 1971 starb er, ist heute aber immer noch unvergessen. Erst 1974 wurde noch eine Single veröffentlicht: "Roll over Beethoven ". 

Original Presse-Info: CBS Schallplatten GmbH
Bewertungen lesen, schreiben und diskutieren...
mehr
Kundenbewertungen für "Rip It Up - A Tribute To Gene Vincent Vol.2 (2-CD)"
Bewertung schreiben
Bewertungen werden nach Überprüfung freigeschaltet.
Weitere Artikel von Gene Vincent & Others