Der Artikel wurde erfolgreich hinzugefügt.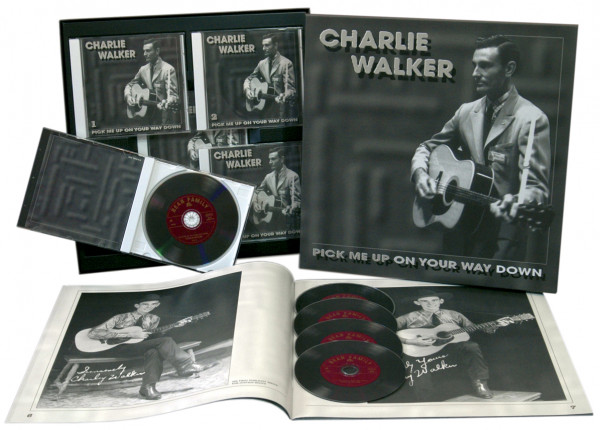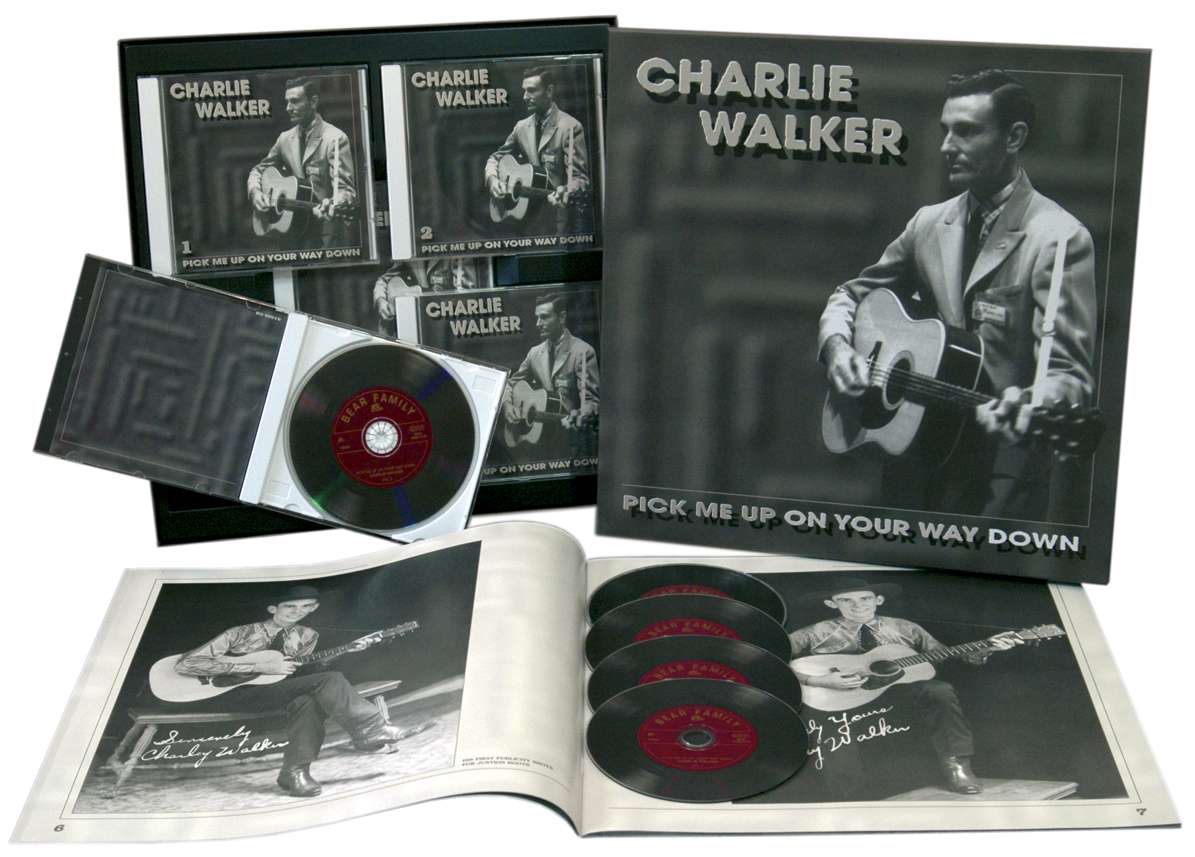 Artikel-Nr.:

BCD15852

Gewicht in Kg.:

1.6
5-CD Box (LP-Format) mit 40-seitigem Buch, 154 Einzeltitel, Spieldauer ca. 384 Minuten. Der...
mehr
Charlie Walker: Pick Me Up On Your Way Down (5-CD)
5-CD Box (LP-Format) mit 40-seitigem Buch, 154 Einzeltitel, Spieldauer ca. 384 Minuten.

Der 'Hillbilly Shuffle' und der 'Honky Tonk Song' sind immer noch die Eckpfeiler der echten Country Music. Einige Pioniere wie Ray Price werden dafür verehrt, andere jedoch wie Charlie Walker werden nahezu ignoriert.
Die Fakten sind: die frühen Hits wie Who Will Buy The Wine, Pick Me Up On Your Way Down, Wild As A Wildcat und Little Ol' Winedrinker Me bleiben in den Bierkneipen unübertroffene Klassiker der Country Music, absolut perfekte Hillbilly Shuffles und Songs über Herzschmerz und betrogene Seelen. Die künstlerische Entwicklung Charlie Walkers ist anhand dieser 154 Nummern auf fünf CDs nachzuvollziehen. Diese Box liefert alles von seinen frühen Imperial-Sessions bis zu seinen schon 'klassischen' Aufnahmen für Columbia und Epic. Das 40-seitige Begleitbuch enthält eine Biografie von Chris Skinker sowie viele unveröffentlichte Fotos aus Charlie Walkers persönlichem Fotoalbum.
Artikeleigenschaften von

Charlie Walker: Pick Me Up On Your Way Down (5-CD)
Albumtitel:

Pick Me Up On Your Way Down (5-CD)

Genre

Country

Edition 2

Deluxe Edition

Preiscode

EI

Artikelart

Box set

EAN:

4000127158529

Gewicht in Kg:

1.6
Walker, Charlie - Pick Me Up On Your Way Down (5-CD)

Box set 1
01
I'm Looking For Another You
02
Stolen Kisses
03
Flaming Jewels
04
Two Red Lips
05
By Rights You Belong To Me
06
Out Of My Arms
07
Flock Of Memories
08
What You Savin' Your Lovin' For
09
I've Never Been Out Of Texas
10
Stay Away From My Heart
11
You Don't Need No Other Daddy But Me
12
Tell Her Lies And Feed Her Candy
13
When You Know What You Have Lost
14
It Takes That To Satisfy Me
15
The Chocolate Song
16
Hurry Back Home
17
Only You, Only You
18
You Can't Get There From Here
19
Remembering
20
Stepping Stones
21
Stand Still
22
Cheaters Never Win
23
I'm Not Mixed Up Anymore
24
Gentle Love
25
No Sorrow Tonight
26
Dancing Mexican Boy
27
I'll Never Let It Show
28
Take My Hand (I'll Understand)
29
Two Empty Arms
30
Pick Me Up On Your Way Down
31
Do You Care For Me
32
Who's Giving Who The Heartaches Now
Walker, Charlie - Pick Me Up On Your Way Down (5-CD)

Box set 2
01
I'll Catch You When You Fall
02
I Don't Mind Saying
03
Broken Hearts Will Haunt Your Soul
04
Bow Down Your Head And Cry
05
When My Conscience Hurts The Most
06
Who Will Buy The Wine
07
I Go Anywhere
08
Take Back Your Old Love Letters
09
A Way To Free Myself
10
Right Back At Your Door
11
Facing The Wall
12
I Walked Out Of Heaven
13
Good Deal, Lucille
14
Louisiana Belle
15
Life Goes On (I Wonder Why)
16
I Only Meant To Borrow (Not To Steal)
17
Running Back To You
18
One In Every Crowd
19
What's Wrong With Me
20
There's Where Katie Waits
21
Truck Driving Man
22
Close All The Honky Tonks
23
The Bad Things I Do
24
I Am Nothing
25
Last Call For Alcohol
26
Wild Side Of Life
27
Honky Tonk Blues
28
Fraulein
29
Pick Me Up On Your Way Down
Walker, Charlie - Pick Me Up On Your Way Down (5-CD)

Box set 3
01
Honky Tonk Song
02
The Band Keeps Playing On
03
Every Good Reason
04
Shoes Of A Fool
05
Walking The Floor Over You
06
Foggy River
07
Born To Lose
08
You're Still On My Mind
09
My Shoes Keep Walking Back To You
10
I'll Go Down Swinging
11
Drivin' Nails In My Coffin
12
Gonna Buy Me A Jukebox
13
I Can Take Anything
14
I'd Rather Switch Than Fight
15
Fast Way Of Livin'
16
Hello, Bill
17
Bubbles In My Beer
18
Crazy Arms
19
Little Old Heartache Maker Me
20
Wild As A Wildcat
21
Out Of A Honky Tonk
22
Try Me One More Time
23
The Man In The Little White Suit
24
Memory Killer
25
He's A Jolly Good Fellow
26
A Dozen More Like You
27
Back In My Baby's Arms Again
28
I'm Gonna Live (As Long As I Can)
29
Little Old Winedrinker Me
30
Think Of Me
31
Daddy's Coming Home (Next Week)
32
I'm Ashamed Of You
33
I'm Gonna Hang Up My Gloves
34
You Lied To Me
35
The Town That Never Sleeps
Walker, Charlie - Pick Me Up On Your Way Down (5-CD)

Box set 4
01
The Way To Say Goodbye
02
Mr. Cool
03
Don't Squeeze My Sharmon
04
Moffett, Oklahoma
05
The Tail's Been Waggin' The Dog Too Long
06
Tonight, We're Calling It A Day
07
Pistol Packin' Mama
08
Fast Women, Slow Horses And Wine
09
Here's To The Girls
10
I Wouldn't Take Her To A Dogfight
11
Sweetheart Of The Year
12
The One Rose (That's Left In My Heart)
13
A Bad Girl
14
When My Conscience Hurts The Most
15
Truck Drivin' Cat With Nine Wives
16
A Honky Tonk In Dallas
17
San Diego
18
There Is A Fountain
19
What A Friend We Have In Jesus
20
Leaning On The Everlasting Arms
21
Softly And Tenderly
22
This World Is Not My Home
23
Precious Memories
24
I'll Fly Away
25
Gathering Flowers For The Master's Bouquet
26
The Great Speckled Bird
27
On The Wings Of A Dove
28
He Is My Everything
29
Honky Tonk Season
30
Till Something Better Comes Along
31
Too Many Nights In Too Many Arms
Walker, Charlie - Pick Me Up On Your Way Down (5-CD)

Box set 5
01
You're From Texas
02
Don't Put Down The Honky Tonks
03
Rosie Bokay
04
Honky Tonk Women
05
I Owe The World To You
06
Let's Go Fishin' Boys (The Girls Are Bitin')
07
You're All Dressed Up (With Somewhere To Go)
08
Ode To Stella
09
God Save The Queen (Of The Honky Tonks)
10
Becky Who
11
My Baby Used To Be That Way
12
Before I Found The Wire
13
Good Old Mountain Dew
14
She's Much More Of A Woman
15
Wild Woman
16
Got My Mind On The Border Of Mexico
17
Pick Me Up On Your Way Down
18
Jambalaya
19
Almost Persuaded
20
Moffett, Oklahoma
21
My Shoes Keep Walking Back To You
22
Don't Squeeze My Sharmon
23
Honky Tonk Season
24
San Antonio Rose
25
El Rancho Grande
26
The One Rose (That's Left In My Heart)
27
You're From Texas
CHARLIE WALKER : PICK ME UP ON YOUR WAY DOWN " I had aspirations to do almost anything to...
mehr
"Charlie Walker"
CHARLIE WALKER : PICK ME UP ON YOUR WAY DOWN
"
I had aspirations to do almost anything to get off that farm," says Grand Ole Opry veteran Charlie Walker. Growing up on a small cotton farm in Nevada, Texas, Walker was determined to leave the farm life and the cotton sack behind. Fortunately for fans of country music, Walker was able to get off that small farm to become one of country music's most influential disc jockeys who helped to break country music in such far-away places as the Orient.
If that alone weren't enough to secure Walker's place in country music history, beginning in 1952, he became a major recording artist, who, along with long-time friend and fellow Texan Ray Price, helped to introduce the popular 4/4 shuffle beat, which is characteristic of so many of the recordings represented in this CD set. Along the way, he helped to break several influential country songwriters such as Harlan Howard and Merle Haggard and gave songwriter-producer Billy Sherrill his first big seller in 1965 with Close All The Honky Tonks.
COTTON FIELDS

The eldest of two boys, Charles Levi Walker, Jr. was born on November 2, 1926 in Copeville, Texas, about 35 miles northeast of Dallas. The family relocated to Nevada, Texas when he was still a baby. Walker recently reflected on those early years, "I was picking cotton before I could remember. When we were babies they'd put us up on a pallet under the wagon so the sun wouldn't get us. Mother would pick on rows fairly close to the cotton wagon where she could keep an eye on us. As I got older and could walk and get around, I'd walk with them. I'd pick a handful of cotton and put in it Mama's sack. Finally, at about age three or four, I graduated to a 12-pound sack. She took a 12 pound flour sack and put a little strap on the end so it would hang on my shoulder." Adds Walker, "We'd get there to the field about sunup and pick 'til dark. Sometimes we'd have to strike a match to weigh our last sack of cotton."
When World War II hit, the family moved to Dallas where his mother, Lillie Mae, worked at a defense plant and his father earned a living working in a detective agency. Even though the family shared many of the woes of the Depression, Walker's life had many bright moments such as that first guitar bought for him by a neighbor and the music of Jimmie Rodgers, Milton Brown, Bob Wills and Ernest Tubb, who would become not only a mentor but help him land a recording contract with Decca Records some years later. Recollects Walker of his first encounter, at age 12, with the Texas Troubadour, "He was the first country star I ever saw in person. I even got an autograph from him. I'd heard Jimmie Rodgers and was greatly influenced by him. One of my aunts was dating a boy and he had bought 'Moonlight And Skies' but I never had a chance to see him. Ernest was traveling around in a bread truck for the Gold Chain Flour Company. They'd pull into a little town and sing for about 15 minutes and get back in the truck and drive on to the next town. Ernest Tubb was an inspiration to me, no doubt."
Excerpt from booklet BCD15852 - Charlie Walker Pick Me Up On Your Way Down (5-CD)
Read more at: https://www.bear-family.de/walker-charlie-pick-me-up-on-your-way-down-5-cd.html
Copyright © Bear Family Records
Bewertungen lesen, schreiben und diskutieren...
mehr
Kundenbewertungen für "Pick Me Up On Your Way Down (5-CD)"
Bewertung schreiben
Bewertungen werden nach Überprüfung freigeschaltet.
Weitere Artikel von Charlie Walker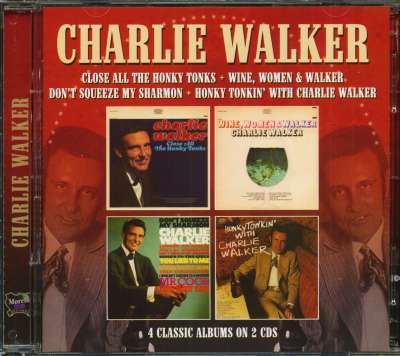 Charlie Walker: Close All The Honky Tonks - 4 Classic Albums...
Art-Nr.: CDMRLL89


Sofort versandfertig, Lieferzeit** 1-3 Werktage