Der Artikel wurde erfolgreich hinzugefügt.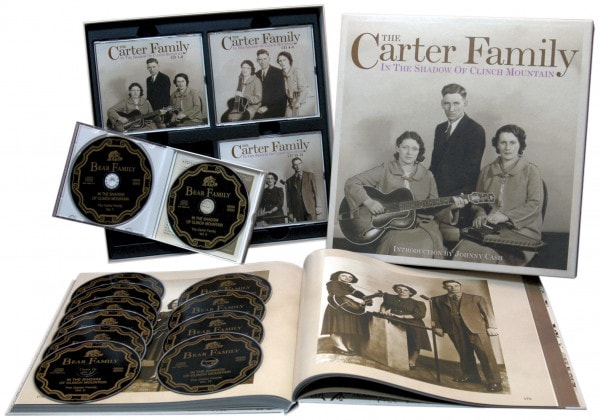 Benachrichtigen Sie mich, sobald der Artikel lieferbar ist.
inkl. MwSt. / zzgl. Versandkosten - Abhängig vom Lieferland kann die MwSt. an der Kasse variieren.
Artikel derzeit nicht verfügbar, Lieferfristen von bis zu 2-3 Wochen sind zu erwarten. (soweit verfügbar beim Lieferanten - kann schneller gehen, manchmal aber leider auch nicht)
Artikel-Nr.:

BCD15865

Gewicht in Kg.:

3.1
12-CD Box (LP-Format) mit 220-seitigem gebundenem Buch, 307 Einzeltitel, Spieldauer ca. 933...
mehr
The Carter Family: In The Shadow Of Clinch Mountain (12-CD Deluxe Box Set)
12-CD Box (LP-Format) mit 220-seitigem gebundenem Buch, 307 Einzeltitel, Spieldauer ca. 933 Minuten.
Das bedeutendste Einzelereignis in der Geschichte der Country Musik. 'So charakterisierte
Johnny Cash
die erste Aufnahmesession der Carter
Family
aus dem Jahre 1927, aufgenommen in Bristol, Tennessee. Diese und alle weiteren Aufnahmen der Carter Family von 1927 bis 1941 sind in dieser Box enthalten. Ihre anglo-keltischen Balladen,
Mountain
Songs, Blues und Popsongs der damaligen Zeit, die alle zusammen die Basis der heutigen Country-Musik bilden, so eindringlich und gefühlvoll vorgetragen, wie dies eben nur die Carter Family konnte.
Die Menschen auf dem Land sind immer schon religiös und gefühlvoll gewesen', erklärte das Familienoberhaupt der Carter Family, A.P. Die 307 Lieder in dieser, in ihrer Vollständigkeit einzigartigen 12-CD Edition belegen diese Einschätzung. Alle Aufnahmen der Carter Family für Victor, ARC, Decca, APS, Columbia, Bluebird sind hier komplett enthalten. Hören sie die Originalversionen von Klassikern wie
Wildwood Flower
,
Wabash Cannon Ball, The Storms Are On The Ocean
und natürlich
Will The Circle Be Unbroken
.
Zahlreiche dieser Aufnahmen finden hier erstmals ihren Weg auf CD. Die Tonqualität dieser zeitlosen Klassiker konnte mittels digitaler Nachbearbeitung verbessert werden, ohne die Ursprünglichkeit des Klangs zu berühren. Alle derzeit bekannten Fotos der Carter Family sind ebenso enthalten wie Privatbilder aus Mother Maybelles Fotoalbum und aus dem Besitz von
Janette Carter
, davon einige bislang unveröffentlicht. Der herausragende Country Musik Historiker Charles Wolfe steuert eine neu recherchierte Biographie der Carter Family bei. 'Diese Aufnahmen sind zeitlose Wegbereiter', schreibt Wolfe. 'Sie sind ebenso elementar wie der Wind oder das Wasser und besitzen die gleiche, simple Schönheit wie die Landschaft von Poor Valley (der Heimat der Carters). Man kann den Einfluss der Carter Family auf die Country Musik und die amerikanische Musik im Allgemeinen gar nicht hoch genug einschätzen.'
Die Box enthält ein 1963 aufgenommenes Interview von Ed Kahn und
Mike Seeger
mit Maybelle und Sara. Die Einleitung wurde von Johnny Cash geschrieben.
Video von The Carter Family - In The Shadow Of Clinch Mountain (12-CD Deluxe Box Set)
Artikeleigenschaften von

The Carter Family: In The Shadow Of Clinch Mountain (12-CD Deluxe Box Set)
Albumtitel:

In The Shadow Of Clinch Mountain (12-CD Deluxe Box Set)

Genre

Country

Edition 2

Deluxe Edition

Preiscode

LK

Artikelart

Box set

EAN:

4000127158659

Gewicht in Kg:

3.1
The Carter Family In The Shadow Of Clinch Mountain To maces spring Mitglieder:...
mehr
"The Carter Family"
The Carter Family
In The Shadow Of Clinch Mountain
To maces spring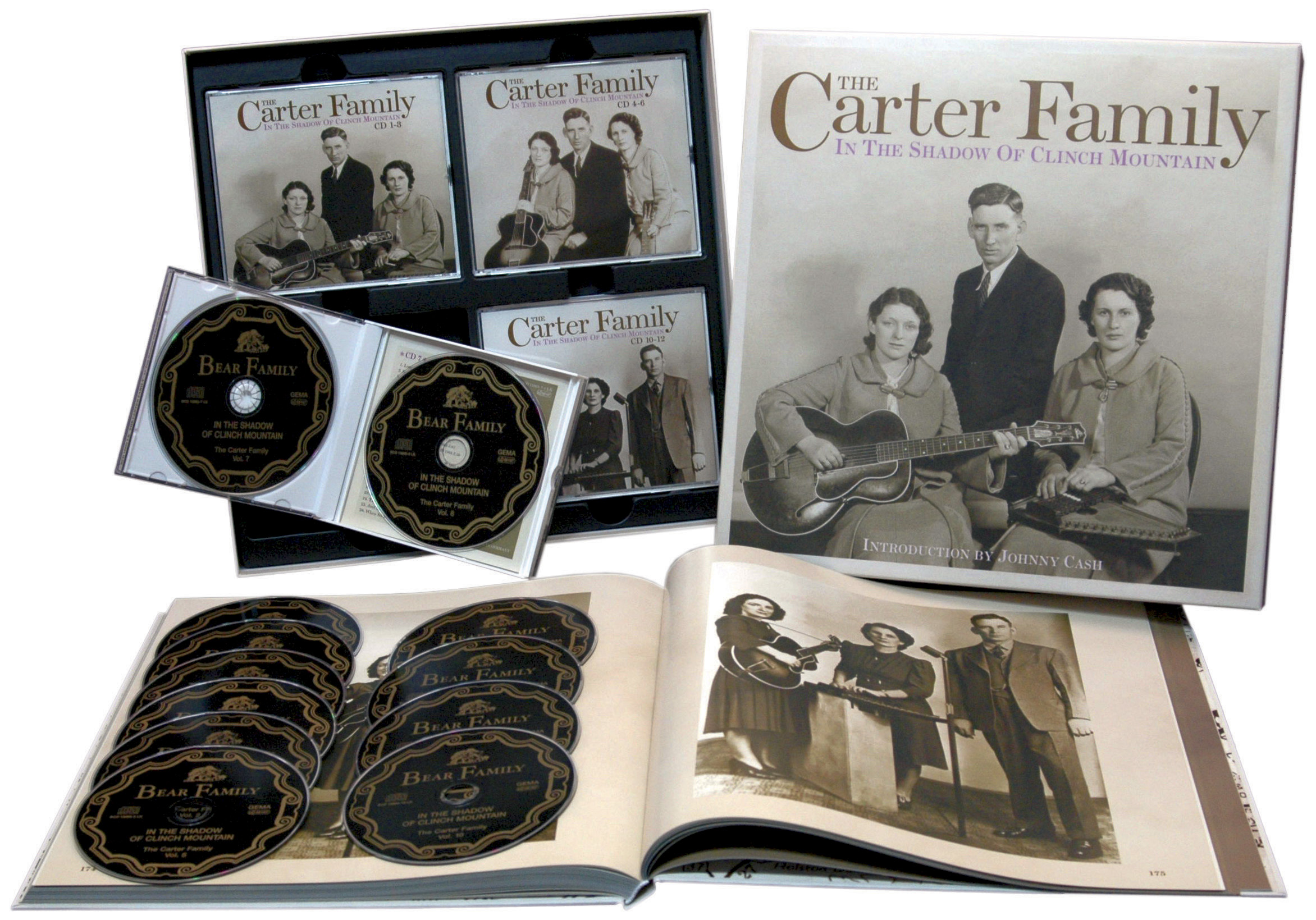 Mitglieder: Alvin Pleasant Carter, geb. 15. 12. 1891 in Maces Spring - Virginia gest. 7. 11. 1960; Maybelle Carter, geb. 10.5. 1909 in Nickelsville - Virginia gest. 23. 10. 1978; Sarah Carter, geb. 21. 7. 1899 im Wise County - Virginia gest. 8. 1. 1979Record Labels: RCA, ARC, Harmony, Decca, MCA, Ace Of Hearts, Columbia, Kapp, Acme, CMF, Bear FamilyDie ,Original Carter Family mit A.P. (Gesang), Ehefrau Sarah (Gesang, Gitarre, und Autoharp) und Schwägerin Maybelle (Gesang, Gitarre und Autoharp) war nach ihren ersten Schallplattenaufnahmen 1927 zur einflussreichsten Gruppe im Country Genre geworden. Ihre ersten Platten hatten sie in jener denkwürdigen Session am l. 8. 1927 in Bristol - Tennessee für Ralph Peer eingespielt.
A.P. Carter hatte als Komponist nicht nur zahlreiche Songs selbst geschrieben, sondern hatte viel altes Liedgut auch neu bearbeitet.Bis zum Jahre 1941 hatte die Carter Family über 250 Songs auf Platte aufgenommen, traditionelles und selbst komponiertes. Bei drei Firmen waren sie bis zu diesem Zeitpunkt unter Vertrag gewesen. Bei RCA, ARC bezw. Columbia und Decca, der späteren MCA. 1943 brach die Original Formation auseinander. A.P. und Sarah Carter nahmen zusammen mit ihren Kindern Joe und Jeanette als ,The Carter Family noch eine ganze Reihe von Schallplatten im alten Stil für Acme auf. Maybelle Carter arbeitete zusammen mit ihren Töchtern Helen, June und Anita als The Carter Sisters bezw. ,Mother Maybelle And The Carter Sisters. Erst nach dem Tod von A.P. Carter nannte Maybelle ihre Gruppe wieder kurz The Carter Family.
In den 60er Jahren schlossen sich die Carters der Johnny Cash Show an.June Carter, die nebenbei schon ihre eigene Karriere aufgebaut hatte, heiratete Johnny Cash. Anita Carter, die ebenfalls eigene Soloplatten aufgenommen hatte und vor allem durch ihre Duett-Aufnahmen mit Hank Snow aufgefallen war, blieb zusammen mit Helen Carter der Carter Family treu. Auch heute noch, nach dem Tod der drei Orginal Mitglieder der Carter Family, treten die Töchter von Maybelle: Helen, June und Anita immer wieder im Rahmen der Johnny Cash Show auf und vermitteln den Konzertbesuchern einen Hauch von Old Time Music.
Die Familie Carter
In The Shadow Of Clinch Mountain
Zum Maces-Frühling
Ein Reisender, der aus Kingsport, Tennessee und in die Grenzstadt Gate City kommt, könnte die Abzweigung leicht verpassen; es ist eine schmale, zweispurige Schwarzdecke, die zu den Bergen im Osten hinüberwandert und derzeit Highway 58 genannt wird. Dort, wo er in die Kingsport-Highway mündet, gibt es zwei Schilder, die dem Reisenden helfen, sich zurechtzufinden; das eine sagt'To Hiltons' und das andere sagt'Carter Fold' mit einem Pfeil. Hiltons kann der Reisende auf seiner Karte finden, ein kleines Dorf unter dem, was die Einheimischen Pine Ridge nennen. Aber wenn Sie in Hiltons ankommen, verlassen Sie die 58 und schwingen sich nach Nordosten auf einer noch kleineren Autobahn, der County Route 614.
Nun geht es nach Nordosten, durch ein langes, grünes Tal mit dem hoch aufragenden Clinch Mountain zu Ihrer Linken und dem Rest des Pine Ridge zu Ihrer Rechten, nach Süden. Bald erscheint ein Schild mit der Aufschrift'A.P. Carter Highway'. Ein gelegentlicher Tourist könnte sich darüber wundern. Wer war A.P. Carter? Ein Lokalpolitiker? Ein legendärer Grenzer? Ein Kriegsheld? Einer dieser lokalen Charaktere, die es schaffen, Straßen und Brücken nach ihnen zu benennen? Aber jeder Besucher, der auch nur das Geringste über Musik weiß, muss sich nicht wundern. Sie nicken mit Anerkennung, wenn sie den Namen sehen, und viele beginnen, ein Lied zu summen, das sie mit dem Namen verbinden. Sie wissen, dass A.P. Carter weder Politiker noch Bärenjäger noch Kriegsheld war. Er war wichtiger als alle anderen - er war Sänger und Songwriter und Liedsammler, und was er und seine Frau und der Cousin seiner Frau in diesem Tal vor etwa siebzig Jahren taten, war, das Gesicht der amerikanischen Musik zu verändern.
Ein paar Meilen nach dem Schild kommt der Reisende in eine Gemeinde namens Maces Spring; auf den offiziellen Karten und Postrouten wird sie im Singular als'Spring' aufgeführt, aber alle Einheimischen nennen sie'Springs' im Plural. Links steht ein großes Scheunengebäude direkt an der Straße, und hier zeigen die Kinder von A.P. Carter jede Woche eine Bühne, um seinen Musikstil zu feiern. Hinter der Scheune befindet sich ein kleines Landgeschäft, das A.P. in den 1940er Jahren, als er sich von der Musik zurückzog, erbaut hat und das heute ein kleines, edelsteinartiges Museum ist. Hier kann der Besucher Kopien der alten Victrola-Platten aus den 1920er Jahren sehen, die der Familie Carter ihren ersten Ruhm einbrachten; hier die alte Underwood-Schreibmaschine, mit der A.P. die Worte zu den gesammelten Liedern niederschrieb; hier sind die Kleider, die die beiden Frauen trugen, und der dunkle Anzug, den A.P. benutzte. Hier gibt es keine Strass-Steine, keine Nudie-Specials mit Streifen und Paspeln. Es ist ein Museum, so einfach und bescheiden wie ein Lied der Familie Carter.
Weiter die Straße hinunter und eine schiefe kleine Einfahrt hinauf zur Spitze eines Hügels, ist die Mt. Vernon United Methodist Church. Es wurde modernisiert und umgestaltet, aber es sieht immer noch so aus wie vor 90 Jahren, als A.P. Carter hier war und dem Gesang seine seltsame Bassstimme hinzufügte. Wie viele ländliche Kirchen hält der Berg Vernon seinen Friedhof hinter dem Hauptgebäude, und hier ruhen zwei der Carters: A.P., der 1960 starb, und seine Frau Sara, die 1979 starb. Maybelle, die 1978 starb, ruht in Hendersonville, Tennessee. Zurück auf der Straße kann man die Häuser sehen, in denen sie alle lebten, immer noch in gutem Zustand, immer noch bewohnt, in einigen Fällen von Carter-Verwandten. Was einem auffällt, ist, wie nah all diese Orte zusammen liegen, alle zu Fuß erreichbar, alle im Tal zwischen zwei riesigen Bergen versteckt.
Es ist ein bescheidener Ort, um der Ort solcher Kreativität und solcher Kunstfertigkeit zu sein, um die Quelle eines so großen Teils der klassischen amerikanischen Musik zu sein. Der Highway selbst führt weiter nach Osten, zu einem Weiler namens Mendota, aber für Musiker und Musikliebhaber ist Maces Spring so weit wie möglich. Hier ist die Quelle, hier ist die Energie, hier sind die Geister. Hier begann schließlich die Reise, wo ein singendes Trio namens The Carter Family eine Musik schmiedete, die das Gesicht der amerikanischen Kultur verändern sollte. Hier, als das 20. Jahrhundert noch hell und neu war, schmiedeten diese drei bemerkenswerten Menschen ihre Pläne: die alte Bergmusik ihrer Väter und Mütter und Cousins und Onkel für ein allgemeines Publikum attraktiv zu machen und sie an die neuen Massenmedien der Zeit, Platten und Radio anzupassen. Hier, im Schatten des Clinch Mountain, über den er in so vielen seiner Songs schrieb, begannen A.P. und Sara und Maybelle ihre Reise.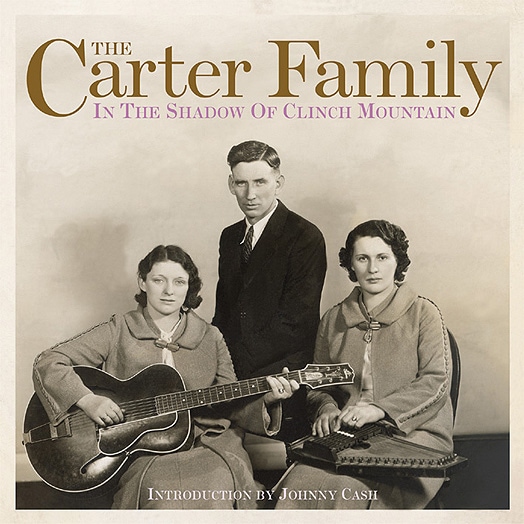 A FAMILY FORMS
Sie nannten das Tal Poor Valley, obwohl sich niemand genau erinnern konnte, warum. A.P. pflegte zu scherzen, dass es so genannt wurde, weil so viele arme Menschen darin waren. In den 1920er Jahren blieb ein großer Teil des Tales wie seit Jahren, reich an Getreide und schwerem Holz. Die Menschen lebten so viel wie ihre Großeltern, ein einfach
er Alltag, der erst allmählich von der neuen Geldwirtschaft beeinflusst wurde. Es war ein idealer Rahmen für die Erhaltung der alten traditionellen Musik, ein bukolisches Tal, das Wordsworths Bilder einer von Vögeln heimgesuchten englischen Landschaft aufgriff. Und doch war das Tal von Elementen der neuen Technologie des 20. Jahrhunderts umgeben, die ihren Weg in die Berge fanden. Ein paar Meilen nordwestlich, bei Big Stone Gap und Appalachia und Norton, waren die Kohlebergwerke in vollem Gang, und die jungen Bergleute fanden Arbeit in den Minen und lebten in Firmenstädten. Ein paar Meilen südwestlich, gleich hinter der Tennessee-Linie, brachte die neue Stadt Kingsport ernsthafte Industrie in die Region.
Kingsport war eine frühe'geplante Stadt', die um 1917 von der CC & O (Carolina, Clinchfield und Ohio) Railroad gegründet wurde und eine frühe Kreuzung zwischen einer Firmenstadt und einer strukturierten Modellstadt war. Von Anfang an ein Industriezentrum, das bis 1927 zehn Industrien und über 3.000 Arbeitsplätze erworben hatte. Viele von ihnen waren in der riesigen Eastman (Kodak) Fabrik, die an der Spitze der angewandten Technologie arbeitete, und während des Zweiten Weltkriegs hatte die Holston Army Munition Plant, die die größte solche Anlage in der Welt wurde. Es war wirklich Kingsport, das näher am Carter-Hof war als Bristol oder Johnson City, und 1927 war es eine neue, geschäftige Gemeinde, die den Weg für eine neue Bergwirtschaft ebnete.
Carters waren seit dem Revolutionskrieg das ganze Tal hinauf und hinunter; es gab bis zu vier verschiedene Familien von Carters, was zu mehr als einer kleinen historischen Verwirrung führte. Es scheint jedoch, dass ein Thomas Carter, ein Verwandter von A.P., 1784 im Tal war, als er Carter's Fort baute, einen Außenposten an der alten Wilderness Road nahe dem heutigen Ryecove. Am 15. Dezember 1891 sahen zwei weitere Carters, Robert und Mollie Carter, die Geburt des ersten von acht Kindern: er war Alvin Pleasant Delaney Carter, kurz Doc genannt. Als der Junge wuchs, hörte er seine Mutter alte Balladen wie The Brown Girl singen, und sein Vater sang die Gospelsongs der Bergkirchen. Er war ein kluger, neugieriger Junge, litt aber von Anfang an an einer leichten körperlichen Beeinträchtigung in Form einer leichten Lähmung, die seine Hände zittern ließ. Seine Mutter wunderte sich darüber, und in späteren Jahren erzählte sie ihren Enkeln eine Geschichte, von der sie dachte, sie würde sie erklären. Ungefähr zwei Monate bevor A.P. geboren wurde, war sie auf dem Berg gewesen und hatte Äpfel gepflückt, als ein plötzliches Gewitter aufkam. Der Blitz begann zu blinken, und bevor sie Schutz suchen konnte, schlug ein Blitz direkt neben ihr ein. Es beeinflusste irgendwie das ungeborene Kind - es "markierte" ihn, wie sie sagte - und als A.P. geboren wurde, hatte er die Lähmung. In späteren Jahren beeinflusste dies seine Fähigkeit, die Geige so gut zu spielen, wie er es hätte tun können, und beeinträchtigte gelegentlich seine Fähigkeit, einen guten Rhythmus auf der Gitarre zu halten.
The Original Carter Family In The Shadow Of Clinch Mountain (12-CD)
Read more at: https://www.bear-family.com/carter-family-the-original-in-the-shadow-of-clinch-mountain-12-cd.html
Copyright © Bear Family Records
Bewertungen lesen, schreiben und diskutieren...
mehr
Kundenbewertungen für "In The Shadow Of Clinch Mountain (12-CD Deluxe Box Set)"
Von:
Dirk Dreyer
Am:
20.09.2020
Große Klasse!
Sehr aufwändig gestaltet und hervorragend restauriert - Fotos und Audiomaterial! Die Referenz in Sachen Carter Family.
Von:
John W. Cowart Sr
Am:
18.09.2019
I never received this item from the shipper DHL. 9/17/2019 (3:10 pm) It just came in and everything is now great.
Everything is good now, you did not put Georgia on my address and I don't know where it was sent but someone got it corrected and I now have my CD's and book.
Bewertung schreiben
Bewertungen werden nach Überprüfung freigeschaltet.
Weitere Artikel von The Carter Family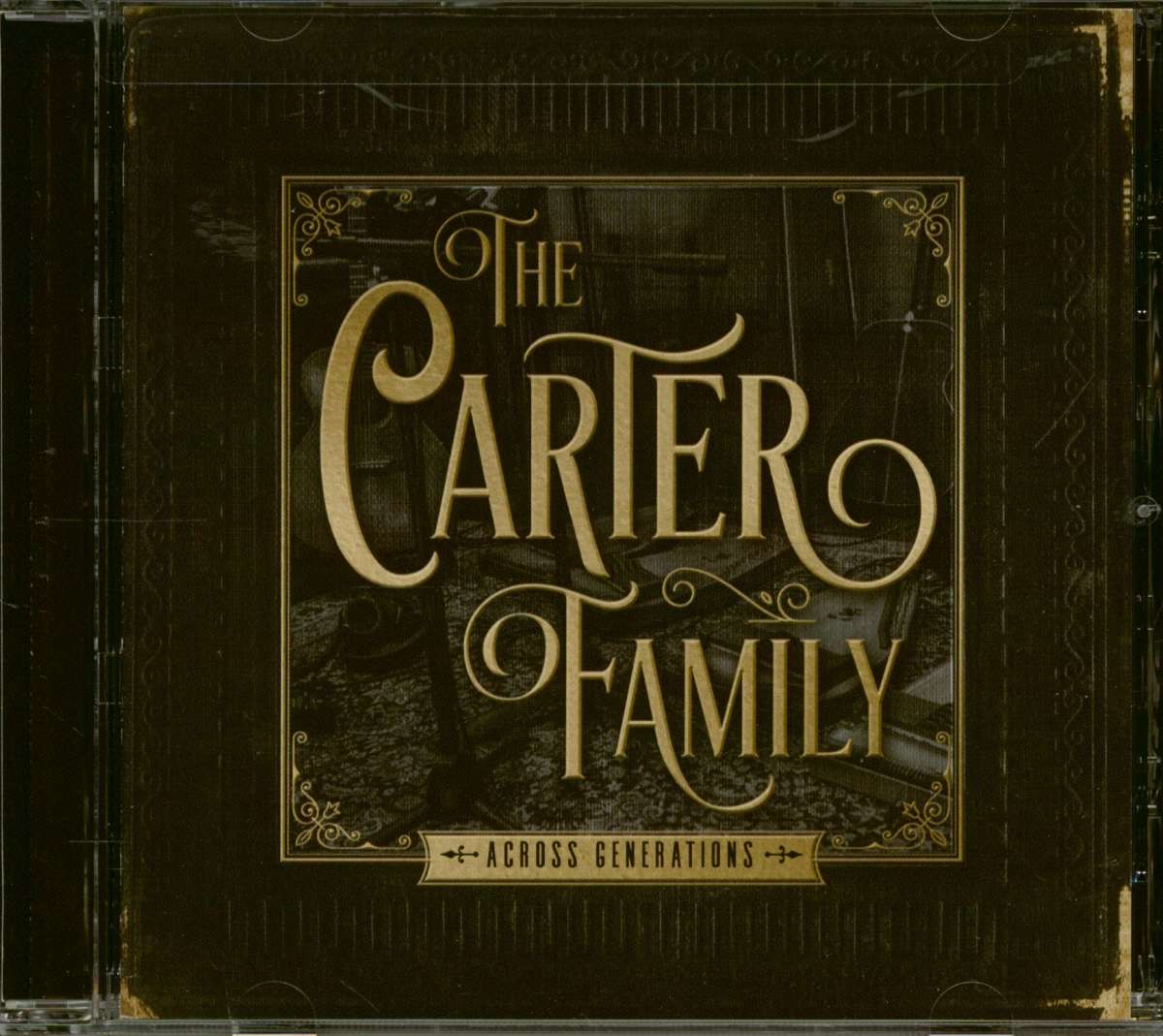 The Carter Family: Across Generations (CD)
Art-Nr.: CDRR19092


Artikel muss bestellt werden