Der Artikel wurde erfolgreich hinzugefügt.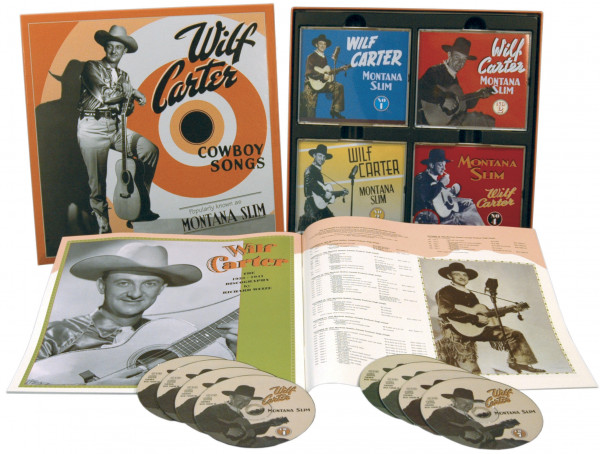 Dieser Artikel ist gestrichen und kann nicht mehr bestellt werden!
Benachrichtigen Sie mich, sobald der Artikel lieferbar ist.
Artikel-Nr.:

BCD15939

Gewicht in Kg.:

1.8
1-CD mit 32-seitigem Booklet, 28 Einzeltitel. Spieldauer ca. 73 Minuten. Der Vater der Country...
mehr
Wilf Carter: Cowboy Songs (8-CD)
1-CD mit 32-seitigem Booklet, 28 Einzeltitel. Spieldauer ca. 73 Minuten.

Der Vater der Country Music, Jimmie Rodgers, inspirierte hunderte von Sängern, die versuchten, seinen unverwechselbaren Gesangsstil zu imitieren. Gene Autry, Jimmie Davis, Cliff Carlisle, Red Foley und Stuart Hamblen sind nur einige der bekannteren Künstler.

Nach seinem Tod am 26. Mai 1933 wurde eine Reihe von Tribute-Songs aufgenommen. Ob nun ehrlich gemeint, oder ob man meinte, man könnte eine schnelle Mark machen, oder ob es eine Kombination von beidem war: in jedem Fall wurde über den Mann gesprochen. Sängern wie Bradley Kinkaid und den lokalen Radiostars Asher and Little Jimmie Sizemore, die sich nur wenig an Rodgers orientierten, folgten Sänger wie Gene Autry und Dwight Butcher, die Rodgers-Fans waren und seit jeher seinen Stil imitierten. Dabei waren auch W. Lee O'Daniels Light Crust Doughboys mit dem eigenwilligen Gesang von Leon Huff und dem WLS-Künstler Kenneth Houchins.

Auch Rodgers' Witwe und ihr Protégé Ernest Tubb nahmen ihre eigenen Tributes auf. Einige davon stammen aus der Feder von Rodgers' Schwägerin Elsie McWilliams, deren Kompositionen bereits für Rodgers selbst eine reiche Quelle waren.

Im Mai 1953, zwanzig Jahre nach Rodgers' Tod, begannen Ernest Tubb und Hank Snow, den Jimmie Rodgers Day in dessen Geburtsort Meridian zu etablieren. Die Unterhaltung für den Festabend im Jahre 1957 lieferten Ernest Tubb, Hank Snow, die Wilburn Brothers und Jim Reeves. Sammler Eugene Earle war in der Lage, den Abend auf Tonband zu konservieren. Jetzt nach vierzig Jahren ist dieses Zeitdokument nun erhältlich.

Artikeleigenschaften von

Wilf Carter: Cowboy Songs (8-CD)
Albumtitel:

Cowboy Songs (8-CD)

Genre

Country

Preiscode

HI

Artikelart

Box set

EAN:

4000127159397

Gewicht in Kg:

1.8
Carter, Wilf - Cowboy Songs (8-CD)

Box set 1
01
My Swiss Moonlight Lullaby
02
The Capture Of Albert Johnson
03
The Hobo's Blues
04
Twilight On The Prairie
05
The Roundup In The Fall
06
A Cowboys's Best Friend Is His Pony
07
He Rode The Strawberry Roan
08
Little Silver Haired Sweetheart Of Mine
09
Take Me Back To Old Montana
10
Sway Back Pinto Pete
11
The Yodelling Trailrider
12
Cowboy, Don't Forget Your Mother
13
Cowboy Blues
14
The Smoke Went Up The Chimney Just The Same
15
Moonlight Prison Blues
16
Prairie Blues
17
Down The Old Cattle Trail
18
I Miss My Swiss
19
The Cowboy's High Toned Dance
20
The Hobo's Dream Of Heaven
21
My Little Swiss And Me
22
Lover's Lullaby Yodel
Carter, Wilf - Cowboy Songs (8-CD)

Box set 2
01
Awaiting The Chair
02
The Life And Death Of John Dillinger
03
The Cowhand's Guiding Star
04
Hobo's Song Of The Mounties
05
By The Silvery Moonlight Trail
06
The Dying Mother's Prayer
07
I Long For Old Wyoming
08
How My Yodelling Days Began
09
I'm Hittin' The Trail
10
Lonesome For My Baby Tonight
11
I'm Gonna Ride To Heaven On A Streamlined T.
12
Sundown Blues
13
Cowboy Lullaby
14
Yodelling Hillbilly
15
Two-Gun Cowboy
16
Hillbilly Valley
17
Returning To My Old Prairie Home
18
Pete Knight, The King Of The Cowboys
19
Cowboy's Mother
20
Calgary Roundup
21
Trail To Home Sweet Home
22
My Blues Have Turned To Sunshine
23
Dear Old Daddy Of Mine
24
My Little Grey Haired Mother In The West
25
A Little Log Shack I Can Always Call My Home
Carter, Wilf - Cowboy Songs (8-CD)

Box set 3
01
Rescue From The Moose River Goldmine
02
Keep Smiling Old Pal
03
Don't Let Me Down Old Pal
04
Won't You Be The Same Old Pal
05
The Last Ride Down Lariat Trail
06
Rose Of My Heart
07
Memories Of My Grey Haired Mother In The West
08
Broken Down Cowboy
09
That Tumbledown Shack By The Trail
10
Covered Wagon Headed West
11
Midnight, The Unconquered Outlaw
12
The Fate Of Old Strawberry Road
13
The Cowboy's Wedding In May
14
Sweetheart Of My Childhood Days
15
Ridin' A Maverick
16
There'll Be No Blues Up Yonder
17
Goodbye Little Pal Of My Dreams
18
I Loved Her Till She Done Me Wrong
19
Under The Light Of The Texas Moon
20
I'm Still Waiting For You
21
Longing For My Mississippi Home
22
Old Alberta Plains
23
The Cowboy's Heavenly Dream
24
My Old Montana Home (My Old Montana Blues)
25
Why Did I Ever Start Roaming/Roaming My Whole
Carter, Wilf - Cowboy Songs (8-CD)

Box set 4
01
The Hobo's Yodel
02
The Yodelling Cowgirl
03
The Fate Of Sunset Trail
04
Prairie Sunset
05
I Just Can't Forget You Old Pal
06
Roundup Time In Heaven
07
Put My Little Shoes Away
08
When The Bright Prairie Moon Is Rolling By
09
Roll On Dreamy Texas Moon
10
The Old Barn Dance
11
Dreamy Prairie Moon
12
Roundup Time In Sunny Old Alberta
13
Roll Along Moonlight Yodel
14
My Faithful Pinto Pal
15
The Preacher And The Cowboy
16
When The Sun Says Goodnight To The Prairie
17
Where Is My Boy Tonight
18
There's A Loveknot In My Lariat
19
My Little Yoho Lady
20
How My Yodelling Days Began
21
Answer To 'My Swiss Moonlight Lullaby'
22
The Hindenburg Disaster
Carter, Wilf - Cowboy Songs (8-CD)

Box set 5
01
I Wish I Had Never Seen Sunshine
02
Everybody's Been Some Mother's Darling
03
You'll Always Be Mine In My Dreams
04
Dusty Trails
05
By The Grave Of Nobody's Darling
06
What A Friend We Have In Mother
07
Martins And McCoys/Nobody's Darling But Mine/
08
Yodelling Hillbilly
09
The Little Red Patch On The Seat Of My...
10
Golden Memories Of Mother And Dad
11
My Honeymoon Bridge Broke Down
12
Down The Yodelling Trail At Twilight
13
I'm Only A Dude In Cowboy Clothes
14
My Lulu
15
Rootin' Tootin' Cowboy
16
I'm Hittin' The Trail
17
The Little Red Patch On The Seat Of My...
18
We'll Meet Again In Peaceful Valley
19
My Brown Eyed Prairie Rose
20
I'll Meet You At The Roundup In The Spring
21
Dawn On The Prairie
22
My Yodelling Sweetheart
23
Yodelling Memories
24
Cowboy's Airplane Ride
25
Memories Of My Little Old Log Shack
26
My Last Old Yodel Song
Carter, Wilf - Cowboy Songs (8-CD)

Box set 6
01
My Yodelling Days Are Through
02
Headin' For That Land Of Gold
03
Wilf Carter Blues
04
Golden Lariat
05
A Cowboy Who Never Returned
06
When It's Twilight Over Texas
07
My Only Memories Of You
08
When I Say Hello To The Rockies
09
When I Bid The Prairie Goodbye
10
My Dreams Came True
11
You Left Your Brand On My Heart
12
Yodelling Love Call
13
It Makes No Difference Now
14
What Difference Does It Make?
15
Answer To It Makes No Difference Now
16
Roll Along Kentucky Moon
17
Blue Ridge Mountain Blues/Birmingham Jail/
18
Rootin' Tootin' Cowboy
19
Red River Valley Blues
20
When The White Azales Start Blooming
21
My Ramblin' Days Are Through
22
I Still Think Of You, Sweet Nellie Dean
23
He Left The One Who Loved Him For Another
24
When It's Roll-Call In The Bunk-House
25
My True And Earnest Prayer
26
Beautiful Girl Of The Prairie
27
It's All Over Now
Carter, Wilf - Cowboy Songs (8-CD)

Box set 7
01
Rattlin' Cannonball
02
My Old Canadian Home
03
I'll Get Mine Bye And Bye
04
Dad's Little Texas Lad
05
Thinking
06
What A Wonderful Mother Of Mine
07
You Are My Sunshine
08
My Texas Sweetheart
09
Echoing Hills Yodel Back To Me
10
You Were With Me In The Waltz Of My Dreams
11
When That Somebody Else Were You
12
My Missoula Valley Moon
13
Old Chuck Wagon Days
14
It's A Cowboy's Night To Howl
15
Back Ridin' Old Trails Again
16
Let's Go Back To The Bible
17
Why Should I Feel Sorry For You Now
18
I Bought A Rock For A Rocky Mountain Gal
19
It's Great To Be Back In The Saddle Again
20
If You Don't Really Care
Carter, Wilf - Cowboy Songs (8-CD)

Box set 8
01
Why Did We Ever Part?
02
La Verne, My Brown Eyed Rose
03
The Last Letter
04
Ride For The Open Range
05
Call Of The Range
06
Streamlined Yodel Song
07
My Old Lasso Is Headed Straight For You
08
Memories That Never Die
09
I'm Thinking Tonight Of My Blue Eyes
10
The Prisoner's Song
11
I May Be Wrong
12
Old Buddies
13
Sweetheart's Farewell
14
Sittin' By The Old Corral
15
I'll Always Keep Smiling For You
16
That First Love Of Mine
17
Waiting For A Train
18
West Of Rainbow Trail
19
Yodelling My Babies To Sleep
20
Just One More Ride
21
Rescue From The Moose River Goldmine
Wilf Carter geb. 18. 12. 1904 in Port Hilford - Nova Scotia - Kanadagest. 5. Dezember 1996 in...
mehr
"Wilf Carter"
Wilf Carter
geb. 18. 12. 1904 in Port Hilford - Nova Scotia - Kanadagest. 5. Dezember 1996 in Scottsdale, ArizonaRecord Labels: RCA, Decca, Apex, Starday, Bear Family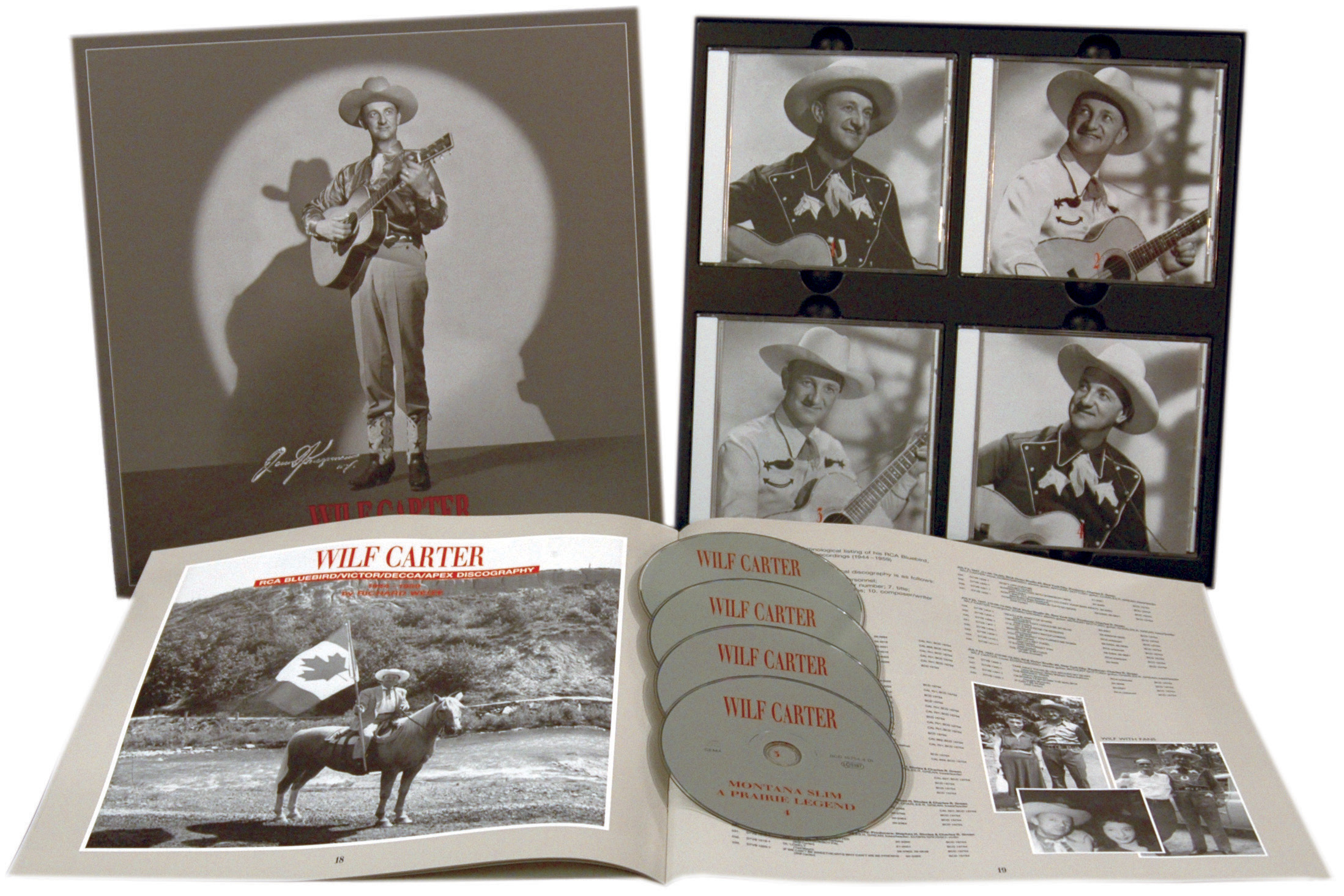 Wilf Carter, in den USA auch als Montana Slim bekannt geworden, war der erste große kanadische Country Star und dies, obwohl er nie in den überregionalen Hitparaden aufgetaucht war. Carter war stark von der Musik Jimmie Rodgers' beeinflusst und bediente sich immer erfolgreich des Cowboy Images. Seine Karriere begann Wilf Carter in den frühen 30er Jahren bei der Radiostation CF CN in Calgary, wenig später nahm er ein Angebot des CBS Networks an. Seine erste Schallplatte nahm er im Dezember 1933 in den RCA Studios von Montreal auf. lm Verlauf der Jahre hat Wilf Carter weit über 500 Songs geschrieben und unzählige Platten aufgenommen. Sein Vater war, wie er erst kürzlich in einem Interview erklärte, gebürtiger Schweizer."
Wilf Carter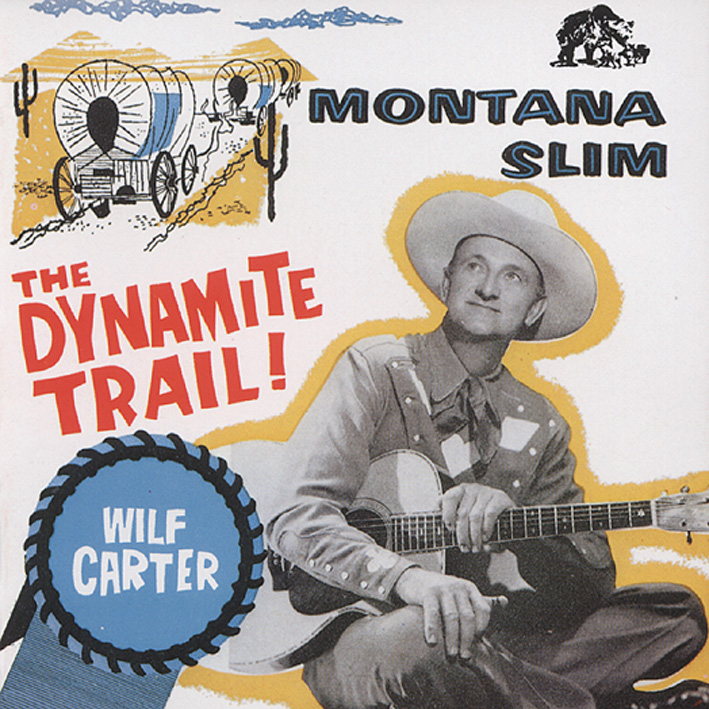 Vielleicht startete der vollendete kanadische Country-Sänger Wilf Carter (1904-1996) seine Karriere im selben Jahr, als Jimmie Rodgers starb. Carter zeigte wenig musikalische Affinität zu Rodgers' Blue Yodels und bevorzugte stattdessen seine Balladen, westlichen Songs und pop-orientiertes Material. Als Jodler tendierte Carter zu konventionellen Schweizer Stilen, eine Technik, die er wahrscheinlich von Schallplatten und Vaudevillianern gelernt hat, die durch seine Heimatstadt Nova Scotia gingen. Obwohl er in seinem Heimatland Kanada als Wilf Carter angekündigt wurde, kannte ihn das amerikanische Publikum als Montana Slim, ein Spitzname, der feststeckte, als Ansager Bert Parks seinen Namen während einer CBS-Radiosendung vergaß. Carter nahm sein erstes Rodgers-Cover, Roll Along Kentucky Moon, während einer Bluebird-Session 1939 in New York auf. Diese Version von Whisper Your Mother's Name stammt aus Carters zweiter Anstellung bei RCA, die hauptsächlich Material für preisgünstige kanadische Alben generierte. (Dave Samuelson)
Bewertungen lesen, schreiben und diskutieren...
mehr
Kundenbewertungen für "Cowboy Songs (8-CD)"
Bewertung schreiben
Bewertungen werden nach Überprüfung freigeschaltet.
Weitere Artikel von Wilf Carter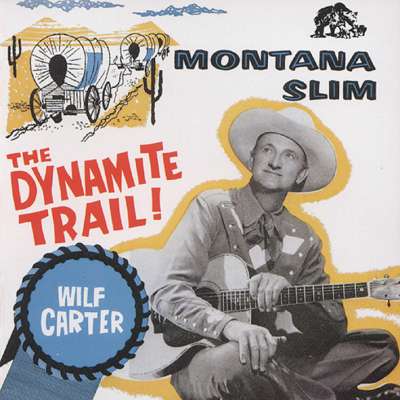 Wilf Carter: Dynamite Trail
Art-Nr.: BCD15507


Sofort versandfertig, Lieferzeit** 1-3 Werktage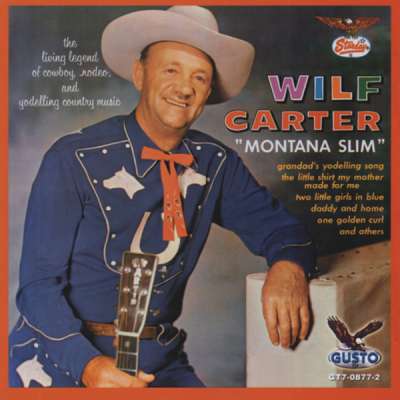 Wilf Carter: Montana Slim
Art-Nr.: CDGT0877


Artikel muss bestellt werden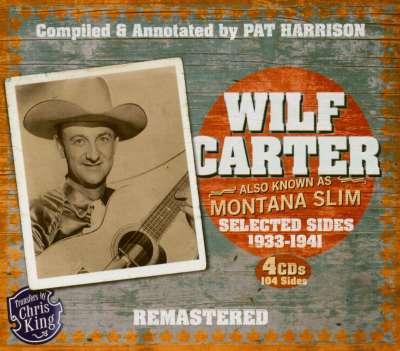 Wilf Carter: Selected Sides 1933-1941 (4-CD)
Art-Nr.: CDJSP77162


Artikel muss bestellt werden