Der Artikel wurde erfolgreich hinzugefügt.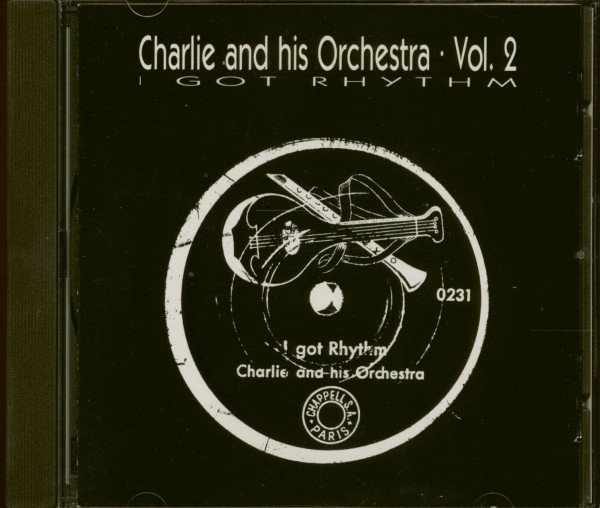 Benachrichtigen Sie mich, sobald der Artikel lieferbar ist.
inkl. MwSt. / zzgl. Versandkosten
Artikel derzeit nicht verfügbar, Lieferfristen von bis zu 2-3 Wochen sind zu erwarten. (soweit verfügbar beim Lieferanten - kann schneller gehen, manchmal aber leider auch nicht)
Artikel-Nr.:

CDHQ9

Gewicht in Kg.:

0.1
(Harlequin) 22 tracks German Propagana Swing 1941-1944 Während des Zweiten...
mehr
Charlie And His Orchestra: I Got Rhythm Vol.2 (CD)
German Propagana Swing 1941-1944
Während des Zweiten Weltkrieges nutzten sowohl die Alliierten als auch die Achsenmächte das Radio für Propa-Ganda-Zwecke - sei es, um die Bevölkerung zu informieren und zu erziehen und die Moral ihrer eigenen Kampftruppen aufzubauen, oder um den Feind zu beeinflussen, zu verwirren oder zu demoralisieren. Die Propagandasender verwendeten neben kommerziellen Aufnahmen und Live-Auftritten auch maßgeschneiderte Schallplatten. In Deutschland wurden 1940 flache Schallplatten als PropaGanda-Medium entdeckt, aber es wurden nur etwa 250 Titel produziert und die Auflage war offenbar eher klein - möglicherweise nicht mehr als 50-100 Exemplare pro Platte.

Sie waren nie kommerziell erhältlich und wurden nur an Radiosender und Kriegsgefangenenlager verteilt. Einige der 1945 noch existierenden Kopien wurden absichtlich zerstört, da es Gerüchte gab, dass jeder, der im Besitz eines solchen Exemplars war, an Ort und Stelle erschossen werden konnte. So ist es nicht verwunderlich, dass die deutschen Propaganda-Aufzeichnungen heute zu extrem hochpreisigen Sammlerstücken geworden sind. Sie sind von Mythen umgeben, weil so wenige Menschen sie tatsächlich gehört haben, geschweige denn besitzen. Und diejenigen, die an den eigentlichen Aufnahmesessions teilnahmen, hatten wenig Lust, in späteren Jahren darüber zu sprechen. Erst kürzlich wurden Teile der Aufzeichnungsdateien wiederentdeckt.

Obwohl einige der früheren Platten anonym waren, war die einzige auf den Labels gezeigte Künstlerangabe Charlie And His Orchestra. Die wahre Identität von "Charlie" wurde erstmals von dem in London geborenen Norman Baillie-Stewart enthüllt. Baillie-Stewart hatte Sympathie für die Deutschen und Deutschland; 1933 wurde er im Tower of London festgehalten - der letzte Engländer, der dort inhaftiert wurde. Nach seiner Freilassung kehrte er nach Deutschland zurück und wurde vom Berliner
Rundfunkhau
s nach Großbritannien zum englischsprachigen Sender. In seiner Autobiographie identifizierte Baillie-Stewart einen Karl Schwedler als Schlagersänger, der die Erlaubnis erhielt, in neutrale Länder und Länder zu reisen, die kürzlich besetzt waren, um die neueste angloamerikanische Tanzmusik zu sammeln. Diese Musik wurde dann für Radiosendungen arrangiert, bei denen Schwedler in englischer Sprache sang, begleitet von einer Swingband.
Obwohl auf einigen Aufnahmen die Originaltexte verwendet wurden (z.B. Elmer's Tune, oder / Got Rhythm), war die normale Routine, nur den ersten Chor wie geschrieben aufzuführen und dann mit einer manipulierten Version fortzufahren, die hauptsächlich antibritische, aber auch antisemitische und später antiamerikanische und antisowjetische Sketche über Kriegspolitik und Politiker enthält. Einige waren in der Tat aktuelle Lieder, die die Siege von Axis feierten. Ein spezielles Team von Textern und Schriftstellern, gelegentlich auch Baillie-Stewart, erarbeitete eine deutschsprachige Propaganda-Version des Liedes, die dann den offiziellen Dolmetschern des Auswärtigen Amtes zur Übersetzung ins Englische übergeben wurde. Einige der Propagandalieder verwenden eine Sprache, die heute noch beleidigender klingt als zu der Zeit, als sie geschrieben wurden...
Artikeleigenschaften von

Charlie And His Orchestra: I Got Rhythm Vol.2 (CD)
Albumtitel:

I Got Rhythm Vol.2 (CD)

Genre

Jazz

Artikelart

CD

EAN:

0008637200923

Gewicht in Kg:

0.1
Charlie And His Orchestra - I Got Rhythm Vol.2 (CD)

CD 1
01
Nice People
02
Thanks For The Memory
03
Indian Love Call
04
The Sheik Of Araby
05
Let's Put Out The Lights
06
Bei Mir Bist Du Schon
07
Lilli Marleen
08
Elmer's Tune
09
Picture Me Without You
10
I Double Dare You
11
Macpherson Is Rehearsin'
12
I Can't Give You Anything But Love
13
Daisy
14
Stardust
15
Submarines
16
United Air Man
17
I Got Rhythm
18
And So Another Lovely Day Is Over
19
Roll On The Blue Funnel
20
Under An Umbrella In The Evening
21
Calling Invasion Forces
22
Atlantic Wall (Incomplete)
Bewertungen lesen, schreiben und diskutieren...
mehr
Kundenbewertungen für "I Got Rhythm Vol.2 (CD)"
Bewertung schreiben
Bewertungen werden nach Überprüfung freigeschaltet.