Der Artikel wurde erfolgreich hinzugefügt.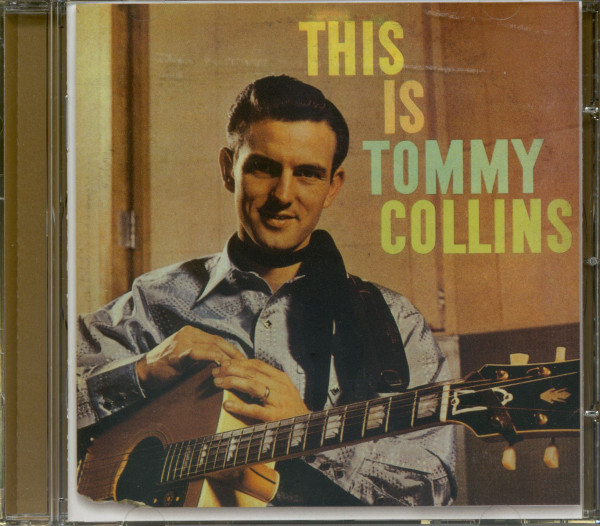 Dieser Artikel ist gestrichen und kann nicht mehr bestellt werden!
Benachrichtigen Sie mich, sobald der Artikel lieferbar ist.
Artikel-Nr.:

CDPSAL2357

Gewicht in Kg.:

0.1
29 tracks The life and times of Tommy Collins, the almost forgotten Bakersfield tunesmith A...
mehr
Tommy Collins: This Is Tommy Collins (CD)
29 tracks
The life and times of
Tommy Collins
, the almost forgotten Bakersfield tunesmith
A cursory look at the chart positions achieve believe that his initial stab at success, the n Do That' from 1954, was the peak of his car Bakersfield scene that spawned
Buck Owens
scene which is heralded as a reaction agains emanating from Nashville, an inspiration on and alternative country bands that followed. `You Better Not Do That's cheeky innuendo of country that told it like it was in small talk repeated in any bar room and a host of dom penned all of his own material and went on t
George Strait
, was not mushy and sentiment the most part, uptempo and bawdy when it n His 1959 album, 'This Is Tommy Collins' ga from the early '50s, alongside the more tem `High On A Hilltop' both of which stray into territory. ...
Collins was part of the Californian and
Merle Haggard
in the '60s, a the slick country music that was ram Parsons and the cosmic country pitied his style, an everyman brand and one liners that could be heard stic situations.
Love
for Collins, who write hits for
Faron Young
and it was chirpy and irreverent for needed to be.
The 12 tracks on 'This Is Tommy Collins' were perfect fuel for the long haul truck driving man, the bar stool hugging enthusiast who'd pump the jukebox and laugh at Collins' off-the cuff one-liners. Tracks 13 to 23 here were originally released as 'Words And Music Country Style' in 1957 and include the same versions of 'Smooth Sailin' and 'How Can I Say Goodbye' repeated here so the album remains in its entirety, while the closing six tracks are taken from 1958's collection of sacred songs tight Of The Lord', a departure for Collins but a country tradition that was established in the late '50s and early '60s and gave him the chance to show off a tender vocal range with some serious pontification. 'Words And Music Country Style' is less focused than 'This Is Tommy Collins' with some slower more old school country tunes, and precursors to 'Light Of The Lord', including 'A Man We All Ought To Know', 'Are You Ready To Go', 'Upon This Rock' and 'The Feet Of The Traveler', sitting next to irreverent tales like 'All The Monkeys Ain't In the Zoo' and '
Think
It Over
Boys
', typical Collins' songs that would become synonymous with his later writing. That said, the likes of Always Speak Well Of You' and 'I Think Of You Yet' have an emotional pace of their own that would satisfy any maudlin country fan. While a couple of the religious songs from 'Words And Music' attempt to marry Collins' upbeat drive with traditional values, the closing takes on this collection from 'Light Of The Lord', especially 'Softly And Tenderly Jesus Is Calling' and 'Where Could I Go But To The Lord' sound like they were taken straight from the church's hymn night with Collins piling on the angst. As was the way in the late '50s country artists were able to appeal across a wide variety of music through their sacred songs and honky tonk-aimed country, but it's the pace and outspoken charm of 'This Is Tommy Collins' that best illustrates this unsung hero's knack for capturing real life situations with remarks and sayings that struck a chord with working class
America
, a skill that's sadly gone without celebration in the intervening years.
Dave Henderson, MOJO magazine, 2011
Artikeleigenschaften von

Tommy Collins: This Is Tommy Collins (CD)
Albumtitel:

This Is Tommy Collins (CD)

Genre

Country

Artikelart

CD

EAN:

5013929985728

Gewicht in Kg:

0.1
Tommy Collins TOMMY COLLINS NACHRUF Der Tod von Tommy Collins am 14. März 2000...
mehr
"Tommy Collins"
Tommy Collins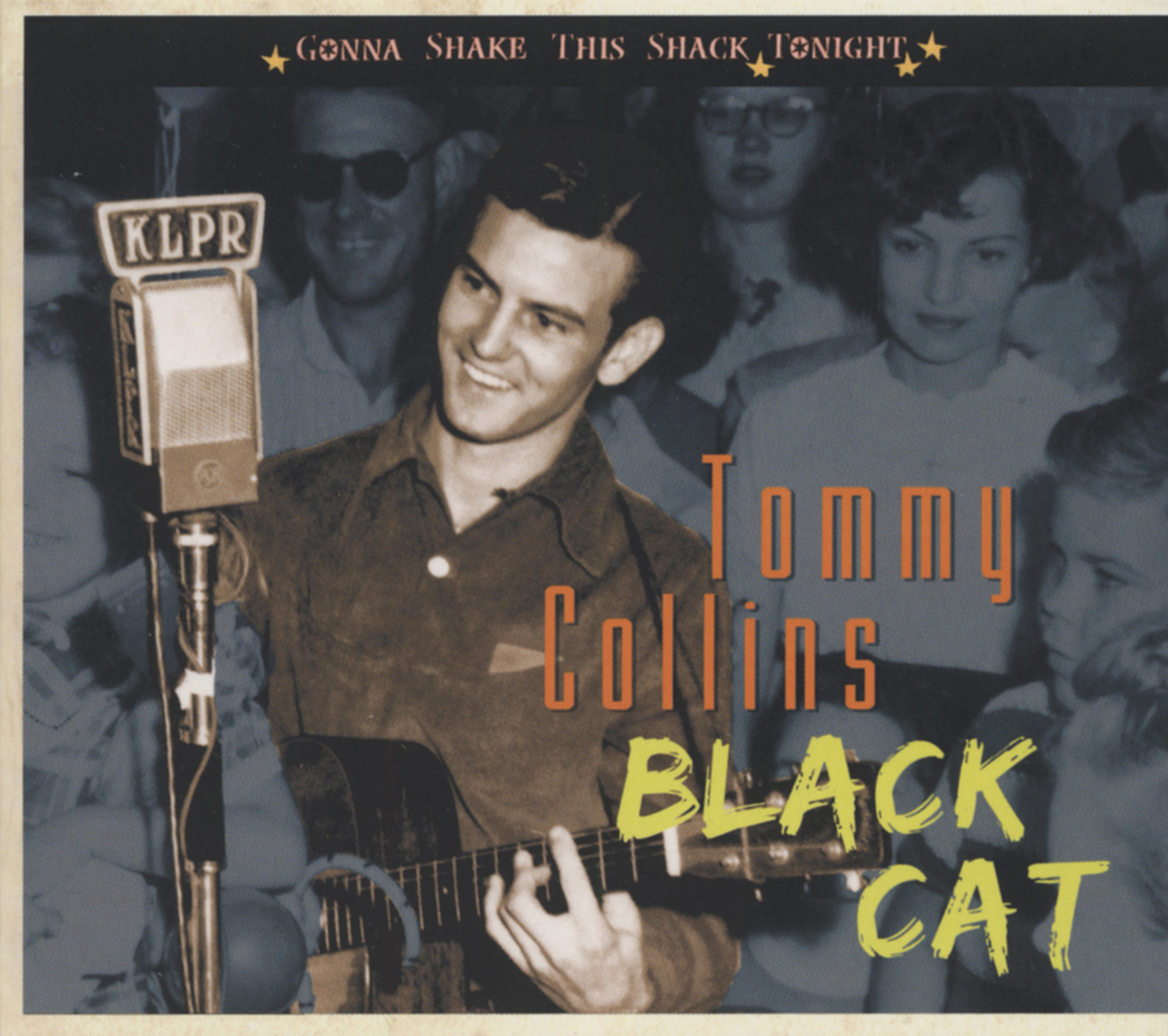 TOMMY COLLINS NACHRUF
Der Tod von Tommy Collins am 14. März 2000 kam nicht überraschend, litt er doch bereits seit langem an einer Lungenkrankheit. Erst kürzlich wurde er in die Nashville Songwriters Hall of Fame aufgenommen.
Zusammen mit seinem Zeitgenossen Wynn Stewart gehörte Tommy Collins zu den Künstlern, die den Bakersfield Sound prägten. Heerscharen von West Coast Country-Künstlern bauen auf dem auf, was Collins in den frühen 50ern etablierte. Wenngleich er relativ wenige Hits hatte, so ist sein Einfluss bis heute spürbar.
Collins (ursprünglich Leonard Raymond Snipes) kam vor den Toren von Oklahoma City zur Welt und verbrachte seine gesamte Jugend in Oklahoma. Bereits als Kind begann er zu singen und Lieder zu schreiben, trat damit auch bald im Radio auf. Auch während seiner Collegezeit war er als Musiker aktiv und spielte seine ersten Singles für das Morgan Label ein.
Zu Beginn der 50er war er kurz in der Armee, bevor er dann nach Bakersfield in Kalifornien zog. Dort freundete er sich mit Ferlin Husky an. Husky überzeigte seine Plattenfirma Capitol davon, Tommy einen Vertrag anzubieten. Mit Unterzeichnung des Vertrages im Juni 1953 nahm Tommy Collins auch seinen Künstlernamen an.
Nach einer ersten, erfolglosen Single veröffentlichte Collins das lebhafte You Better Not Do That, das Anfang 1954 ein Riesenhit wurde. Von dem Erfolg dieses Titels ermutigt, verfolgte Collins weiter einen leichten und fast schlagerhaften Stil. Zwischen Herbst 1954 und Frühling 1955 hatte er drei Top 10 Hits - Whatcha Gonna Do Now, Untied und It Tickles - im Herbst 1955 erreichten I Guess I'm Crazy und You Ouhgta See Pickles Now noch die Top 15. Darüberhinaus hatte Faron Young mit dem von Collins geschriebenen If You Ain't Lovin' einen großen Hit. Einer der vielen Titel, die Tommy zwar schrieb, aber nie selber aufnahm.
So schnell wie Tommy Collins auf die Überholspur ausgeschert zu sein schien, so schnell landete er zunächst auch wieder auf dem Standstreifen. Er machte Anfang 1956 eine religiöse Wandlung durch und für die kommenden sechs Jahre war von ihm in musikalischer Hinsicht nichts zu hören.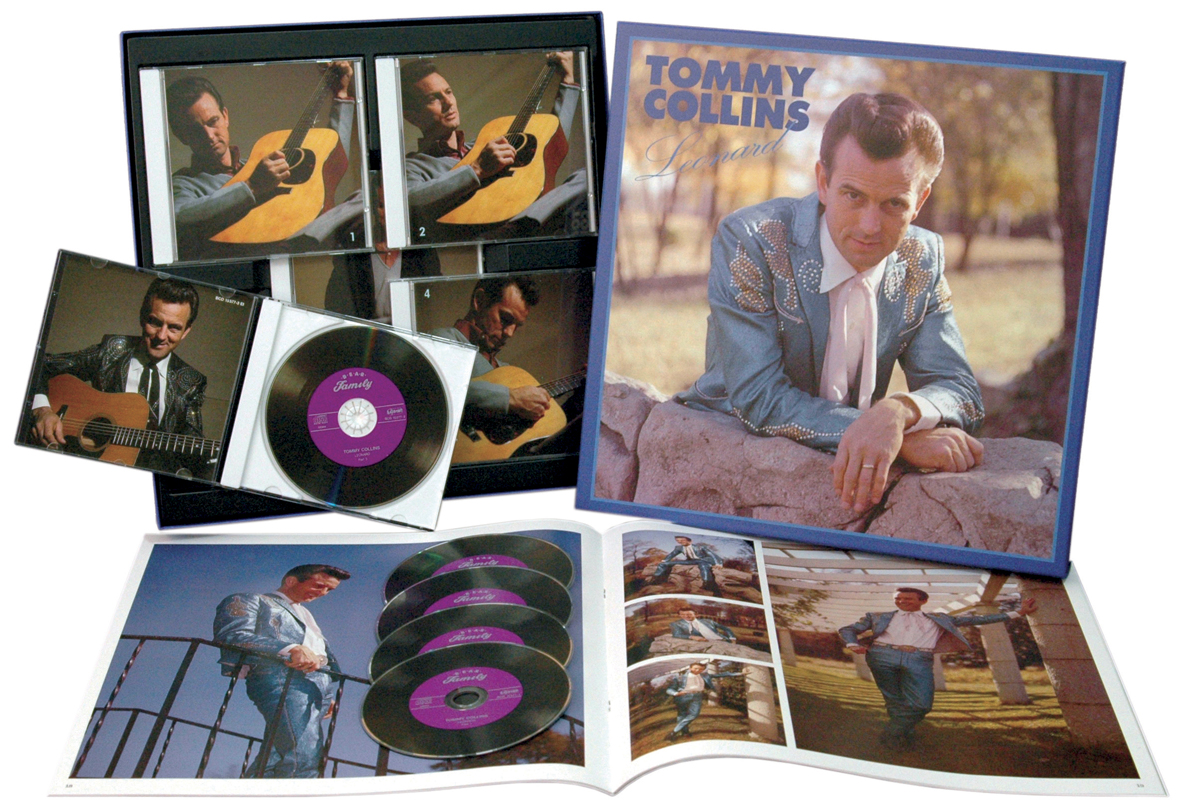 Zu Beginn des Jahres 1963 verließ Collins die Kirche und kehrte nach Bakersfield zurück. Capitol willigte ein, ihn wieder unter Vertrag zu nehmen und 1964 kehrte er mit I Can Do That in die Charts zurück, ein Duett mit seiner Frau Wanda Lucille Shahan. Collins wechselte 1965 zu Columbia. Im darauffolgenden Jahr hatte er abermals einen Top 10 Hit mit I Can't Bite, Don't Growl und in den Jahren danach hatte er eine Reihe weiterer Hits.
In den frühen 70ern lag Collins' persönliches wie berufliches Leben in Folge seiner Drogen- und Alkoholabhängigkeit am Boden. 1971 reichte seine Frau die Scheidung ein und damit stürzte Tommy in eine tiefe Depression.
Collins erholte sich von diesen Tiefschlägen durch seine kontinuierliche Arbeit als Autor zahlreicher Songs. Viele wurden von Merle Haggard aufgenommen, darunter auch Merle's Hits Carolyn und The Roots Of My Raising. 1981 hatte Merle einen weiteren Hit mit Leonard, einem Tribut an Collins. Mit dieser Veröffentlichung richtete sich das öffentliche Interesse auch wieder mehr auf Collins. Tommy setzte seine Tätigkeit als Autor fort, ein weiterer Erfolg war 1984 Mel Tillis' Top 10 Hit New Patches.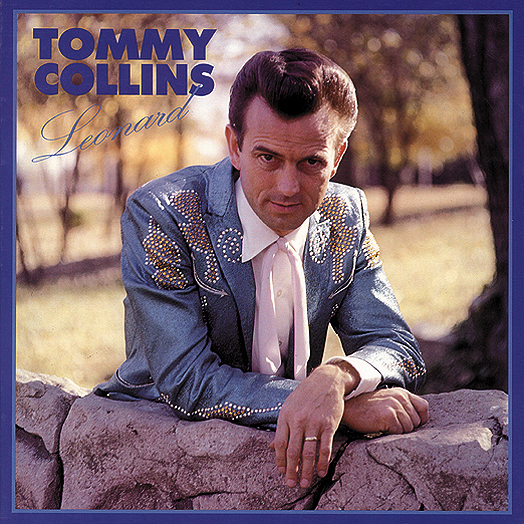 Während der 80er Jahre war nicht viel von Collins zu hören, obwohl seine Songs weiterhin aufgenommen wurden. George Strait landete mit seiner Neuaufnahme von If You Ain't Lovin' einen Nummer 1 Hit in den Country Charts. Seine Karriere als Songwriter setzte Collins aber auch in den 90ern weiter fort.
Bear Family veröffentlichte 1992 eine hochgelobte 5 CD Box (LEONARD, BCD 15577) mit seinen kompletten Morgan, Capitol und Columbia Aufnahmen.
Tommy Collins Black Cat - Gonna Shake This Shack Tonight
Read more at: https://www.bear-family.com/collins-tommy-black-cat-gonna-shake-this-shack-tonight.html
Copyright © Bear Family Records
Bewertungen lesen, schreiben und diskutieren...
mehr
Kundenbewertungen für "This Is Tommy Collins (CD)"
Bewertung schreiben
Bewertungen werden nach Überprüfung freigeschaltet.
Weitere Artikel von Tommy Collins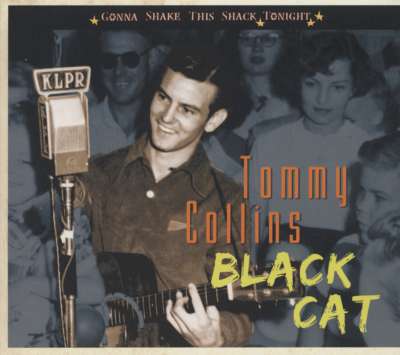 Tommy Collins: Black Cat - Gonna Shake This Shack Tonight
Art-Nr.: BCD16897


Sofort versandfertig, Lieferzeit** 1-3 Werktage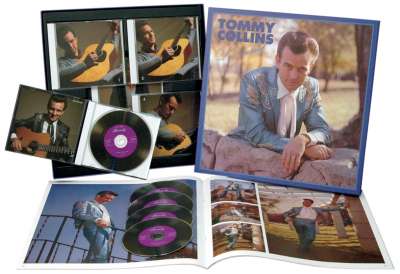 Tommy Collins: Leonard (5-CD Deluxe Box Set)
Art-Nr.: BCD15577


Artikel muss bestellt werden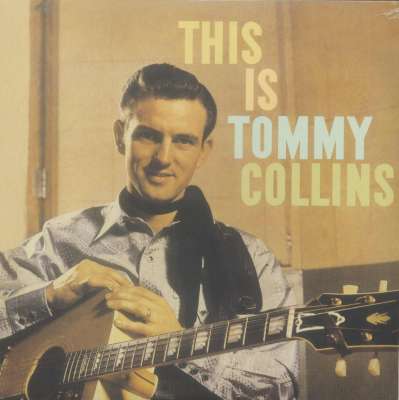 Tommy Collins: This Is Tommy Collins (LP)
Art-Nr.: LP2011094


Sofort versandfertig, Lieferzeit** 1-3 Werktage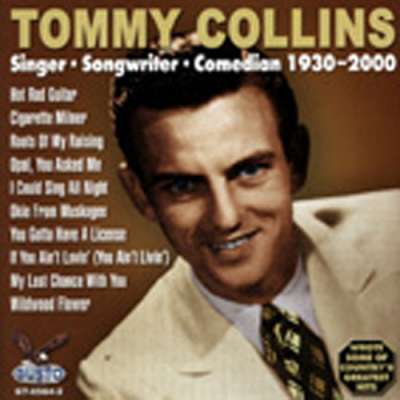 Tommy Collins: Singer Songwriter Comedian
Art-Nr.: CDGT0564


Sofort versandfertig, Lieferzeit** 1-3 Werktage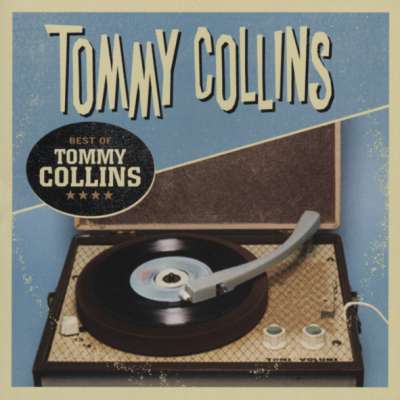 Tommy Collins: Best Of Tommy Collins (re-recordings)
Art-Nr.: CD78906


Artikel muss bestellt werden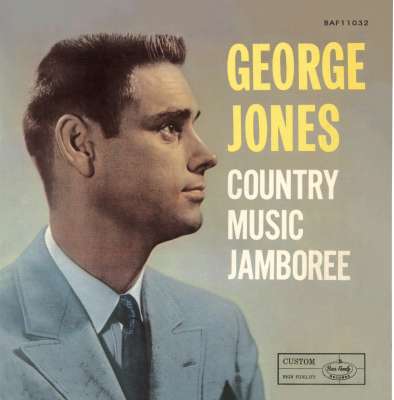 George Jones: Country Music Jamboree (LP, 10inch, Ltd.)
Art-Nr.: BAF11032


Sofort versandfertig, Lieferzeit** 1-3 Werktage