Der Artikel wurde erfolgreich hinzugefügt.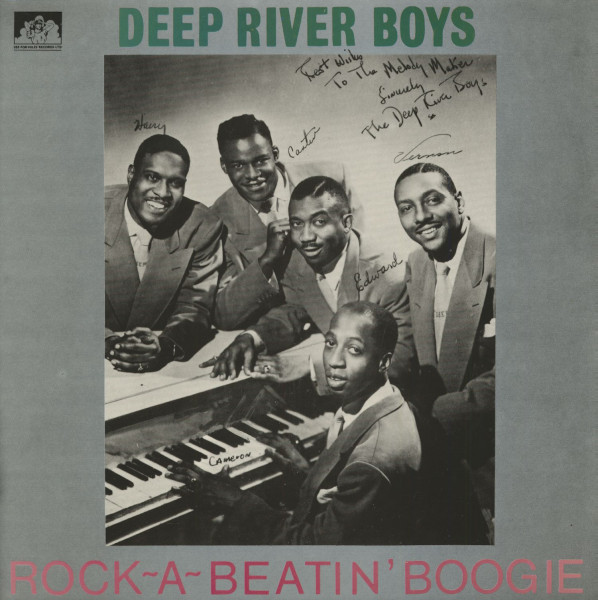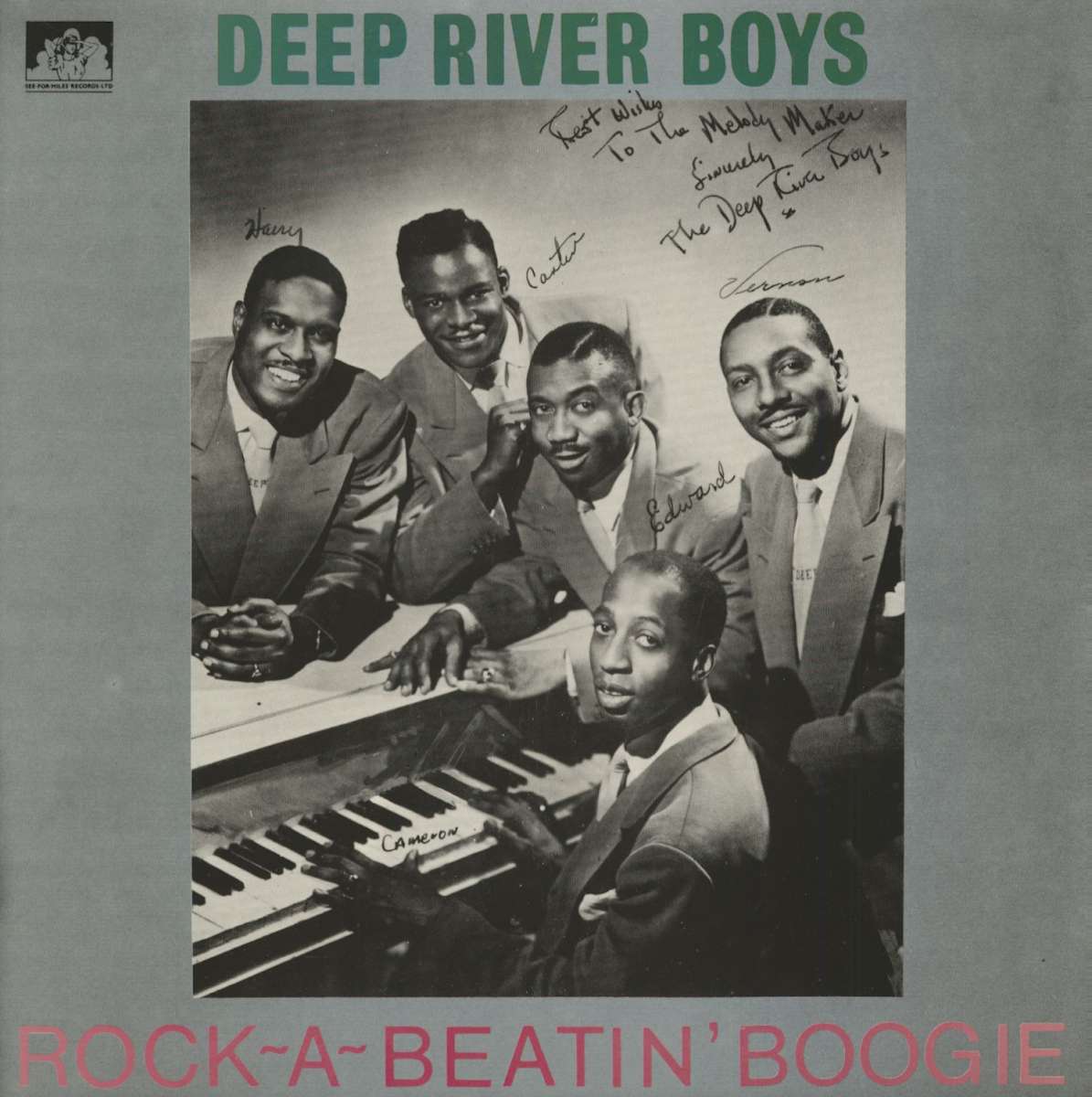 inkl. MwSt. / zzgl. Versandkosten - Abhängig vom Lieferland kann die MwSt. an der Kasse variieren.
Sofort versandfertig, Lieferzeit** 1-3 Werktage
Artikel-Nr.:

LPSEE55

Gewicht in Kg.:

0.2
(1985/See For Miles) 16 Titel, 1954-1962 The Deep River Boys are unique in that they are...
mehr
The Deep River Boys: Rock-A-Beatin' Boogie (LP)
(1985/See For Miles) 16 Titel, 1954-1962
The Deep River Boys
are unique in that they are probably the only American act to record regularly in the UK during the 1950s. The, British recordings for the HMV label demonstrate their versatility far more than their American counterparts, and it was in the UK that the Deeps first came to grips with rock'n'roll. This compilation LP, 'Rock-A-Beatin' Boogie'• features 16 of the, HMV recordings and encompasses spirituals, blues, ballads and novelty songs as well as healthy doses of rock'n'roll. The mainstay and lead vocalist of the Deep River
Boys
is Harry Douglass, who was born in Bridgeville, Delaware in 1916. He went to the Hampton Institute and, in 1936, the baritone Douglass teamed up with three other members (tenors Vernon Gardner and George Lawson and bass Edward Ware) to form a vocal quartet. They won a hundred dollars in a radio contest and they then did some theatrical work for the famous producer, Josh Logan. The powerfully-built black actor Rex Ingram took them on a promotional tour for his film 'The Green Pastures' and he named them the Deep River Bo,, calling them after a well-known spiritual 'Deep River'. The Deep River Boys had their ups and downs but eventually they has a regular radio programme on CBS. An old schoolfriend.
Charlie
Ford, worked as their arranger and pianist and soon they had an expansive repertoire. They first recorded in 1940 and amongst their early titles are 'Cherokee', '1 Wish I Had Died In My Cradle' and 'My
Heart
At Thy
Sweet
Voice'. The last-named was also recorded as a .soundie' for a visual juke-box, so who said that videos were new? Harry Douglass and the Deeps' second arranger/ pianist Ray Duran were drafted in 1940. They expanded the, musical horizons by organising troop shows and at one stage they had a choir of 80 performing the spiritual 'Ezekiel Saw The Light'. The Deep River Boys continued in their absence and they were handled by Ed Kirkeby, who had managed
Fats Waller
. Douglass rejoined the group in 1946• but Ray Duran didn't return until 1955, the pianist/arranger till that time being Cameron Williams. The Deep River Boys recorded some popular singles for RCA but, unlike the Ink Spots (If I Didn't Care', 'Whispering Grass') and the Mills Brothers Mazy River'• 'Paper Doll), they didn't have those all-embracing hits. When the Deep River Boys came to Europe in 1949, they immediately found success in Scandinavia and the UK. They made the first of many appearances at the London Palladium and, M 1952, they were included in a Royal Variety Performance. They became familiar to the British public through their regular concert dates and their own programmes on Radio Luxembourg. Ed Kirkeby asked record producer Walter Ridley to take the Deep River Boys into the studio and their first HMV single was the plaintive ASH. OF ROSES. Wally Ridley recalls, "We really did get off to a tremendous start with 'Ashes Of Roses'. It was selling furiously but the factory then went on strike and so no more records could be pressed. By the time that we had got the record back on the market, other things had come along and we had lost it. If it had been serviced correctly, 'Ashes Of Roses' would have been a Top 10 record."
The Deep River Boys had some good sales with the oddball 'Lucky Black Cat' and then turned to rock'n'roll for 'Shake, Rattle And Roll'. The original version by
Joe Turner
had a suggestive lyric which was modified by both
Bill Haley
and the Deep River Boys. For example, "You wear those dresses, the sun somas shining through" becomes "You wear those dresses, your hair done up so nice". Nowadays, in our liberated society, it would be the opening lines ("Get out in the kitchen and rattle those pots and pans") that would need to be rewritten. 'Shake, Rattle And Roll' had a big band arrangement but they followed Bill Haley more closely on their next single, 'Rock Around The Clock', although their version also contains some delightfully madcap piano playing. Bill Haley's version sold 25 million copies worldwide and was the first single to sell a million copies in the UK alone.' wondered if Wally Ridley had seriously thought that the Deeps could take Haley on? 'No, no. no, but in those days when an opposition record company had an item that was rated a success, you did a cover. You got some sales if it was by an established act and also because they sometimes ran out of stock as we did. And you shoudn't think of the Deep River Boys purely in this country's terms. They were selling records in Scandinavia, France and Germany.' Despite having lost out twice to Bill Haley, the Deep River Boys went for a hat-trick with a cover version of Haley's own song, 'Rock-A-Beatin' Boghie'.  Although the, version was not a hit, it was hugely enjoyable and enabled them to display their vocal talents. But recording the Deep River Boys was not without its problems as Wally Ridley recalls, 'You have to remember that the Deep River Boys were stage performers rather than studio performers. Harry Douglass never stands still for a second when he's working and so, when you get his in a studio, you have to say, 'Harry, don't go off the mike like that' and so you limit his performance. I did my best with him but in those days the mikes were enormously directional and the singer had to be within three inches of the specified place'. In December 1956 the Deep River Boys made their first and only appearance in the UK charts when 'That's Right' entered for just one week at No. 29. The
Sid Phillips
Band gave the record a pleasant New Orleans feel, but the lyric about kangaroos and zebras meant it was more of a novelty. The B-side, 'Honey, Honey' is totally bizarre but wonderfully entertaining. The A-side of their next single 'Whole Lotta Shkin' Goin' On' was peculiar for a different reason. Although it is theoretically the same song as the one
Jerry Lee Lewis
recorded, the two records are markedly different. The Deep River Boys are performing the original version of the lyric, which was also recorded by
Roy Hall
, Delores Fredericks and the Commodores. Jem Lee improvised wildly when he recorded the song, and his record became so successful that the original treatment is scarcely known today. For the, next single the Deep River Boys, declared that they were 'Not Too Old To Rock 'n'Roll' although, ironically, the B-side 'Slow Train To Nowhere' was dance band material which suggested that they were. 'Slow Train To Nowhere' opens with a humorous reference to 'Such A Night' and Wally Ridley still praises Sid Phillips' arrangements. "Sid WAS a genius on the clarinet and a marvellous, marvellous, completely brilliant musician. He's the only man I've seen who could dictate parts off the top of his head. He would say, 'First alto, you play a crotchet in B' and so on for the first eight bars. Then he would do the same with the tenor and the other instruments. Then they'd play it and it would be perfect. The big bands begged Sid to go to
America
but he wouldn't because he couldn't see or play cricket there." The Deep River Boys made their best rock'n'roll record 'Itchy Twitchy Feeling' in 1959 but their record didn't sell particularly well because of competition from
Bobby Hendricks
, a former member of the Drifters whose version was a US hit,
Charlie Drake
, and Chem Wainer, the organist from 'Oh Boy!'. My notes have concentrated on the, rock'n'roll sides, but there are ma, other facets to the Deep River Boys. Their roots were A gospel music and this album contains their version of the spiritual 'I Shall Not Be Moved'  in which they share the lead vocals. Also in the LP is 'Settle Down', a folk song with a gospel feel, and the strange 'Adam Never Had No Money' on which they were solely backed by a guitar. They assume the roles of children and conclude that Adam only sinned because he didn't have a mother to keep him in his place. The Deep River Boys sing the blues with a big band scoring of the justly famous 'St. Louis Blues'. The sudden change of tempo transforms the song and the whole record has been skillfully thought out. They show their humour with 'Smack Dab In The Middle', which, incidentally, was written by Charles Calhoun, who performed as Jew Stone and also wrote 'Shake, Rattle And Roll'. 'Just A Little Bit More' also has jazz leanings, this time with some nice wordless vocalising in the middle 'Itchy Twitchy Feeling' was the Deep River Boys' final single for HMV but they continued to record throughout the years and they still come to Europe Harry Douglass alternates his work in the Deep River Boys with other projects and of late he has been starring in a Cotton Club revue. Next year will be their fiftieth anniversary so isn't it about time they became the Deep River Men?
Spencer Leigh (Presenter, BBC Radio Merseyside)
Artikeleigenschaften von

The Deep River Boys: Rock-A-Beatin' Boogie (LP)
Albumtitel:

Rock-A-Beatin' Boogie (LP)

Genre

R&B, Soul

Geschwindigkeit

33 U/min

Plattengröße

LP (12 Inch)

Record Grading

Mint (M)

Sleeve Grading

Mint (M)

Artikelart

LP

EAN:

5014661005514

Gewicht in Kg:

0.2
The Deep River Boys Die Deep River Boys   Die Deep River Boys Die mageren...
mehr
"The Deep River Boys"
The Deep River Boys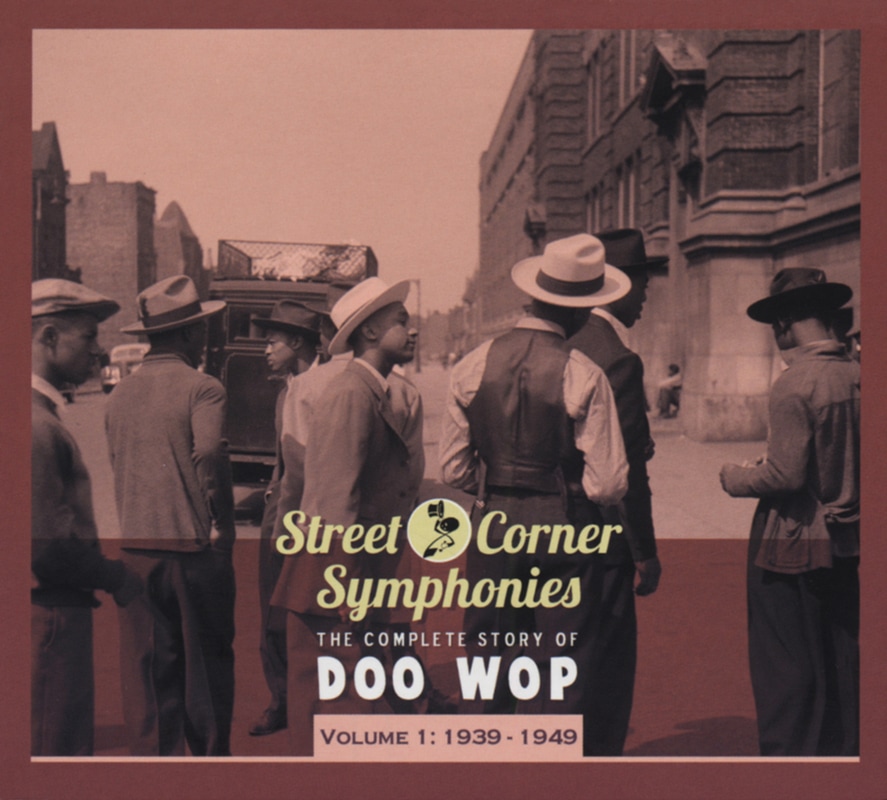 Die Deep River Boys
Die Deep River Boys
Die mageren Chart-Geschicke der Deep River Boys - ein Pop-Auftritt von 1948 - werden dem anhaltenden Quartett nicht gerecht. Sie waren Stars des 40er-Jahre-Radios und der Soundtracks, die sich einer großzügigen Diskographie rühmen konnten.
Sie kamen 1936 am Hampton Institute in Virginia zusammen. Bariton Harry Douglass, geboren am 6. Mai 1916 in Bridgeville, Delaware, trat zusammen mit Bass Edward Ware und den Tenören Vernon Gardner und George Lawson als The Hampton Institute Junior Quartet auf. Sie gewannen in einer Folge von'Major Bowes' Amateur Hour,' und erhielten dann einen Schub durch die Arbeit für den Theaterproduzenten Josh Logan. Der schwarze Schauspieler Rex Ingram brachte sie auf eine Promotion-Tour für seinen Film'The Green Pastures' und entwickelte einen neuen Namen für die Gruppe, der einen ihrer beliebtesten Songs widerspiegelt: Deep River. Aber das Quartett musste etwas weltliches Material zu ihrem Repertoire hinzufügen, bevor CBS Radio sie an Bord ihrer Netzwerk-Airwaves brachte.
Die Deep River Boys debütierten 1940 auf Schellack mit ihrem RCA Victor-Rendering von Nothing But You und nahmen vor dem Zweiten Weltkrieg sieben Veröffentlichungen für RCA und seine Bluebird-Tochter auf. Sie filmten auch die denkwürdigen Töne'Toot That Trumpet' und'Shadrack', die sie nicht kommerziell aufnahmen. Douglass war während des Krieges gezwungen, die Reihen zu verlassen, um für die Truppen aufzutreten, aber er war zurück im Jahr 1946, als die Gruppe wieder zu den Aufnahmen mit Victor zurückkehrte.
Die Deep River Boys registrierten schließlich 1948 einen Hit für RCA Victor mit ihrer üppigen Behandlung von Recess In Heaven, die trotz einer Version von Ex-Jimmie Lunceford-Sänger Dan Grissom, der ein #8 R&B-Verkäufer war, auf Platz 18 kletterte. Auf der anderen Seite von The Deep River Boys' Version saß ein Cover von The Orioles' It's Too Soon To Know. Als die Gruppe 1949 nach Übersee aufbrach, stieß sie auf eine sehr geschätzte Fangemeinde, was in den 50er Jahren zu vielen europäischen Reisen führte. Während sie weiterhin Pop-Titel für Victor, Beacon, Jay-Dee und Vik in den USA aufnahmen, rockten die Deep River Boys für ihre britischen Fans, schnitten Rock Around The Clock und Whole Lot Of Shakin' Going On und feierten einen britischen Hit in'56 mit That's Right. Douglass blieb die tragende Säule des Quartetts, aber es gab im Laufe des Jahrzehnts eine Fülle von personellen Veränderungen, Jimmy Lundy ersetzte Lawson zu Beginn der 50er Jahre. Die Deep River Boys sangen 1955 für Präsident Eisenhower.
Douglass starb am 5. Juni 1999 in New York. Die Zeit seiner Gruppe war längst vorbei, aber er sang bis zu seinem Tod.
Bill Dahl
Verschiedenes - Street Corner Symphonien Vol.01
1939-1949 Die komplette Geschichte von Doo Wop
Lesen Sie mehr unter: https://www.bear-family.de/various-street-corner-symphonies-vol.01-1939-1949-the-complete-story-of-doo-wop.html
Copyright © Bear Family Records
Bewertungen lesen, schreiben und diskutieren...
mehr
Kundenbewertungen für "Rock-A-Beatin' Boogie (LP)"
Bewertung schreiben
Bewertungen werden nach Überprüfung freigeschaltet.
Weitere Artikel von The Deep River Boys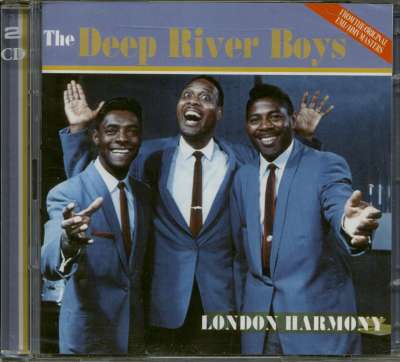 The Deep River Boys: London Harmony (2-CD)
Art-Nr.: CDADM5001


Sofort versandfertig, Lieferzeit** 1-3 Werktage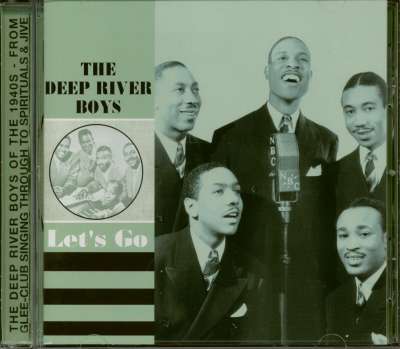 The Deep River Boys: Let's Go (CD)
Art-Nr.: CDACM4262


Sofort versandfertig, Lieferzeit** 1-3 Werktage