Der Artikel wurde erfolgreich hinzugefügt.
Duane Eddy
Deep In The Heart Of Twangsville (6-CD Deluxe Box Set)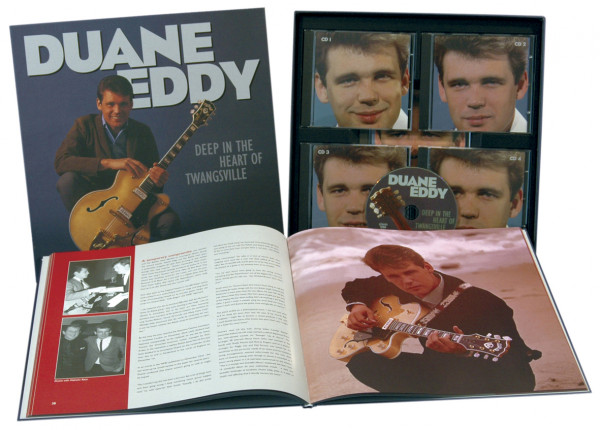 107,95 € *
119,95 € *
(10% gespart)
inkl. MwSt. / zzgl. Versandkosten - Abhängig vom Lieferland kann die MwSt. an der Kasse variieren.
Sofort versandfertig, Lieferzeit** 1-3 Werktage
Artikel-Nr.:

BCD16271

Gewicht in Kg.:

2
6-CD Box (LP-Format) mit 70-seitigem gebundenem Buch, 157 Einzeltitel, Spieldauer 406:57 Minuten....
mehr
Duane Eddy: Deep In The Heart Of Twangsville (6-CD Deluxe Box Set)
6-CD Box (LP-Format) mit 70-seitigem gebundenem Buch, 157 Einzeltitel, Spieldauer 406:57 Minuten.
Duane Eddy
ist der meistverkaufte Rock-Instrumentalist aller Zeiten. Das kürzlich wieder aufgetauchte Interesse an seinen RCA Victor Aufnahmen hat uns veranlasst seine Aufnahmen für dieses Label wiederzuveröffentlichen. Der Meister des 'Twang' war derzeit auf dem Höhepunkt
Duane Eddy
s Karriere, und verbuchte sieben Top 100 Singles und 9 LPs. In dieser zweijährigen Periode - seine fruchtbarste überhaupt nahm er mehr als 150 Titel auf, die wir auf 6 CDs zusammengefasst haben.
Einige Stereoversionen von Monosingles finden sie hier zum ersten Mal; 27 seltene und unveröffentlichte Titel sowie ein seltener Soundtrack sind in der Box enthalten. Dazu kommt ein gebundenes, reich illustriertes Buch mit Biografie und Diskografie.
7 Stunden Twang und Stunden guter Lektüre.
Artikeleigenschaften von

Duane Eddy: Deep In The Heart Of Twangsville (6-CD Deluxe Box Set)
Albumtitel:

Deep In The Heart Of Twangsville (6-CD Deluxe Box Set)

Genre

Rock'n'Roll

Edition 2

Deluxe Edition

Preiscode

FK

Artikelart

Box set

EAN:

4000127162717

Gewicht in Kg:

2
Duane Eddy ln den späten 50er Jahren erwies sich Duane Eddy als erfolgreichster...
mehr
"Duane Eddy"
Duane Eddy
ln den späten 50er Jahren erwies sich Duane Eddy als erfolgreichster Instrumentalist: Allein im ersten Jahr seiner Karriere verkaufte man über 6 Millionen seiner Singles (bis heute Weltrekord für Instrumentalisten), die Gesamtauflage seiner Schallplatten wird auf 60 Millionen Stück geschätzt.

Im Frühjahr 1958 erschien mit 'Movin' And Groovin' ' die erste Single, die Mut zu einer zweiten machte. Bald danach entstand 'Rebel Rouser', eine Hitrakete, die eine auch noch für heutige Verhältnisse sensationelle Karriere auslöste: Neun Goldene Singles und vier Goldene Longplays wurden Duane Eddy neben einer Vielzahl anderer Auszeichnungen verliehen.

ln den letzten Jahren gab es nur wenige Meldungen über den Mann aus Arizona. 1968 gab Duane Eddy ein 2-Stunden-Konzert in London und ein weiteres 1972 im New Yorker Madison Square Garden. Ob Duane Eddy, der nun ein großes Comeback mit völlig neuer Stilrichtung vorhat, mit Streichern und Damenchor bei seinem ehemaligen Publikum ankommen wird, muß sich erweisen. SeineersteSingle,die Mittel975 erschien ` -"Play Me Like You Play Your Guitar'-, scheint beim Publikum recht gut anzukommen.

Original Presse-Info: Deutsche Grammophon GmbH
Duane Eddy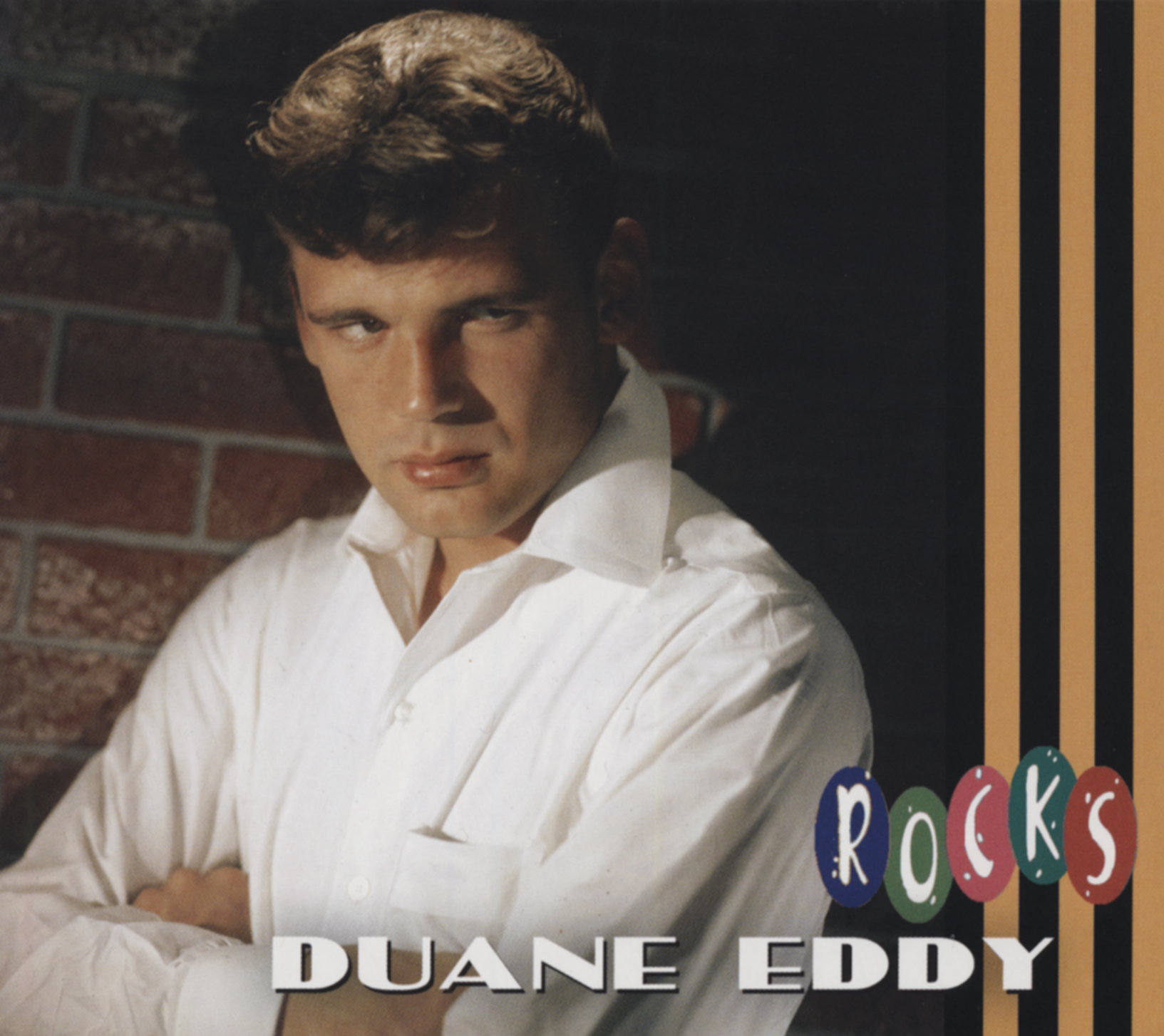 Duane Eddy ist der erste Rock'n'Roll-Gitarrenheld. Seine Gitarren-Instrumentals aus den 1950er Jahren wie Rebel Rouser und Forty Miles Of Bad Road inspirierten unzählige Kinder und Jugendliche, Gitarre zu spielen, und viele der Ikonen der Rockmusik nennen ihn als großen Einfluss. Sein Stil ist sofort erkennbar, eine mutige Aussage über Ton und Haltung, ein Spaghetti-Western-Film mit Musik.
Es ist praktisch unmöglich, Duanes Einfluss in der Geschichte der E-Gitarre zu übertreiben. Das gesamte Genre der 'Gitarren-Instrumentalmusik' begann praktisch mit Duanes instrumentalen Hits und wurde durch diese bestimmt. Es ist nicht übertrieben zu sagen, dass, wenn es einen Mount Rushmore für Rock-'n' Roll-Gitarristen gäbe, Duane Eddy George Washington wäre. Diese Sammlung enthält Duanes bekannteste Songs, zusammen mit einigen Überraschungen, ein Album, das wirklich 'rockt'.
Duane Eddy wurde am 26. April 1938 an der Ostküste Amerikas in Corning, New York, geboren. Seine Kindheit verbrachte er in Corning und anderen New Yorker Städten wie Bath und Penn Yan, bevor seine Familie 1951 nach Tucson, Arizona, ging. Ein Jahr später zog die Familie in die kleine Stadt Coolidge, Arizona.
Duane begann im Alter von fünf Jahren, sich für Musik zu interessieren, als sein Vater ihm ein paar Akkorde auf der Gitarre zeigte. Als Duane neun Jahre alt war, kaufte ihm seine Tante eine Lap Steel Gitarre. Nach dem Umzug nach Arizona spielte Duane weiterhin sowohl Lap Steel als auch die Standardgitarre. Country-Musik war die größte Sache in Duanes musikalischer Welt, und wie viele andere aufstrebende Gitarristen liebte er das Spiel von Chet Atkins und Merle Travis.
Duanes Vater leitete das örtliche Safeway-Lebensmittelgeschäft in Coolidge, nachdem er von einem ähnlichen Job in Tucson dorthin gewechselt war. Ein lokaler Discjockey kam eines Tages in ein Gespräch mit Duanes Vater und erfuhr, dass Duane ein aufstrebender Gitarrist war, also bot der Discjockey an, Duane im Sender aufzunehmen. Der DiscJockey spielte es anschließend im Radio und kündigte es als Titel von Duane Eddy an.
Als Duanes Interpretation von Chet Atkins' Spinning Wheel eines Montagmorgens auf der Station ausgestrahlt wurde, kam ein junger Mann namens Jimmy Delbridge (alias Jimmy Dell) in der Schule zu Duane und bat ihn, später am Nachmittag nach der Schule vorbeizukommen und etwas Musik mit ihm zu spielen.
Duane kam zu Delbridge (und seinem Bruder Bill Delbridge am Banjo und Duanes Freund Ed Myers an der Rhythmusgitarre) und begann einige Wochen später als Jimmy & Duane, The Coolidge Kids, lokale Tänze zu spielen.
Ed Myers, Rhythmusgitarrist in der Gruppe, hatte ein Interesse daran, Radio-Discjockey zu werden, also ging er zum lokalen Sender WCKY und suchte nach Ratschlägen, wie man ins Geschäft einsteigen kann. Dabei traf Myers einen Disc-Jockey namens Lee Hazlewood, ein aufstrebender junger DJ frisch von der kalifornischen Rundfunkschule.
Der Beginn von Duane Eddys musikalischer Karriere ist unwiderruflich mit der von Lee Hazlewood verbunden. Der in Oklahoma geborene Hazlewood war neun Jahre älter als Duane, und nachdem er in Kalifornien Rundfunk studiert hatte, war er nach Arizona gekommen, um in dem Radiosender KCKY als Discjockey zu arbeiten. Hazlewood war eine kleine Berühmtheit in Coolidge, bekannt für seine On-Air-Persönlichkeit Eb X. Preston, eine fiktive Figur, die er bei der Ankündigung seiner eigenen Schallplatten benutzte.
Nachdem Myers Hazlewood getroffen und Duane ihm vorgestellt hatte, wurden Lee und Duane Freunde, und Hazlewood wurde der informelle Manager von Jimmy & Duane. Hazlewood fuhr Jimmy und Duane bald darauf nach Phoenix, um dort auf einer Talentshow zu sein, die Ray Odom am Samstagabend im Madison Square Garden, einer Boxhalle in Phoenix, präsentierte. Ein Jahr später nahm Hazlewood einen Diskjockey-Gig bei KRUX in Phoenix und später bei KTYL auf. Phoenix war eine große Metropolregion, vor allem im Vergleich zum verschlafenen Coolidge, und bot viel mehr Möglichkeiten.
Nachdem die Phoenix-Show erfolgreich war, erkannten Jimmy und Duane, dass Phoenix viel größere Möglichkeiten bot als Coolidge. Bald darauf nahm Hazlewood Jimmy & Duane in ein Studio in Phoenix namens Ambassador Recording mit und nahm mit der Gruppe Soda Fountain Girl und I Want Some Lovin', Baby auf, zwei von Lee Hazlewood geschriebene Songs. Duane erinnert sich, dass das Studio ein kleines Studio im hinteren Teil eines Hauses war und dass Lee Hazlewood Buddy Long und seine Melody Boys für diese Session engagiert hatte.
Duane Eddy Duane Eddy - Rocks
Read more at: https://www.bear-family.com/eddy-duane-duane-eddy-rocks.html
Copyright © Bear Family Records
Bewertungen lesen, schreiben und diskutieren...
mehr
Kundenbewertungen für "Deep In The Heart Of Twangsville (6-CD Deluxe Box Set)"
Von:
Peter Sch.
Am:
29.05.2017
Top
Ein perfektes Box Set, welches mir persönlich sehr gut gefällt.
Bewertung schreiben
Bewertungen werden nach Überprüfung freigeschaltet.
Weitere Artikel von Duane Eddy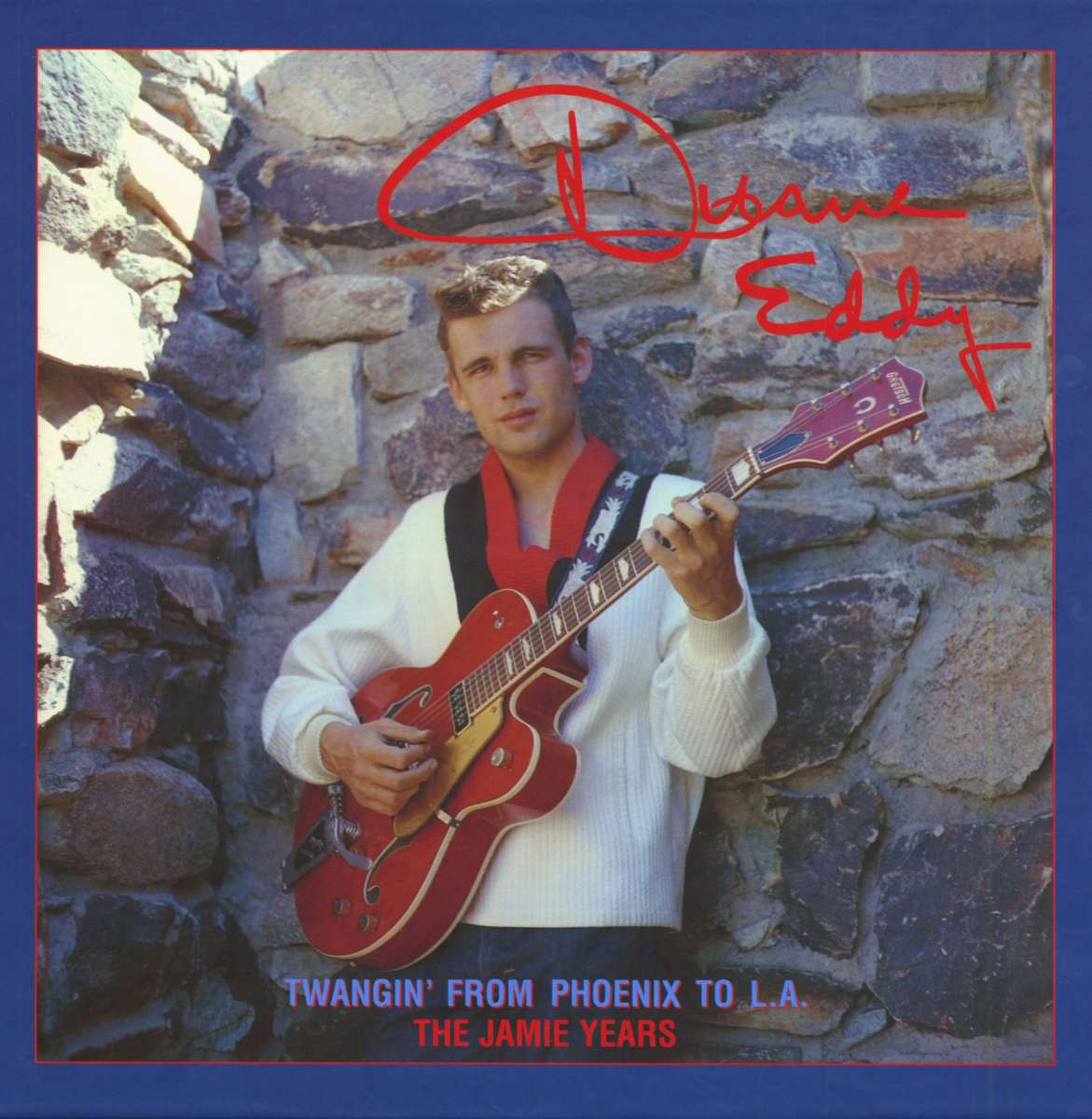 Duane Eddy: Twangin' From Phoenix To L.A. (5-CD Deluxe Box...
Art-Nr.: BCD15778


Sofort versandfertig, Lieferzeit** 1-3 Werktage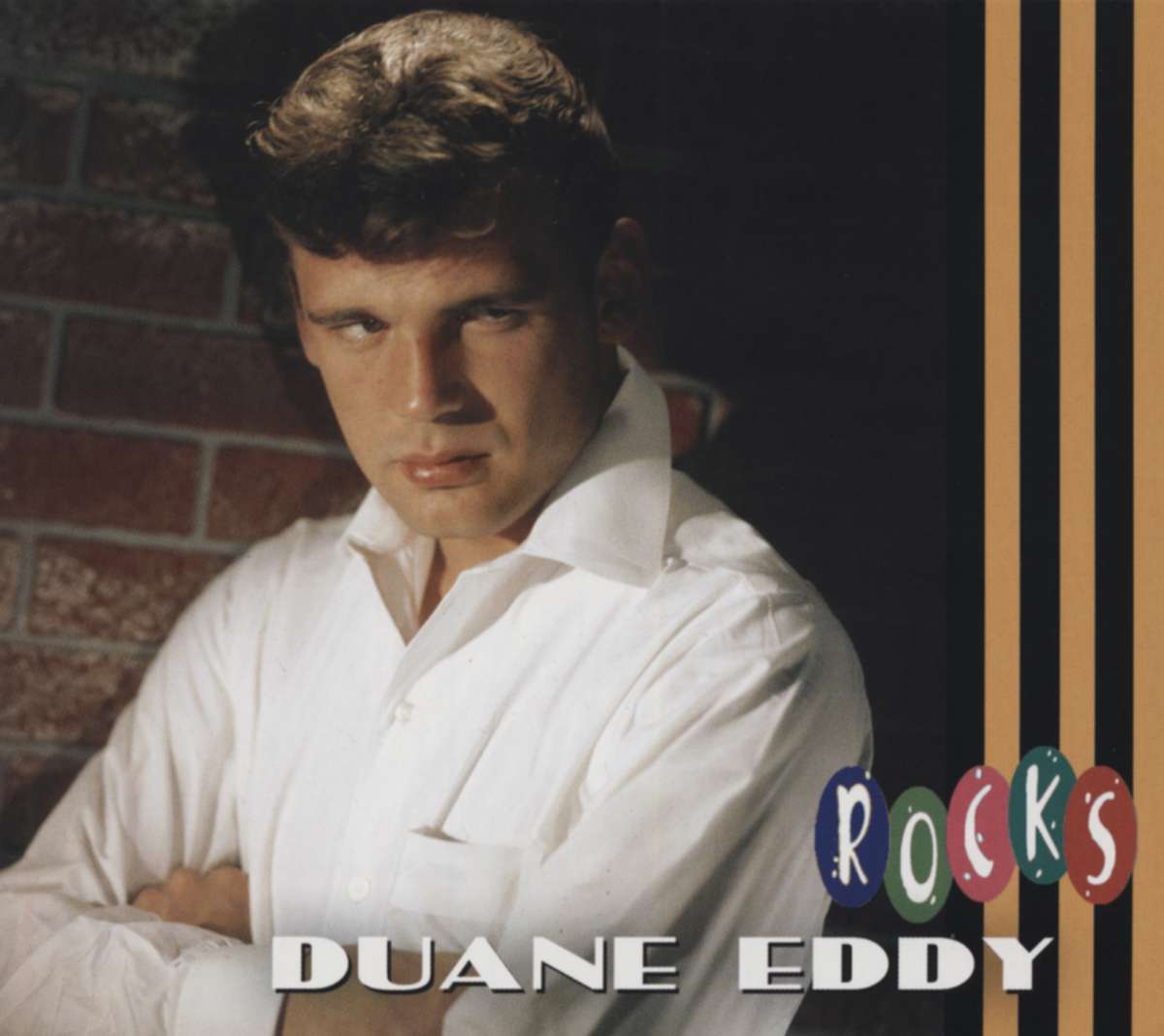 Duane Eddy: Duane Eddy - Rocks
Art-Nr.: BCD17249


Sofort versandfertig, Lieferzeit** 1-3 Werktage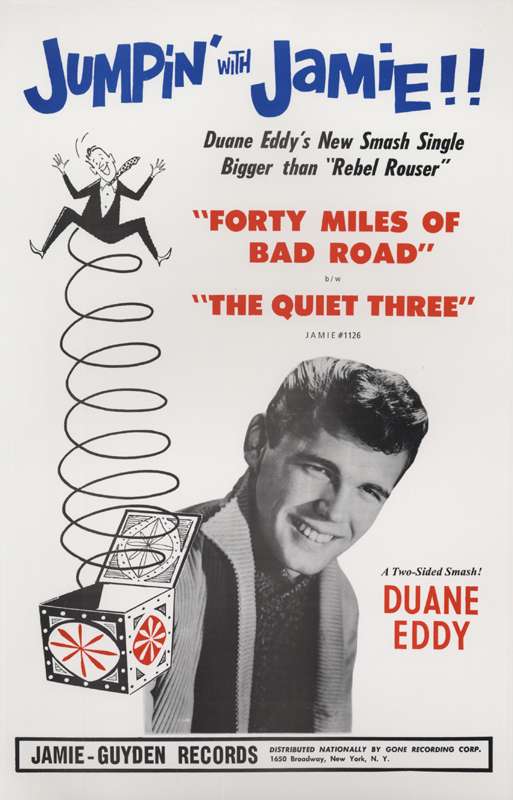 Duane Eddy: Jumpin' With Jamie!! (Poster, 28.5x43 cm, Color)
Art-Nr.: POSTER05002


die letzten 1 verfügbar
Sofort versandfertig, Lieferzeit** 1-3 Werktage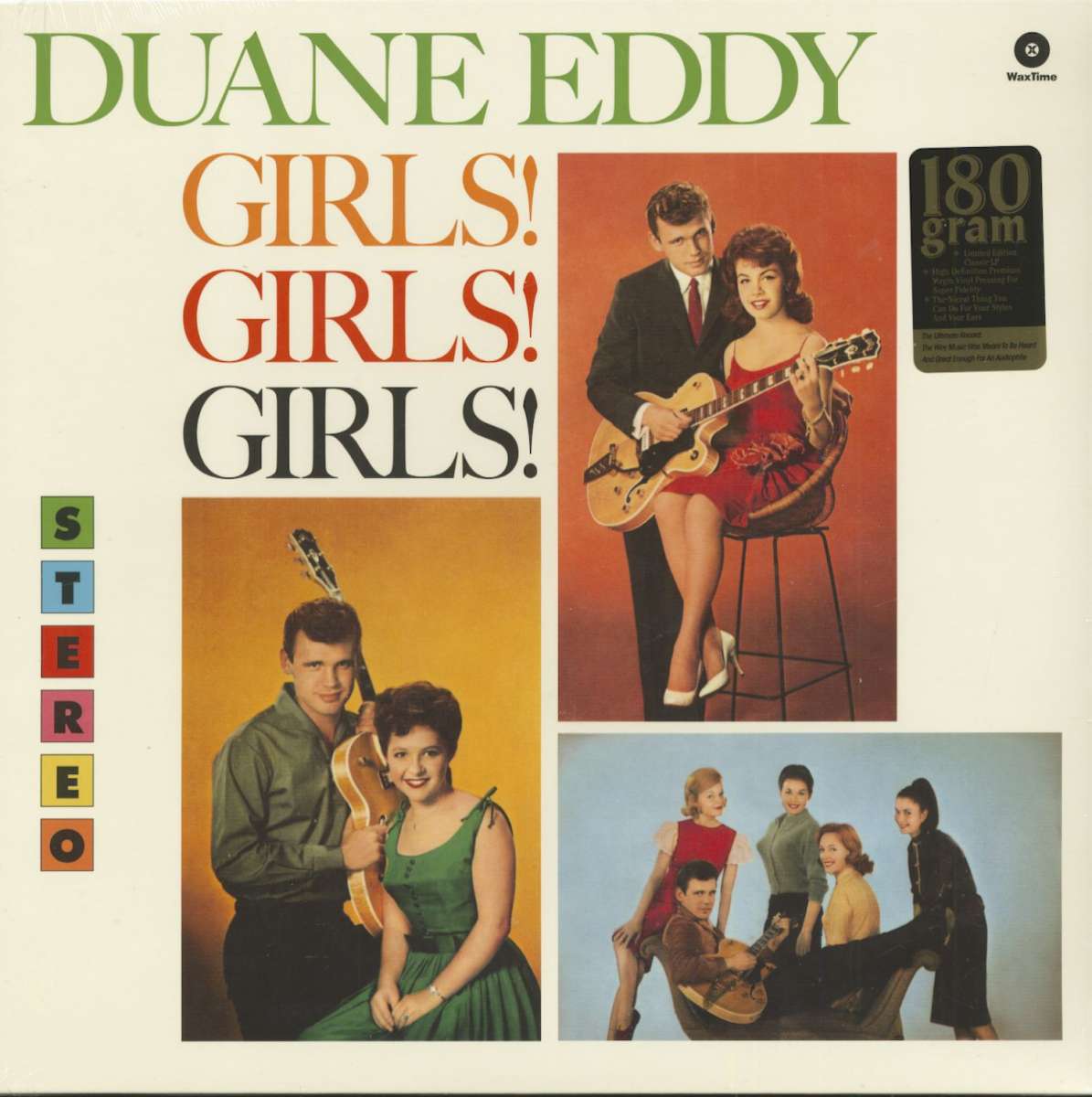 Duane Eddy: Girls! Girls! Girls! (LP, 180g Vinyl)
Art-Nr.: LP772195


Sofort versandfertig, Lieferzeit** 1-3 Werktage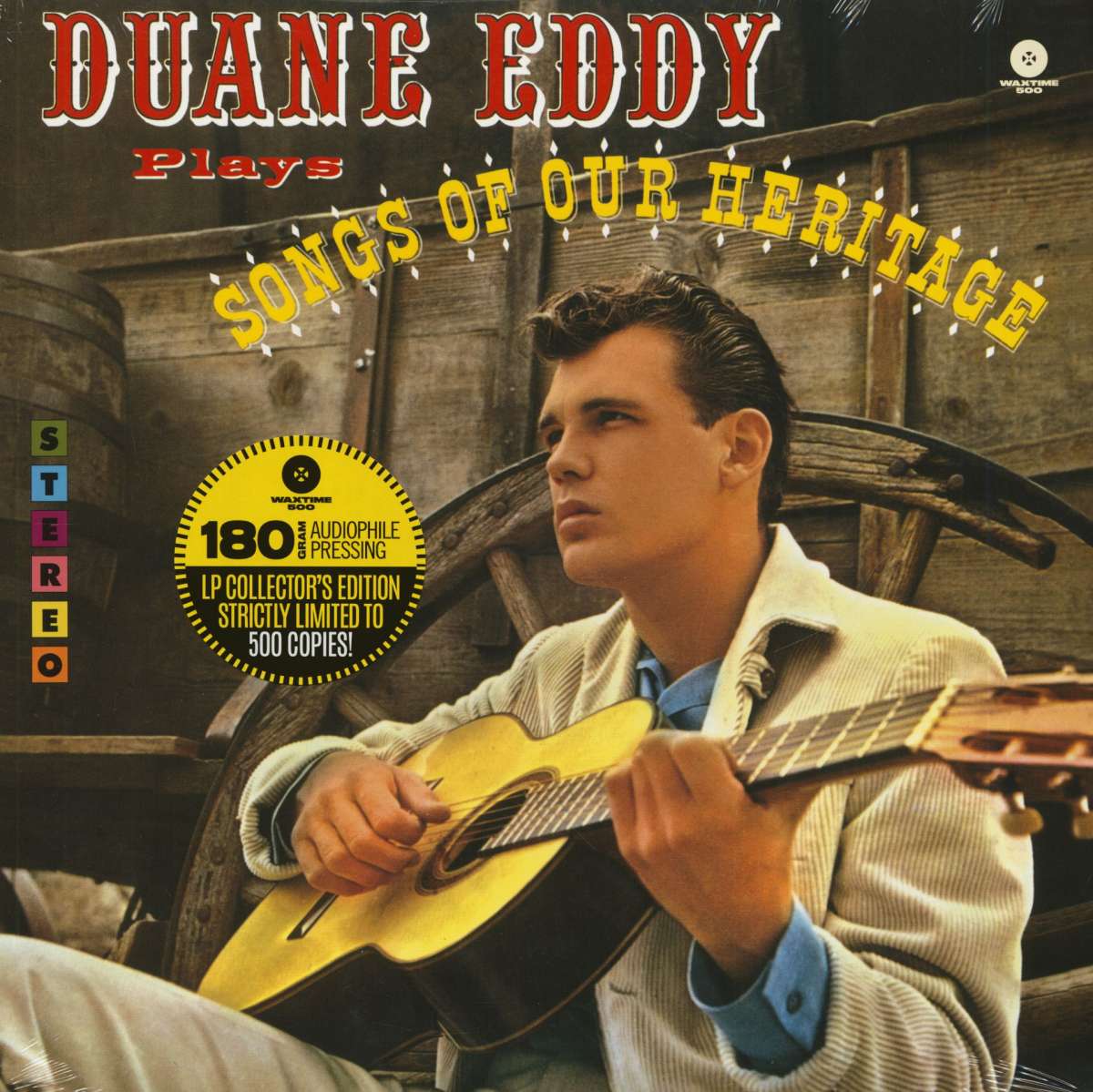 Duane Eddy: Songs Of Our Heritage (LP, 180g Vinyl, Ltd.)
Art-Nr.: LP408726


nur noch 1 verfügbar
Sofort versandfertig, Lieferzeit** 1-3 Werktage