Der Artikel wurde erfolgreich hinzugefügt.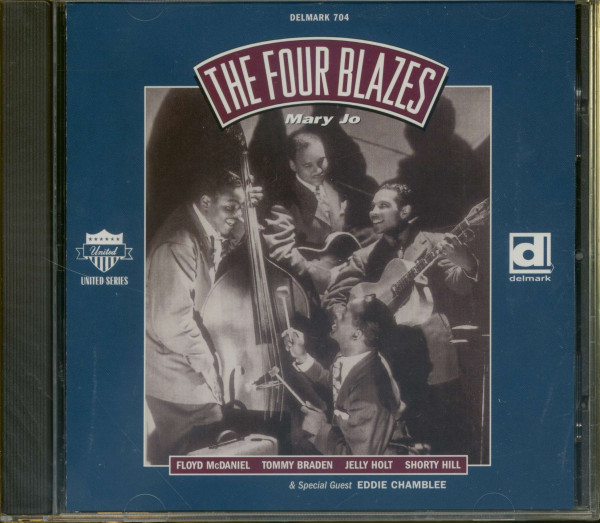 Benachrichtigen Sie mich, sobald der Artikel lieferbar ist.
11,95 € *
15,95 € *
(25,08% gespart)
inkl. MwSt. / zzgl. Versandkosten - Abhängig vom Lieferland kann die MwSt. an der Kasse variieren.
Artikel derzeit nicht verfügbar, Lieferfristen von bis zu 2-3 Wochen sind zu erwarten. (soweit verfügbar beim Lieferanten - kann schneller gehen, manchmal aber leider auch nicht)
Artikel-Nr.:

CDDE704

Gewicht in Kg.:

0.107
(1952-54'United') (65:45/24) In jenen Jahren überaus erfolgreiche Gesangs- und Instrumentalcombo...
mehr
FOUR BLAZES: Mary Jo
(1952-54'United') (65:45/24) In jenen Jahren überaus erfolgreiche Gesangs- und Instrumentalcombo aus
Chicago
mit dem Gitarristen
Floyd McDaniel
. Unglaublich gute Klangqualität. Klingt schnell wie eine'Blue Note'-Aufnahme. Und fantastische Musik. Auch für jene zu empfehlen, die ansonsten nichts mit 50er Jahre R&B am Hut haben / erfolgreiche und beliebte Gesang/Instrumental-Combo mit Floyd McDaniel (siehe seine Delmark und CrossCut Veröffentlichungen). Schöne Aufnahmen. Die Klangqualität ist fast unglaublich, perfekt. Klingt wie eine Blue Note Aufnahme. Auch wenn du nicht so sehr auf 50er Jahre r&b stehst: check it out!
einer der besten R&B Platten von 1952, ein Tribut an diese legendäre Frau, die nach Alaska ging, nur um den Schnee zu schmelzen', sorgte Mary Jo' für einen Moment im nationalen Rampenlicht für eine der heißesten Gesangskombinationen Chicagos. Die Single wurde im April'52 veröffentlicht und stieg Mitte Juli in die nationalen Charts ein. Es bewegte sich schnell an die Spitze und verdrängte
Lloyd Price
's'Lawdy Miss Clawdy' als #1 R&B Song in der Nation Ende August.
Born in den schwindenden Jahren der Depression, brachten
The Four Blazes
Vitalität und Showmanship in die frühen Jahre von R&B. Bassist Tommy Braden war der Hauptdarsteller, während alle Mitglieder Backup-Harmonie-Gesang lieferten. Jelly' Holt war der Gründer und Schlagzeuger der Gruppe, während Floyd McDaniel und'Shorty' Hill Gitarren spielten. (Floyd blieb sein ganzes Leben lang aktiv in der Musik, einschließlich des 1991er Albums Let Your Hair Down! und die 1994 aufgenommene West Side Baby.) Mit Special Guest
Eddie Chamblee
am Tenorsaxophon.
Artikeleigenschaften von

FOUR BLAZES: Mary Jo
Albumtitel:

Mary Jo

Genre

R&B, Soul

Preiscode

VCD3

Artikelart

CD

EAN:

0038153070427

Gewicht in Kg:

0.107
The Four Blazes The Four Blazes Rug Cutter The days of the self-contained units -...
mehr
"FOUR BLAZES"
The Four Blazes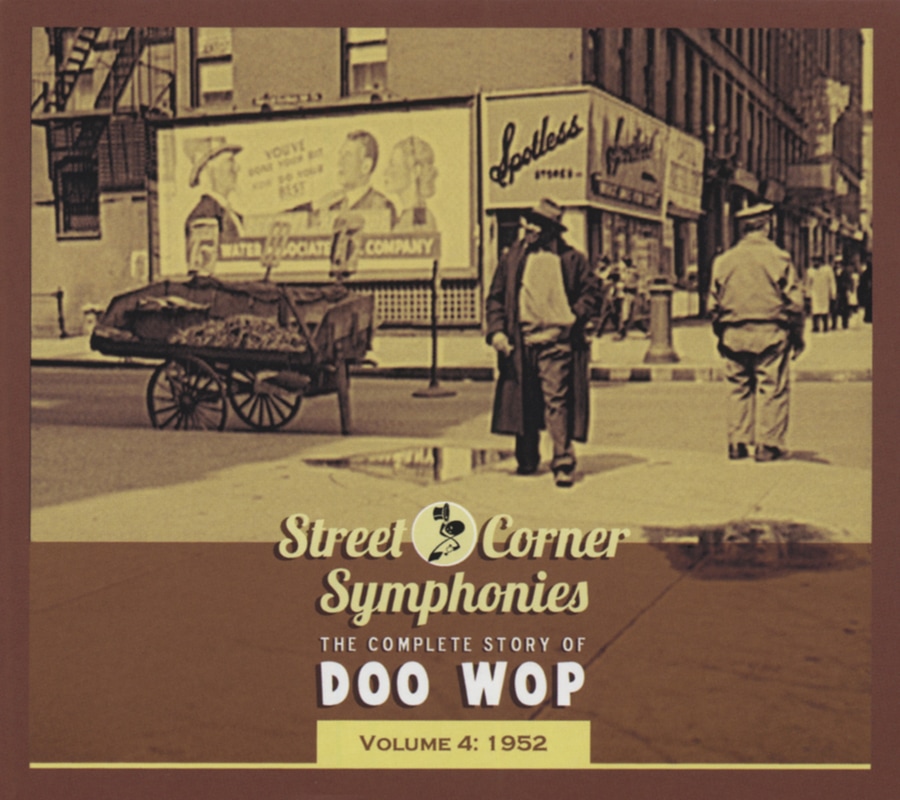 The Four Blazes
Rug Cutter
The days of the self-contained units - groups that sang and played their own axes like The Cats and The Fiddle and Steve Gibson's Red Caps - was nearing an end, but in Chicago, The Four Blazes upheld the tradition splendidly. They played all over town, from the West Side to the North Side to the Loop, swinging all the while.
The Blazes came together in 1940 with drummer Paul Lindsley 'Jelly' Holt, guitarists Jimmy Bennett and William 'Shorty' Hill, and bassist Prentice Butler, though Bennett was replaced the next year by Floyd McDaniel, born July 21, 1915 in Athens, Alabama. McDaniel arrived in Chicago in 1930, and in '31 joined The Rhythm Rascals, a washboard band that played at the 1933 World's Fair. "We started here on the beach with that, right there on 31st Street," said the late McDaniel. "Then we took to the streets, played on the street corners. I was a teenager." They later journeyed to New York, gigging as The Cotton Club Tramp Band for four years before Floyd joined the Blazes.
"I came back around '40, and that's when I met one of those guys," he said. "We played a Christmas party together, and then we started putting together this little group, the Blazes." McDaniel switched to electric guitar in 1941. "Charlie Christian was my idol in that," he said. "I was more into rhythm." The group added pianist Ernie Harper in 1945 after McDaniel was temporarily sidelined because he burned his hand on a shorted microphone in Pittsburgh, making them The Five Blazes. They debuted on shellac in '47 on the Aristocrat logo (Leonard Chess was one of its principals) with Chicago Boogie, featuring Harper's lead vocal. Floyd fronted their next Aristocrat 78, a jivey All My Geets Are Gone.
Harper exited and wasn't replaced. Before long, The Four Blazes hired a new bassist. "Thomas Braden came in the '50, because Prentice Butler - I guess things got a little slow, and he had to take a job. He left the band, and that's when we found Thomas Braden," said McDaniel. "He used to dance with that bass, just like it was a girl." The Chattanooga, Tennessee-born Braden, formerly with Chicago saxist J.T. 'Nature Boy' Brown's combo, became their primary lead singer. "He could sit down and write things, and he could play that bass too," said McDaniel.
On January 4, 1952, the Blazes cut two numbers in Chicago for Universal Recording boss Bill Putnam, who sold the masters to Lew Simpkins and Leonard Allen's United Records. One of them was the jumping Mary Jo, penned and fronted by Braden. That August, the tune proudly sat atop the R&B charts. He also wrote and sang the group's followup hits Please Send Her Back To Me and Perfect Woman.
McDaniel sang lead on the Blazes' revival of Duke Ellington's 1937 platter I've Got To Be A Rug Cutter (the Blazes shortened the title). Cut July 4, 1952, it features their strong vocal harmonies in addition to their sure-handed instrumental chops. The Blazes stayed on United into 1955, touring extensively. "We went all over everywhere. We went to California. We went to Texas, Canada," said McDaniel. Braden got top billing on their last United single, where they were confusingly called The Blasers.
The Four Blazes were kaput by the end of '55 (Braden died in 1957), but McDaniel mounted a comeback campaign in the '90s, playing jump blues with a horn-infused combo and making CDs for Delmark. He died July 22, 1995. "I enjoy it all, man," the good-natured McDaniel said, "especially when the people enjoy it."
Bill Dahl
Various - Street Corner Symphonies Vol.04
1952 The Complete Story Of Doo Wop


Read more at: https://www.bear-family.de/various-street-corner-symphonies-vol.04-1952-the-complete-story-of-doo-wop.html
Copyright © Bear Family Records
Bewertungen lesen, schreiben und diskutieren...
mehr
Kundenbewertungen für "Mary Jo"
Bewertung schreiben
Bewertungen werden nach Überprüfung freigeschaltet.