Der Artikel wurde erfolgreich hinzugefügt.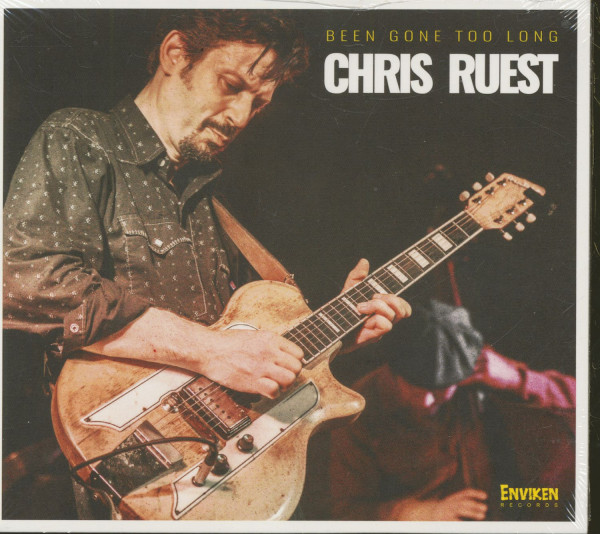 Benachrichtigen Sie mich, sobald der Artikel lieferbar ist.
inkl. MwSt. / zzgl. Versandkosten
Artikel derzeit nicht verfügbar, Lieferfristen von bis zu 2-3 Wochen sind zu erwarten. (soweit verfügbar beim Lieferanten - kann schneller gehen, manchmal aber leider auch nicht)
Artikel-Nr.:

CDENV175

Gewicht in Kg.:

0.1
(Enviken) 13 tracks Fast forward to 2017 and another trip to Sweden, when Staffansson brought...
mehr
Chris Ruest: Been Gone Too Long (CD)
(Enviken) 13 tracks
Fast forward to 2017 and another trip to Sweden, when Staffansson brought Ruest together again with Mattias Hyttsten (drums) and Peter Fröbom (bass). 'They are a great rockabilly backing band, with an almost Howlin' Wolf feel. I geared a few songs toward that and just let the guys play what they felt, and they kicked ass. They are big fans of Nick Curran and my CDs, so they knew the style and sounds I was looking for.' The fabulous piano playing belongs to the storied Gene Taylor, a citizen of the world. Among the other musicians on Been Gone Too Long is Knock Out Greg, one of Sweden's premier bandleaders and a touring partner of Ruest's from the Primich tribute, on harp. Austrian native Christian Dozzler, a longtime Texas resident and friend of Ruest's, plays accordion on the Gulf Coast-style rocker, 'Henhouse To The Doghouse.' If 'Henhouse' sounds a bit like a lost Rockpile tune, it's because Billy Bremner plays guitar on it. (Ruest met the Scottish great at the band house maintained by his Swedish promoter.) Marti Brom, who happened to be in the studio, blows the top off of the Jimmy Reed-inspired 'Get Your Mind Out Of That Gutter,', John Lindberg one of Swedens premiere Rockabillies whom is a regular at the Enviken Studio dropped by and layed down some real cool guitar on 'Nobody Cares' and even a bassline on the aforementioned 'Henhouse' and Wes Race, Fort Worth, Texas's preeminent hipster, raps over the funky grind of 'Jivetalk.'
Been Gone Too Long extends Ruest's winning formula for making outstanding blues records: Guitar playing that ranges from savage to sophisticated, honest vocals, and a lockstep connection with the band that gives the set power, finesse, and a fine-tuned dynamic range. The program offers a couple of fresh covers–Guitar Slim's "Sufferin' Mind,' reimagined as an intense Elmore James number, and Arthur Alexander's timeless 'The Girl That Radiates That Charm'–and a host of incisive original songs: the swinging 'Real Proud Papa'; 'Too Cool For School' with its big, Bo Diddley beat; the Latin-tinged 'Nobody Cares'; the Wolf-like stomp 'I'm Going Home'; the rocking "I Quit'; 'Can't Take No More' and 'True Found Baby,' which acknowledge B.B. King's early sides; and the slow drag of the title track. The essence of blues tradition past, present, and future, is in good hands with Chris Ruest.
Tom Hyslop
Contributing Editor, Blues Music Magazine.
Artikeleigenschaften von

Chris Ruest: Been Gone Too Long (CD)
Albumtitel:

Been Gone Too Long (CD)

Genre

Rock'n'Roll

Artikelart

CD

EAN:

7320470229750

Gewicht in Kg:

0.1
Ruest, Chris - Been Gone Too Long (CD)

CD 1
01
I'm Goin' Home
02
Can't Take No More
03
Henhouse To The Doghouse
04
Sufferin' Mind
05
True Found Baby
06
Been Gone Too Long
07
The Girl That Raiates That Charm
08
Mind Out That Gutter
09
Nobody Cares
10
I Quit
11
Real Proud Papa
12
Too Cool For School
13
Jivetalk
Bewertungen lesen, schreiben und diskutieren...
mehr
Kundenbewertungen für "Been Gone Too Long (CD)"
Bewertung schreiben
Bewertungen werden nach Überprüfung freigeschaltet.