Der Artikel wurde erfolgreich hinzugefügt.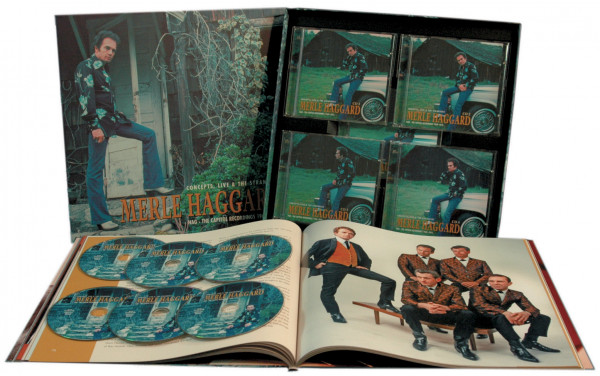 Benachrichtigen Sie mich, sobald der Artikel lieferbar ist.
109,95 € *
119,95 € *
(8,34% gespart)
inkl. MwSt. / zzgl. Versandkosten - Abhängig vom Lieferland kann die MwSt. an der Kasse variieren.
Artikel derzeit nicht verfügbar, Lieferfristen von bis zu 2-3 Wochen sind zu erwarten. (soweit verfügbar beim Lieferanten - kann schneller gehen, manchmal aber leider auch nicht)
Das Merle Haggard Box Set Concepts, Live... 1968-76 &nbsp, mit 120-seitigem gebundenen Buch und...
mehr
Merle Haggard: Concepts, Live... 1968-76 (6-CD)
Das
Merle Haggard
Box Set
Concepts, Live... 1968-76
&nbsp, mit 120-seitigem gebundenen Buch und 168 Songs auf 6 CDs, die über eine Gesamtspielzeit ca. 440 Minuten verfügen.
Merle Haggard war einer der ersten Country-Stars, für den eine LP weit mehr bedeutete als nur die Formel '1 Hit + Füllmaterial'.
Jetzt präsentiert Bear Family all seine 'Konzept-Alben' für Capitol aus den Jahren von 1968 bis 1976 und dazu die Live-LPs sowie das Album seiner Band The Strangers!
Fans und Kritiker sind sich einig: Dies sind die Höhepunkte in Merle Haggards Gesamtwerk!
Merle Haggard setzte in vielerlei Hinsicht neue künstlerische Maßstäbe. Nach ersten Erfolgen investierte er viel Zeit und Energie in 'Konzepte', die ihn interessierten – dazu gehörten Live-Alben, Tribute-LPs, Gospel-Platten und die Instrumentalarbeiten der Strangers. Die dritte - und damit letzte - Box im Rahmen von Bear Familys Merle Haggard-Dokumentation enthält sämtliche dieser 'Konzeptplatten'.
Fans und Kritiker sind einer Meinung: Dies sind ultimative Höhepunkte in Merle Haggards 45jähriger Karriere. Das Box-Set enthält das Tribute-Doppelalbum für
Jimmie Rodgers
von 1968 und auch die
Bob Wills
-Tribute-LP (1970), für die Merle Haggard viele Mitglieder von Bob Wills' ehemaligen Texas Playboys wieder zusammenbrachte. Dabei sind auch drei aufregende Live-Alben, darunter eine der bestverkauften Country-LPs aller Zeiten, 'Okie From Muskogee – Live In Muskogee, Oklahoma'. Ferner gibt es das engagierte Gospel-Projekt 'Land Of Many Churches': Dafür nahm Merle Haggard Gospelmusik in kleinen Baptistengemeinden, in San Quentin, in einer Sozialstation in Nashville und in einer kalifornischen Gemeinde auf. Die Box enthält außerdem alle Instrumentaleinspielungen der Strangers, sämtliche Songs ihrer fünf Alben, und dazu viele bislang unveröffentlichte Überraschungen – solistische Topleistungen von Roy Nichols (Gitarre) und Norm Hamlet (Steel Guitar) inklusive.
Das Box-Set präsentiert einen Top-Star, der seine ersten Erfolge dafür nutzte, neue künstlerische Wege zu beschreiten – eben der wahre Merle Haggard: ein Traditionalist, aber auch ein Veränderer, in erster Linie jedoch ein Vollblutmusiker.
Artikeleigenschaften von

Merle Haggard: Concepts, Live... 1968-76 (6-CD)
Albumtitel:

Concepts, Live... 1968-76 (6-CD)

Genre

Country

Edition 2

Deluxe Edition

Preiscode

FK

Artikelart

Box set

EAN:

4000127167828

Gewicht in Kg:

2.4
Merle Haggard Sing a Sad Song: Saying Goodbye to MERLE HAGGARD by Scott B. Bomar...
mehr
"Merle Haggard"
Merle Haggard
Sing a Sad Song:
Saying Goodbye to MERLE HAGGARD

by Scott B. Bomar

Merle Haggard, eine Ikone der amerikanischen Musik, ist am Mittwoch, den 6. April 2016, in seinem Haus in Kalifornien verstorben. Es war gleichzeitig der Geburtstag des Sängers, Songschreibers und Musikers. Er wurde 79 Jahre alt. 2008 kämpfte er erfolgreich gegen Lungenkrebs, aber im Dezember 2015 wurde er mit doppelseitiger Lungenentzündung ins Krankenhaus eingeliefert. Haggard kehrte recht schnell wieder auf die Bühne zurück, musste jedoch durch anhaltende Gesundheitsprobleme und der daraus resultierenden Bedenken im Februar 2016 davon wieder zurücktreten. - "A week ago Dad told us he was gonna pass on his birthday, and he wasn't wrong (Eine Woche zuvor sagte Dad zu uns, er würde an seinem Geburtstag von uns gehen und er hatte recht)." , offenbarte Merles Sohn und Lead-Gitarrist Ben, nachdem sein Vater gestorben war.

Merle Ronald Haggard wurde am 6. April 1937 in Bakersfield, Kalifornien geboren. Der Tod seines Vaters 1945, ließ Merle rastlos, unruhig und rebellisch werden. Eine Reihe von Gesetzesbrüchen brachte ihm schließlich 1958 einen 2-jährigen Gefängnisaufenthalt im San Quentin Prison ein. Nach seiner Freilassung 1960, kehrte er nach Bakersfield zurück und arbeitete tagsüber in Handlanger-Jobs, um abends in denselben Clubs und Honky Tonks seine Schulden zu bezahlen, in denen der Bakersfield Sound Pionier-Kollege Buck Owens seine Karriere begann.

Schließlich unterzeichnete Merle seinen ersten Plattenvertag mit Bakersfields kleinem Tally Label, die eine handvoll Singles veröffentlichte, bevor er 1965 beim großen Capitol Records Label unterschrieb. Während seiner ein Jahrzehnt andauernden Vertragszeit mit Capitol, landete Haggard mehr als zwei Dutzend Nummer 1 Country Hits, u.a. "Branded Man," "Mama Tried," "Okie From Muskogee," "If We Make It Through December," und "The Roots Of My Raising." Dies ging nahtlos weiter, als er anschließend bei MCA und Epic unter Vertrag war, mit den Nummer 1 Hits "I Think I'll Just Stay Here And Drink," "My Favorite Memory," "Big City," und "Going Where The Lonely Go." 1994 wurde Merle Haggard in die Country Music Hall of Fame aufgenommen, während er weiterhin für verschiedenste Plattenfirmen Aufnahmen machte und 2011 sein allerletztes Studio-Album, Working in Tennessee, veröffentlichte.

Der gefeierte "Poet of the common man" - 'Poet des einfachen Mannes' - hat sich hauptsächlich mit Themen, wie Rastlosigkeit, Entschlusskraft, individuelle Sturheit, Verantwortung, harte Arbeit und der Jagd nach persönlichem Frieden beschäftigt. Seinem Geschick und seinem Gespür für das Erfassen der Stimmungen und Kämpfe in der Arbeiterklasse verdankt er seinen Ruf als einem der größten amerikanischen Songschreiber in der Tradition von Woody Guthrie und Bob Dylan. Neben seiner meisterhaften Lyrik und Melodie war Haggard ein versierter Multi-Instrumentalist und feinfühliger Sänger, der neue Wege in der Country Music beschritt, in beide Richtungen, sowohl rockige Twangy Barn-Burners als auch zärtliche Jazz-gefärbte Balladen. "He wasn't just a country singer, he was the best country singer that ever lived. - Er war nicht bloß ein Country Sänger, er war der beste Country Sänger, der jemals gelebt hat.", fügt Sohn Ben hinzu.

Zwischen 1966 und 1989 erreichte Haggard mehr als 70 mal die Top 10 der Billboard Country Singles Charts. Nahezu 40 dieser Songs stiegen direkt zur Nummer 1 auf. Neben den Hits machte Haggard 54 Studio Alben als Solo-Künstler, 10 gemeinschaftliche Alben mit anderen Künstlern, 11 Live-Alben, sowie 5 zusätzliche Studio Albums mit seiner legendären Band, The Strangers. Er gewann mehr als zwei Dutzend Awards der Academy of Country Music und der Country Music Association, ebenso wie drei Grammy Awards. Haggard wurde in die Songwriters Hall of Fame aufgenommen und 2010 vom Prestigious Kennedy Center für seinen "herausragenden Beitrag zur amerikanischen Kultur" geehrt.

"I want to die along the highway-Ich will am Rande des Highways sterben" sang Haggard in seinem Hit "Ramblin' Fever" 1977. Der legendäre Road Warrior fuhr fast an den Straßenrand. "It's what keeps me alive and it's what fucks up my life – Es hält mich am Leben und zerstört es gleichzeitig", sagte Merle zum Thema auf Tournee zu gehen in einem Interview mit Matt Hendrickson 2016. Auch wenn er wenig Interesse an den Verlockungen hatte, eine berühmte Persönlichkeit zu sein, liebte Haggard zu singen und zu spielen. Seine Musik seinen Fans zu bringen, war bis zum Ende sein Brennstoff. Sein Ableben bedeutet nicht nur das Ende einer bemerkenswerten Karriere, es bedeutet auch den Tod einer Ikone, gleichzusetzen mit Ray Charles, Johnny Cash, Miles Davis und John Lennon, als eine musikalische Kraft, die für immer das Antlitz der Musik verändert hat.
Bewertungen lesen, schreiben und diskutieren...
mehr
Kundenbewertungen für "Concepts, Live... 1968-76 (6-CD)"
Von:
Working Man
Am:
21.09.2017
Bewertung schreiben
Bewertungen werden nach Überprüfung freigeschaltet.
Weitere Artikel von Merle Haggard