Der Artikel wurde erfolgreich hinzugefügt.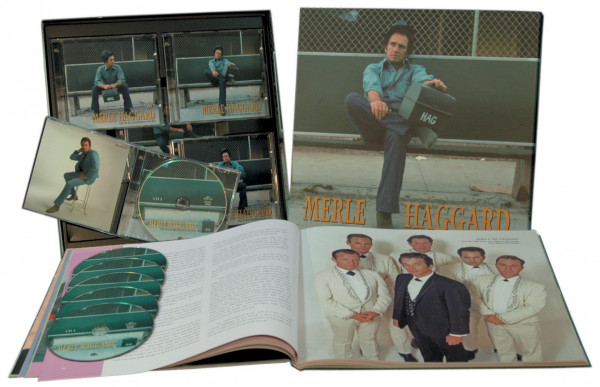 Artikel-Nr.:

BCD16749

Gewicht in Kg.:

2.4
Das Merle Haggard Box Set The Studio Recordings 1968-76 mit 6 CDs, 140-seitigem gebundenen...
mehr
Merle Haggard: The Studio Recordings 1968-76 (6-CD)
Das Merle Haggard Box Set
The Studio Recordings 1968-76
mit 6 CDs, 140-seitigem gebundenen Buch und 165 Songs, die über eine Gesamtspielzeit von ca. 467 Minuten verfügen.
•
Eine amerikanische Musiklegende auf ihrem Höhepunkt!&nbsp,
•
Die ergänzende Box Set zu Bear Familys hochgelobtem 'Untamed Hawk'-Set.
•
Alle Studioaufnahmen von 1969 bis 1976 – mit 15 Nr.-1-Country-Hits in Serie.
•
Mit zwei Klassikern aus der Vietnam-Ära (
Okie From Muskogee
und
The Fightin' Side Of Me
) und dem&nbsp,&nbsp, gemäßigteren, bislang unveröffentlichten Somewhere In Between.
•
Über 20 unveröffentlichte Songs von Merle Haggard!
INFORMATIONEN
Merle Haggard besetzt eine einzigartige Stellung in der amerikanischen Musik. Der Mann, der der schweigenden Mehrheit eine Stimme gab, ist inzwischen eine Ikone der Gegenkultur. Ihm gelangen Hits in den 60er, 70er, 80er und 90er Jahren, weitere seit 2000, und er absolviert noch immer ausverkaufte Konzerte – mehr als 200 pro Jahr.
Seit Bear Family 1995 'Untamed Hawk' veröffentlichte, wurden wir immer wieder um eine Folge-Box mit Merle Haggards herausragenden Capitol-Einspielungen gebeten. Hier ist sie also: mit 6 CDs, die die aufregenden Jahre zwischen 1969 und 1976 abdecken. Ausgenommen sind lediglich sein Tribute für Jimmie Rodgers (gibt es inzwischen als gesonderte Einzel-CD bei Bear Family) und seine Live-Aufnahmen, die wir gesammelt extra veröffentlichen werden. Hier geht es um die Jahre, in denen Merle Haggard in den USA gezielt polarisierte – mit Songs wie Okie From Muskogee und The Fightin' Side Of Me, obwohl – wie dieses Set beweist – seine politische Haltung viel differenzierter war, als es damals häufig den Anschein hatte.&nbsp,
In einem der vielen unveröffentlichten Songs,
Somewhere In Between
, heißt es: "Ich schaue auf die Linke, dann auf die Rechte, und ich sehe auf beiden Seiten Gutes und Schlechtes..." &nbsp,Und: "Ich bin noch nicht zu alt, um die Jungen zu verstehen, die anderer Meinung sind...". Zu den enthaltenen unveröffentlichten Aufnahmen gehört auch seine Originalfassung von
That's The Way Love Goes
, das einige Jahre später ein Hit auf Epic Records wurde.
Es waren die erfolgreichsten Jahre von Merle Haggard – als er den Schweigenden eine Stimme gab und eine unübertroffene Serie von Nr.-1-Hits hinlegte. Die ist reinste amerikanische Country Music...oder einfach: amerikanische Musik der höchsten Qualität.
Artikeleigenschaften von

Merle Haggard: The Studio Recordings 1968-76 (6-CD)
Albumtitel:

The Studio Recordings 1968-76 (6-CD)

Genre

Country

Edition 2

Deluxe Edition

Preiscode

FK

Artikelart

Box set

EAN:

4000127167491

Gewicht in Kg:

2.4
Haggard, Merle - The Studio Recordings 1968-76 (6-CD)

Box set 1
01
I'd Rather Be Gone
02
Montego Bay
03
I Die Ten Thousand Times A Day
04
California On My Mind
05
California Cotton Fields
06
White Line Fever
07
I Came So Close To Failure
08
Workin' Man Blues
09
The Sea Shores Of Old Mexico
10
Okie From Muskogee
11
If I Had Left It Up To You
12
Streets Of Berlin
13
Huntsville
14
Train Of Life
15
They're Tearing The Labor Camps Down
16
The Fightin' Side Of Me
17
I Wonder What She'll Think About Me Leaving
18
No Reason To Quit
19
Jesus, Take A Hold
20
I Ain't Got Nobody
21
New York City Blues
22
One Row At A Time
23
Shelly's Winter Love
24
I'll Be A Hereo When I Strike
25
If You've Got Time (To Say Goodbye)
26
I'm A Good Loser
27
I Can't Be Myself
28
I've Done It All
29
One Sweet Hello
Haggard, Merle - The Studio Recordings 1968-76 (6-CD)

Box set 2
01
Worried, Unhappy, Lonesome and Sorry
02
Somewhere In Between
03
The Sidewalks Of Chicago
04
The Farmer's Daughter
05
Tulare Dust
06
When The Feelin' Goes Away
07
Soldier's Last Letter
08
The Only Truble With Me
09
Making Believe
10
Big Time Annie's Square
11
You're The Only Girl In The Game
12
The Conversation Of Ronnie Jones
13
Carolyn
14
It's Great To Be Alive
15
Someday We'll Look Back
16
Somewhere In Between
17
My Heart Would Know
18
Daddy Frank (The Guitar Man)
19
Goodbye Comes Hard For Me
20
The Man Who Picked The Wildwood Flower
21
You Don't Love Me (But I'll Always Care)
22
This Cold War With You
23
Irma Jackson
24
Recitation: The Proudest Fiddle In The World
25
(A Maiden's Prayer)
26
Turnin' Off A Memory
27
Grandma Harp
Haggard, Merle - The Studio Recordings 1968-76 (6-CD)

Box set 3
01
The're Tearin' The Labor Camps Down
02
Bill Woods From Bakersfield
03
Old Doc Brown
04
A Shoulder To Cry On
05
The Funeral
06
Bring It Down To My House, Honey
07
Combine Blues
08
Blues Stay Away From Me
09
Tired Of Your Understanding Ways
10
Hag's Dixie Blues #2
11
I Ain't Got Nobody (And Nobody Cares For Me)
12
Moanin' The Blues
13
Don't Let The Deal Go Down
14
Stingeree
15
Lovesick Blues
16
Blues For Dixie
17
I Forget You Every Day
18
A Shoulder To Cry On
19
I Know An Ending When It Comes
20
Dad's Old Fiddle
21
I'm A White Boy
22
I Wonder Where I'll Find You At Tonight
23
My Woman Keeps Lovin' Her Man
24
It's Not Love (But It's Not Bad)
25
Somewhere To Come When It Rains
26
My Woman Keeps Lovin' Her Man
Haggard, Merle - The Studio Recordings 1968-76 (6-CD)

Box set 4
01
I Wonder If They Ever Think Of Me
02
To Each His Own
03
I Wonder What She'll Think About Me Leaving
04
I'm An Old, Old Man (Tryin' To Live While..)
05
I'd Never Told On You
06
I Wonder If They Ever Think Of Me
07
I Forget You Every Day
08
Big Bad Bill (Is Sweet William Now)
09
If We Make It Through December
10
I'll Break Out Tonight
11
Love And HOnor Never Crossed Your Mind
12
This Is The Song We Sing
13
There's Jut One Way
14
The Emptienst Arms In The World
15
Come On Into My Arms
16
Radiator Man From Waco
17
Uncle Lem
18
Daddy Won't Be Home Again For Christmas
19
Bobby Wants A Puppy For Christmas
20
Silent Night
21
Winter Wonderland
22
White Christmas
23
Silver Bells
24
Jingle Bells
25
Grandma's Homemade Christmas Card
26
Santa Claus And Popcorn
Haggard, Merle - The Studio Recordings 1968-76 (6-CD)

Box set 5
01
Whit Man Singin' The Blues
02
Better Off When I Was Hungry
03
Things Aren't Funny Anymore
04
That's The Way Love Goes
05
Got A Letter From My Kid Today
06
Honky Tonk Night Time Man
07
A Man's Got To Give Up A Lot
08
The Girl Who Made Me Laugh
09
No More Trains I Ride
10
Holding Things Together
11
So Long Train Whistle
12
Semptemer In Miami
13
A King Without A Queen
14
I Don't Bother Me
15
Travelin'
16
Don't Give Up On Me
17
Here In 'Frisco
18
Railroad Lady
19
Old Man From The Mountain
20
Mirrors Don't Lie
21
Movin' On
22
The Seeker
23
Kenucky Gambler
24
You'll Always Be Special To Me
25
Life's Like Poetry
26
I've Got A Darlin' (For A Wife)
27
These Mem'ries We're Making Tonight
28
The Hobo
29
The Coming And The Going Of The Trains
30
My Love Affair With Trains
31
The Silver Ghost
Haggard, Merle - The Studio Recordings 1968-76 (6-CD)

Box set 6
01
Where Have All The Hobos Gone
02
I Won't Give Up My Train
03
Union Station
04
When My Last Song Is Sung
05
I've Got Yearning
06
Always Wanting You
07
Nothin's Worse Than Losing
08
Colorado
09
The Roots Of My Raising
10
Living With The Shades Pulled Down
11
After Loving You
12
Cotton Patch Blues
13
Runnin' Kind
14
Walk On The Outside
15
Let's Stop Pretending (Dirdy Old Hat Band)
16
Right Or Wrong
17
It's All In The Movies
18
The Way It Was In '51
19
Goodbye Lefty
#
20
I Never Go Around Mirrors
21
Am I Standing In Your Way?
22
A Working Man Can't Get Nowhere Today
23
The Waltz You Saved For Me
24
Cherokee Maiden
25
What Have You Got Planned Tonight, Diana
26
Here Comes The Freedom Train
27
Campaign Of '76
Merle Haggard Sing a Sad Song: Saying Goodbye to MERLE HAGGARD by Scott B. Bomar...
mehr
"Merle Haggard"
Merle Haggard
Sing a Sad Song:
Saying Goodbye to MERLE HAGGARD

by Scott B. Bomar

Merle Haggard, eine Ikone der amerikanischen Musik, ist am Mittwoch, den 6. April 2016, in seinem Haus in Kalifornien verstorben. Es war gleichzeitig der Geburtstag des Sängers, Songschreibers und Musikers. Er wurde 79 Jahre alt. 2008 kämpfte er erfolgreich gegen Lungenkrebs, aber im Dezember 2015 wurde er mit doppelseitiger Lungenentzündung ins Krankenhaus eingeliefert. Haggard kehrte recht schnell wieder auf die Bühne zurück, musste jedoch durch anhaltende Gesundheitsprobleme und der daraus resultierenden Bedenken im Februar 2016 davon wieder zurücktreten. - "A week ago Dad told us he was gonna pass on his birthday, and he wasn't wrong (Eine Woche zuvor sagte Dad zu uns, er würde an seinem Geburtstag von uns gehen und er hatte recht)." , offenbarte Merles Sohn und Lead-Gitarrist Ben, nachdem sein Vater gestorben war.

Merle Ronald Haggard wurde am 6. April 1937 in Bakersfield, Kalifornien geboren. Der Tod seines Vaters 1945, ließ Merle rastlos, unruhig und rebellisch werden. Eine Reihe von Gesetzesbrüchen brachte ihm schließlich 1958 einen 2-jährigen Gefängnisaufenthalt im San Quentin Prison ein. Nach seiner Freilassung 1960, kehrte er nach Bakersfield zurück und arbeitete tagsüber in Handlanger-Jobs, um abends in denselben Clubs und Honky Tonks seine Schulden zu bezahlen, in denen der Bakersfield Sound Pionier-Kollege Buck Owens seine Karriere begann.

Schließlich unterzeichnete Merle seinen ersten Plattenvertag mit Bakersfields kleinem Tally Label, die eine handvoll Singles veröffentlichte, bevor er 1965 beim großen Capitol Records Label unterschrieb. Während seiner ein Jahrzehnt andauernden Vertragszeit mit Capitol, landete Haggard mehr als zwei Dutzend Nummer 1 Country Hits, u.a. "Branded Man," "Mama Tried," "Okie From Muskogee," "If We Make It Through December," und "The Roots Of My Raising." Dies ging nahtlos weiter, als er anschließend bei MCA und Epic unter Vertrag war, mit den Nummer 1 Hits "I Think I'll Just Stay Here And Drink," "My Favorite Memory," "Big City," und "Going Where The Lonely Go." 1994 wurde Merle Haggard in die Country Music Hall of Fame aufgenommen, während er weiterhin für verschiedenste Plattenfirmen Aufnahmen machte und 2011 sein allerletztes Studio-Album, Working in Tennessee, veröffentlichte.

Der gefeierte "Poet of the common man" - 'Poet des einfachen Mannes' - hat sich hauptsächlich mit Themen, wie Rastlosigkeit, Entschlusskraft, individuelle Sturheit, Verantwortung, harte Arbeit und der Jagd nach persönlichem Frieden beschäftigt. Seinem Geschick und seinem Gespür für das Erfassen der Stimmungen und Kämpfe in der Arbeiterklasse verdankt er seinen Ruf als einem der größten amerikanischen Songschreiber in der Tradition von Woody Guthrie und Bob Dylan. Neben seiner meisterhaften Lyrik und Melodie war Haggard ein versierter Multi-Instrumentalist und feinfühliger Sänger, der neue Wege in der Country Music beschritt, in beide Richtungen, sowohl rockige Twangy Barn-Burners als auch zärtliche Jazz-gefärbte Balladen. "He wasn't just a country singer, he was the best country singer that ever lived. - Er war nicht bloß ein Country Sänger, er war der beste Country Sänger, der jemals gelebt hat.", fügt Sohn Ben hinzu.

Zwischen 1966 und 1989 erreichte Haggard mehr als 70 mal die Top 10 der Billboard Country Singles Charts. Nahezu 40 dieser Songs stiegen direkt zur Nummer 1 auf. Neben den Hits machte Haggard 54 Studio Alben als Solo-Künstler, 10 gemeinschaftliche Alben mit anderen Künstlern, 11 Live-Alben, sowie 5 zusätzliche Studio Albums mit seiner legendären Band, The Strangers. Er gewann mehr als zwei Dutzend Awards der Academy of Country Music und der Country Music Association, ebenso wie drei Grammy Awards. Haggard wurde in die Songwriters Hall of Fame aufgenommen und 2010 vom Prestigious Kennedy Center für seinen "herausragenden Beitrag zur amerikanischen Kultur" geehrt.

"I want to die along the highway-Ich will am Rande des Highways sterben" sang Haggard in seinem Hit "Ramblin' Fever" 1977. Der legendäre Road Warrior fuhr fast an den Straßenrand. "It's what keeps me alive and it's what fucks up my life – Es hält mich am Leben und zerstört es gleichzeitig", sagte Merle zum Thema auf Tournee zu gehen in einem Interview mit Matt Hendrickson 2016. Auch wenn er wenig Interesse an den Verlockungen hatte, eine berühmte Persönlichkeit zu sein, liebte Haggard zu singen und zu spielen. Seine Musik seinen Fans zu bringen, war bis zum Ende sein Brennstoff. Sein Ableben bedeutet nicht nur das Ende einer bemerkenswerten Karriere, es bedeutet auch den Tod einer Ikone, gleichzusetzen mit Ray Charles, Johnny Cash, Miles Davis und John Lennon, als eine musikalische Kraft, die für immer das Antlitz der Musik verändert hat.
Bewertungen lesen, schreiben und diskutieren...
mehr
Kundenbewertungen für "The Studio Recordings 1968-76 (6-CD)"
Von:
COURTIAL
Am:
11.06.2014
Von:
Jones
Am:
28.04.2013
i am very pleased with this box set as i am a big merle haggard fan but not only that bear family records are no 1 in the buisness when it comes to box sets no one does it like bear family so far the big glossy books and the box sets are terrific this is the seventh bear family box set that i own and more to come by the way well done again bear family records. i hope down the track merle haggards epic recordings could be released also in a'box set and buck owens all of his live recordings and live shows with susan raye' buddy allan 'the haggars and such.from his live album catalogue .thank you bear family records for these great box sets .kenny jones
Bewertung schreiben
Bewertungen werden nach Überprüfung freigeschaltet.
Weitere Artikel von Merle Haggard