Der Artikel wurde erfolgreich hinzugefügt.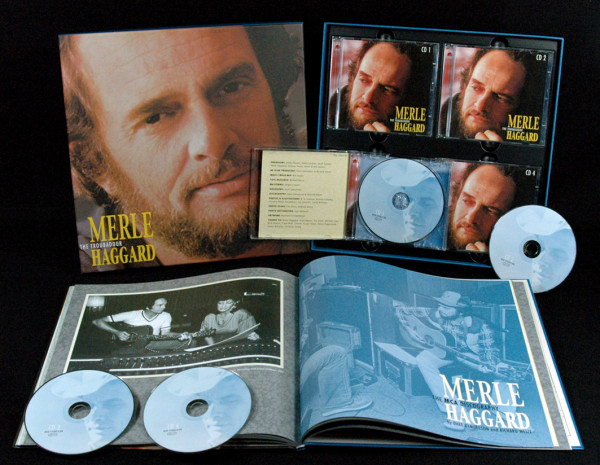 89,95 € *
94,95 € *
(5,27% gespart)
inkl. MwSt. / zzgl. Versandkosten - Abhängig vom Lieferland kann die MwSt. an der Kasse variieren.
Sofort versandfertig, Lieferzeit** 1-3 Werktage
4-CD Box-Set (LP-Format) mit 68-seitigem gebundenem Buch, 111 Einzeltitel, Spieldauer ca. 6...
mehr
Merle Haggard: The Troubadour (4-CD Deluxe Box Set)
4-CD Box-Set (LP-Format) mit 68-seitigem gebundenem Buch, 111 Einzeltitel, Spieldauer ca. 6 Stunden 38 Minuten.
Die oftmals übersehenen und unterbewerteten MCA-Aufnahmen von
Merle Haggard
. Sie zeigen den wieder aufgetauchten großartigen Singer/Songwriter der Country Music, dessen Karriere zuvor an einem Scheideweg angelangt war. Die 111 Aufnahmen aus den Jahren 1976 bis 1981 stammen von insgesamt acht LPs und dem später an CBS verkauften 'verschollenen' Album. Die Box enthält vier unveröffentlichte Titel, darunter die kürzlich entdeckte Originalaufnahme von
Troubadour
. Drei Songs, wie z.B.
The Bull And The Beaver
- das Country-Duett mit
Leona Williams
schaffte es bis auf Position Nr. 8 - gab es bislang nicht auf einem Album. Hinzu kommen die beiden Hit-Singles aus dem '
Bronco
Billy'-Soundtrack,
Misery And Gin
, und
Bar Room Buddies
, Merle Haggards Duett mit
Clint Eastwood
, das es bis an die Spitze der Charts schaffte. Das aufwendige 68-seitige gebundene Begleitbuch enthält seltene Fotos und einen ausführlichen Artikel über Haggards Jahre bei MCA.
Die berühmten elf Jahre bei
Capitol Records
, die seine Karriere bestimmen sollten, lagen hinter ihm. Als er bei MCA unterschrieb, steckte er in einem kreativen Vakuum und dachte daran, sich zur Ruhe zu setzen. Doch nach einer sechsmonatigen Auszeit von der Bühne kehrte ein erfrischter Merle Haggard voller Selbstbewusstsein ins Rampenlicht und ins Aufnahmestudio zurück. Seine Gesangsstimme war zu einem angenehmen Bariton gereift. Die neu gebildete Besetzung der Strangers konnte mühelos und ohne Zögern von Country zu Swing oder
Down Home
Blues wechseln. Am wichtigsten war jedoch, dass ein motivierter Merle Haggard wieder großartige Songs schrieb! Diese Zusammenstellung auf vier CDs enthält jede einzelne noch erhaltene Aufnahme, die Merle Haggard zwischen 1976 und 1981 für MCA eingespielt hat, darunter solche Höhepunkt wie
My Farewell To Elvis
, seine von Herzen kommende
Hommage
an seinen musikalischen Zeitgenossen Evis Presley, 'Serving 190 Proof', das von Kritikern hochgelobte, nahezu autobiografische Album von 1979, das Merle Haggards spätere musikalische Richtung andeutete, 'Back To The Barroms', der 1980 von
Jimmy Bowen
produzierte Klassiker, aus dem Haggards Nummer-Eins-Single
I Think I'll Just Stay Here and Drink
und
Leonard
, die Widmung an seinen mit Problemen belasteten Freund
Tommy Collins
, einen Stilisten der Country Musik, ausgekoppelt wurden. '
Rainbow
Stew', der atemberaubende Mitschnitt von seinem Konzert im Oktober 1980 im Anaheim Stadion vor mehr als 30.000 begeisternd jubelnder Fans, und 'Songs For The Mama That Tried', dem 1981 entstandenen liebevollen und seiner betagten Mutter gewidmeten Album mit Country/Gospel-Songs.
Diese Edition enthält darüber hinaus 'It's All In The Game' sowie unveröffentlichte Aufnahmen, die später von CBS erworben und verstreut auf drei Alben veröffentlicht wurden.
Mit Merle Haggards Jahren bei MCA verbindet man viele großartige Songs wie
Ramblin' Fever, From Graceland To The Promised Land, I'm Always On A Mountain When I Fall, It's Been A Great Afternoon, Red Bandana, Footlights
und
My Own Kind Of Hat
. Sie alle sind Bestandteil dieser ausgezeichneten Box.'Troubadour' entstand mit Merle Haggards persönlicher Unterstützung und enthält ein aufwendig illustriertes gebundenes Buch im LP-Format mit u.a. einem Artikel von Dave Samuelson über Merle Haggards MCA-Ära und eine vollständige Chronik der Sessions mit allen Angaben.
Video von Merle Haggard - The Troubadour (4-CD Deluxe Box Set)
Artikeleigenschaften von

Merle Haggard: The Troubadour (4-CD Deluxe Box Set)
Albumtitel:

The Troubadour (4-CD Deluxe Box Set)

Genre

Country

Preiscode

DK

Edition 2

Deluxe Edition

Artikelart

Box set

EAN:

4000127172501

Gewicht in Kg:

2
Merle Haggard Sing a Sad Song: Saying Goodbye to MERLE HAGGARD by Scott B. Bomar...
mehr
"Merle Haggard"
Merle Haggard
Sing a Sad Song:
Saying Goodbye to MERLE HAGGARD

by Scott B. Bomar

Merle Haggard, eine Ikone der amerikanischen Musik, ist am Mittwoch, den 6. April 2016, in seinem Haus in Kalifornien verstorben. Es war gleichzeitig der Geburtstag des Sängers, Songschreibers und Musikers. Er wurde 79 Jahre alt. 2008 kämpfte er erfolgreich gegen Lungenkrebs, aber im Dezember 2015 wurde er mit doppelseitiger Lungenentzündung ins Krankenhaus eingeliefert. Haggard kehrte recht schnell wieder auf die Bühne zurück, musste jedoch durch anhaltende Gesundheitsprobleme und der daraus resultierenden Bedenken im Februar 2016 davon wieder zurücktreten. - "A week ago Dad told us he was gonna pass on his birthday, and he wasn't wrong (Eine Woche zuvor sagte Dad zu uns, er würde an seinem Geburtstag von uns gehen und er hatte recht)." , offenbarte Merles Sohn und Lead-Gitarrist Ben, nachdem sein Vater gestorben war.

Merle Ronald Haggard wurde am 6. April 1937 in Bakersfield, Kalifornien geboren. Der Tod seines Vaters 1945, ließ Merle rastlos, unruhig und rebellisch werden. Eine Reihe von Gesetzesbrüchen brachte ihm schließlich 1958 einen 2-jährigen Gefängnisaufenthalt im San Quentin Prison ein. Nach seiner Freilassung 1960, kehrte er nach Bakersfield zurück und arbeitete tagsüber in Handlanger-Jobs, um abends in denselben Clubs und Honky Tonks seine Schulden zu bezahlen, in denen der Bakersfield Sound Pionier-Kollege Buck Owens seine Karriere begann.

Schließlich unterzeichnete Merle seinen ersten Plattenvertag mit Bakersfields kleinem Tally Label, die eine handvoll Singles veröffentlichte, bevor er 1965 beim großen Capitol Records Label unterschrieb. Während seiner ein Jahrzehnt andauernden Vertragszeit mit Capitol, landete Haggard mehr als zwei Dutzend Nummer 1 Country Hits, u.a. "Branded Man," "Mama Tried," "Okie From Muskogee," "If We Make It Through December," und "The Roots Of My Raising." Dies ging nahtlos weiter, als er anschließend bei MCA und Epic unter Vertrag war, mit den Nummer 1 Hits "I Think I'll Just Stay Here And Drink," "My Favorite Memory," "Big City," und "Going Where The Lonely Go." 1994 wurde Merle Haggard in die Country Music Hall of Fame aufgenommen, während er weiterhin für verschiedenste Plattenfirmen Aufnahmen machte und 2011 sein allerletztes Studio-Album, Working in Tennessee, veröffentlichte.

Der gefeierte "Poet of the common man" - 'Poet des einfachen Mannes' - hat sich hauptsächlich mit Themen, wie Rastlosigkeit, Entschlusskraft, individuelle Sturheit, Verantwortung, harte Arbeit und der Jagd nach persönlichem Frieden beschäftigt. Seinem Geschick und seinem Gespür für das Erfassen der Stimmungen und Kämpfe in der Arbeiterklasse verdankt er seinen Ruf als einem der größten amerikanischen Songschreiber in der Tradition von Woody Guthrie und Bob Dylan. Neben seiner meisterhaften Lyrik und Melodie war Haggard ein versierter Multi-Instrumentalist und feinfühliger Sänger, der neue Wege in der Country Music beschritt, in beide Richtungen, sowohl rockige Twangy Barn-Burners als auch zärtliche Jazz-gefärbte Balladen. "He wasn't just a country singer, he was the best country singer that ever lived. - Er war nicht bloß ein Country Sänger, er war der beste Country Sänger, der jemals gelebt hat.", fügt Sohn Ben hinzu.

Zwischen 1966 und 1989 erreichte Haggard mehr als 70 mal die Top 10 der Billboard Country Singles Charts. Nahezu 40 dieser Songs stiegen direkt zur Nummer 1 auf. Neben den Hits machte Haggard 54 Studio Alben als Solo-Künstler, 10 gemeinschaftliche Alben mit anderen Künstlern, 11 Live-Alben, sowie 5 zusätzliche Studio Albums mit seiner legendären Band, The Strangers. Er gewann mehr als zwei Dutzend Awards der Academy of Country Music und der Country Music Association, ebenso wie drei Grammy Awards. Haggard wurde in die Songwriters Hall of Fame aufgenommen und 2010 vom Prestigious Kennedy Center für seinen "herausragenden Beitrag zur amerikanischen Kultur" geehrt.

"I want to die along the highway-Ich will am Rande des Highways sterben" sang Haggard in seinem Hit "Ramblin' Fever" 1977. Der legendäre Road Warrior fuhr fast an den Straßenrand. "It's what keeps me alive and it's what fucks up my life – Es hält mich am Leben und zerstört es gleichzeitig", sagte Merle zum Thema auf Tournee zu gehen in einem Interview mit Matt Hendrickson 2016. Auch wenn er wenig Interesse an den Verlockungen hatte, eine berühmte Persönlichkeit zu sein, liebte Haggard zu singen und zu spielen. Seine Musik seinen Fans zu bringen, war bis zum Ende sein Brennstoff. Sein Ableben bedeutet nicht nur das Ende einer bemerkenswerten Karriere, es bedeutet auch den Tod einer Ikone, gleichzusetzen mit Ray Charles, Johnny Cash, Miles Davis und John Lennon, als eine musikalische Kraft, die für immer das Antlitz der Musik verändert hat.
Bewertungen lesen, schreiben und diskutieren...
mehr
Kundenbewertungen für "The Troubadour (4-CD Deluxe Box Set)"
Von:
Peter Wroblewski
Am:
12.09.2020
Eine weitere grandiose Box für alle Fans von Merle Haggard. Vier herrlich zusammengestellte CDs und dazu ein Bildband mit vielen interessanten Fakten und Bildern. Besser geht es nicht!!! Dankeschön!
Eine weitere grandiose Box für alle Fans von Merle Haggard. Vier herrlich zusammengestellte CDs und dazu ein Bildband mit vielen interessanten Fakten und Bildern. Besser geht es nicht!!! Dankeschön!
Von:
Klaus
Am:
15.03.2019
Spize
Eine tolle Zusammenstellung in bewährter Bear Family Qualittät.
Von:
Schweder
Am:
28.05.2014
Von:
Redecker
Am:
13.03.2014
Classic Hag! Essential and invaluable - go buy!
Maverick 1-2/2013 Alan Cackett
Von:
Redecker
Am:
13.03.2014
Ein wunderbar bebildertes, LP-großes Hardcoverbuch liefert Dave Samuelsons Essay zur MCD-Ära, bekannt ausführlich und detailliert die Discogrphie von Bear Family-Chef Richard Weize.
Good Times 6/2012 Ulrich Schwartz
Bewertung schreiben
Bewertungen werden nach Überprüfung freigeschaltet.
Weitere Artikel von Merle Haggard