Der Artikel wurde erfolgreich hinzugefügt.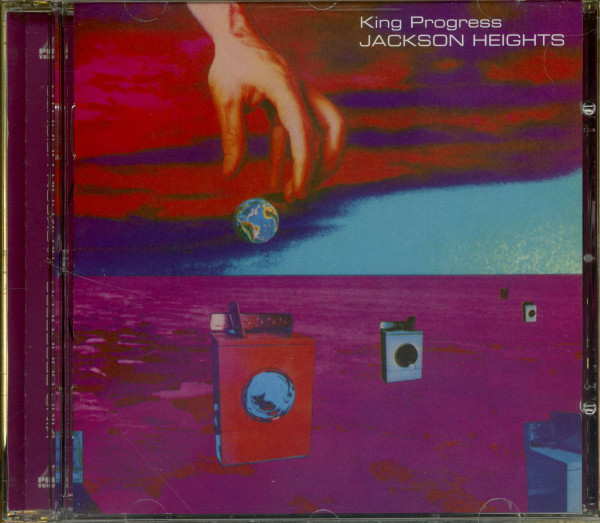 Benachrichtigen Sie mich, sobald der Artikel lieferbar ist.
inkl. MwSt. / zzgl. Versandkosten
Artikel derzeit nicht verfügbar, Lieferfristen von bis zu 2-3 Wochen sind zu erwarten. (soweit verfügbar beim Lieferanten - kann schneller gehen, manchmal aber leider auch nicht)
Artikel-Nr.:

CDPT8033

Gewicht in Kg.:

0.11
(Prog-Tempel) 7 Tracks Obwohl ein Geordie-Junge selbst, Lee Jacksons Weg zum Ruhm wurde in...
mehr
Jackson Heights: King Progress (CD)
(Prog-Tempel) 7 Tracks

Obwohl ein Geordie-Junge selbst, Lee Jacksons Weg zum Ruhm wurde in Brighton verwirklicht, als er sich dem soliden R&B Outfit Gary Farr und The T-Bones an der Seite von Keith Emerson. den er schließlich in The Nice auf der progressiven Welle ritt. Mit Emerson's Aufbruch in die ELP, beschwor Jackson den Bassisten Mario Tapas und die Talente der alten Newcastle-Kohorten Tommy Sloane und Charlie Harcourt, um die als Jackson Heights auftauchen. Kombiniert mit Jacksons Ruf bei der Die Nizza und Tony Stratton-Smith's Vertrauen, Charisma zur Verfügung gestellt die Plattform für ihren ersten Versuch, King Progress im Jahr 1970. König Fortschritt bietet eine weniger komplexe Struktur als Jacksons frühere Exploits mit Emerson mit mehr akustischen als elektrischen Reflexionen durchweg.


,A progressiver Pop-Stil untermauert die akustischen Texturen, die reichlich binden. die Kompositionen von Jackson und Harcourt. Verdient viel höhere Lob, als es ursprünglich gewährt wurde, sowohl Jackson Heights als auch King Die Fortschritte wurden schnell zugunsten größerer und finanziell besserer sichere Namen. Charisma verließ die Band nach enttäuschenden Verkäufen, Jackson, um über seinen nächsten Schritt nachzudenken, was zu drei Alben für die Vertigo bis 1973, als die Band schließlich implodierte.

Artikeleigenschaften von

Jackson Heights: King Progress (CD)
Albumtitel:

King Progress (CD)

Genre

Rock

Artikelart

CD

EAN:

4753314803312

Gewicht in Kg:

0.11
Jackson Heights - King Progress (CD)

CD 1
01
Mr Screw
02
Since I Last Saw You
03
Sunshine Freak
04
King Progress
05
Doubting Thomas
06
Insomnia
07
Cry Of Eugene
Jackson Heights Although a Geordie lad himself, Lee Jackson's path to fame was realised...
mehr
"Jackson Heights"
Jackson Heights

Although a Geordie lad himself, Lee Jackson's path to fame was realised in Brighton when he joined the solid REO outfit Gary Farr and The T-Bones. The T-Bones also featured the emerging talents of keyboard player Keith Emerson whose merciless treatment of the Hammond organ would gain deserved recognition later in The Nice. In the immediate aftermath of The T-Bones via a short stint with The VIPs, Emerson enrolled Jackson with Davy O'List of The Attack and Ian Hague to join him as P.P. Arnold's backing band. Emerson, Jackson, O'List and Hague would eventually perform in their own right as The Nice and by 1969 had been engulfed in the rituals of pop stardom and the progressive rock circus with O'List subsequently quitting and a change of drummer in Brian Davison (Mark Leeman Five/The Habits).
1970 brought about the demise of the band with Emerson seeking further, more complex adventures that he would find with Greg Lake (Shy Limbs) and Carl Palmer (Crazy World Of Arthur Brown, Atomic Rooster) in ELP. Meanwhile, Lee Jackson's direction was more subtle, but lik no less profound having returned to Newcastle-upon-Tyne to escape the extravagant fanfare of London and meet up with old friends. Old faces from his days with The Van Dykes appeared and within a few weeks, Jackson had himself a band. Drummer Tommy Sloane had recently split from Sunderland CBS act Yellow whilst Charlie Harcourt was looking to leave Junco Partners for something more challenging. London-based Mario Tapia stepped in on bass guitar to complete the quartet although staying only temporarily. Preparations for their recording debut were made easier by Jackson's past escapades with Keith Emerson in The Nice.

Tony Stratton-Smith's Charisma spared no expense in promoting the band issuing Doubting Thomas b/w Insomnia in 1970 to announce their arrival in the progressive scene. Sadly, the single failed to gain a proper release, but Charisma's real intent lay in their
debut album King Progress (CAS 1018), recorded over several days at IBC and Advision Studios with engineers Damon Lyon-Shaw and Eddie Offord respectively supervising. Charisma's investment, both financial and artistic was met by the quartet with a relentless touring schedule playing to audiences that were already familiar with the progressive charms of ELP, Genesis, Van Der Graaf Generator and Yes. King Progress offered a less complex structure than Jackson's past exploits with Emerson and the mood was more acoustic than electric. The intent of Jackson's gruff vocal contradicts the mature pop nature of the album as a whole, which stands at odds to the baroque universe inhabited by Emerson and his Thoughts of Emerlist Davjack. A progressive pop style underpins the acoustic textures that richly bind the compositions of Jackson and Harcourt in a soft, yet striking manner.
The overall pose of the band is structured and acute, yet Jackson enjoys a more simplistic delivery even when revisiting old territory with the The Cry Of Eugene (Olist, Emerson, Jackson). Jackson would later record Chorale (Five Bridges Suite) with another return to The Nice songbook on Vertigo's Ragamuffin's Fool in 1972. Album opener Mr. Screw, is a defiant statement that announces the band as a force to be reckoned with, but although King Progress deserved much higher praise than it was originally afforded, it was quickly sidelined in favour of bigger and more financially secure names. Charisma decided to ditch the band from their roster after disappointing sales, leaving Jackson to ponder his next move. Meanwhile, Charlie Harcourt left to tour the USA with Booker T, Taj Mahal and various other West Coast favourites before emerging in a 1973 line-up of Cat Mother and The All Night Newsboys. Tommy Sloane wound up with Yorkshire's Bitter Suite while Mario Tapia had already long-gone
.
Jackson eventually met with Brian Chatton, who'd gained experience with The Warriors, Flaming Youth and Eclection before his desire for something more spontaneous led to the complex simplicity offered by Jackson. John McBurnie sat in on guitar with Mike Giles (The Brain, King Crimson, Giles, Giles and Fripp) providing percussion thus concluding the line-up for Jackson Heights in their 1972 Vertigo phase resulting in three albums until 1973. Their final LP Bump 'N' Grind was an ambitious concept that evidently backfired leaving a penniless Jackson to drop the name Jackson Heights after enlisting Swiss keyboard wizard Patrick Moraz and old Nice cohort Brian Davison to form Refugee.
Bewertungen lesen, schreiben und diskutieren...
mehr
Kundenbewertungen für "King Progress (CD)"
Bewertung schreiben
Bewertungen werden nach Überprüfung freigeschaltet.