Der Artikel wurde erfolgreich hinzugefügt.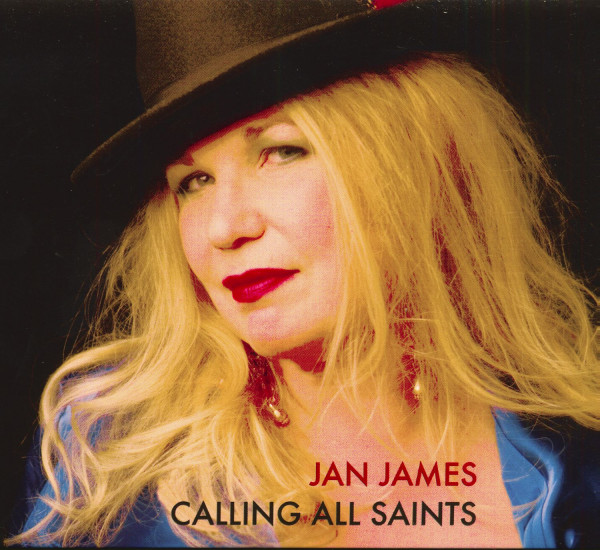 Benachrichtigen Sie mich, sobald der Artikel lieferbar ist.
inkl. MwSt. / zzgl. Versandkosten
Artikel derzeit nicht verfügbar, Lieferfristen von bis zu 2-3 Wochen sind zu erwarten. (soweit verfügbar beim Lieferanten - kann schneller gehen, manchmal aber leider auch nicht)
Artikel-Nr.:

CDINAK9149

Gewicht in Kg.:

0.068
(2017/Inakustik) 12 Tracks - Digipack - Die Geschichte von Jan James liest sich, als ob sie...
mehr
Jan James: Calling All Saints (CD)
(2017/Inakustik) 12 Tracks - Digipack - Die Geschichte von Jan James liest sich, als ob sie direkt aus der inneren Seele der amerikanischen Musik kommt. Ihr kraftvoller Sound und ihre Botschaft hallen weltweit nach. Sie hat eine atemberaubende, gefühlvolle Stimme, die ihr die Anerkennung als Best Female Vocalist von der Detroit Metro Times einbrachte. Ihre kraftvollen Vocals wurden zuerst entdeckt, als sie in einem Kirchenchor sang. Bei Jan James wandelten sich diese Emotionen und Energie in ein tiefes Verständnis von RnB und Rock-n-Roll Soul. Mit diesen Anfängen ist Jan James eine Künstlerin auf einer Reise, die sich fast mysthisch anfühlt. Und sie hat diese Reise durch jedes ihrer Alben und Touren fortgesetzt. Am Chicagoer Royal George Theatre spielte Jan James die Hauptrolle von Janis Joplin in einem Stück, das auf Janis' Briefen und Liedern basierte. Hierfür erhielt sie nicht nur stehende Ovationen, es war die Aura eines großen Talents. Es war nicht nur die Power, die uns Janis Joplin hinterlassen hat, es war auch die Macht, die Jan James jetzt brillant macht. Mit einem Spin zum klassischen Blues versteht es Jan James, eine raue und zugleich brillante Ehrlichkeit in ihre mächtigen Vocals zu legen. Basierend auf ihren Blues- und Country-Wurzeln, kombiniert mit einer starken Gitarren-Performance ihres langjährigen Partners Craig Calvert, entstand ein engagiertes und durchgehend zusammenhängendes Album. Von politischen Songs, die über die Wahrheit der Macht bis zum universalen Thema der Liebe sprechen, ist Calling All Saints eine Sammlung von mitreißenden Liedern, die in ihren Bann ziehen. Die Country-Style-Erzählung, die Emotionalität und die starke Instrumentierung bringen das Album zum Leben. Ihre Fans werden die Handschrift erkennen, die ihren Sound so erfolgreich macht. Neue Hörer werden sich von ihrem einzigartigen und natürlichen Talent auf diesem lebendigen und kraftvollen, ehrlichen Album angezogen fühlen.
Artikeleigenschaften von

Jan James: Calling All Saints (CD)
Albumtitel:

Calling All Saints (CD)

Genre

Blues

Artikelart

CD

EAN:

0707787914925

Gewicht in Kg:

0.068
James, Jan - Calling All Saints (CD)

CD 1
01
I'm A Gambler
02
Roll Sweet Daddy
03
Heart Of The Blues
04
Losing Man
05
Cry Cry Cry
06
It's So Easy
07
Calling All Saints
08
Everybody Wants To Be Loved
09
Bucky Blues
10
Battle of Jesse
11
Trouble With The Water
12
Black Orchid Blues
Bewertungen lesen, schreiben und diskutieren...
mehr
Kundenbewertungen für "Calling All Saints (CD)"
Bewertung schreiben
Bewertungen werden nach Überprüfung freigeschaltet.