Der Artikel wurde erfolgreich hinzugefügt.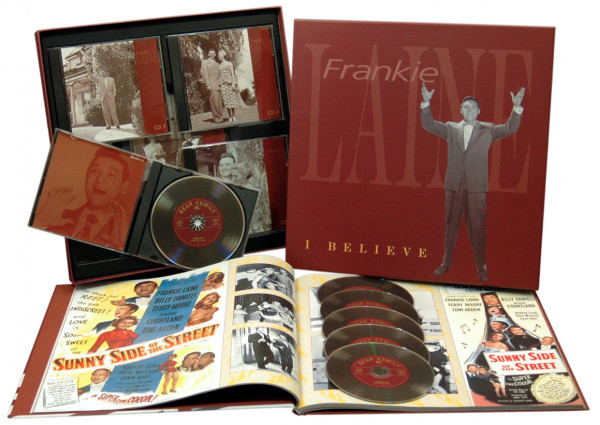 129,95 € *
139,95 € *
(7,15% gespart)
inkl. MwSt. zzgl. Versandkosten
Sofort versandfertig, Lieferzeit** 1-3 Werktage
Artikel-Nr.:

BCD16367

Gewicht in Kg.:

2.2
Das Box Set I Believe über Frankie Laine mit 6 CDs, einem Buch und 163 Songs, die eine...
mehr
Frankie Laine: I Believe (6-CD)
Das Box Set
I Believe
über Frankie Laine mit 6 CDs, einem Buch und 163 Songs, die eine Gesamtspielzeit von 7 Stunden und ungefähr 18 Minuten vorweisen.
Dann folgte Frankie Laine seinem Produzenten Mitch Miller zu Columbia Records, wo er 13 Jahre blieb. In diesem Zeitraum ist Frankie internationale Fan-Gemeinde geradezu explodiert. Sein Repertoire, das zuvor in großen Teilen aus Standards und Jazz-Songs bestanden hatte, wurde unter Mitch Millers Leitung stilistisch offener - vor allem durch integrierte Pop-Elemente, umfangreicheres Backing und durch zahlreiche Duette mit den Stars seines neuen Labels und solchen, die es erst noch werden wollten.&nbsp,
Dieses zweite CD-Box-Set von Frankie Laine (von drei geplanten) deckt die Columbia-Jahre von 1951 bis 1955 ab. Enthalten sind Hits wie Jezebel, Rose, Rose I Love You, Hey, Good Lookin', Jealousy, Hambone, High Noon, I Believe, und Hey, Joe &nbsp,dazu die kompletten Alben 'One For My Baby', 'Mr. Rhythm', 'Lovers' Laine' und 'Command Performance'. Außerdem gibt es alle Duette mit Jimmy Boyd, Doris Day, Jo Stafford und den
Four Lads. Hinzu kommen die 'Jazz Spectacular'-Sessions mit einer Allstar-Band, bestehend aus Buck Clayton, Budd Johnson, Sir Charles Thompson, Hilton Jefferson, J. J. Johnson und Kai Winding. Ebenfalls im Set: die Soundtracks zu den Filmen 'Sunny Side Of The Street', 'Rainbow Round My Shoulder' und 'Bring Your Smile Along'. Und selbstverständlich bieten wir, wie es von Bear Family Records erwartet wird, bislang unveröffentlichte Master und Alternativ-Versionen an.
Zur Box &nbsp,gehören ferner ein vorzüglich illustriertes Hardcover-Buch. Es enthält eine umfassende Discographie sowie mehrere aktuelle Interviews: mit Jo Stafford, Bernie Toorish von den Four Lads, mit
Frankie Laine's langjährigem Begleiter Al Lerner und natürlich ein Gespräch mit Frankie Laine persönlich.
Video von Frankie Laine - I Believe (6-CD)
Artikeleigenschaften von

Frankie Laine: I Believe (6-CD)
Albumtitel:

I Believe (6-CD)

Genre

Pop

Edition 2

Deluxe Edition

Preiscode

FL

Artikelart

Box set

EAN:

4000127163677

Gewicht in Kg:

2.2
Laine, Frankie - I Believe (6-CD)

Box set 1
01
Jezebel
02
Flamenco
03
Love Is Such A Cheat
04
Rose, Rose I Love You
05
The Girl In The Wood
06
Wonderful, Wasn't It?
07
Pretty Eyed (& JO STAFFORD)
08
That's The One For Me (& JO STAFFORD)
09
In The Cool, Cool Cool Of The Evening
10
That's Good! That's Bad! (& JO STAFFORD)
11
Gambella (The Gamblin' Lady) (& JO STAFFORD)
12
Song Of The Islands
13
Hey, Good Lookin' (& JO STAFFORD)
14
When It's Sleepy Time Down South
15
She Reminds Me Of You
16
One For My Baby
17
Necessary Evil
18
To Be Worthy Of You
19
Jealousy (Jalousie)
20
Tomorrow Mountain
21
Snow In Lover's Lane
22
That's How It Goes
23
When You're In Love
24
The Gandy Dancer's Ball
25
Ramblin' Man
26
How Lovely Cooks The Meat (& DORIS DAY)
27
Sugarbush (& DORIS DAY)
Laine, Frankie - I Believe (6-CD)

Box set 2
01
Hambone (& JO STAFFORD)
02
Let's Have A Party (& JO STAFFORD)
03
There's A Rainbow 'round My Shoulder
04
She's Funny That Way
05
The Rock Of Gibraltar
06
High Noon (Do Not Forsake Me)
07
The Mermaid
08
Tonight You Belong To Me
09
My Ohio Home
10
Settin' The Woods On Fire (& JO STAFFORD)
11
Piece A-Puddin' (& JO STAFFORD)
12
Christmas Roses (& JO STAFFORD)
13
I'd Give My Life
14
The Ruby And The Pearl
15
Chow, Willy (& JO STAFFORD)
16
I'm Just A Poor Bachelor
17
The Swan Song
18
The Little Boy And The Old Man (& JIMMY BOYD)
19
Your Cheatin' Heart
20
I Believe
21
Tell Me A Story (& JIMMY BOYD)
22
Some Day
23
Lorelei
24
Granada
25
Where The Winds Blow
26
I Let Her Go
27
Te Amo
28
A Bushel And A Peck (& JO STAFFORD)
29
Let's Fishin' (& JIMMY BOYD)
30
Poor Little Piggy Bank (& JIMMY BOYD)
Laine, Frankie - I Believe (6-CD)

Box set 3
01
Do You Know What It Means To Miss New Orleans
02
Floatin' Down To Cotton Town
03
New Orleans
04
Way Down Yander In New Orleans
05
Basin Street Blues (& JO STAFFORD)
06
Some Day, Sweetheart
07
Laughing At Life
08
Lullaby In Rhythm
09
After You've Gone (& CARL FISCHER)
10
Sittin' In The Sun (Countin' My Money)
11
Willow Weep For Me
12
A Hundred Years From Today
13
Judy
14
Answer Me, O Lord
15
Hey Joe!
16
Goin' Like Wildfire (& JO STAFFORD)
17
Rollin' Down The Line (& JO STAFFORD)
18
Blowing Wild (The Ballad Of Black Gold)
19
The Kid's Last Fight
20
Ace In The Hole
21
The Lord Don't Treat His Chillum That Way
22
Answer Me, My Love
23
Drill Ye Tarriers
24
Long Distance Love
25
Old Shoes
26
There Must Be A Reason
27
Juba, Juba, Jubalee (& THE FOUR LADS)
28
What Would I Do? (& THE FOUR LADS)
Laine, Frankie - I Believe (6-CD)

Box set 4
01
God's Gonna Take The Saints To Heaven
02
Ain't It A Pity And A Shame (& THE FOUR LADS)
03
Let Me Be Ready, Lord (& THE FOUR LADS)
04
Wa, Hoo! (& THE FOUR LADS)
05
I Feel Like My Time Ain't Long (& FOUR LADS)
06
Rain, Rain, Rain (& THE FOUR LADS)
07
My Friend
08
Your Heart, My Heart (Sehnsucht)
09
In The Beginning
10
High Society (& JO STAFFORD)
11
Back Where I Belong (& JO STAFFORD)
12
I Can't Give You Anything But Love, Baby
13
Keepin' Out Of Mischief Now
14
Out Of Nowhere
15
You Are Too Beautiful
16
Mona Lisa
17
Bubbles
18
Make Me A Child Again
19
Your Love
20
The Tarrier Song
21
Cool Water
22
Walking The Night Away
23
Strange Lady In Town
24
Bring Your Smile Along
25
If Spring Never Comes
26
Never Come Sunday
27
Mama Mia
28
My Little One
Laine, Frankie - I Believe (6-CD)

Box set 5
01
Ticky Ticky Tick (I'm Gonna Tell On You)
02
The Thief
03
Hummingbird
04
Hummingbird
05
Hawk-Eye
06
A Woman In Love
07
You Can Depend On Me
08
S'posin'
09
Stars Fell On Alabama
10
That Old Feeling
11
Baby, Baby All The Time
12
Roses Of Picardy
13
If You Were Mine
14
Until The Real Thing Comes Along
15
Taking A Chance On Love
16
Where Can I Go (& THE FOUR LADS)
17
Didn't He Moan (& THE FOUR LADS)
18
Remember Me (& THE FOUR LADS)
19
I Heard The Angels Singing (& THE FOUR LADS)
20
Robin Hood
21
Moby Dick
22
Champion The Wonder Horse
23
Sixteen Tons
Laine, Frankie - I Believe (6-CD)

Box set 6
01
On The Sunny Side Of The Street (title vers.)
02
I'm Gonna Live Till I Die
03
I May Be Wrong (& TONI ARDEN)
04
Sunny Side Of The Street (& TONY FONTAINE)
05
Wrap Your Troubles In Dreams
06
Girl In The Wood
07
Wonderful Wasn't It (& CHARLOTTE AUSTIN)
08
There's A Rainbow Round My Shoulder (& C. AUSTIN)
09
Bring Your Smile Along (title vers.)
10
When A Girl Is Beautiful
11
Bring Your Smile Along (& Bob M. CHOIR)
12
If Spring Never Comes
13
Mama Mia (& C. TOWERS & K. BRASSELLE)
14
Side By Side (& KEEFE BRASSELlE)
15
Mama Mia
16
A Gandy Dancer's Ball
17
Save Your Sorrows For Tomorrow
18
Danny Boy (& chorus)
19
Danny Boy (solo)
20
Hell Hath No Fury
21
Blowing Wild (The Ballad Of Black Gold)
22
Man Without A Star
23
Strange Lady In Town
24
Gunfight At The O.K. Corral
25
3:10 To Yuma
26
Bullwhip
27
Rawhide (TV)
Frankie Laine In seiner sieben Jahrzehnte umfassenden Karriere hat Sänger Frankie...
mehr
"Frankie Laine"
Frankie Laine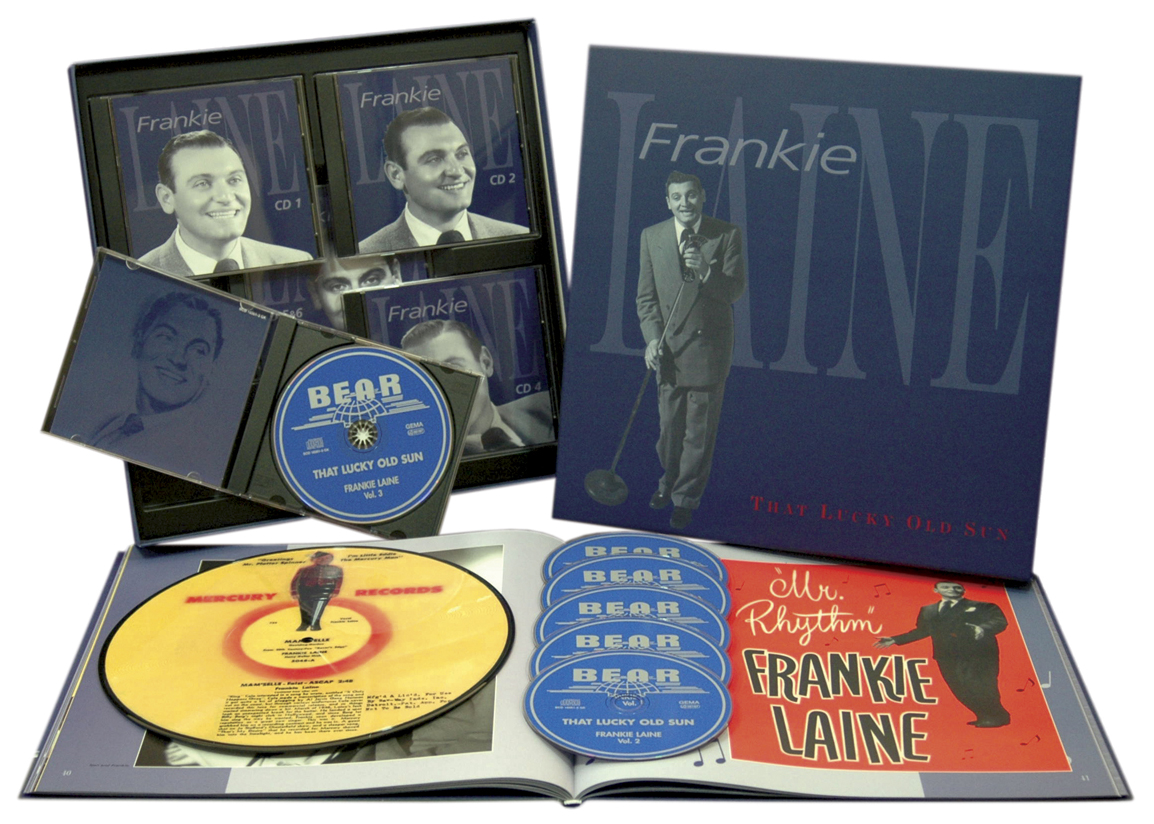 In seiner sieben Jahrzehnte umfassenden Karriere hat Sänger Frankie Laine weltweit mehr als 100 Millionen Schallplatten verkauft. Er arbeitete bis kurz vor seinem Tod am 6. Februar 2007. Laine erlitt einen Herzinfarkt nach einer Hüftoperation.
Als 17jähriger hatte Frankie Laine sein Elternhaus verlassen und versuchte sich zunächst als Dauertänzer. Mit seiner Partnerin Ruth Smith stellte er dabei in Atlantic City, New Jersey, einen Rekord für die Ewigkeit auf. Diese Tanzwettbewerbe waren zwar nur eine vorübergehende Modeerscheinung während der Zeit der Weltwirtschaftskrise, aber für Laine zugleich ein hervorragendes Training – schließlich befand er sich auf dem langen, anstrengenden Weg, der für ihn als singender Superstar enden würde.
Frankie Laine (Francesco Paolo LoVecchio) wurde am 30.3.1913 als Sohn von Einwanderern im Little Italy-Distrikt von Chicago geboren. Seine ersten öffentlichen Auftritte absolvierte er im Kirchenchor. Dann folgten die Marathon-Tanzwettbewerbe – doch nicht seine Füße, sondern seine Stimme hinterließ einen bleibenden Eindruck. 1946 feierte er seinen großen Durchbruch, als ihn der Songschreiber Hoagy Carmichael entdeckte. Diese Begegnung endete mit einem Plattenvertrag bei Mercury Record. Frühere Aufnahmen waren ohne Resonanz geblieben, aber die Partnerschaft zwischen dem jungen Sänger und dem ebenfalls noch jungen Label erwies sich als unschlagbar: Laine avancierte zu einem der populärsten Sänger der ausgehenden 40er und der gesamten 50er Jahre. Sein erster Hit war That's My Desire (1947), viele weitere folgten, darunter That Lucky Old Sun, Mule Train,The Cry Of The Wild Goose, Jezebel und diverse andere. Laines Popularität verbreitete sich auch über den Atlantik: Seine Auftritte im Londoner Palladium sorgten für Zuschauerrekorde, und er landete in Großbritannien vier Nr.-1-Hits. Seine Version von I Believe stand 1953 an der Spitze der UK-Hitlisten und blieb dort – in drei Abschnitten – insgesamt 18 Wochen; das schafften später nicht mal die Beatles.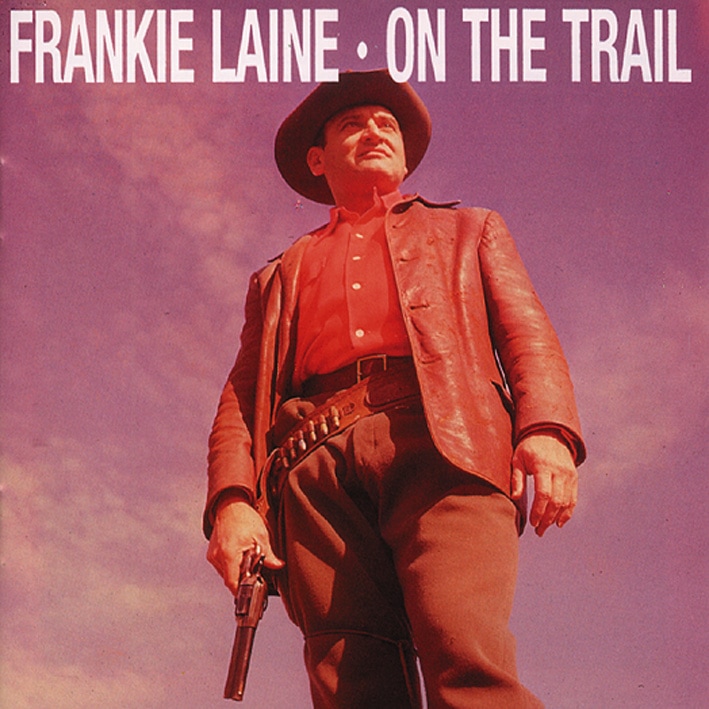 Frankie Laine gelangen während der 50er Jahre Hits in Serie – und weitere sogar bis in die späten 60er Jahre. Unvergessen bleibt auch seine atemberaubende Interpretation des Titelsongs aus dem Kinofilm 'Blazing Saddles' ('Der wilde wilde Westen'; auch: 'Is was, Sheriff?') von 1974. In der Folgezeit arbeitete Laine hauptsächlich in der Club-Szene, kam aber auch mehrfach für Konzerte nach England zurück. Frankie Laine engagierte sich intensiv im humanitären Bereich. 1999 heiratete er noch einmal – sechs Jahre nach dem Tod seiner ersten Frau Nan Grey, die mehr als 40 Jahre an seiner Seite gewesen war. Laines Aufstieg bedeutete gleichzeitig, daß Solosänger die Popularität von Big Bands überflügelt hatten. Sein gigantischer Erfolg ebnete damit auch den Weg von Kollegen wie Tony Bennett, Elvis Presley und Tom Jones.
1996 erhielt Laine im Rahmen der 27. Preisverleihung der Songwriters Hall of Fame die Auszeichnung für sein Lebenswerk.
Bear Family hat die wichtigen Karrierejahre von Frankie Laine in Form von drei umfangreichen CD-Boxen dokumentiert. Der Sänger selbst hat diese Projekte hilfreich unterstützt und begleitet: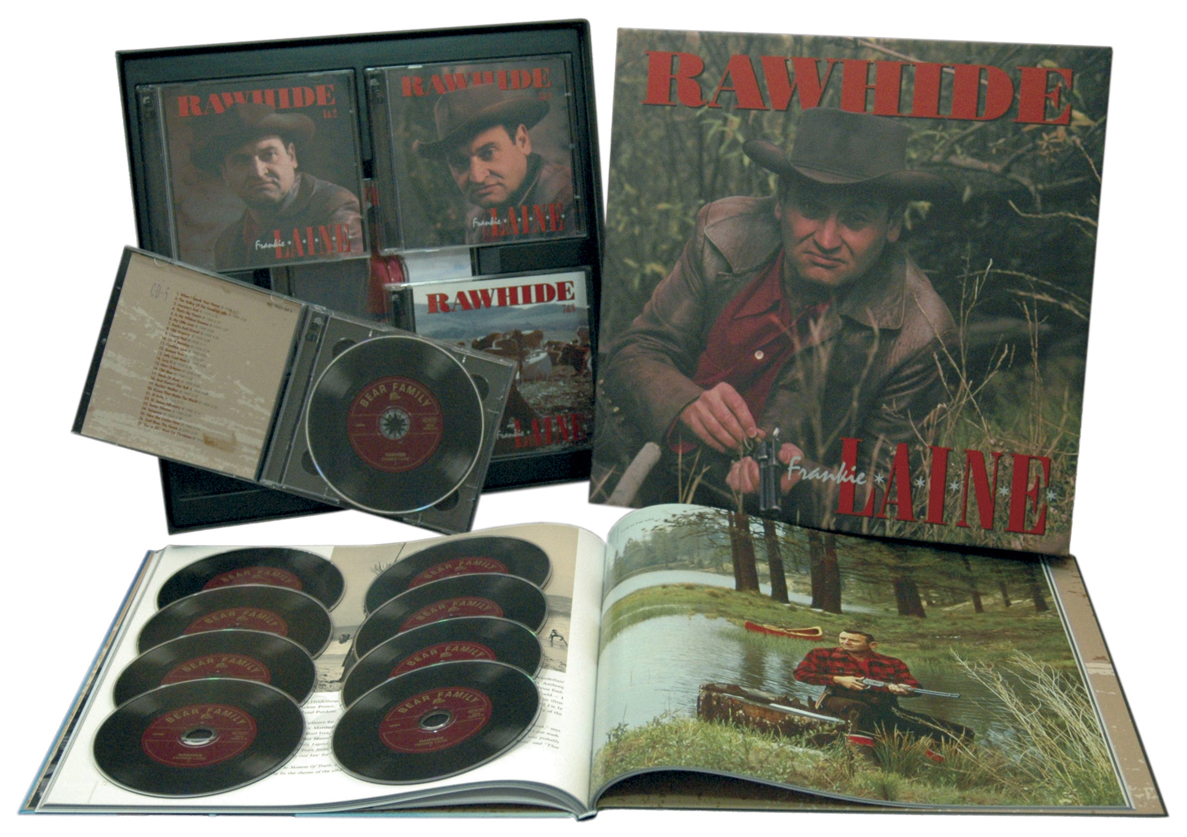 BCD 16361 GK That Lucky Old Sun (die Jahre von 1944 – 1951) 6-CD & 1-Picture Disc Box mit 72-seitigem gebundenem -Buch
BCD 16367 FL I Believe (die Jahre von 1951 – 1955) 6-CD-Box mit 100-seitigem gebundenem Buch
BCD 16522 IL Rawhide (die Jahre von 1956 - 1964) 9-CD-Box mit 104-seitigem gebundenem Buch
Außerdem hat Bear Family zwei Einzel-CDs veröffentlicht sowie eine CD mit Duetten mit Jo Stafford:
BCD 15480 AH On The Trail
BCD 15632 AH On The Trail Again
BCD 15620 AH The Duets (with Jo Stafford)
Read more at: https://www.bear-family.de/laine-frankie-that-lucky-old-sun-6cd-und-1pd.html
Copyright © Bear Family Records
Bewertungen lesen, schreiben und diskutieren...
mehr
Kundenbewertungen für "I Believe (6-CD)"
Bewertung schreiben
Bewertungen werden nach Überprüfung freigeschaltet.
Weitere Artikel von Frankie Laine