Der Artikel wurde erfolgreich hinzugefügt.
Frankie Laine
That Lucky Old Sun (6-CD & 10-inch LP Deluxe Box Set)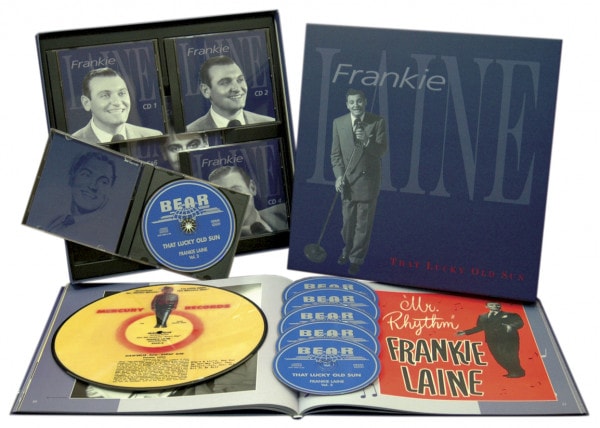 111,95 € *
139,95 € *
(20,01% gespart)
inkl. MwSt. / zzgl. Versandkosten - Abhängig vom Lieferland kann die MwSt. an der Kasse variieren.
Sofort versandfertig, Lieferzeit** 1-3 Werktage
Artikel-Nr.:

BCD16361

Gewicht in Kg.:

2.2
Das Frankie Laine Box Set mit 6 CDs, einer Bildschallplatte und einem Buch. Als die meisten...
mehr
Frankie Laine: That Lucky Old Sun (6-CD & 10-inch LP Deluxe Box Set)
Das
Frankie Laine
Box Set mit 6 CDs, einer Bildschallplatte und einem Buch.
Als die meisten jungen Sänger versuchten zu singen und zu klingen wie
Bing Crosby
, da wollte Frankie Laine mit der Hingabe und Männlichkeit eines
Louis Armstrong
singen und sein Publikum wie
Al Jolson
in seinen Bann ziehen. Frankie Laine schlug sich mit Hilfe unterschiedlichster Jobs durch die Zeiten der Großen Depression, zusätzlich immer wieder als Teilnehmer von Tanzmarathons und als Sänger in einer Reihe von kleinen Bands. Die Arbeit führte ihn von
Chicago
über Cleveland nach New York und wieder zurück. Dann, auf dem Wege nach Los Angeles, begann er einen alten Song,
That's My Desire
, zu singen und das Publikum reagierte begeistert. Frankie Laine wurde über Nacht zu einer Sensation.
Nun, zu seinem 90ten Geburtstag, werfen wir in dieser 6-CD Box Set mit einer zusätzlichen 'Picture Disc' einen Blick zurück auf die frühe Karrierezeit von Frankie Laine. Auf dieser Box finden sich alle seine Bel-Tone, Atlas und Mercury Aufnahmen aus den Jahren 1944 - 1951. Hören sie sich die Originalaufnahmen von Hits an wie:
That Lucky Old Sun, That's My Desire, Cry Of The Wild Goose, Mule Train, Black And Blue
und
Shine
. Enthalten sind seine Duette mit
Patti Page
sowie bislang unveröffentliche 'takes' und Aufnahmen. Im Buch finden sich eine Reihe von nie gesehenen Fotos aus dem persönlichem Fotoalbum von Frankie Laine und eine Reihe von Erinnerungen seiner Mitstreiter wie
Anita O'Day
und
Kay Starr
, Harry Geller,
Mitch Miller
und, selbstverständlich, Frankie Laine höchstpersönlich!
Video von Frankie Laine - That Lucky Old Sun (6-CD & 10-inch LP Deluxe Box Set)
Artikeleigenschaften von

Frankie Laine: That Lucky Old Sun (6-CD & 10-inch LP Deluxe Box Set)
Albumtitel:

That Lucky Old Sun (6-CD & 10-inch LP Deluxe Box Set)

Genre

Pop

Edition 2

Deluxe Edition

Preiscode

GK

Artikelart

Box set

EAN:

4000127163615

Gewicht in Kg:

2.2
Frankie Laine In seiner sieben Jahrzehnte umfassenden Karriere hat Sänger Frankie...
mehr
"Frankie Laine"
Frankie Laine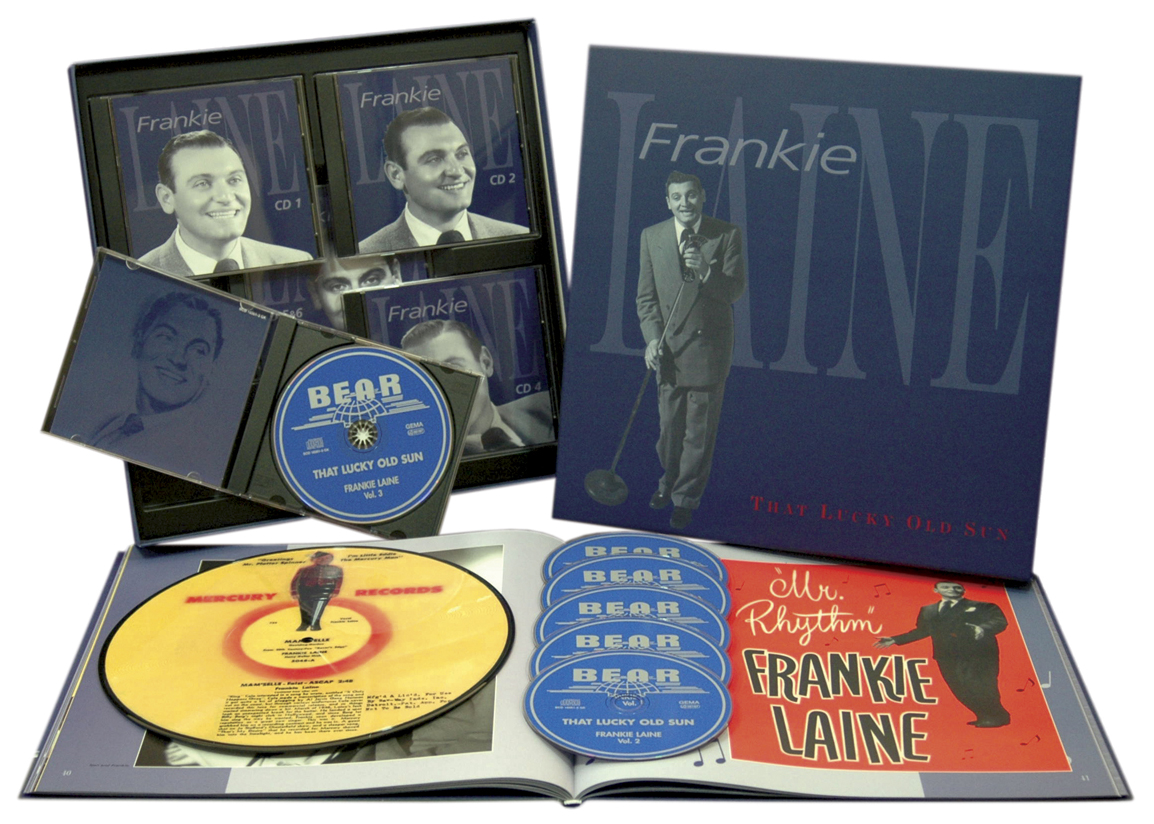 In seiner sieben Jahrzehnte umfassenden Karriere hat Sänger Frankie Laine weltweit mehr als 100 Millionen Schallplatten verkauft. Er arbeitete bis kurz vor seinem Tod am 6. Februar 2007. Laine erlitt einen Herzinfarkt nach einer Hüftoperation.
Als 17jähriger hatte Frankie Laine sein Elternhaus verlassen und versuchte sich zunächst als Dauertänzer. Mit seiner Partnerin Ruth Smith stellte er dabei in Atlantic City, New Jersey, einen Rekord für die Ewigkeit auf. Diese Tanzwettbewerbe waren zwar nur eine vorübergehende Modeerscheinung während der Zeit der Weltwirtschaftskrise, aber für Laine zugleich ein hervorragendes Training – schließlich befand er sich auf dem langen, anstrengenden Weg, der für ihn als singender Superstar enden würde.
Frankie Laine (Francesco Paolo LoVecchio) wurde am 30.3.1913 als Sohn von Einwanderern im Little Italy-Distrikt von Chicago geboren. Seine ersten öffentlichen Auftritte absolvierte er im Kirchenchor. Dann folgten die Marathon-Tanzwettbewerbe – doch nicht seine Füße, sondern seine Stimme hinterließ einen bleibenden Eindruck. 1946 feierte er seinen großen Durchbruch, als ihn der Songschreiber Hoagy Carmichael entdeckte. Diese Begegnung endete mit einem Plattenvertrag bei Mercury Record. Frühere Aufnahmen waren ohne Resonanz geblieben, aber die Partnerschaft zwischen dem jungen Sänger und dem ebenfalls noch jungen Label erwies sich als unschlagbar: Laine avancierte zu einem der populärsten Sänger der ausgehenden 40er und der gesamten 50er Jahre. Sein erster Hit war That's My Desire (1947), viele weitere folgten, darunter That Lucky Old Sun, Mule Train,The Cry Of The Wild Goose, Jezebel und diverse andere. Laines Popularität verbreitete sich auch über den Atlantik: Seine Auftritte im Londoner Palladium sorgten für Zuschauerrekorde, und er landete in Großbritannien vier Nr.-1-Hits. Seine Version von I Believe stand 1953 an der Spitze der UK-Hitlisten und blieb dort – in drei Abschnitten – insgesamt 18 Wochen; das schafften später nicht mal die Beatles.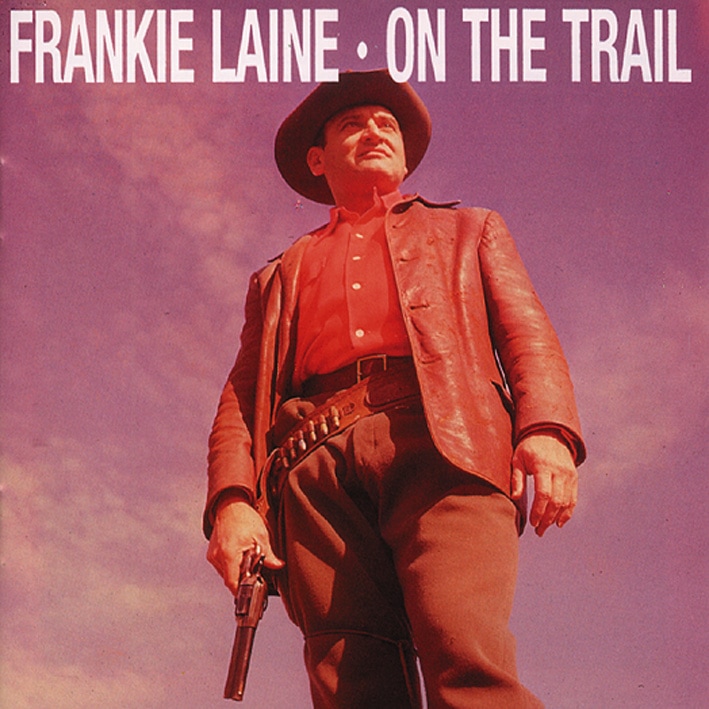 Frankie Laine gelangen während der 50er Jahre Hits in Serie – und weitere sogar bis in die späten 60er Jahre. Unvergessen bleibt auch seine atemberaubende Interpretation des Titelsongs aus dem Kinofilm 'Blazing Saddles' ('Der wilde wilde Westen'; auch: 'Is was, Sheriff?') von 1974. In der Folgezeit arbeitete Laine hauptsächlich in der Club-Szene, kam aber auch mehrfach für Konzerte nach England zurück. Frankie Laine engagierte sich intensiv im humanitären Bereich. 1999 heiratete er noch einmal – sechs Jahre nach dem Tod seiner ersten Frau Nan Grey, die mehr als 40 Jahre an seiner Seite gewesen war. Laines Aufstieg bedeutete gleichzeitig, daß Solosänger die Popularität von Big Bands überflügelt hatten. Sein gigantischer Erfolg ebnete damit auch den Weg von Kollegen wie Tony Bennett, Elvis Presley und Tom Jones.
1996 erhielt Laine im Rahmen der 27. Preisverleihung der Songwriters Hall of Fame die Auszeichnung für sein Lebenswerk.
Bear Family hat die wichtigen Karrierejahre von Frankie Laine in Form von drei umfangreichen CD-Boxen dokumentiert. Der Sänger selbst hat diese Projekte hilfreich unterstützt und begleitet: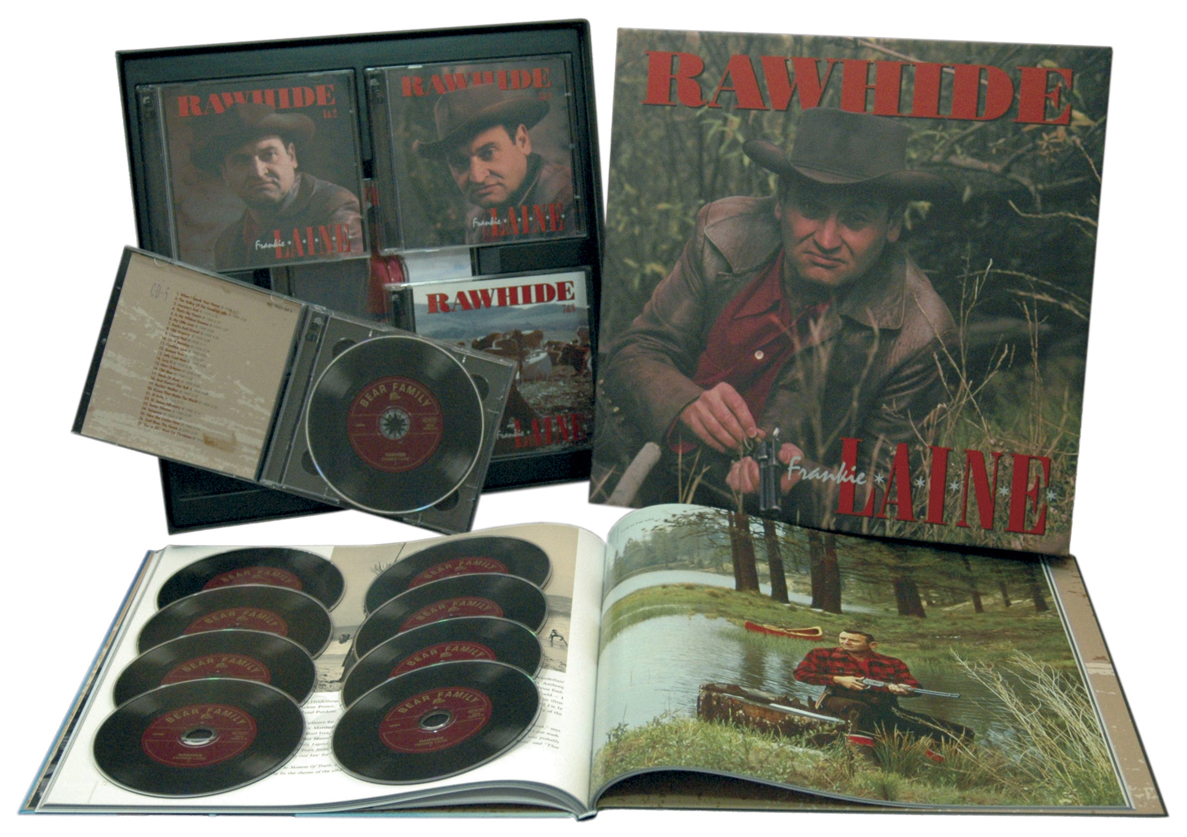 BCD 16361 GK That Lucky Old Sun (die Jahre von 1944 – 1951) 6-CD & 1-Picture Disc Box mit 72-seitigem gebundenem -Buch
BCD 16367 FL I Believe (die Jahre von 1951 – 1955) 6-CD-Box mit 100-seitigem gebundenem Buch
BCD 16522 IL Rawhide (die Jahre von 1956 - 1964) 9-CD-Box mit 104-seitigem gebundenem Buch
Außerdem hat Bear Family zwei Einzel-CDs veröffentlicht sowie eine CD mit Duetten mit Jo Stafford:
BCD 15480 AH On The Trail
BCD 15632 AH On The Trail Again
BCD 15620 AH The Duets (with Jo Stafford)
Read more at: https://www.bear-family.de/laine-frankie-that-lucky-old-sun-6cd-und-1pd.html
Copyright © Bear Family Records
Bewertungen lesen, schreiben und diskutieren...
mehr
Kundenbewertungen für "That Lucky Old Sun (6-CD & 10-inch LP Deluxe Box Set)"
Von:
Frank F
Am:
05.09.2017
Bewertung schreiben
Bewertungen werden nach Überprüfung freigeschaltet.
Weitere Artikel von Frankie Laine