Der Artikel wurde erfolgreich hinzugefügt.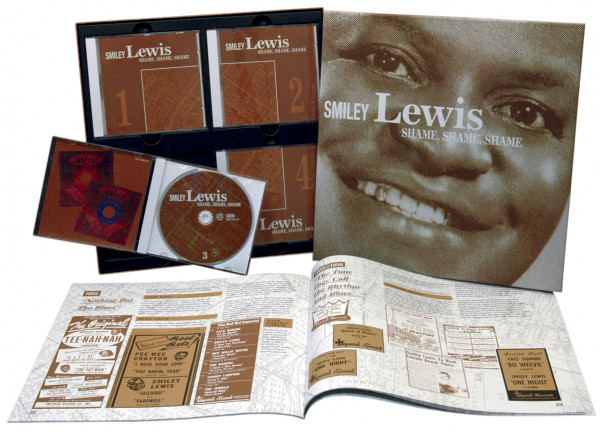 Benachrichtigen Sie mich, sobald der Artikel lieferbar ist.
inkl. MwSt. / zzgl. Versandkosten - Abhängig vom Lieferland kann die MwSt. an der Kasse variieren.
Artikel derzeit nicht verfügbar, Lieferfristen von bis zu 2-3 Wochen sind zu erwarten. (soweit verfügbar beim Lieferanten - kann schneller gehen, manchmal aber leider auch nicht)
Artikel-Nr.:

BCD15745

Gewicht in Kg.:

1.2
4-CD-Box (LP-Größe) mit 36-seitigem Buch, 100 Titel. Spieldauer ca. 238 Minuten. So essentiell...
mehr
Smiley Lewis: Shame, Shame, Shame (4-CD Deluxe Box Set)
4-CD-Box (LP-Größe) mit 36-seitigem Buch, 100 Titel. Spieldauer ca. 238 Minuten.
So essentiell wie das
Fats Domino
Set, ist dies alles, was der Pechvogel des New Orleans Blues in seinem kurzen Leben aufgenommen hat. Smiley Lewis hatte eine der großen Blues-Stimmen und einige der besten Songs und besten Arrangements aus den 50er Jahren. Enthalten sind alle Aufnahmen von Smiley Lewis' Imperial, sowie die DeLuxe, OKeh, Dot und Loma Sessions, die zwischen 1947 und 1965 aufgenommen wurden. Alle Hits sind natürlich hier:
Shame Shame Shame Shame, I Hear You Knockin', Big Mamou, sowie die Originale von Blue Monday und One Night, und vieles, vieles mehr.
Artikeleigenschaften von

Smiley Lewis: Shame, Shame, Shame (4-CD Deluxe Box Set)
Albumtitel:

Shame, Shame, Shame (4-CD Deluxe Box Set)

Genre

R&B, Soul

Preiscode

DI

Edition 2

Deluxe Edition

Artikelart

Box set

EAN:

4000127157454

Gewicht in Kg:

1.2
Smiley Lewis Für einen Mann mit einem der lustigsten Künstlernamen in ganz New...
mehr
"Smiley Lewis"
Smiley Lewis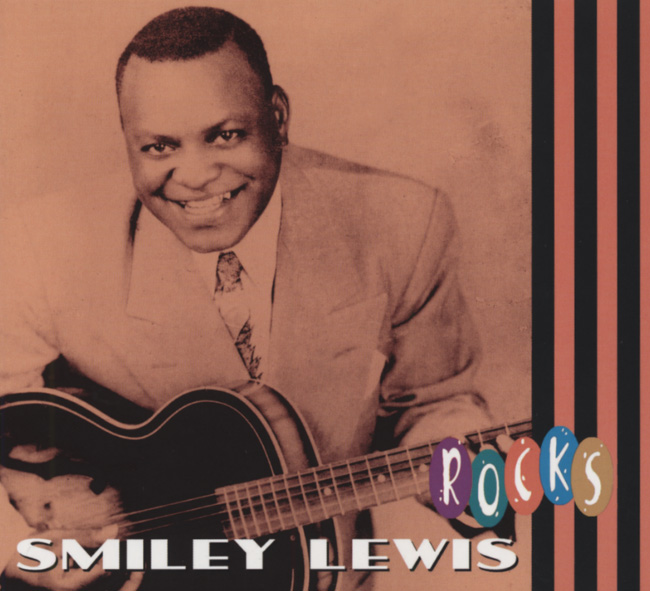 Für einen Mann mit einem der lustigsten Künstlernamen in ganz New Orleans hatte Smiley Lewis im Laufe seiner produktiven Aufnahmekarriere nicht viel zu grinsen, obwohl er in der Crescent City unter der versierten Leitung von Imperial Records A&R-Chef Dave Bartholomew einige der heißesten rockigen Platten geschnitten hat. Als die gerühmte Studio-Band von Cosimo Matassa mit ihrer knisternden Unterstützung die Wände schmelzen ließ, brüllte Smiley mit einem vollmundigen Gusto, ähnlich dem des Blues-Shouters Big Joe Turner, mit dem er Anfang der 50er Jahre ein paar lokale Promotionen auf der Bühne inszenierte 'Battle of the Blues'.
Trotz seiner dröhnenden Pfeifen, die sich gleichermaßen für sprunghaften Blues, blasenbildende Rocker oder sentimentale Balladen eignen, schaffte es Lewis irgendwie nur viermal, die R&B-Charts zu verbeulen (zumindest Turner schaffte es vorübergehend, während der Urwelle des Rock'n'Roll, sogar in einem der ersten Quickie-Rock-Filme der damaligen Zeit zu Gast zu sein). Smileys beste Hoffnung, zur Pop-Hitparade überzugehen, wie es sein Labelkollege Fats Domino immer wieder tat, wurde zunichte gemacht, als Pop-Chanteuse Gale Storm seinen R&B-Smash I Hear You Knocking im Herbst 1955 für Dot Records, eine Firma, die sich solche desinfizierten Travesties zur Gewohnheit gemacht hatte. Armer Smiley's weit überlegenes Original, verankert durch Huey Smith's prächtiges In-the-Cracks-Piano, hatte nie eine Chance.
"Smiley, er war ein sehr netter Kerl und eine schöne, große, große Stimme", sagte Bartholomew. "Aber Smiley, ich weiß nicht, es sah aus, als hätte er Pech gehabt. Weil andere Leute seine Melodien abholen würden, nachdem er sie aufgenommen und Millionen von Verkäufern aus ihnen gemacht hatte. Smiley konnte nur vielleicht 2 oder 300.000 aus jeder Platte herausholen. Deshalb war er in einigen Teilen des Landes ziemlich groß. Er war sehr groß im Süden, und in New York würde er welche verkaufen. Aber er war kein Dauerbrenner. Ich konnte einfach nicht.... ich konnte Smiley nie verstehen. Ein sehr guter Künstler."
I Hear You Knocking war nicht das einzige Mal, dass ein Song, den Smiley auf Imperial vorgestellt hatte, von einem anderen Künstler geliehen wurde, dem es wesentlich besser ging. Bartholomew war auch Dominos imperialer Produzent und Songwriting-Partner, und er recycelte mehrere Songs, die er Lewis ursprünglich mit dem Fat Man geschenkt hatte, was sich für alle Beteiligten außer Smiley als weitaus lukrativer erwies. Auch Elvis Presley war sich des Wertes des Lewis-Liederbuchs bewusst. Er nahm Smiley's lustvollen 1956er R&B-Hit One Night, wo er sich nach "one night of sin" sehnte, und tönte den Text zu einem "one night with you"-Szenario, das sich als'58er Pop-Smash erwies.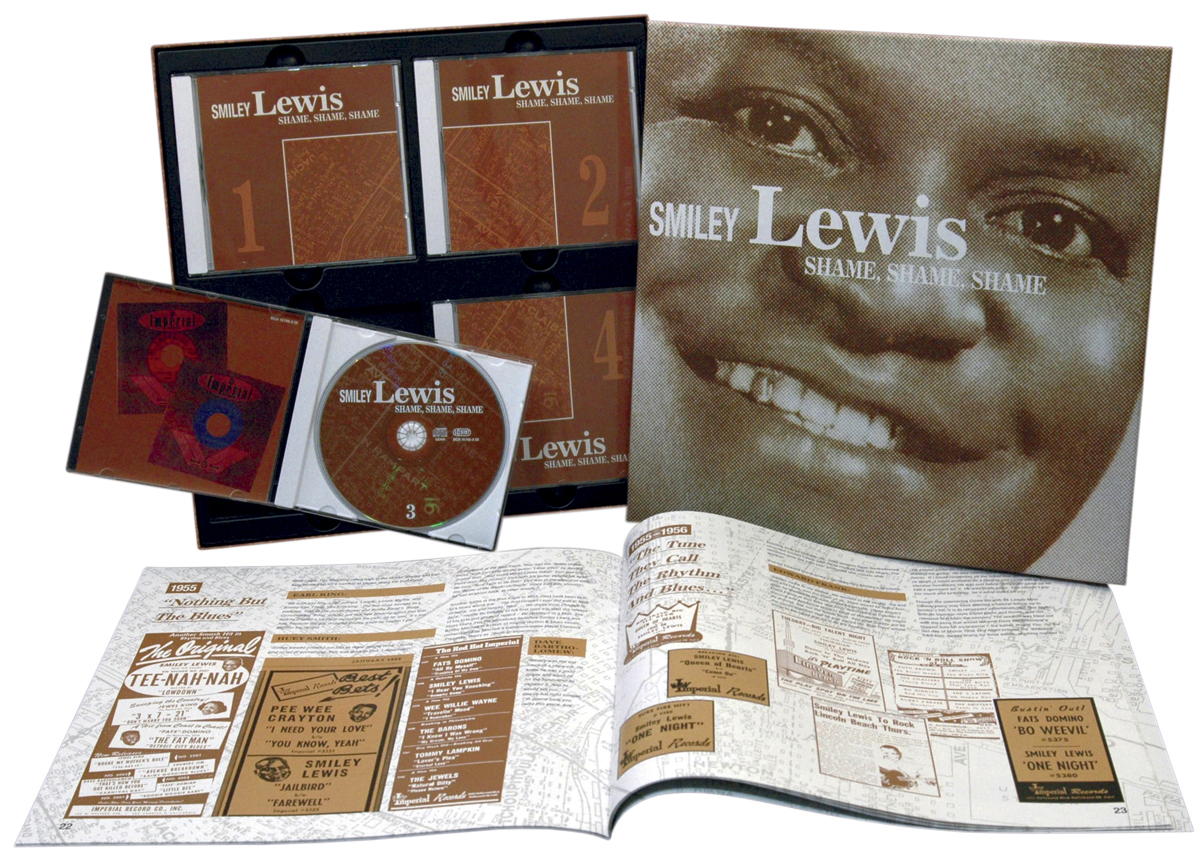 "Smiley war der Pechvogel des Studios, weißt du?" Selbst wenn er Aufnahmen hatte, die gemacht wurden, deckten andere Leute sie ab und hatten einen besseren finanziellen Erfolg mit ihnen", sagte Matassa. "Es war ziemlich hart in diesem Sinne." Es war ein Fall, der (die Teenager) den anderen nicht hörten." Es gab einen Silberstreif am Horizont: Die Verlagsgebühren fielen in beiden Fällen Bartholomew zu. "Die Weißen bekamen das Airplay", bemerkte Cosimo. "So schlimm es auch war, es war ziemlich gut."
Laut Sozialversicherungsunterlagen wurde Overton Amos Lemons am 5. Juli 1918 in DeQuincy, Louisiana, geboren (seine Sterbeurkunde listete sein Geburtsjahr als 1920 auf; 1913 wurde in Bear Family's Vier-CD Lewis boxed set 'Shame, Shame, Shame, Shame' zitiert). Gefunden 22 Meilen vom See Charles, in dem Eddie Shulers Goldband Aufkleber einen Durchlauf des zukunftsträchtigen Bayou Blaus und der Cajun Servierplatten herausgab, sitzt DeQuincy nahe dem Texas Rand, ungefähr 140 Meilen von Houston.
Overton verbrachte zumindest einen Teil seiner Jugend in einer Stadt namens West Lake, einem weiteren Nachbarn des Lake Charles. Aber irgendwann in seiner Mitte - Teenager, seine zweite Frau Dorothy Ester Lemons erklärte Interviewer Rick Coleman in den Zwischenlageanmerkungen zu Schande, Schande, Schande," der Junge hüpfte an Bord eines Frachtzuges, der durch Stadt mit einigen seiner Freunde überschreitet. Die anderen sprangen bald ab, aber Overton blieb auf den Schienen bis nach New Orleans und blieb dort. Eine weiße Familie soll den Teenager aufgenommen und aufgezogen haben. In den 30er Jahren wurde er an Gitarre und Gesang so geschliffen, dass er sich mit der Band des Trompeters Thomas Jefferson verband, zu deren Mitgliedern auch der Pianist Isidore Tuts" Washington Jr. gehörte.
Geboren am 24. Januar 1907 in New Orleans, Washington, begann als Teenager mit Dixieland-Bands zu spielen. Lange bevor er Lemons zu Gesicht bekam, hat er sich einen guten Ruf als Pianist erworben. Jeffersons Ansammlung spielte stilvolle lokale Nachtlokale, darunter das Gypsy Tea Room und das Court of Two Sisters. Der vielseitige junge Lemons stilisierte sich als Troubadour und schlenderte von Tisch zu Tisch, um den Gästen ein Ständchen zu bringen. Seine Stimme war so kraftvoll, dass ein Mikrofon überflüssig war, und er konnte je nach Situation und Veranstaltungsort süße Balladen an den Ink Spots oder Bing Crosby ebenso überzeugend singen wie erdigere Kost.
Overton heiratete zum ersten Mal Ende 1938. Es wird vorgeschlagen, dass er den Spitznamen von Smiley aufnahm, weil ihm in seiner Zeit vor dem Ruhm die Frontzähne fehlten...
Smiley Lewis Smiley Lewis - Rocks
Read more at: https://www.bear-family.com/lewis-smiley-smiley-lewis-rocks.html
Copyright © Bear Family Records
Bewertungen lesen, schreiben und diskutieren...
mehr
Kundenbewertungen für "Shame, Shame, Shame (4-CD Deluxe Box Set)"
Von:
Schweder
Am:
04.06.2014
This is even more essential than Fats Domino!!!
Bewertung schreiben
Bewertungen werden nach Überprüfung freigeschaltet.
Weitere Artikel von Smiley Lewis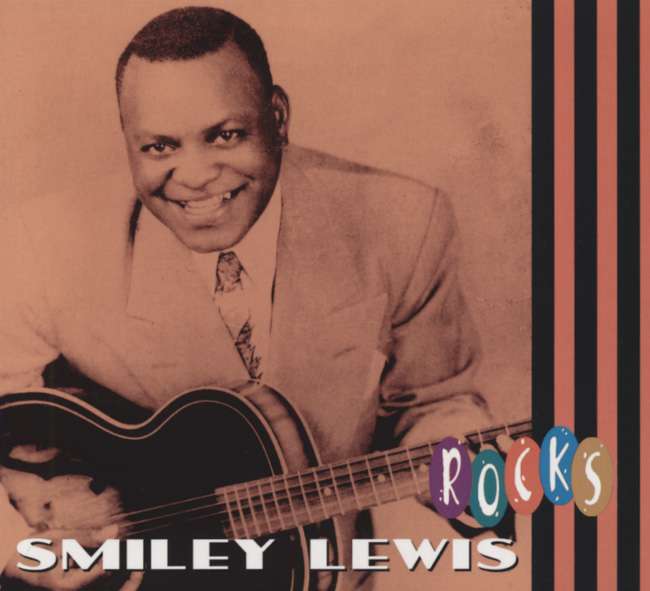 Smiley Lewis: Smiley Lewis - Rocks (CD)
Art-Nr.: BCD16676


Sofort versandfertig, Lieferzeit** 1-3 Werktage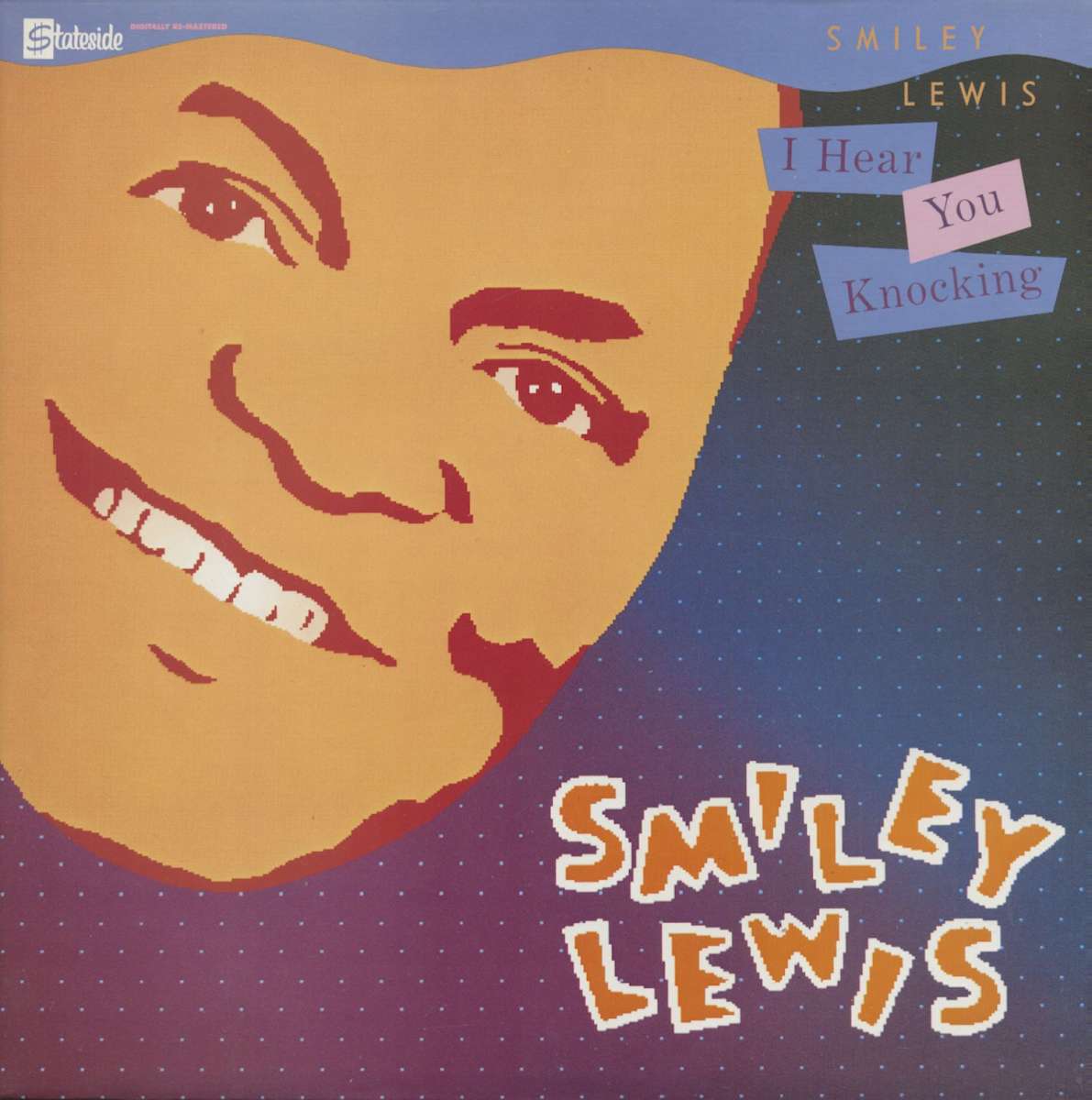 Smiley Lewis: I Hear You Knocking (LP)
Art-Nr.: LPSSL6025-C


Artikel muss bestellt werden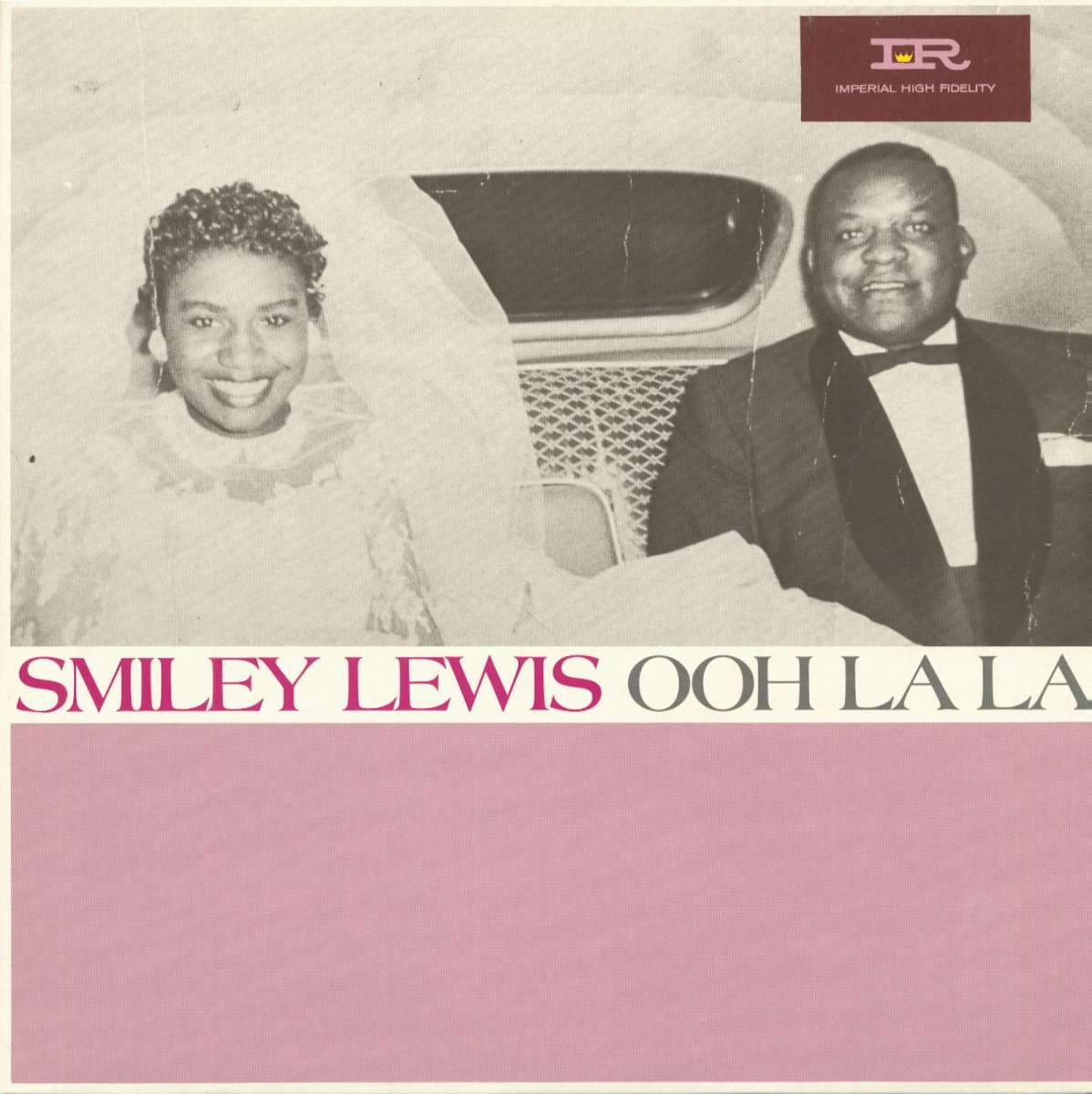 Smiley Lewis: Ooh La La (LP)
Art-Nr.: LP1561391


Sofort versandfertig, Lieferzeit** 1-3 Werktage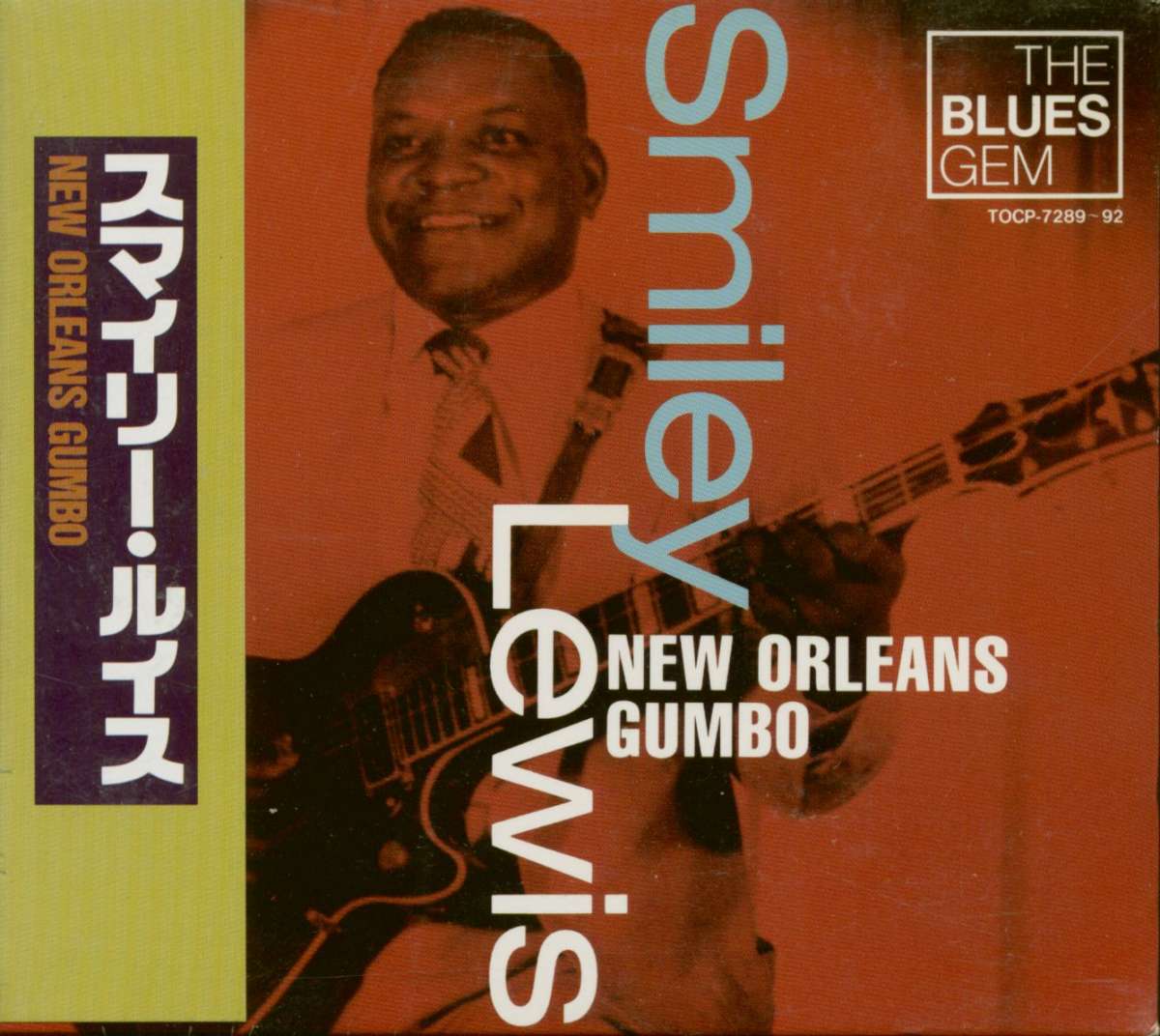 Smiley Lewis: New Orleans Gumbo (4-CD Box Japan)
Art-Nr.: CDTOCP72892


die letzten 1 verfügbar
Sofort versandfertig, Lieferzeit** 1-3 Werktage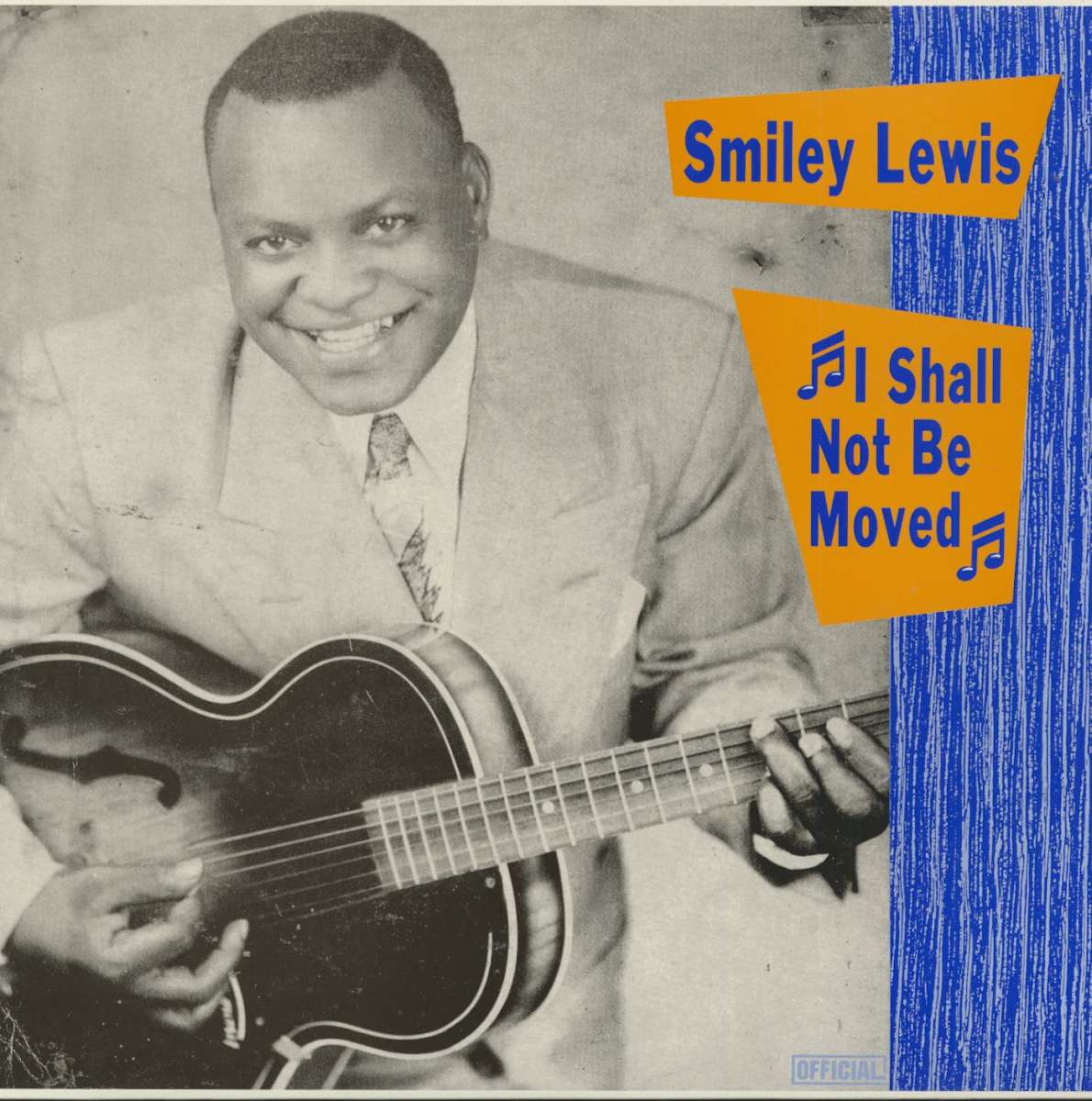 Smiley Lewis: I Shall Not Be Moved (LP)
Art-Nr.: LPOFF6033


Artikel muss bestellt werden