Der Artikel wurde erfolgreich hinzugefügt.
Uncle Dave Macon
Keep My Skillet... (9CD & 1DVD mit 176-seitigem gebundenem Buch in LP-Grösse)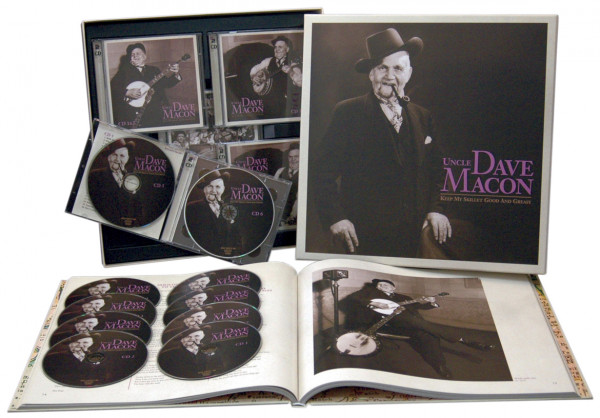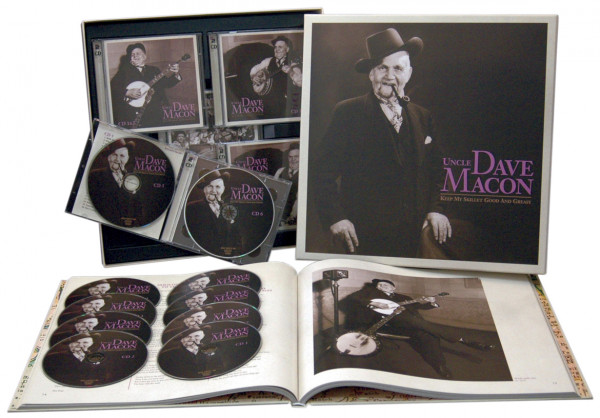 Dieser Artikel ist gestrichen und kann nicht mehr bestellt werden!
Benachrichtigen Sie mich, sobald der Artikel lieferbar ist.
9-CD Box/1DVD (LP-Format) mit 176-seitigem gebundenem Buch, 248 Einzeltitel. Spieldauer ca. 686...
mehr
Uncle Dave Macon: Keep My Skillet... (9CD & 1DVD mit 176-seitigem gebundenem Buch in LP-Grösse)
9-CD Box/1DVD (LP-Format) mit 176-seitigem gebundenem Buch, 248 Einzeltitel. Spieldauer ca. 686 Minuten.
Wenn
Jimmie Rodgers
der Vater der Country Music ist, dann ist
Uncle Dave Macon
mit Sicherheit ihr Großvater. Er transportierte Dutzende alter Folk-, Vaudeville-, Blues-, Gospel- und Comedy-Songs ins 20. Jahrhundert. Als einer der ersten Country-Stars nahm er Schallplatten auf, war der erste Star der Grand Ole Opry und einer der ersten Musiker, die in die Country Music Hall of Fame gewählt wurden. Aber vor allem ist er ein begnadeter Entertainer gewesen, und er gehört zu den interessantesten-Banjo Spielern in der Geschichte der Country Music.
Erstmals werden hier
Uncle Dave Macon
s sämtliche kommerziellen Einspielungen veröffentlicht, dazu seltene Aufnahmen, die zu Hause entstanden und eine komplette CD mit
Live
-Aufnahmen aus der Opry von 1939/1940, die nie zuvor erhältlich gewesen sind. Der Klang dieser 248 zeitlosen Klassiker wurde digital überarbeitet, ohne ihre Klangtreue zu beeinträchtigen oder zu verfälschen. Das Mastering besorgte Grammy-Gewinner
Chris King
, die Endbearbeitung übernahm
Jürgen Crasser
.
Die DVD (NTSC) präsentiert den Film 'Grand Ole Opry' von 1940, selbstverständlich mit Macon. Das Buch enthält neu entdeckte Fotos und Illustrationen, vollständige Songtexte (übertragen von
Paul Ritscher
und
Robert Nobley
), eine aktuell recherchierte Biographie von
Charles Wolfe
sowie eine überarbeitete Discografie von
Ralph Rinzler
,
Norm Cohen
und
Tony Russell
.
'Leute – wenn ihr nicht in Ordnung seid, dann bringt euch in Ordnung. Und lasst euch von eurem Bewusstsein lenken, weil ich für unterschiedlichem Geschmack und ungeahnter Qualität spielen werde.'
-
Uncle Dave Macon
.
'Uncle Dave Macon war der ungewöhnlichste, einzigartigste Typ, dem ich je begegnet bin. Was er auch machte, trug seine ureigene Handschrift. Als ich begann, war er schon der größte Star der Grand Ole Opry; und wenn wir auf Tournee gewesen sind, war es Uncle Dave, der das Publikum auch für
Roy Acuff
angezogen hat.' -
Roy Acuff
.
'Uncle Dave war möglicherweise unser erster Rock-Star. Er brachte reichlich gute Musik unters Volk, und er hat für uns die Mauern eingerissen, damit wir Country-Musiker werden konnten. -
Marty Stuart
.
'Er war vielleicht nicht der beste Banjo-Spieler oder Sänger, aber – verdammt noch mal – er war einfach der beste Wasauchimmer!' -
Curly Fox
.
'Leute, und hier kommt er nun: Uncle Dave Macon, der
Dixie
Dewdrop, mit seinem Hut, dem Kinnbart und dem goldenen Tennessee-Lachen. Lass knacken, Uncle Dave!' -
George Hay
, Gründer der Grand Ole Opry'.
'Long Live Uncle Dave' -
Pete Seeger, April
2004.
Artikeleigenschaften von

Uncle Dave Macon: Keep My Skillet... (9CD & 1DVD mit 176-seitigem gebundenem Buch in LP-Grösse)
Albumtitel:

Keep My Skillet... (9CD & 1DVD mit 176-seitigem gebundenem Buch in LP-Grösse)

Genre

Country

Edition 2

Deluxe Edition

Preiscode

JM

Artikelart

Box set

EAN:

4000127159786

Gewicht in Kg:

2.65
Macon, Uncle Dave - Keep My Skillet... (9CD & 1DVD mit 176-seitigem gebundenem Buch in LP-Grösse)

Box set 10
01
Red River Valley
ELVIRY leading School Girls
02
Swing Your Partner (& SMOKY MOUNTAIN BOYS
MACON, Uncle Dave & son Dorris
03
with RACHEL)
Uncle Dave Macon
04
Down In Union County (& SMOKY MOUNTAIN BOYS
ACUFF, Roy
05
with RACHEL)
Uncle Dave Macon
06
Wabash Cannonball (& SMOKY MOUNTAIN BOYS with
ACUFF, Roy
07
RACHEL)
Uncle Dave Macon
08
(Take Me Back To) That Old Carolina Home
MACON, Uncle Dave & son Dorris
09
Just Tell Them That You Saw Me
WEAVER BROS & Elviry
10
The Great Speckled Bird (& SMOKY MOUNTAIN
ACUFF, Roy
11
BOYS with RACHEL)
Uncle Dave Macon
12
Down Home In Union (reprise)
ELVIRY & cast
Uncle Dave Macon Keep My Skillet Good And Greasy Es gab damals ein...
mehr
"Uncle Dave Macon"
Uncle Dave Macon
Keep My Skillet Good And Greasy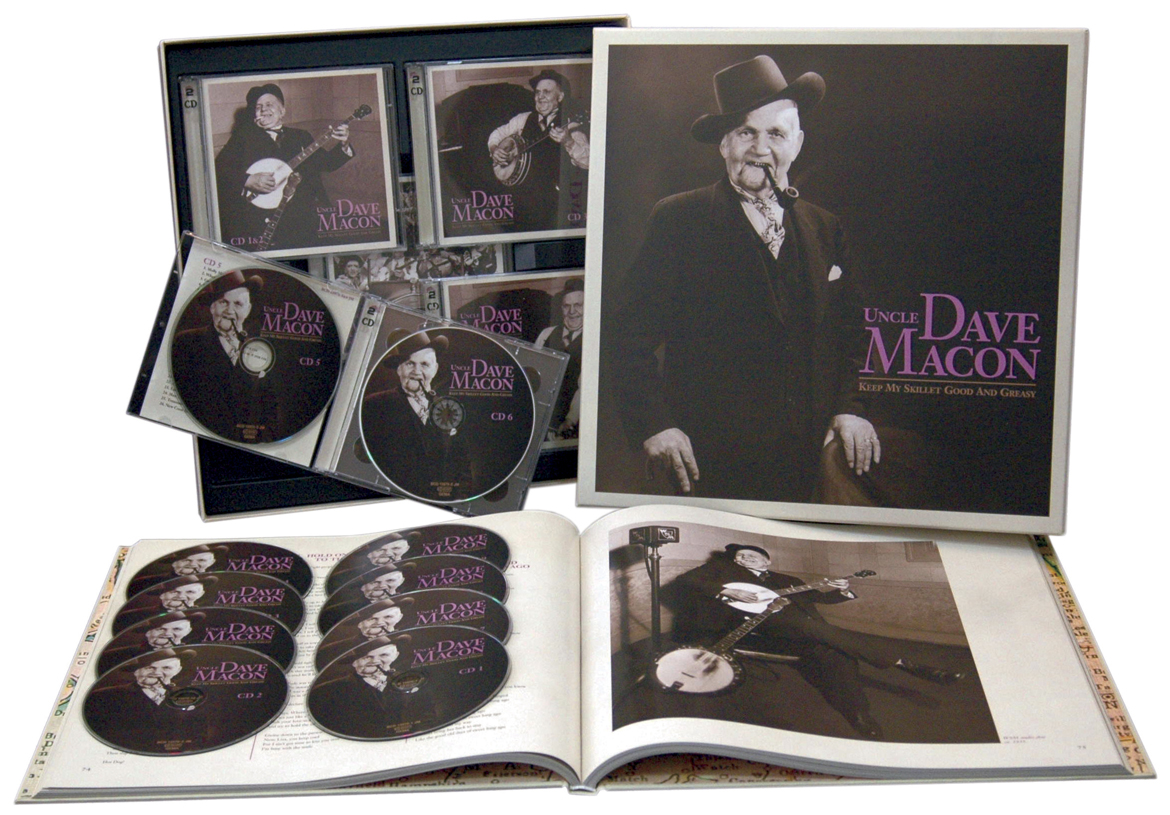 Es gab damals ein großes altes zweistöckiges Rahmenhaus auf der Woodbury Pike bei Murfreesboro, Tennessee, in der staubigen kleinen Gemeinde Kittrell. Was die Einheimischen den Woodbury Pike nannten, war eigentlich der Highway 70A, eine der Hauptrouten, die den Staat in die östlichen Berge und nach Knoxville führte. Lkw-Fahrer, Urlauber, Buspassagiere blickten neugierig auf das Haus, aber viele von ihnen erkannten den Namen auf dem Haus. Sicherlich wussten es die Einheimischen, die in der Nähe wohnten - es war schwer, es nicht zu tun. Onkel Dave Macon' und rechts ein großes hölzernes Bild eines genialen älteren Mannes, der ein Banjo hält und ein großes Lächeln mit goldenen Zähnen grinst. "Ich möchte, dass die Leute mich finden können, falls sie wollen, dass ich für sie spiele", erklärte der Besitzer des Hauses den Neugierigen.
In den 1930er Jahren hatten die Leute wenig Mühe, Onkel Dave Macon zu finden. Kirchen kamen zu ihm, um zu sehen, wenn er ihnen helfen würde, Geld anzuheben; Auktionatoren kamen zu ihm, ihn zu veranlassen, für Landverkäufe zu spielen, um Bewerber anzuziehen; vaudeville Bucher kamen mit Angeboten, Touren zu spielen, die von Boston zu Florida reichten; Schulhausbetriebsleiter kamen zu ihm, um um ein Erscheinen zu bitten, um zu helfen, Bücher in den Tiefstand-gerissenen ländlichen Bezirken zu kaufen. Sogar die Bank von Woodbury kam zu ihm, als sie mit dem Bau der neuen Bank fertig waren und das ganze Geld von der alten überweisen mussten: Könnten sie Onkel Dave anheuern, damit er mit den Geldkisten auf dem Wagen sitzt und während des Umzugs sein Banjo spielt? Kein Desperado würde es wagen, einen Wagen auszurauben, auf dem Onkel Dave Macon saß.
Leute in ganz Middle Tennessee kannten David Harrison Macon und waren es gewohnt, ihn an örtlichen Schulen und auf den kleinen Gerichtsplätzen zu sehen. Er war derjenige mit den Kinnbart, den roten Hosenträgern, der goldenen Uhr und Kette, und was Richter Hay in der Grand Ole Opry als "das Millionen-Dollar-Tennessee-Lächeln" bezeichnete. Er war derjenige mit dem Hut, der den Hutband-Slogan'Old But Regular' trug, der sein Banjo wie einen Schlagstock drehte und es mit seinem Hut auffächerte, und der sich weigerte, ein Auto zu fahren, weil sie nicht so zuverlässig waren wie Maultiere. Aber er war auch derjenige, der jeden Samstagabend auf der Grand Ole Opry zu hören war und der auf Dutzenden von Victrola-Platten von Vocalion, Brunswick, RCA, Okeh, Champion und Montgomery Ward zu hören war. Er war der erste echte Superstar der Countrymusik und gewann einen nationalen Ruf, bevor Jimmie Rodgers oder The Carter Family ins Studio gingen. Jahrelang war er der beliebteste Single-Performer auf der Opry, ein großer alter Mann, dessen Humor und Persönlichkeit ihn überall begeisterte. Er war der erste Künstler, der Stil zu einem Teil der Countrymusik machte. Wie einer seiner Fans sagte: "Er war vielleicht nicht der beste Banjospieler oder der beste Sänger, aber er war sicher das beste Etwas."

David Harrison Macon hatte seine Wurzeln tief in der Geschichte Tennessees. Er wurde am 7. Oktober 1870 in der Gemeinde Smartt Station in Warren County geboren; in Onkel Dave's eigenen Worten: "Ich wurde in der Nähe der schönen Bergstadt McMinnville geboren." Sein Vater war Captain John Macon, geboren 1829 in Warrenton, North Carolina, und ein Veteran des Bürgerkriegs. Seine Mutter war Martha Ann Ramsey, eine gebürtige Bratschistin aus Warren County, geboren 1838. Die Volkszählung von 1870 für den 9. Zivilbezirk zeigt, dass David Harrison das neunte Kind der Familie war. Die älteste war eine Tochter Lou (geb. 1856), gefolgt von Vanderbilt (geb. 1857), Betty (geb. 1858), Samuel (geb. 1860), George (geb. ca. 1862), John (geb. 1879) und Sallie C. (geb. ca. 1867). Nach David Harrison kamen zwei jüngere Kinder, Bob (geb. 1875) und Pearl (geb. ca. 1879). Einige dieser Geschwister - vor allem Lou und Bob - würden in Onkel Daves späterer Karriere eine wichtige Rolle spielen.
Captain John Macon war eine bekannte und beliebte Figur in Warren County. Sein eigener Vater war ein Henry Harrison Macon, der wiederum von einem revolutionären Kriegshelden, Colonel John Macon, und von seinem Onkel, Nathaniel Macon, einem Kongressabgeordneten aus North Carolina und ehemaligen Sprecher des US-Repräsentantenhauses, abstammt. Irgendwann vor 1830 ließ sich Henry Harrison Macon in Warren County, am Hickory Creek, auf einem Grundstück von etwa 600 Acres nieder. Vor seinem Tod 1851 erweiterte Henry Harrison Macon seine Bestände um über 2.000 Hektar und gründete eine Destillerie sowie eine Sägemühle, eine Schrottmühle und einen Baumwoll-Gin.
Die Bibel der Familie Macon zeigt, dass John Martha Ann Ramsey am 2. Dezember 1855 in Warren County geheiratet hat. Das junge Paar baute bald ein schönes Haus in McMinnville, und die Macon Brothers kauften einen Lebensmittelladen, ein Blechgeschäft und ein Handelsgeschäft in der Innenstadt. All dies, wie auch die wachsende Familie von John und Martha, wurde 1861 mit dem Ausbruch des Krieges zwischen den Staaten unterbrochen. Beide Macon Brüder schlossen ihre Läden und schlossen sich dem 35. Tennessee Infanterieregiment an, das manchmal das erste Tennessee Mountain Rifle Regiment genannt wurde und von Colonel Benjamin J. Hill kommandiert wurde. John Macon half bei der Organisation der 2. Kompanie D, die zusammen mit neun anderen am 6. und 7. September im Camp Smartt in der Nähe von McMinnville aufgestellt wurde.
In den ersten Tagen des Krieges zog das Regiment von Trousdale County nach Bowling Green und schließlich nach Shiloh, wo sie sich einer der blutigsten Schlachten des Konflikts anschlossen. Hier erlitt die Brigade der 35. über 1.000 Tote oder Verwundete - mehr als ein Drittel ihres Dienstplans. Neu organisiert, kämpfte das Regiment in der nördlichen Mississippi-Kampagne, sowie in Perryville und in der Schlacht von Murfreesboro. Das genaue Schicksal von'Captain Macons Kompanie' während des Krieges ist nicht klar; sein Regiment wurde reorganisiert und mit anderen während des Konflikts verschmolzen, bis zu ihrer endgültigen Entlassung am 1. Mai 1865 in Greensboro, NC. Es gibt auch keine klaren Aufzeichnungen darüber, wann Captain John nach Hause zurückgekehrt ist; er kaufte 1862 den Anteil seines Bruders an den Familienunternehmen auf, und es gibt eine Aufzeichnung über die Heirat von Joseph im Jahre 1865. Wir wissen, dass Captain John 1867 seinen Laden mit einem neuen Partner wiedereröffnet hatte.
Der Weltjunge David Macon wurde 1870 in die düstere Welt des Wiederaufbaus Süd geboren. In Warren County lagen die Ernten brach, die Gebäude waren verfallen und das Geld war knapp. Dennoch, zwei Generationen von Macon Wohlstand gab der Familie zumindest eine Art Kissen, und das Jahr, in dem der junge David geboren wurde, war sein Vater noch relativ wohlhabend. Die Volkszählungsaufzeichnungen gaben seinen Immobilienwert in diesem Jahr als $2000 an, sein "persönlicher Wert" wurde auf $4000 geschätzt - mehr als das Sechsfache des durchschnittlichen Pro-Kopf-Einkommens im damaligen Staat. Zum Macon-Haushalt gehörten auch drei Angestellte, zwei Haushälter und ein'männlicher Landarbeiter'. Obwohl die Familie Macon groß war, war sie gut versorgt; der junge David besuchte bald die Schule in der Stadt und hörte einige der Volksmusik aus der Region. Seine Schwester Lou war eine versierte Pianistin und kaufte oft die neuesten Noten, um sie im Familiensalon auszuprobieren. Durch sie erlernte David die Grundlagen des Singens und die Kenntnis der Lieder.
Der Junge spielte bald Gitarre - er war noch nicht mit dem Banjo vertraut - und nahm Lieder auf. Viele Jahre später, als er gefragt wurde, ob er sich an das erste Lied erinnerte, lächelte er, nickte und sang es. Es war ein Comicstück namens Greenback.
Uncle Dave Macon Keep My Skillet... (9CD & 1DVD mit 176-seitigem gebundenem Buch in LP-Grösse)
Read more at: https://www.bear-family.com/macon-uncle-dave-keep-my-skillet...-9cd-und-1dvd-mit-176-seitigem-gebundenem-buch-in-lp-groesse.html
Copyright © Bear Family Records
Bewertungen lesen, schreiben und diskutieren...
mehr
Kundenbewertungen für "Keep My Skillet... (9CD & 1DVD mit 176-seitigem gebundenem Buch in LP-Grösse)"
Bewertung schreiben
Bewertungen werden nach Überprüfung freigeschaltet.
Weitere Artikel von Uncle Dave Macon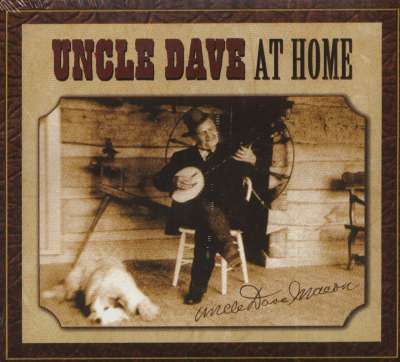 Uncle Dave Macon: At Home (CD)
Art-Nr.: CDSFR101


nur noch 2 verfügbar
Sofort versandfertig, Lieferzeit** 1-3 Werktage