Der Artikel wurde erfolgreich hinzugefügt.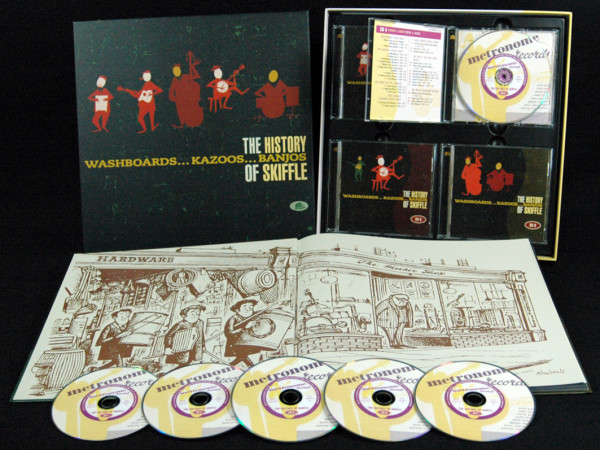 99,95 € *
119,95 € *
(16,67% gespart)
inkl. MwSt. / zzgl. Versandkosten - Abhängig vom Lieferland kann die MwSt. an der Kasse variieren.
Sofort versandfertig, Lieferzeit** 1-3 Werktage
6-CD Box (LP-Format) mit 88-seitigem gebundenem Buch, 174 Einzeltitel, Gesamtspielzeit ca. 7...
mehr
Various - History: The History Of Skiffle (6-CD Deluxe Box Set)
6-CD Box (LP-Format) mit 88-seitigem gebundenem Buch, 174 Einzeltitel, Gesamtspielzeit ca. 7 Stunden 40 Minuten. -- WASCHBRETTER...KAZOOS...BANJOS: Auf insgesamt sechs CDs präsentiert Bear
Family
diese längst überfällige Anthologie, die der Musik und den Musikern, die Skiffle entwickelten, gewidmet ist. Die Zusammenstellung beschreibt mit Hymnen wie 'Down By The Riverside' und 'Midnight Special' die Geschichte von den afro-amerikanischen Vorläufern aus den Zwanziger- und Dreißigerjahren wie der
Memphis Jug Band
und
Lead Belly
bis zu
Ken Colyer
, der Urquelle des Skiffle in Großbritannien. Und dann kam
Lonnie Donegan
!
Vom ungekrönten König des Skiffle hören Sie Hits wie 'Cumberland Gap', 'Rock Island Line', 'Puttin' On The Style' und 'Gamblin' Man' sowie weniger bekannte Songs wie 'Light From The
Lighthouse
' und 'The Goldrush Is Over'. -- Die Popularität des Skiffle erreichte ihren Höhepunkt mit Klassikern wie Johnny Duncans 'Last Train To San Fernando', Chas McDevitts weltweitem Hit 'Freight Train' und 'Don't You Rock Me Daddy-O' von den Vipers. Diese Edition präsentiert darüber hinaus Gruppen vom europäischen Kontinent, darunter die Roban's Skiffle Group und die Mozam Skiffle Group.
-- Skiffle war nicht Rock 'n' Roll, doch Skiffle beeinflusste die Generation der britischen Beatmusiker der Sechziger. Die Beatles, die Who, die Kinks,
Jimmy Page
u.v.a. fingen in Skifflegruppen an. Ein lange Zeit übersehenes Kapitel in der Geschichte populärer Musik wird endlich gebührend dokumentiert.
Obwohl ein britisches Phänomen, so hatten doch fast sämtliche Zutaten des Skiffle ihre Ursprünge in den USA.
Das Repertoire war eine bunte Mixtur aus Elementen des archaischen Jazz, des Blues, aus Hymnen und Spirituals. Die Worksongs der Sklaven auf den Feldern gehörten dazu, die der Insassen der Gefängnisse und die der Arbeiter an den Eisenbahnlinien, ebenso Balladen über Outlaws, Folk- und Country-Songs. Egal, ob aus dem schwarzen oder aus dem weißen Kulturkreis, es waren einfache, eingängige, traditionelle Lieder, für jeden zugänglich und leicht erlernbar.
Auch die Instrumente des Skiffle waren einfacher Art. Sie tauchten Ende des 19. Jahrhunderts in den Straßen von New Orleans auf, als Mittellose auf primitiven Eigenbauten die Musik der Wohlhabenden nachzuempfinden versuchten. Diese kleinen Kapellen, auch Spasm Bands genannt, spielten fast ausschließlich auf abenteuerlichen Konstruktionen und ausrangierten Haushaltsgegenständen. So wurden aus Zigarrenkisten und Blechdosen einsaitige Banjos, Gitarren und Geigen, aus irdenen Krügen (engl.: Jugs), in die man hinein blies, wurde der Bass oder die Tuba. Darum werden in den USA derartige Kapellen bis heute Jug Bands genannt. Eine weitere Bass-Version war der umgedrehte blecherne Waschzuber oder die Teekiste. Auf diesen Resonanzkörper montierte man einen beweglichen Besenstiel, an dem oben eine Schnur befestigt war. Das andere Ende dieser Schnur wurde mit dem Klangkörper verbunden. Durch Ziehen am Besenstiel ließ sich die Spannung der 'Saite' und somit die Tonhöhe verändern, wenn man mit der freien Hand daran zupfte.
Trichter, eventuell sogar mit Trompetenmundstück versehen, und mit Seiden- oder Butterbrotpapier umwickelte Kämme dienten als Blasinstrumente. Trommeln ließ sich auf den unterschiedlichsten Kisten und Kästen. Besonders beliebt war das Waschbrett, auf dem sich mittels über die Fingerkuppen gestülpter Fingerhüte, mit Münzen oder Flaschenöffnern die unterschiedlichsten Rhythmus- und Klangvariationen erzeugen ließen.
Doch nicht nur Amateure bedienten sich dieses Instrumentariums. In den zwanziger Jahren entstanden Jazz-Aufnahmen mit brillanten Waschbrettspielern wie Jimmy Bertrand, Baby Dodds und Floyd Casey. In den Jahren der Weltwirtschaftskrise von 1929 bis zu Beginn des Zweiten Weltkriegs griffen Profis – der Not gehorchend – verstärkt zu den Behelfsinstrumenten der Spasm Bands und brachten es darauf zur Meisterschaft.
Die typischen Bands jener Zeit waren gemischte Besetzungen, das heißt, einige Musiker verfügten noch über herkömmliche Instrumente, andere hatten ihre Trompete oder ihre Posaune bereits ins Pfandhaus tragen müssen. Hier kamen nun wieder Jug, Kamm und Waschbrett ins Spiel. Zahlreiche Plattenaufnahmen zeugen von der Virtuosität derjenigen, die sich damals auf diese Art zu helfen wussten. Geld war knapp in jenen Tagen, und so wurden private 'House Rent Parties' organisiert, bei denen diese Bands auftraten, um mit dem erzielten Eintrittsgeld die Miete zu bezahlen.
Aus all diesen Zutaten entstand kurz nach dem Zweiten Weltkrieg in London jene Musik, die unter der Bezeichnung 'Skiffle' in die Musikgeschichte einging. Die zentrale Figur war Ken Colyer.
Artikeleigenschaften von

Various - History: The History Of Skiffle (6-CD Deluxe Box Set)
Albumtitel:

The History Of Skiffle (6-CD Deluxe Box Set)

Genre

Jazz

Edition 2

Deluxe Edition

Preiscode

FK

Artikelart

Box set

EAN:

5397102160998

Gewicht in Kg:

2.1
Various - History - The History Of Skiffle (6-CD Deluxe Box Set)

Box set 1
01
It Won't Act Right
Memphis Jug Band,The
02
Pigmeat Stomp
Alabama Washboard Stompers
03
There's A Man Going Round Taking Names
Leadbelly
04
Midnight Special
Colyer, Ken
05
Casey Jones
Colyer, Ken
06
K.C. Moan
Colyer, Ken
07
Take This Hammer
Colyer, Ken
08
Down By The Riverside
Colyer, Ken
09
Go Down Old Hannah
Colyer, Ken
10
Streamline Train
Colyer, Ken
11
Old Riley
Colyer, Ken
12
Down Bound Train
Colyer, Ken
13
Stack-O-Lee Blues
Colyer, Ken
14
Muleskinner Blues
Colyer, Ken
15
The Grey Goose
Colyer, Ken
16
Sporting Life
Colyer, Ken
17
House Rent Stomp
Colyer, Ken
18
I Can't Sleep
Colyer, Ken
19
This Train
Colyer, Ken
20
Midnight Hour Blues
Colyer, Ken
21
Go Down Sunshine
Colyer, Ken
22
Ella Speed
Colyer, Ken
23
Ham'n Eggs
Colyer, Ken
24
Nobody Knows The Trouble I've Seen
Colyer, Ken
25
Down By The Riverside
Colyer, Ken
26
Hard Time Blues
Colyer, Ken
27
Nobody's Child
Colyer, Ken
28
You Don't Know My Mind
Colyer, Ken
29
Midnight Special
Colyer, Ken
Various - History - The History Of Skiffle (6-CD Deluxe Box Set)

Box set 2
01
Rock Island Line
Donegan, Lonnie
02
John Henry
Donegan, Lonnie
03
Wabash Cannonball
Donegan, Lonnie
04
Midnight Special
Donegan, Lonnie
05
When The Sun Goes Down
Donegan, Lonnie
06
New Buryin' Ground
Donegan, Lonnie
07
Worried Man Blues
Donegan, Lonnie
08
The Ballad Of Jesse James
Donegan, Lonnie
09
Railroad Bill
Donegan, Lonnie
10
Stewball
Donegan, Lonnie
11
Dead Or Alive
Donegan, Lonnie
12
Wreck Of The Old 97
Donegan, Lonnie
13
Cumberland Gap
Donegan, Lonnie
14
Gamblin' Man
Donegan, Lonnie
15
Puttin' On The Style
Donegan, Lonnie
16
My Dixie Darling
Donegan, Lonnie
17
Jack O'Diamonds
Donegan, Lonnie
18
The Grand Coulee Dam
Donegan, Lonnie
19
Lonesome Traveller
Donegan, Lonnie
20
Light From The Lighthouse
Donegan, Lonnie
21
The Goldrush Is Over
Donegan, Lonnie
22
Jimmy Brown, The Newsboy
Donegan, Lonnie
23
Diggin' My Potatoes
Donegan, Lonnie
24
On A Monday
Donegan, Lonnie
25
Brother Moses Smote The Water
Donegan, Lonnie
26
Ella Speed
Donegan, Lonnie
27
Glory
Donegan, Lonnie
Various - History - The History Of Skiffle (6-CD Deluxe Box Set)

Box set 4
01
Won't You Come Home Bill Bailey
Barnstormers Spasm Band
02
Whistling Rufus
Barnstormers Spasm Band
03
900 Miles
City Ramblers Skiffle Group
04
Picket Line
City Ramblers Skiffle Group
05
Midnight Special
City Ramblers Skiffle Group
06
I Shall Not Be Moved
City Ramblers Skiffle Group
07
When The Saints
City Ramblers Skiffle Group
08
Keep Your Pistol Good And Loaded
City Ramblers Skiffle Group
09
I Want A Girl
City Ramblers Skiffle Group
10
Mama Don't Allow
City Ramblers Skiffle Group
11
2:19 Blues
City Ramblers Skiffle Group
12
Hard Case
Lomax, Alan And The Ramblers
13
Railroad Man
Lomax, Alan And The Ramblers
14
Oh Lula
Lomax, Alan And The Ramblers
15
Kansas City Blues
Beryl Bryden's Backroom Skiffl
16
Casey Jones
Beryl Bryden's Backroom Skiffl
17
I Ain't Gonna Worry No More
Alexis Korner Skiffle Group
18
Sail On
Alexis Korner Skiffle Group
19
Death Letter
Alexis Korner Skiffle Group
20
Green Corn
Bush, Ray & The Avon Cities' S
21
This Little Light Of Mine
Bush, Ray & The Avon Cities' S
22
Fisherman's Blues
Bush, Ray & The Avon Cities' S
23
Hey Hey Daddy Blues
Bush, Ray & The Avon Cities' S
24
Lonesome Day Blues
Bush, Ray & The Avon Cities' S
25
I Don't Know
Bush, Ray & The Avon Cities' S
26
How Long
Bush, Ray & The Avon Cities' S
27
Julian Johnson
Bush, Ray & The Avon Cities' S
28
Meeting At The Building
Bob Wallis' Washboard Beaters
29
Tight Like That
Bob Wallis' Washboard Beaters
30
Julia Johnson
Bob Wallis' Washboard Beaters
31
K.C. Moan
Bob Wallis' Washboard Beaters
Various - History - The History Of Skiffle (6-CD Deluxe Box Set)

Box set 5
01
Hand Me Down My Walking Cane
2:19 Skiffle Group
02
Trouble In Mind
2:19 Skiffle Group
03
Steamboat Bill
Station Skiffle Group
04
Titanic
Station Skiffle Group
05
John Brown's Body
Delta Skiffle Group
06
Skip To My Lou
Delta Skiffle Group
07
Streamline Train
Lea Valley Skiffle Group
08
I'm Gonna Walk And Talk
Lea Valley Skiffle Group
09
Mister And Mississippi
Christmas, Johnny & The Sunspo
10
(I'm Gonna) Sing, Sing, Sing
Christmas, Johnny & The Sunspo
11
Lonesome Traveller
Blue Jeans Skiffle Group
12
This Little Light of Mine
Worried Men Skiffle Group
13
Steamboat Bill
Coffee Bar Skifflers
14
Ella Speed
Coffee Bar Skifflers
15
I Shall Not Be Moved (featured in the film 'B
Jackson, Jimmy
16
Good Morning Blues
Jackson, Jimmy
17
Railroad Bill
Roban's Skiffle Group
18
Worried Man Blues
Roban's Skiffle Group
19
Sometimes
Roban's Skiffle Group
20
John B.
Roban's Skiffle Group
21
Midnite Special
Mosam Skiffle Group
22
Jim Crawl
Mosam Skiffle Group
23
Trula, O!, Trula
Lighttown Skiffle Group
24
He Marie druk toch niet op die Bel
Lighttown Skiffle Group
25
Doe je Ruimtepakkie aan
Lighttown Skiffle Group
26
Komm doch Zurück (Sloop John B.)
Lighttown Skiffle Group
27
Swing Low
Havel City Ramblers
28
Bei mir bist du schön
Havel City Ramblers
29
Yes Sir that's my Baby
Havel City Ramblers
30
Fräulein Helene
Havel City Ramblers
31
You Are My Sunshine
Wende, Horst & Die Skiffle Boy
Various - History - The History Of Skiffle (6-CD Deluxe Box Set)

Box set 6
01
Don't You Rock Me Daddy-O
Eden Street Skiffle Group
02
This Land Is Your Land
Eden Street Skiffle Group
03
Pay Me My Money Down
Eden Street Skiffle Group
04
Puttin' On The Style
Eden Street Skiffle Group
05
Hey Liley Liley Lo
Eden Street Skiffle Group
06
10,000 Years Ago
Eden Street Skiffle Group
07
Liza Jane
Eden Street Skiffle Group
08
Hand Me Down My Walking Cane
Eden Street Skiffle Group
09
I Wanna Go Home
Eden Street Skiffle Group
10
Maggie May
Eden Street Skiffle Group
11
Get Along Home Cindy
Eden Street Skiffle Group
12
Do Lord Remember Me
Eden Street Skiffle Group
13
Man Taking Names
Eden Street Skiffle Group
14
Mary, Don't You Weep
Eden Street Skiffle Group
15
Gloryland
Eden Street Skiffle Group
16
Judy Drowned
Eden Street Skiffle Group
17
Black Girl
Eden Street Skiffle Group
18
Old Smokey
Eden Street Skiffle Group
19
Raise The Ruckus Tonight
Eden Street Skiffle Group
20
Heaven
Eden Street Skiffle Group
21
Easy Rider
Eden Street Skiffle Group
22
Ain't That A Shame
Eden Street Skiffle Group
23
Streamline Train
Soho Skiffle Group
24
Frankie & Johnny
Soho Skiffle Group
25
I Shall Not Be Moved
Soho Skiffle Group
26
Give Me A Big Fat Woman
Soho Skiffle Group
Bewertungen lesen, schreiben und diskutieren...
mehr
Kundenbewertungen für "The History Of Skiffle (6-CD Deluxe Box Set)"
Von:
Bischi
Am:
22.04.2018
Tolles Teil
Eine tolle Zusammenstellung! Als Tochter eines Bandmitgliedes der Havel City Ramblers freue ich mich darüber. sehr Es gibt über die Band leider sehr wenig Material.
Von:
Redecker
Am:
13.03.2014
The main recommendation for this set obviously rests in those new issues and in the usual sumptuous Bear Family presentation, with a twelve-inch, hundred-page, hard-backed book, brimming with wonderful photos and other memorabilia.
Blues & Rhythm 8/2013 Brian Smith
Von:
Redecker
Am:
13.03.2014
Für den musikalischen Historiker wie für jeden Skiffle-Fan stellt diese Box und ihr Buch eine wahre Fundgrube dar.
Swingin Hamburg Journal 46/12 Lutz Eikelmann
Von:
Redecker
Am:
13.03.2014
Ein wichtiges Mosaik in einer Nische der europäischen Jazzgeschichte
Jazzpodium 6/13 Lutz Eikelmann
Von:
Redecker
Am:
13.03.2014
If you're a skiffle fan, I cannot urge you enough to get your hands on this epic collection. Bear Family have what you need!
Rhythms 4/13 Samuel J. Fell
Von:
Nietsch
Am:
27.04.2013
Ich hätte mehr von der Mozam Skiffle Group erwartet, z.B. \The Ballad of a condamnd man\""
Bewertung schreiben
Bewertungen werden nach Überprüfung freigeschaltet.
Weitere Artikel von Various - History