Der Artikel wurde erfolgreich hinzugefügt.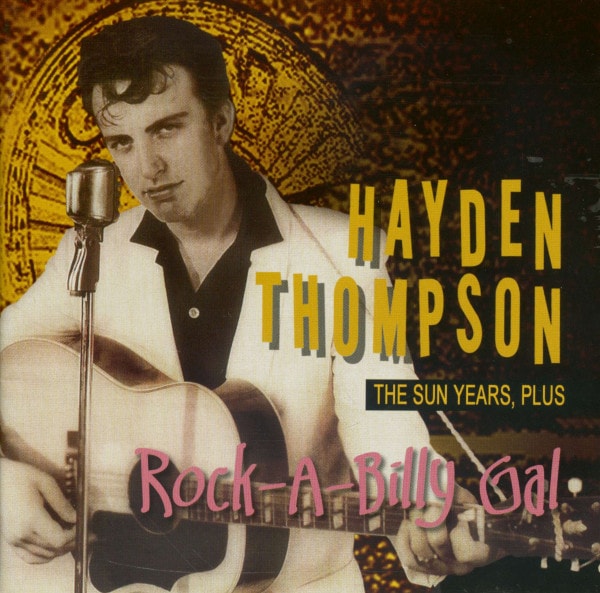 13,95 € *
15,95 € *
(12,54% gespart)
inkl. MwSt. / zzgl. Versandkosten
Sofort versandfertig, Lieferzeit** 1-3 Werktage
1-CD-Album mit 48-seitigem Booklet, 35 Einzeltitel. Spieldauer 82 Minuten. Eine zehn Jahre...
mehr
Hayden Thompson: Rock-A-Billy Gal - The Sun Years, Plus
1-CD-Album mit 48-seitigem Booklet, 35 Einzeltitel. Spieldauer 82 Minuten.

Eine zehn Jahre umfassende Rückschau auf die Karriere von Hayden Thompson, einem der unterschätzten Stars von Sun Records! Er war von Beginn an dabei, sah Elvis 1955 in Mississippi und begeistert noch heute bei Revival-Shows das Publikum! Hier finden Sie die A- und B-Seiten der fünf Singles von Hayden Thompson aus den Jahren 1954 bis 1962 - durchweg extrem selten -, dazu unveröffentlichte Songs jener Zeit und acht ebenfalls unveröffentlichte Versionen von Titeln, die Hayden Thompson 1956 und 1957 für Sun Records einspielte, hochgelobter und vielfach von anderen nachempfundener, klassischer Rockabilly.

Hayden Thompson ist einer der letzten Überlebenden aus der Gründerzeit des Rock 'n' Roll, und er spielt auf beeindruckende Weise noch immer eine wichtige Rolle bei Rockabilly-Revival-Veranstaltungen. Er hatte zwar keine Hits bei Sun Records, dafür aber Glaubwürdigkeit, Stil und Klasse. Hayden Thompson war in den frühen Tagen des Rockabilly dabei – als noch niemand so recht wußte, was das überhaupt war und wie man diese Musik nennen sollte.

Er stammt aus der Gegend, in der auch Elvis Presley geboren wurde, sah Elvis' erste musikalische Gehversuche, machte seine erste Platte im selben Zeitraum wie Presley und war einer der Künstler des legendären Sun-Labels. Sein Love My Baby von 1956 gilt als klassischer Rockabilly – besser geht's nicht.
Artikeleigenschaften von

Hayden Thompson: Rock-A-Billy Gal - The Sun Years, Plus
Albumtitel:

Rock-A-Billy Gal - The Sun Years, Plus

Genre

Rock'n'Roll

Preiscode

AH

Artikelart

CD

EAN:

4000127161314

Gewicht in Kg:

0.115
Thompson, Hayden - Rock-A-Billy Gal - The Sun Years, Plus

CD 1
01
Love My Baby
02
Rock-A-Billy Gal
03
Fairlane Rock
04
One Broken Heart
05
Blues Blues Blues
06
Oh Mama (Mama Mama Mama)
07
You Are My Sunshine
08
Don't You Worry
09
Congratulations To You, Joe
10
Call Me Shorty
11
I'll Hold You In My Heart
12
Goin' Steady
13
Kansas City
14
Frankie And Johnny
15
Brown Eyed Handsome Man
16
The Key To My Kingdom
17
Your True Love
18
Kansas City
19
I Guess I'd Better Be Moving Along
20
This Old Windy City
21
Lonely For My Baby
22
I Wanna Get Home
23
Train From Chicago (16:88)
24
Act Like You Love Me
25
I Feel The Blues Coming On
26
Love My Baby
27
One Broken Heart
28
Dream Love
29
Tom Thumb
30
Whatcha Gonna Do
31
Summers Almost Over
32
Queen Bee
33
Pardon Me
34
Love My Baby
35
Rock-A-Billy Gal
Hayden Thompson Today, Hayden Thompson is one of the last active performers from the first...
mehr
"Hayden Thompson"
Hayden Thompson
Today, Hayden Thompson is one of the last active performers from the first wave of white rock and rollers, those mid-South movers and shakers dubbed 'rockabillies' by 'Billboard,' the music trade paper, in 1955. He has also been among the most impressive of the American artists on the European rockabilly revival tours since he first signed up for them in 1984. "People had been telling me to get on a revival show," he jokes,"but I never even had a hit to revive."
What he did have were credentials and style. He had been there at the epicentre of rockabilly back when nobody knew quite what it was or what to call it. He was born within a few miles of Elvis Presley, he made his first record within a few months of Presley, and he was on the legendary Sun Records, or at least the subsidiary Phillips International, where he recorded one of the acknowledged classics of rock 'n' roll, Love My Baby.
"Elvis played in Booneville when he just had a couple of records out on Sun," Hayden remembers, probably describing a show that has been traced to January 17 1955. "I stood out back and chatted with him a while. I was a sixteen year old talking to a nineteen year old. There wasn't a single person in that alleyway except him and me and he had that pink Cadillac which just knocked me out. I'd been playing on radio and little dances, but this was somebody I could really relate to. Earlier, he had played a thirty-minute set at the radio station with Scotty and Bill, and I stood right there in the studio, which was maybe twenty by twenty, while this happened." A life-changing experience, or what?
Like Presley, Hayden had a good voice that, crucially, was adaptable. He was billed on his first record as 'the South's most versatile singer' and if that was a little optimistic a claim for a sixteen year old, the analysis was headed in the right direction. He was capable of a good Elvis imitation – in fact he and Johnny Cash were probably the first two to feature such an imitation in their early acts – but he came out of a pure country band, he listened to R&B radio at night, and he could turn his hand to popular-style ballads, folksy sagas or post-Nashville Sound country as the sounds of the 1950s gave way to those of the 1960s.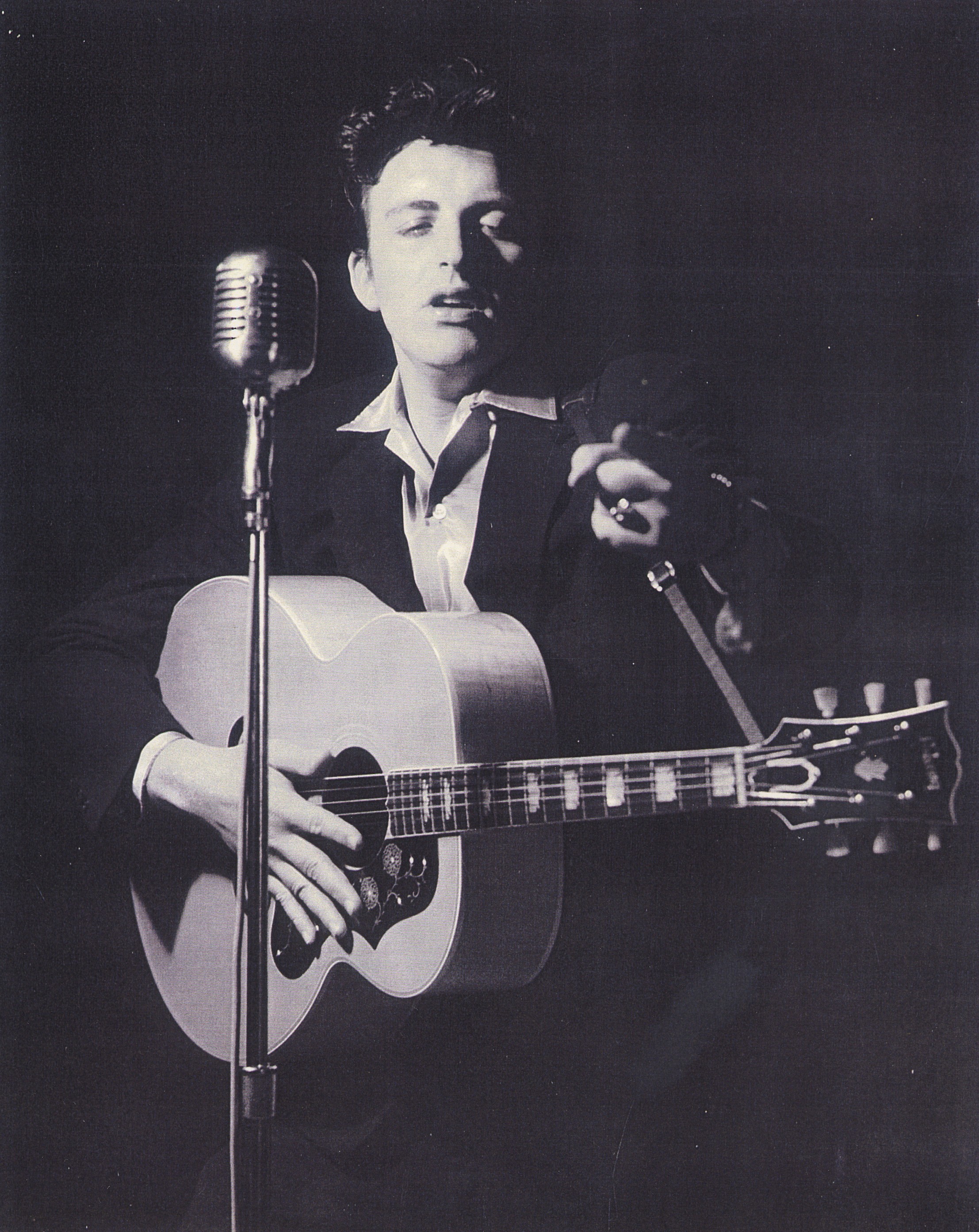 It was that vital three-year age difference behind Presley that accounted for Hayden's initial lack of chart success – the reason he didn't have that hit to revive – because by the time he got to Memphis the pure rockabilly sound he was so smitten with was already giving way to smoother, more produced, rock 'n' roll. But it was the versatility, trumpeted on his first disc, that enabled him to adapt over the years and to fight on and on for the hit that unfortunately – and probably it does just come down to fortune - never came.
from booklet BCD16131 - Hayden Thompson Rock-A-Billy Gal - The Sun Years, Plus
Read more at: https://www.bear-family.de/thompson-hayden-rock-a-billy-gal-the-sun-years-plus.html
Copyright © Bear Family Records
Bewertungen lesen, schreiben und diskutieren...
mehr
Kundenbewertungen für "Rock-A-Billy Gal - The Sun Years, Plus"
Bewertung schreiben
Bewertungen werden nach Überprüfung freigeschaltet.
Weitere Artikel von Hayden Thompson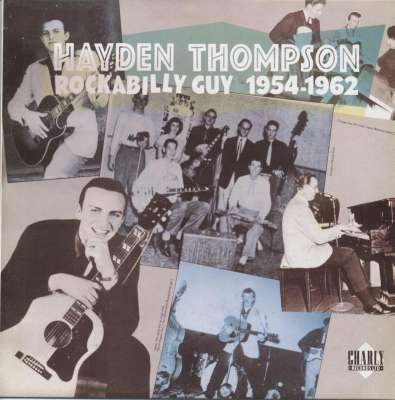 Hayden Thompson: Rockabilly Guy 1954-1962 (LP)
Art-Nr.: LP30112485


Artikel muss bestellt werden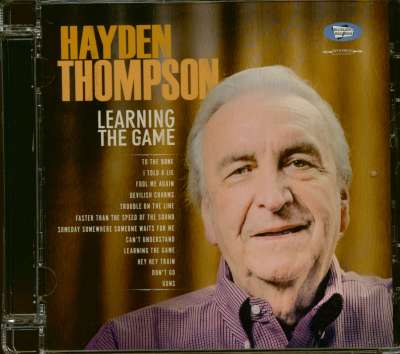 Hayden Thompson: Learning The Game (CD)
Art-Nr.: CDBLR33184


Sofort versandfertig, Lieferzeit** 1-3 Werktage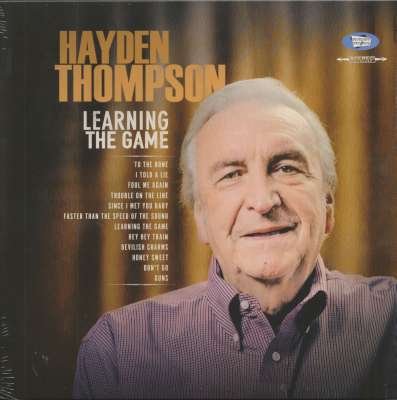 Hayden Thompson: Learning The Game (LP, Ltd.)
Art-Nr.: LPBLR33184


Sofort versandfertig, Lieferzeit** 1-3 Werktage
Hayden Thompson: Hayden Thompson (2007)
Art-Nr.: CDBLR33132


Sofort versandfertig, Lieferzeit** 1-3 Werktage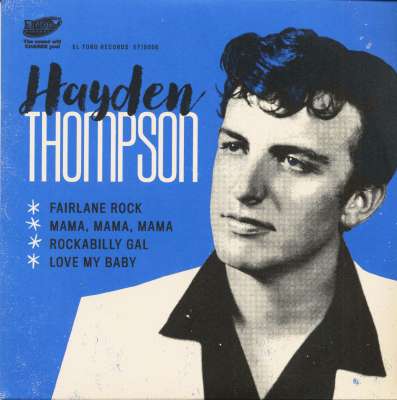 Hayden Thompson: Fairlane Rock (7inch, EP, 45rpm, PS)
Art-Nr.: 45ET715056


Sofort versandfertig, Lieferzeit** 1-3 Werktage