Der Artikel wurde erfolgreich hinzugefügt.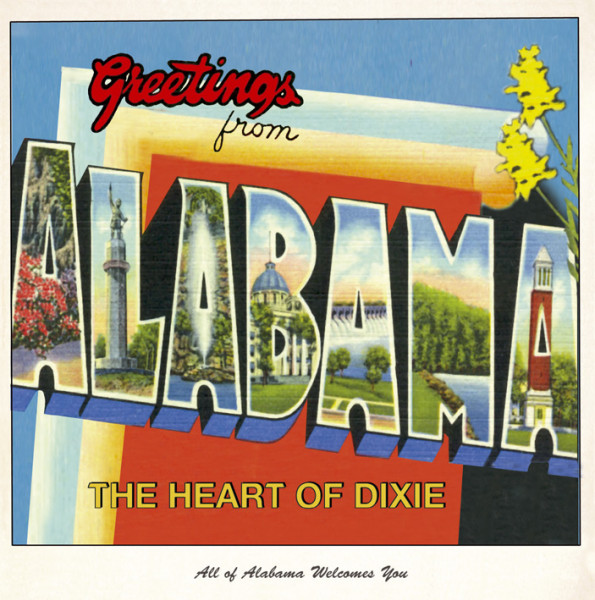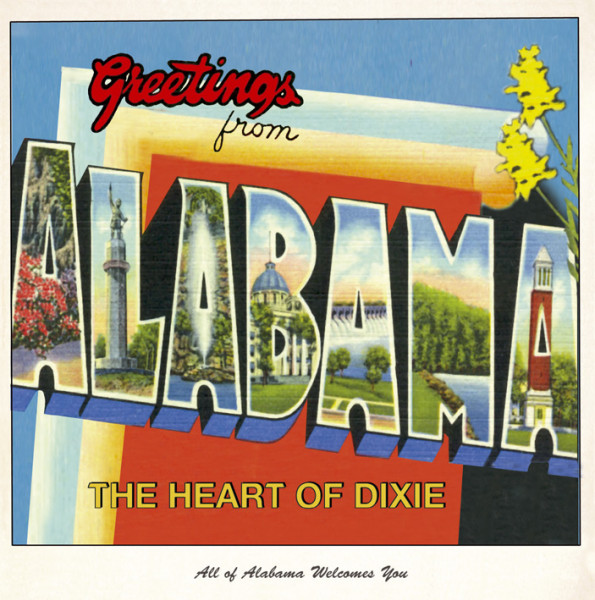 12,44 € *
15,55 € *
(20% gespart)
inkl. MwSt. / zzgl. Versandkosten
Sofort versandfertig, Lieferzeit** 1-3 Werktage
Artikel-Nr.:

ACD25016

Gewicht in Kg.:

0.115
Various&nbsp,&nbsp,&nbsp,Greetings From Alabama What do these folks have in common? Nat...
mehr
Various - Greetings From: Greetings From Alabama
Various&nbsp,&nbsp,&nbsp,Greetings From Alabama
What do these folks have in common? Nat King Cole. The Delmore Brothers. Emmylou Harris. W.C. Handy. Sonny James. Sam C. Phillips. Wilson Pickett. Lionel Richie.&nbsp,Sun Ra. Toni Tenille.&nbsp,Dinah Washington. Hank Williams. Sure, they've all been involved in music, one way or another, and some of them have made large contributions to our national heritage. But what links them is even deeper. Answer in just a moment.
How about these non-musicians: Helen Keller. Condoleezza Rice. Weary bus-passenger Rosa Parks. Actors Tallulah Bankhead and Jim Nabors. Novelist Harper Lee, author of 'To Kill A Mockingbird.' Olympic runner Jesse Owens. Prize fighter Joe Louis. Hall of Fame baseball players Willie Mays and Hank Aaron.
The answer? Everyone on the list hails from the State of Alabama. And, needless to say, the list could have been a&nbsp,lot&nbsp,longer. With the exception of jazz musician Sun Ra (who claimed to have been from the planet Saturn), each one of these folks was proud of his or her heritage. As Alabama license plates told us way back in 1955, Alabama is 'The Heart of Dixie.' As state nicknames go, that one isn't bad. Alabama had previously tried for 'The Cotton State' but just about every one of its neighbors had an objection to that. Even earlier on, Alabama was known as 'The Lizard State.' None of its neighbors objected, but cooler heads prevailed.
Alabama and its native sons and daughters have played a major role in the development of American music and culture. If the aforementioned Ms. Parks hadn't refused to relinquish her bus seat to a white man, Montgomery, Alabama might not have become a touchstone for the civil rights movement that blanketed the entire south and spread to the nation in the 1960s. In fact, try to imagine the past half-century of American culture without the contributions of all the people listed above. Just focus on Hank Williams and Sam Phillips (founder of Sun Records) and the face of American popular music and culture would be altogether different.
No one has yet written a song about Alabama's state flower, the lovely camellia, although that flower has only been officially recognized since 1959 (a vintage later than many of the songs on this album). Before then, Alabama held the goldenrod as its state flower. Presumably a rash of allergic sneezing caused the legislature to modify its selection. Likewise, the boll weevil doesn't get any attention on this CD, although the folks in Enterprise, Alabama erected a statue to the marauding insect in their town square, presumably acknowledging his role in devastating their cotton crop and forcing the state to move to a broader agricultural base. Both Fats Domino and Brook Benton have enjoyed hit records about the boll weevil, but neither confined the insect to Alabama.&nbsp,
The songs on this CD are a true musical smorgasbord. The achingly pure country harmony of the Louvin Brothers tells us about an&nbsp,Alabama&nbsp,that may have all but disappeared in the past half century. That old-time charm is also evident in Pee Wee King's&nbsp,Alabama Moon -&nbsp,a track that includes a lovely and unexpected 4-bar steel guitar solo. Wilf Carter was from Nova Scotia, but that didn't stop him from singing the state's praises (at breakneck tempo) on&nbsp,Alabama Saturday Night. Likewise, Dick Curless, who grew up over a thousand miles north in Maine, uses his rich vocal style to tell us about his southern mama in&nbsp,Old Ramblin' Alabama&nbsp,Me. Pop vocalist Ella Mae Morse, who hailed from Texas, tells us all about&nbsp,Birmingham&nbsp,in a decidedly brassy big band style, while Bobby Bare sings the poignant tale of&nbsp,Alabama Rose.&nbsp,Two of the biggest hits on this collection are Red Foley's&nbsp,Alabama Jubilee&nbsp,and Cowboy Copas'&nbsp,Alabam, both of which crossed over the great divide and enjoyed some pop as well as country music success.
Greetings From ... CD-Album-Series by Bear Family &nbsp,&nbsp,
Music about the US Staates re-released on CDs by Bear Family

Read more at:&nbsp,https://www.bear-family.com/bear-family/country-series/greetings-from/
Copyright © Bear Family Records
Artikeleigenschaften von

Various - Greetings From: Greetings From Alabama
Albumtitel:

Greetings From Alabama

Genre

Country

Preiscode

AH

Artikelart

CD

EAN:

4000127250162

Gewicht in Kg:

0.115
Various - Greetings From - Greetings From Alabama

CD 1
01
Alabama
LOUVIN BROS
02
Alabamy Stomp
SONS OF THE PIONEERS
03
Down In Old Alabama
GRIFFIN, Rex
04
Mobile, Alabama
GORDON, Curtis
05
Alabma Jail House
MORRIS, Rod
06
Going Back To A.L.A.
KING, Pee Wee
07
Hank Williams, That Alabama Boy
DUKE, Denver & Jefrey Null
08
Alabama Jubilee
FOLEY, Red
09
Alabam
COWBOY COPAS
10
Alabama Moon
KING, Pee Wee
11
I'm Alabama Bound
JORDAN, Louis
12
Stars Fell On Alabama
NELSON, Ricky
13
Birmingham
MORSE, Ella Mae
14
Fat Sam From Birmingham
JORDAN, Louis
15
Alabama Rock 'N' Roll
KING, Mabel
16
Old Ramblin' Alabama Me
CURLESS, Dick
17
Alabama Rose
BARE, Bobby
18
Alabama Saturday Night
CARTER, Wilf
19
Birmingham Jail
WHITMAN, Slim
20
Birmingham Bounce
KING, Pee Wee
21
Alabama Waltz
MONROE, Bill
22
Mellow Alabama Moon
SONS OF THE PIONEERS
23
Big Daddy's Alabama Bound
LOUDERMILK, John D.
24
Montgomery, Alabama
DAVIS, Hank
25
Sweet Home Alabama
ALABAMA
Postkarten aus Amerika 1x USA pauschal gefällig? Gern, aber vergessen Sie TUI, l'tur,...
mehr
"Various - Greetings From"
Postkarten aus Amerika
1x USA pauschal gefällig? Gern, aber vergessen Sie TUI, l'tur, Neckermann!
Wir empfehlen statt dessen 'amb' – ein Unternehmen, das Sie.....
.....hinbringt, ohne wegfahren zu müssen;
.....informiert, ohne zu belehren;
.....unterhält, ohne zu langweilen.
Und all das – und noch mehr – zu Preisen an der Grenze zum Geschenk.
'amb' könnte für 'amerika billig' stehen, ist aber – natürlich – das Kürzel für '...and more bears', das noch junge Label von Bear Family Records.
Also alles nur Spinnerei? Nein. Denn 'amb' lädt tatsächlich ein zu exklusiven Entdeckungsreisen in die (musikalische) Historie der USA – akribisch sortiert nach Bundesstaaten von Nord nach Süd, von West nach Ost. Jeder dieser speziellen Trips ist untergebracht auf 12 Zentimetern Durchmesser – damit kleiner als jeder wissenschaftliche Atlas und mit dem vielfachen Inhalt dessen, was eine noch so bunte Hochglanzpostkarte bieten kann:
Dies sind echte, authentische, erlebte und weitergegebene 'Greetings From. . .' !
Selbstverständlich kompetent und fundiert - aber ohne Oberlehrerhaftes, ohne Staubtrockenes (auch wenn es schon mal in die Wüste gehen kann), ohne touristisches Gehetze von einem Museum zum nächsten Wasserfall.
Texas und Tennessee waren bereits im Angebot, Oklahoma und Hawaii, Georgia und Alabama kamen anschließend hinzu. Und, mal ehrlich, wer außer '...amb' könnte Reiseleiter mit dem Bekanntheitsgrad eines Johnny Cash, Willie Nelson oder Waylon Jennings präsentieren? Von der Bedeutung eines Jim Reeves, Don Gibson oder Bill Monroe? Von der Klasse eines Tex Ritter, Roy Rogers Louis Jordan, oder Hank Snow?
Sie alle (und viele andere) präsentieren ihre Heimat - Land und Leute, Terrains und Typen - auf ihre ganz eigene, unverwechselbare Art und Weise. Und geben musikalisch Details auf Fragen preis, von denen übliche Prospekte oder geschönte Werbefilmchen nur träumen können:
Was war da los mit den Wassermelonen in Georgia? Wie fanden auf Hawaii Rock 'n' Roll und Hula zusammen? Und welche Bedeutung hatte eigentlich der dicke Sam aus Alabama? 'Greetings From....' geben die Antworten !
Wie waren die Honky Tonk Girls in Oklahoma wirklich? Klangen die Kirchenglocken in Tennessee schon immer so? Und wem war das Wiegenlied in Texas gewidmet? 'Greetings From....' klären auf nach Noten!
Tauchen Sie ein in die Riffe vor Hawaii, hüten Sie sich vor dem Knast in Alabama, wippen Sie mit zum Walzer in Oklahoma, zu Polka, Jive und Two Step in Tennessee! 'Greetings From....' laden dazu ein !
Erleben Sie nordamerikanische Geschichte(n), Geographie und Traditionen zum Anfassen – durch vertonte Episoden aus erster Hand.
Postkarten aus Amerika
Die CD-Cover dieser Reihe sind klassischen amerikanischen Postkarten nachempfunden, in denen der Schriftzug des jeweiligen Staates mit repräsentativen Fotos unterlegt ist.

Read more at: https://www.bear-family.de/bear-family/country-serien/greetings-from/
Copyright © Bear Family Records
Bewertungen lesen, schreiben und diskutieren...
mehr
Kundenbewertungen für "Greetings From Alabama"
Bewertung schreiben
Bewertungen werden nach Überprüfung freigeschaltet.
Weitere Artikel von Various - Greetings From