Der Artikel wurde erfolgreich hinzugefügt.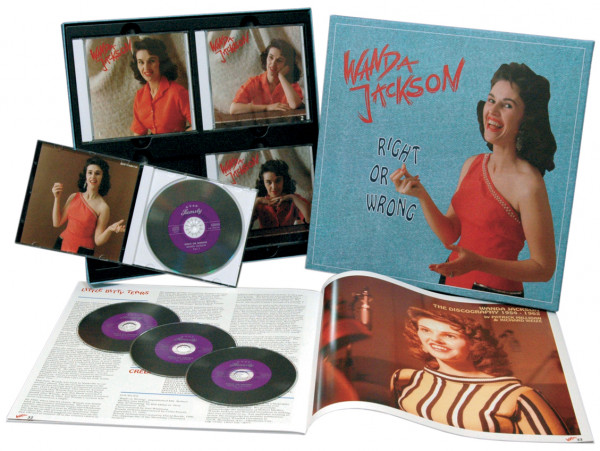 Benachrichtigen Sie mich, sobald der Artikel lieferbar ist.
66,55 € *
79,95 € *
(16,76% gespart)
inkl. MwSt. / zzgl. Versandkosten - Abhängig vom Lieferland kann die MwSt. an der Kasse variieren.
Artikel derzeit nicht verfügbar, Lieferfristen von bis zu 2-3 Wochen sind zu erwarten. (soweit verfügbar beim Lieferanten - kann schneller gehen, manchmal aber leider auch nicht)
Artikel-Nr.:

BCD15629

Gewicht in Kg.:

1.3
Das Wanda Jackson Box Set (LP-Format) mit 4 CDs , einem 39-seitigem Buch und 124 Songs....
mehr
Wanda Jackson: Right Or Wrong (1954-62) (4-CD Deluxe Box Set)
Das
Wanda Jackson
Box Set (LP-Format) mit 4 CDs , einem 39-seitigem Buch und 124 Songs. Spieldauer ca. 308 Minuten.
Und wie Wanda Jackson singen konnte! Mit siebzehn hatte sie ein Date mit Elvis, und als der ihr empfahl, zum Rock 'n' Roll zu wechseln, tat sie wie ihr geraten! Damit begann das Feuerwerk! Auf diesem Box Set von Wanda Jackson mit vier CDs finden sich all ihre großartigen Rock-Songs, die frühen Decca- und alle Capitol-Aufnahmen, bis ins Jahr 1962.
Fujiyama Mama, Mean Mean Man, Party, I Gotta Know
, usw... und die Countrynummern wie
Right Or Wrong
und
In The Middle Of A Heartache
sowie
Silver Threads And Golden Needles
, alle im Original, außerdem die Originalversion des Songs, den sie für
Buck Owens
schrieb,
Kickin' Our Hearts Around
.
Hören Sie die dynamische Spielweise des Gitarristen
Roy Clark
, dazu
Al Downing
und die Poe Cats sowie die besten Studiomusiker aus Los Angeles. Schauen Sie auch in unsere COUNTRY-Abteilung nach der Fortsetzung mit den Capitol-Aufnahmen der Jahre 1963-1973 von Wanda Jackson.
Artikeleigenschaften von

Wanda Jackson: Right Or Wrong (1954-62) (4-CD Deluxe Box Set)
Albumtitel:

Right Or Wrong (1954-62) (4-CD Deluxe Box Set)

Genre

Rock'n'Roll

Preiscode

DI

Edition 2

Deluxe Edition

Artikelart

Box set

EAN:

4000127156297

Gewicht in Kg:

1.3
Wanda Jackson Geboren am 20. 10. 1937 als Wanda Jean Goodman in Maud, U5-Staat Oklahoma....
mehr
"Wanda Jackson"
Wanda Jackson
Geboren am 20. 10. 1937 als Wanda Jean Goodman in Maud, U5-Staat Oklahoma. Arbeitete ab 1952 für den Sender KLPR in Oklahoma City. 1954 erhielt Wanda Jackson, auf Empfehlung des Country-Sängers Hank Thompson, einen Plattenvertrag bei Decca. Zwei Jahre später traf sie Elvis Presley, der ihr einen stilistischen Wechsel vom Country & Western zum Rock'n'Roll empfahl. 

Ab 1956 nahm Wanda Jackson für das Capitol-Label auf und brachte in den folgenden Jahren rund 30 Titel in die C&W- Charts der USA. In den Pop-Hitlisten war sie dagegen lediglich fünfmal vertreten, darunter 1960 mit 'Let's Have A Party' (Platz 37). In den Kölner Electrola-Studios im Maarweg spielte Wanda Jackson zwischen 1965 und 1970 neun deutschsprachige Singles ein- vier schafften den Sprung in die Charts, am besten platzierte sich "Santo Domingo' (1965, Rang 5).

Während der 70er Jahre widmete sich die Amerikanerin auch christlicher Musik. Heute ist Wanda Jackson vereinzelt bei Revival-Tours zu hören, kommt aber zu gefeierten Kurzgastspielen in eigener Sache über den Teich - wie im Herbst 2002, als sie ihren 65. Geburtstag in Deutschland feierte.

Aus dem Bear Family Buch - 1000 Nadelstiche von Bernd Matheja - BFB10025 -
Wanda Jackson
Tears Will Be The Chaser For Your Wine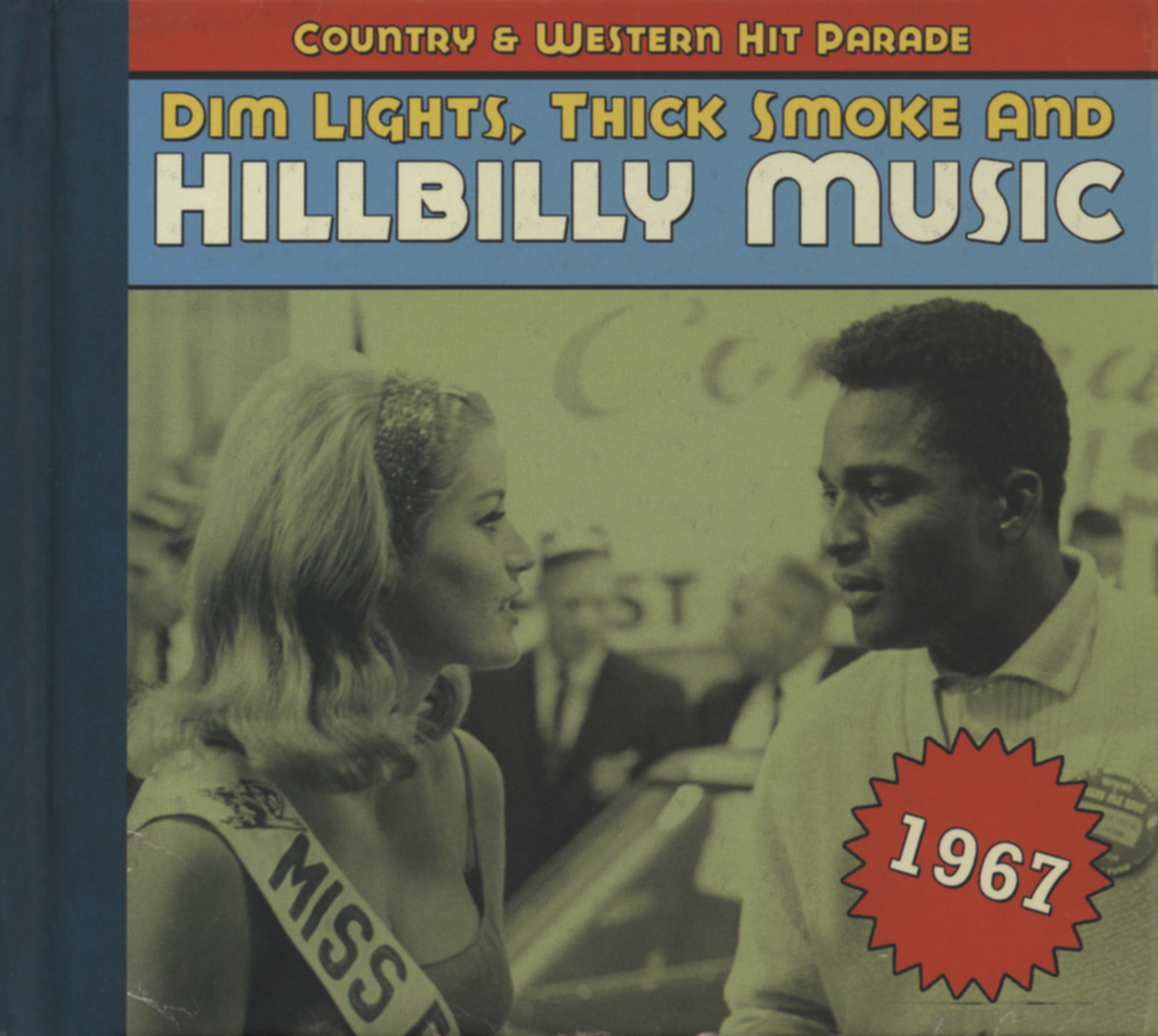 Wanda Jackson
Tears Will Be The Chaser For Your Wine
(Dale Davis-LeRoy Goates)
recorded April 19, 1966 (Session #13069; 18:00-21:00) Columbia Recording Studio, 804 16th Avenue South; Nashville, Tennessee; Producer: Ken Nelson
with Wanda Jackson: vocal; Harold Ray Bradley: rhythm guitar; Thomas Grady Martin: lead guitar; Lloyd L. Green: steel guitar; Weldon M. Myrick: Dobro; Bob L. Moore: bass; Murrey M.'Buddy' Harman, Jr: drums; Charles R. 'Charlie' McCoy: French harp; Floyd Cramer or Hargus M. 'Pig' Robbins: piano; The Jordanaires, Mildred 'Millie' Kirkham, Mary John: vocal chorus
Capitol 5789 - master 54142-7
Although Wanda Jackson was a star in Germany with songs she'd learned phonetically and didn't understand, she was nearly invisible at home, singing songs she understood all too well. Most of her showdates were in Reno and Vegas lounges, together with some seasonal fair dates. Once or twice a year, she'd go to Nashville to meet her A&R man, Ken Nelson. She had been under contract to Capitol since 1956, but she'd placed just two records in the Country Top 10 and three in the pop Top 40. Pressure from Capitol's European parent might have been the only reason she was still on the label. Tears Will Be The Chaser For Your Wine was recorded in April 1966, and released at year's end. It featured both steel guitar and Dobro.
Two steel guitarists, Lloyd Green and Weldon Myrick, were listed on the session, so Myrick probably played the Dobro. Tears Will Be the Chaser was a song Wanda had found back home in Oklahoma. The cowriter, Dale Davis (aka Dale Siegenthaler), had kicked around the music scene since the late 1950s, briefly owning and recording for Stardale Records, a label that once had rockabilly freaks digging deep in their pockets. (Stardale was one of those labels that assigned different catalog numbers to the A & B sides of its records, just to ensure no one ordered them). Later, Davis wrote Marvin Rainwater's late-blooming Scandinavian hit, Henryetta Oklahoma. No one could handle these heartbreak songs better than Wanda. Her wounded small-town-girl innocence, offset by an ever-so-slightly sluttish voice, was a beguiling combo that should have made her a bigger star. As she saw Tammy Wynette rising fast, Wanda could have been excused for thinking it should have been her.
- Colin Escott -
Various Country & Western Hit Parade 1967
Read more at: https://www.bear-family.de/various-country-und-western-hit-parade-1967.html
Copyright © Bear Family Records
Bewertungen lesen, schreiben und diskutieren...
mehr
Kundenbewertungen für "Right Or Wrong (1954-62) (4-CD Deluxe Box Set)"
RIGHT !!!
Mit der Box kann man defintiv nichts falsch machen.
Von:
Opel Otto
Am:
05.09.2017
Super
Diese Box kann ich jedem an's Herz legen! Tolle Country- und Rock 'n' Roll Aufnahmen und weit mehr als 'Let's Have A Party' oder 'Santo Domingo' (mehr kannte ich vorher nicht) ... mein Onkel hatte die beiden Titel auf Single und darauf hin habe ich mir eine 'Best Of' LP auf EMI geholt und ein Freund hat mir dann diese klasse CD-Box empfohlen and der ich mich nun täglich erfreue!
Bewertung schreiben
Bewertungen werden nach Überprüfung freigeschaltet.
Weitere Artikel von Wanda Jackson