Der Artikel wurde erfolgreich hinzugefügt.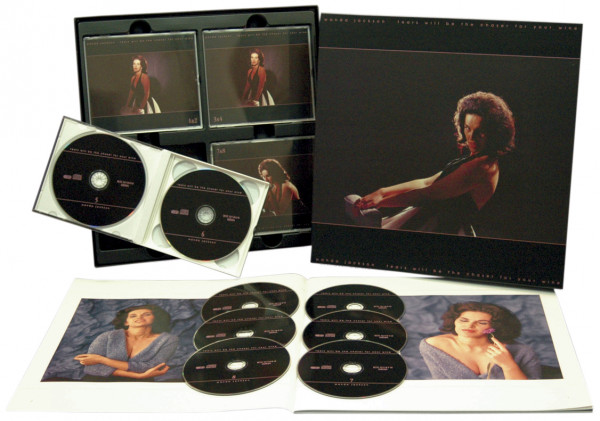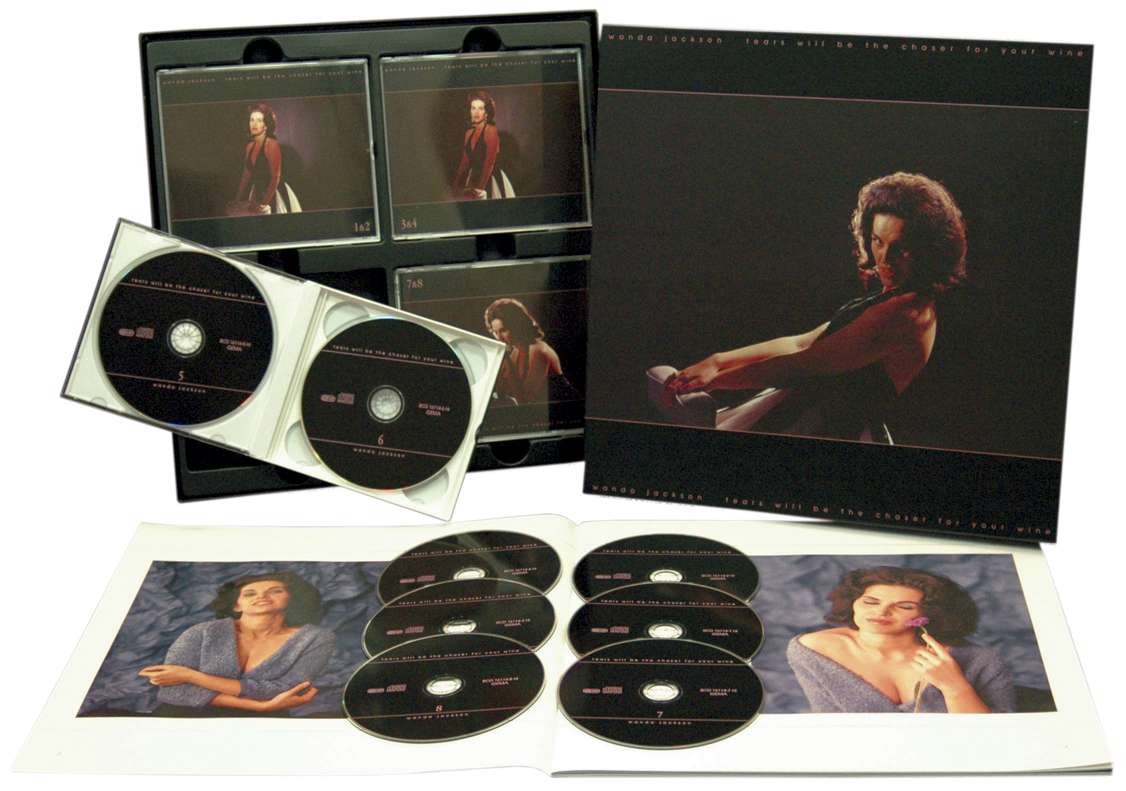 111,96 € *
139,95 € *
(20% gespart)
inkl. MwSt. / zzgl. Versandkosten
Sofort versandfertig, Lieferzeit** 1-3 Werktage
Artikel-Nr.:

BCD16114

Gewicht in Kg.:

2
Wanda Jackson Box Set (LP-Format) mit 8 CDs, 48-seitigem Buch und 219 Songs. Spieldauer ca. 578...
mehr
Wanda Jackson: Tears Will Be The Chaser..(8-CD)
Wanda Jackson Box Set (LP-Format) mit 8 CDs, 48-seitigem Buch und 219 Songs. Spieldauer ca. 578 Minuten.

Dieses 8-CD-Box Set enthält die Capitol-Aufnahmen aus den Jahren von 1963 bis 1973 von Wanda Jackson, darunter allein neun Hits, die in den Country-Charts unter die besten 30 kamen: The Box It Came In, Because It's You,Tears Will Be The Chaser For The Wine, Both Sides Of The Line, A Girl Don't Have To Drink To Have Fun, My Big Iron Skillet, A Woman Lives For Love, Fancy Satin Pillows und Back Then.

Dazu kommen unveröffentlichte Aufnahmen und einige Songs von Wanda Jackson, die es nur auf Singles gab. Die 8 CDs umfassen alle Country- und Rock 'n' Roll-Alben von 1963-1973 einschließlich des Grammy-Gewinners 'Two Sides Of' sowie 'Blues In My Heart' und 'Salutes The Country Music Hall Of Fame'. Abgerundet wird diese Zusammenstellung von den Wanda Jackson Songs in Deutsch, Holländisch und Japanisch, wie Santo Domingo und Morgen Ja Morgen, dem Live-Album 'In Person', sowie Photos aus Ihren privaten Alben. Das CD Set enthält zudem eine neue Biografie von Colin Escott und eine komplette Discografie von Wanda Jackson.

Artikeleigenschaften von

Wanda Jackson: Tears Will Be The Chaser..(8-CD)
Albumtitel:

Tears Will Be The Chaser..(8-CD)

Genre

Country

Preiscode

HI

Edition 2

Deluxe Edition

Artikelart

Box set

EAN:

4000127161147

Gewicht in Kg:

2
Jackson, Wanda - Tears Will Be The Chaser..(8-CD)

Box set 1
01
Slippin'
02
Memory Mountain
03
Just For You
04
Voilet And The Rose
05
Making Believe
06
Cold, Cold Heart
07
Please Help Me I'm Falling
08
Don't Let Me Cross Over
09
Candy Man
10
Yakety Yak
11
Searchin'
12
Whole Lot Of Shakin' Goin' On
13
Honey Don't
14
The Keeper Of The Key
15
Don't Worry
16
Rip It Up
17
I'm Waiting Just For You
18
Lonely Street
19
Singing The Blues
20
Midnight
21
Blues Stay Away From Me
22
Weary Blues From Waitin'
23
Oh Lonesome Me
24
Night Life
25
If I Were You
26
I'm Mad At Me
27
Leave My Baby Alone
Jackson, Wanda - Tears Will Be The Chaser..(8-CD)

Box set 2
01
Blues In My Heart
02
My Baby'S Gone
03
Worried Mind
04
I'm So Lonesome I Could Cry
05
My First Day Without You
06
Send Me No Roses
07
Have I Grown Used Missing You
08
Take Me Home
09
Look Out Heart
10
The Box It Came In
11
Because It's You
12
Long As I Have You
13
Along Came You
14
I Wounder If She Knows
15
I Talk A Pretty Story
16
My Heart Gets All The Breaks
17
Reckless Love Affair
18
Famous Last Words
19
Both Sides Of The Line
20
Tears Will Be The Chaser For Your Wine
21
Acting Like My Old Self Again
22
You'll Always Have My Love
23
I'm The Queen Of My Lonely Little World
24
What Have We Done
25
What Have We Done (& DON BARTLETT)
26
It'll Take A While
27
This Time's The Next Time
28
This Gun Don't Care
29
You Can't Make A Heel Toe The Mark
Jackson, Wanda - Tears Will Be The Chaser..(8-CD)

Box set 3
01
Try Me One More Time
02
Let's Say Goodbye Like We Said Hello
03
The Soldier's Last Letter
04
Jambalaya
05
Jealous Heart
06
There's A New Moon Over My Shoulder
07
You Win Again
08
Wabash Cannonball
09
The Great Speckled Bird
10
Fire Ball Mail
11
Blue Yodel,#6
12
Tuck Away My Lonesome Blues
13
My Days Are Darker Than Your Nights
14
I'd Like To Help You Out
15
Two Wrongs Don't Make A Right
16
Memory Maker
17
Who Do You Go To
18
My Baby Walked Right Out On Me
19
The Half That'S Mine
20
A Girl Don't Have To Drink To Have Fun
21
I'd Do It All Over Again
22
No Place To Go But Home
23
You Created Me
24
I Wish I Was Your Friend
25
Your Tender Love
26
By The Time You Get To Phoenix
27
Wishing Well
28
My Baby Walked Right Out On Me
29
The Dirt Behind My Tears
30
Little Boy Soldier
31
Poor Ole Me
32
As The Day Wears On
Jackson, Wanda - Tears Will Be The Chaser..(8-CD)

Box set 4
01
Together Again
02
Swinging Doors
03
The Hurtin's All Over
04
I Betcha My Heart I Love You
05
There Stands The Glass
06
Don't Touch Me
07
The Pain O It All
08
Two Separate Bar Stools
09
Today I Started Loving You Again
10
I'm A Believer
11
Walk On Out Of My Mind
12
Memphis, Tennessee
13
Walk Right in
14
If I Had A Hammer
15
Fever
16
Big Daddy
17
Love'S Gonna Live Here
18
You're The Reason I'm Living
19
We'll Sing In The Sunshine
20
Yours Love
21
This Land Is Your Land
22
Less Of Me
23
Please Don't Sell My Daddy No More Wine
24
He's Got The Whole World In His Hands
25
Everything Is Leaving
26
The Hunter
27
My Big Iron Skillet
28
Just Between You And Me
29
Your Good Girl's Gonna Bad
30
Try A Little Kindness
31
Those Were The Days
Jackson, Wanda - Tears Will Be The Chaser..(8-CD)

Box set 5
01
Aho Shot John
02
A Woman Lives For Love
03
Tell It To Your Lonely Walls
04
Let Trouble Be You
05
The Man You Could Have Been
06
Stop The World
07
Walk Through This World With Me
08
Stand By Your Man
09
It's Such A Pretty World Today
10
One Minute Past Eternity
11
If It's All Over
12
Why Don't We Love Like That Anymore
13
I'd Fight The World
14
Youre The Only World I Know
15
Break My Mind
16
Love Of The Common People
17
Hello Darlin'
18
Wounder Could I Live There Anymore
19
I'm Gonna Walk Out Of Your Life
20
What A Sunday
21
I've Gotta Sing
22
Fancy Satin' Pillows
23
Bridge Over Troubled Water
24
Everything Is Beautiul
25
Oh Happy Day
26
One Hundred Children
27
People Gotta Be Loving
28
Battle Hymn Of The Republic
29
He Gives Us All His Love
Jackson, Wanda - Tears Will Be The Chaser..(8-CD)

Box set 6
01
Didn't He Shine
02
Happy Tracks
03
Chicken On The Ground
04
Am I Not My Brother's Keeper
05
Jubal
06
Crazy
07
Song Of The Wind
08
Missing You
09
The More You See Me Less
10
Back Then
11
I Already Know
12
I Still Belong To You
13
My Testimony
14
The King Is Coming
15
He's The Man
16
How Great Thou Art
17
I Wouldn't Want You Any Other Way
18
I'll Be What Ever You Say
19
Tennessee Women's Prison
20
Roll With The Tide
21
I Don't Know How To Tell Him
22
I Don't Believe I'll Fall In Love Today
23
He's My Everything
24
Pass Me By
25
You Took Him Off My Hands
26
Reuben James
27
A Wound Time Can't Erase
28
Your Memory Comes And Gets Me
Jackson, Wanda - Tears Will Be The Chaser..(8-CD)

Box set 7
01
Let's Have A Party
02
Jackson (& MIKE POST)
03
Right Or Wrong
04
Release Me
05
A Girl Don't Have To Drink To Have Fun
06
Tears Will Be The Chaser For The Wine
07
A Little Bitty Tear
08
I've Got The Tiger By The Tail (& MIKE POST)
09
If I Had A Hammer
10
Silver Threads And Golden Needles
11
D-I-V-O-R-C-E
12
Hold Me Tight
13
Games People Play (& MIKE POST)
14
In The Middle Of A Heartache
15
Jambalaya
16
The Long Legged Guitar Pickin'Man (& M. POST)
17
Warm Red Wine
18
This Land Is Your Land
19
Cowboy Yodel
Jackson, Wanda - Tears Will Be The Chaser..(8-CD)

Box set 8
01
Oh Black Joe (japanese)
02
Santo Domingo (japanese)
03
Santo Domingo (german)
04
Oh Black Joe (german)
05
Morgen, ja Morgen
06
Ich schau hinunter in's Tal
07
Oh Lonesome Me (german)
08
Komm Heim, mein Wandersmann
09
Doch dann kam Johnny
10
Das kommt vom Glück in der Liebe
11
Wer an das Meer sein Herz verliert
12
Louisiana Moon
13
Ohne Sterne ist der Himmel leer
14
Wenn der Abschied kommt
15
Abschiedsrosen
16
Der Mond ist der Freund der Verliebten
17
Addio My Love
18
Vom Winde verweht
19
Warum gleich Tränen
20
Schick ihn nicht fort, Daddy
21
Was hat man denn bloss von einem Mann
22
Ein Herz gewinnt, ein Herz verliert
23
Morgen, ja Morgen (dutch)
24
Ik Hou Van Jou (dutch)
Wanda Jackson Geboren am 20. 10. 1937 als Wanda Jean Goodman in Maud, U5-Staat Oklahoma....
mehr
"Wanda Jackson"
Wanda Jackson
Geboren am 20. 10. 1937 als Wanda Jean Goodman in Maud, U5-Staat Oklahoma. Arbeitete ab 1952 für den Sender KLPR in Oklahoma City. 1954 erhielt Wanda Jackson, auf Empfehlung des Country-Sängers Hank Thompson, einen Plattenvertrag bei Decca. Zwei Jahre später traf sie Elvis Presley, der ihr einen stilistischen Wechsel vom Country & Western zum Rock'n'Roll empfahl.

Ab 1956 nahm Wanda Jackson für das Capitol-Label auf und brachte in den folgenden Jahren rund 30 Titel in die C&W- Charts der USA. In den Pop-Hitlisten war sie dagegen lediglich fünfmal vertreten, darunter 1960 mit 'Let's Have A Party' (Platz 37). In den Kölner Electrola-Studios im Maarweg spielte Wanda Jackson zwischen 1965 und 1970 neun deutschsprachige Singles ein- vier schafften den Sprung in die Charts, am besten platzierte sich "Santo Domingo' (1965, Rang 5).

Während der 70er Jahre widmete sich die Amerikanerin auch christlicher Musik. Heute ist Wanda Jackson vereinzelt bei Revival-Tours zu hören, kommt aber zu gefeierten Kurzgastspielen in eigener Sache über den Teich - wie im Herbst 2002, als sie ihren 65. Geburtstag in Deutschland feierte.

Aus dem Bear Family Buch - 1000 Nadelstiche von Bernd Matheja - BFB10025 -
Wanda Jackson
Tears Will Be The Chaser For Your Wine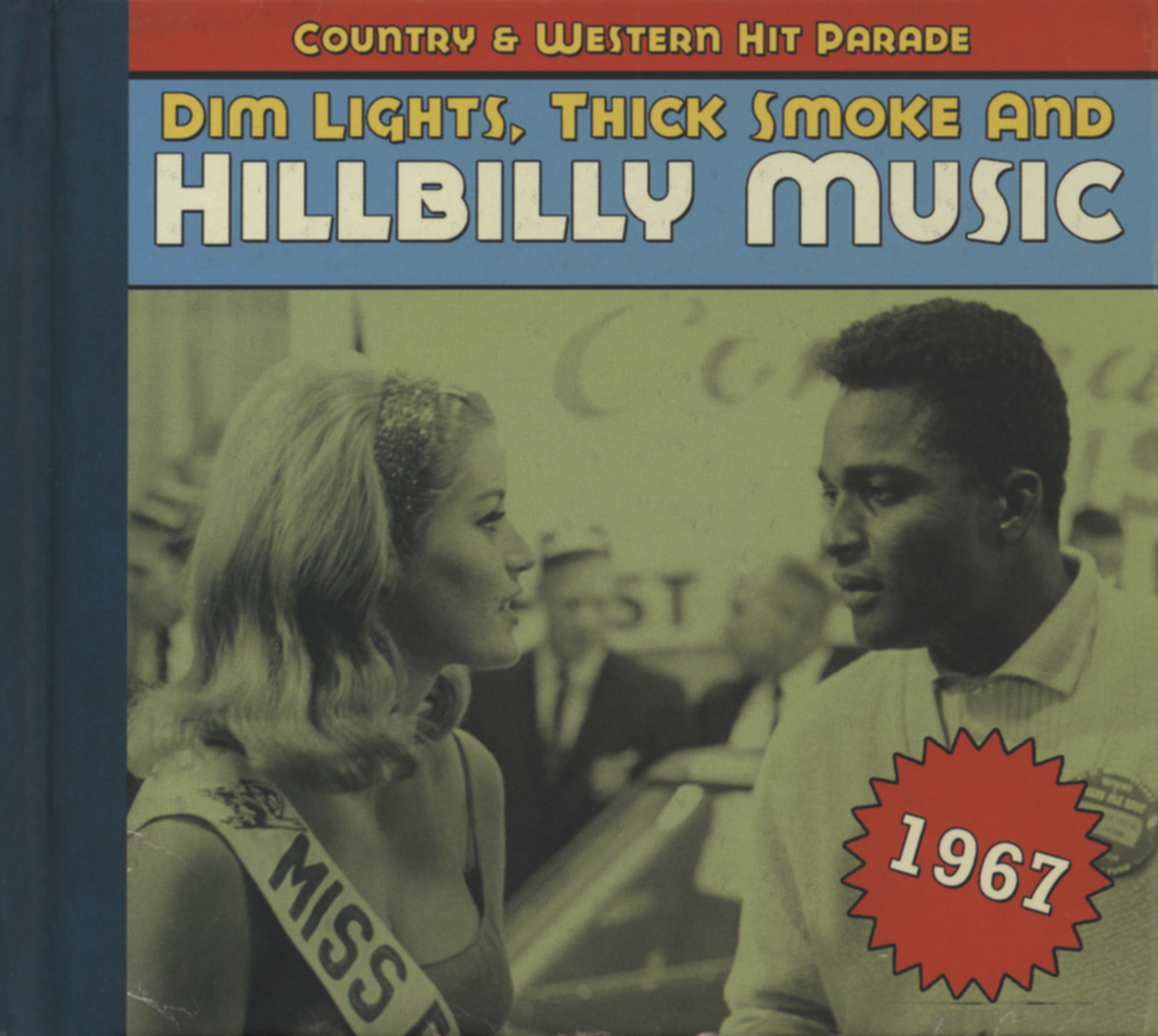 Wanda Jackson
Tears Will Be The Chaser For Your Wine
(Dale Davis-LeRoy Goates)
recorded April 19, 1966 (Session #13069; 18:00-21:00) Columbia Recording Studio, 804 16th Avenue South; Nashville, Tennessee; Producer: Ken Nelson
with Wanda Jackson: vocal; Harold Ray Bradley: rhythm guitar; Thomas Grady Martin: lead guitar; Lloyd L. Green: steel guitar; Weldon M. Myrick: Dobro; Bob L. Moore: bass; Murrey M.'Buddy' Harman, Jr: drums; Charles R. 'Charlie' McCoy: French harp; Floyd Cramer or Hargus M. 'Pig' Robbins: piano; The Jordanaires, Mildred 'Millie' Kirkham, Mary John: vocal chorus
Capitol 5789 - master 54142-7
Although Wanda Jackson was a star in Germany with songs she'd learned phonetically and didn't understand, she was nearly invisible at home, singing songs she understood all too well. Most of her showdates were in Reno and Vegas lounges, together with some seasonal fair dates. Once or twice a year, she'd go to Nashville to meet her A&R man, Ken Nelson. She had been under contract to Capitol since 1956, but she'd placed just two records in the Country Top 10 and three in the pop Top 40. Pressure from Capitol's European parent might have been the only reason she was still on the label. Tears Will Be The Chaser For Your Wine was recorded in April 1966, and released at year's end. It featured both steel guitar and Dobro.
Two steel guitarists, Lloyd Green and Weldon Myrick, were listed on the session, so Myrick probably played the Dobro. Tears Will Be the Chaser was a song Wanda had found back home in Oklahoma. The cowriter, Dale Davis (aka Dale Siegenthaler), had kicked around the music scene since the late 1950s, briefly owning and recording for Stardale Records, a label that once had rockabilly freaks digging deep in their pockets. (Stardale was one of those labels that assigned different catalog numbers to the A & B sides of its records, just to ensure no one ordered them). Later, Davis wrote Marvin Rainwater's late-blooming Scandinavian hit, Henryetta Oklahoma. No one could handle these heartbreak songs better than Wanda. Her wounded small-town-girl innocence, offset by an ever-so-slightly sluttish voice, was a beguiling combo that should have made her a bigger star. As she saw Tammy Wynette rising fast, Wanda could have been excused for thinking it should have been her.
- Colin Escott -
Various Country & Western Hit Parade 1967
Read more at: https://www.bear-family.de/various-country-und-western-hit-parade-1967.html
Copyright © Bear Family Records
Bewertungen lesen, schreiben und diskutieren...
mehr
Kundenbewertungen für "Tears Will Be The Chaser..(8-CD)"
Von:
Kristian Kober
Am:
03.10.2017
Bear-Family-üblich exzellent-!
Was Wanda Jackson nach "Party" nicht noch alles gesungen hat - sehr schön, diese Box; ich werde brauchen, bis ich das alles richtig durch habe. Einfach grossartig wieder...
Bewertung schreiben
Bewertungen werden nach Überprüfung freigeschaltet.
Weitere Artikel von Wanda Jackson