Der Artikel wurde erfolgreich hinzugefügt.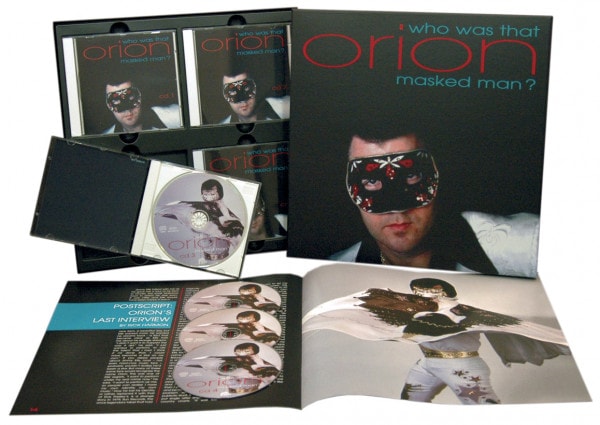 72,95 € *
79,95 € *
(8,76% gespart)
inkl. MwSt. / zzgl. Versandkosten
Sofort versandfertig, Lieferzeit** 1-3 Werktage
Artikel-Nr.:

BCD16330

Gewicht in Kg.:

1.05
4-CD Album Boxset (LP-Format) mit 24-seitigem Buch, 108 Einzeltitel. Spieldauer ca. 284 Minuten....
mehr
ORION: Who Was That Masked Man? (4-CD)
4-CD Album Boxset (LP-Format) mit 24-seitigem Buch, 108 Einzeltitel. Spieldauer ca. 284 Minuten.

Es war Orion Eckley Darnell, der in den 70er Jahren die Musik der 50er dadurch am Leben erhielt, dass er erstaunlich wie Elvis Aaron Presley klang. Dieses CD-Album Boxset dokumentiert die Karriere von Orion auf dem legendären Sun Records Label.

Es begann 1972 mit der Single, derzeit noch als Jimmy Ellis, That's All Right/Blue Moon Of Kentucky. Sie wurde auf Sun Records veröffentlicht und machte Furore, da die Fans glaubten, es handele sich um Elvis.

Dann, kurz nach Elvis' Tod, erneuerte der legendäre Produzent Shelby Singleton seinen Kontakt zu Jimmy Ellis (Orion), nahm ihn für Sun unter Vertrag, und kreierte das Orion Mythos nach einem Buch, in dessen Geschichte der Künstler seinen eigenen Tod vortäuscht und zu seinen Wurzeln zurückkehrt. Shelby Singleton brachte Orion folglich zurück zu Elvis' Ursprung in Rockabilly, Rock 'n' Roll, Country, Blues und Gospel. Er begann damit, ihn auf Originalbändern von Jerry Lee Lewis, Carl Perkins, Johnny Cash und Charlie Rich nachträglich im Duett singen zu lassen, nahm dann viele Soloalben auf, von denen Fans glaubten, dass sie besser als die späten Elvis LPs seien.

Dieses Cd-Album Boxset enthält die besten Aufnahmen, die Jimmy Ellis (Orion) für Sun Records aufnahm. Enthalten sind Titel wie Such A Night, Honey, Patches, Ebony Eyes, Rocky und Release Me, die kompletten 'Duette' mit Jerry Lee Lewis, Johnny Cash, Charlie Rich und Carl Perkins, sowie viele bisher unveröffentlichte Titel.
Artikeleigenschaften von

ORION: Who Was That Masked Man? (4-CD)
Interpret:

ORION

Albumtitel:

Who Was That Masked Man? (4-CD)

Genre

Rock

Preiscode

DI

Edition 2

Deluxe Edition

Artikelart

Box set

EAN:

4000127163301

Gewicht in Kg:

1.05
Orion - Who Was That Masked Man? (4-CD)

Box set 1
01
Moody Blue
02
Return To Sender
03
Hurt
04
Kentucky Rain
05
It's Now Or Never
06
Burning Love
07
You Don't Have To Say You Love Me
08
My Way
09
Love Me Tender
10
Can't Help Falling In Love With You
11
Mean Woman Blues
12
Teddy Bear
13
Hound Dog
14
That's All Right
15
Blue Moon Of Kentucky
16
I Forgot To Remember To Forget
17
Such A Night
18
Where He Leads Me
19
Sweet Hour Of Prayer
20
I Surrender All
21
Peace In The Valley
22
It Is No Secret
23
I Believe
24
He Touched Me
25
Softly And Tenderly
26
Where No One Stands Alone
27
Just A Closer Walk With Thee
Orion - Who Was That Masked Man? (4-CD)

Box set 2
01
Honey
02
Billy And Sue
03
The Last Kiss
04
Long Black Limousine
05
Teen Angel
06
Endless Sleep
07
Patches
08
Tell Laura I Love Her
09
Tragedy
10
Ebony Eyes
11
Rocky
12
Susie Q
13
Long Tall Sally
14
Peggy Sue
15
Rockin' Little Angel
16
Maybelline
17
Mona Lisa
18
Lonesome Angel
19
Midnight Rendezvous
20
I Hear You Knockin'
21
Matchbox
22
I'm Gonna Be A Wheel Someday
23
Rockabilly Rebel
24
Crazy Little Thing Called Love
25
Memphis Sun
Orion - Who Was That Masked Man? (4-CD)

Box set 3
01
Feelings
02
Before The Next Teardrop Falls
03
She Hates To Be Alone
04
Am I That Easy To Forget
05
Just Out Of Reach
06
There Ya Go
07
What Did I Promise Her Last Night
08
Rollin' With The Flow
09
Green, Green Grass Of Home
10
The Long Black Veil
11
Faded Love
12
Crazy Arms
13
Release Me
14
Texas Tea
15
Please Help Me I'm Falling
16
Send Me The Pillow You Dream On
17
He'll Have To Go
18
Snowbird
19
I Can't Stop Loving You
20
I Love You Because
21
No One Will Ever Know
22
Old Mexico
23
Night Of The Rain
24
These Sometimes
25
Listen To Daddy (I'll Sing You What To Dream)
Orion - Who Was That Masked Man? (4-CD)

Box set 4
01
Be Bop A Lula (& JERRY LEE LEWIS)
02
On My Knees (& CHARLIE RICH)
03
Dixie Fried (& CARL PERKINS)
04
Gentle As A Lamb (& CHARLIE RICH)
05
Money (& JERRY LEE LEWIS)
06
Breakup (& CHARLIE RICH)
07
Matchbox (& CARL PERKINS)
08
Good Rockin' Tonight (& JERRY LEE LEWIS)
09
Gone Gone Gone (& CARL PERKINS)
10
Sittin' And Thinkin' (& CHARLIE RICH)
11
Save The Last Dance For Me (& JERRY L. LEWIS)
12
Sweet Little Sixteen (& JERRY LEE LEWIS)
13
I Love You Because (& JERRY LEE LEWIS)
14
C.C. Rider (& JERRY LEE LEWIS)
15
Cold Cold Heart (& JERRY LEE LEWIS)
16
Hello Josephine (& JERRY LEE LEWIS)
17
It Won't Be Happen With Me (& JERRY L. LEWIS)
18
What'd I Say (& JERRY LEE LEWIS)
19
Good Golly Miss Molly (& JERRY LEE LEWIS)
20
Rockin' The Boat Of Love (& JERRY LEE LEWIS)
21
True Love (& CARL PERKINS)
22
Put Your Clothes On (& CARL PERKINS)
23
Country Boy (& JOHNNY CASH)
24
Caught In The Middle (& CHARLIE RICH)
25
When My Blue Moon Turns...(& JERRY LEE LEWIS)
26
Honey Don't (& CARL PERKINS)
27
Get Rhythm (& JOHNNY CASH)
28
Who Will The Next Fool Be (& CHARLIE RICH)
29
Lonely Street (& CARL PERKINS)
30
Ballad Of A Teenage Queen (& JOHNNY CASH)
31
Glad All Over (& CARL PERKINS)
ORION WHO WAS THAT MASKED MAN? The story of Orion began as fiction. A Georgia-based...
mehr
"ORION"
ORION
WHO WAS THAT MASKED MAN?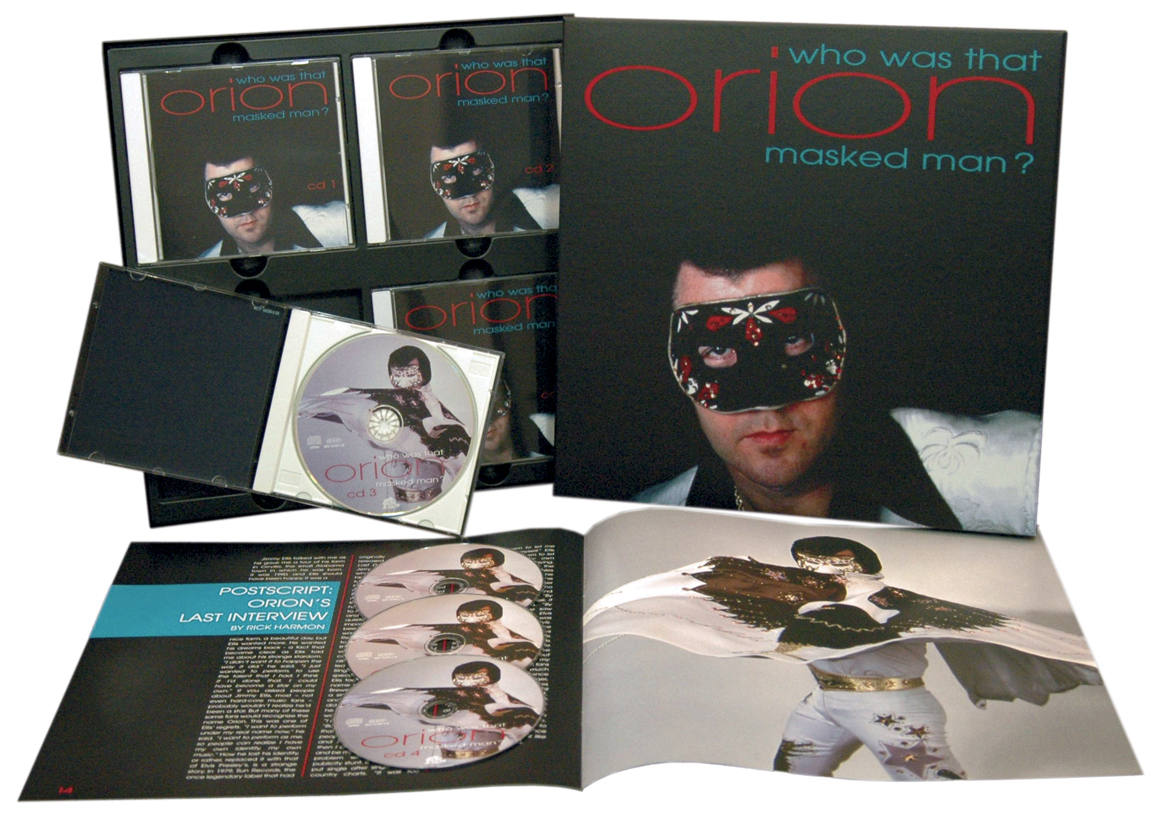 The story of Orion began as fiction.
A Georgia-based writer, Gail Brewer-Giorgio, concocted a tale about a charismatic rock 'n' roll singer, Orion Eckley Darnell, who came to be called 'King' because of his enormous popularity across the world. However, this shy, sensitive superstar came to view his fame as a trap and a curse. Because he couldn't do anything as simple as buy groceries or fill a tank with gas without drawing a mob, he was forced to live in seclusion. His body bloated, and he sank into a deep depression.
But, this being fiction, the man devised a fantastical route to escape his living hell. He created a wax figure of his own overweight image. Then he grew a beard, lost weight until his waist was trim again, and faked his own death in the mansion that had become his prison. After attending his own funeral, he drove off into the sunset in a beat-up station wagon with luggage strapped to the roof. As he drove, the first tribute song to the life and death of Orion blasted from the radio.
Brewer-Giorgio wrote 'Orion: The Living Superstar of Song' prior to Elvis Presley's death on Aug. 16, 1977. But she had failed to get it published until after his death -- and after she gained a fan in Nashville-based record producer and music mogul Shelby Singleton, who had purchased the Sun Records catalog and name in 1969. Singleton, it turned out, had been trying to figure out a way to utilize the talents of an Alabama-born singer, Jimmy Ellis. Born on February 26, 1945 in Orrville, Alabama, Ellis began his recording career in 1964 on the Dradco label. By the time he crossed paths with Singleton, he'd spent nearly a decade pursuing a career as a romantic balladeer and hip-shaking rocker. But he'd found little success.
Then, in 1972, Singleton received a two-song single that included the song, I Used Her To Remind Me Of You. When Singleton first heard the song, he thought, "Man, either that is Elvis Presley singing, or it's someone who sounds just like him." The singer was Jimmy Ellis. He had recorded the songs in Fort Walton, Florida, with producer Finley Duncan.
Once Singleton was convinced by Duncan that the singer indeed was Ellis rather than Elvis, the Nashville owner of Sun requested that Duncan cut a couple more songs on the performer. Singleton made specific requests: That's Alright Mama and Blue Moon Of Kentucky, the two songs that launched Presley's career on Sun Records. "I told them to try to duplicate the Elvis records as close as possible," Singleton recalls. "And that's what they did." Singleton made the request because he had a plan. "I put the record out on Sun Records without a name on it," the record company owner recalls. "Everybody came back and swore that I had some long lost Elvis tracks, that I found them in the Sun vaults and re-released them." At that time, Singleton and Sun Records were embroiled in several lawsuits with RCA Records, mostly involving Sun's reissuing of early Presley songs and from the release of the 'Million Dollar Quartet' album, which featured old studio tapes of Presley, Jerry Lee Lewis, Carl Perkins and Johnny Cash. The Jimmy Ellis songs almost joined the fight between the two companies. "RCA came very close to suing me over the record," Singleton says. "But I kept telling them it wasn't Elvis, but they didn't believe me, and they thought I kept a name off the single because it was Elvis. But all I was doing was wanting people to think it was Elvis. It wasn't, of course. It was Jimmy Ellis. But nobody who listened to it could tell the difference. RCA didn't believe me when I said it wasn't Elvis, so they ran a voice print on it. That's when they found out it really wasn't Elvis."
After the release of the single, which gained some success from rural radio play in the South, Ellis got involved with another record man, Bobby Smith of Macon, Georgia. The two collaborated on a couple of singles and an album, 'Ellis Sings Elvis', that traded off of Ellis' ability to sound remarkably similar to the most famous rocker in the world. "They were all Elvis hits," Singleton says. "The album sounded technically as good as anything Elvis ever did. The songs sounded very, very close to Elvis to me." The album was created before Presley's death. But as Jimmy Ellis and Bobby Smith were preparing for its release, the world's most famous rocker was found dead in his Graceland mansion. Immediately, of course, interest was heightened in the deceased legend. Smith rushed the album out; at the same time, Smith contacted Singleton to ask if Sun might want to get involved. "I told him, 'Bobby, I just don't think an Elvis impersonator doing Elvis songs would do anything," Singleton recalls. "It won't be original. People won't want to buy an imitator doing Elvis songs, but possibly songs not related to Elvis."
Smith brought Ellis to visit Singleton, who took the singer into the studio. They cut the classic song Release Me, as well as several other songs not generally associated with Elvis. Listen to those recordings now, and it's obvious that Ellis managed to resemble Presley's vocal tone and mannerisms more than other soundalikes and imitators. "It sure sounded like Elvis to me," the producer says. So Singleton, who owns a legendary ability to scheme up unique record promotions, felt the wheels start to turn. There must be some way to make money of a Southern farm boy with jet-black hair and long sideburns who sounded almost exactly like the best-selling musical performer the world had ever seen. "I told them, 'Well, maybe we can do something here,'" Singleton says. "But we have to come up with a gimmick in order to make someone pay attention to it. You're not going to get any attention just because you sound like Elvis. There already were hundreds of Elvis impersonators out there. But Jimmy was different. He wasn't an imitator, he was a soundalike. I thought we could do something with him if we came up with an angle that was unique." The first gimmick Singleton conspired was to continue to stoke the idea that Ellis might actually be Elvis. But instead of simply having him sing covers of Presley songs, he began pairing Ellis with Presley's famous colleagues from the Sun Records era. To start, he took Ellis in the studio and put his voice onto some old Jerry Lee Lewis masters that had been recorded at Sun Records. He purposely left Ellis' name off the cover, simply billing the album as 'Jerry Lee & Friends', in hopes that people would think that the unnamed singer was Elvis Presley.
It worked, at least to some degree. "Immediately after I put it out, it got on the radio and of course everyone thought it was Elvis, that it was something I found in the can," Singleton says. "We kind of had a reputation for doing weird things anyway." Singleton went on to create another album that cashed in on the mystery of whether the unnamed singer was Presley or a soundalike. He pasted Ellis's voice onto more tracks and that paired him with Lewis, Carl Perkins and Charlie Rich. The latter album was billed as 'Trio +'. In each case, Ellis's name never appeared on any of the credits. But the trick of "Who is that mystery vocalist?" could only go on so long. So Singleton came up with an even wilder gimmick. The Sun owner heard about this unpublished book, 'Orion: The Living Superstar of Song'. "The book had been written as a parallel of Elvis' life," Singleton says. "Only it had a twist at the end. It was written before Elvis died, and the writer had come up with this very smart twist that showed a way that Elvis could have faked his own death and still be alive."
Singleton decided to contact the author, Gail Brewer-Giorgio, who lived in Georgia. "I thought that if I could make a deal with this lady, we can take Jimmy and we can make him over to be Orion," Singleton says. Of course, there were a few sticky points. For instance, Ellis may have had thick black hair and long sideburns, but his was not the face of Elvis. Leave it to Singleton to come up with a plan, however. "I thought, 'If he would just wear a mask, we can make him a star,'" Singleton says. Ellis, however, didn't exactly embrace the idea of spending the rest of his career peering through the ornately made, rhinestone-studded masks that his mentor had in mind. "He didn't really want to do it," Singleton says, still incredulous at the insubordination. "I had an artist here at the time that I had to transform in some way to make him famous, and he was resisting. But, looking back, I think he didn't like it because he figured none of his friends would know that it was really him."
ORION Who Was That Masked Man? (4-CD)
Read more at: https://www.bear-family.com/orion-who-was-that-masked-man-4-cd.html
Copyright © Bear Family Records
Bewertungen lesen, schreiben und diskutieren...
mehr
Kundenbewertungen für "Who Was That Masked Man? (4-CD)"
Von:
Captain Marvel
Am:
05.09.2017
Where Is That Masked Man's Box
not available to order ???:(
Bewertung schreiben
Bewertungen werden nach Überprüfung freigeschaltet.
Weitere Artikel von ORION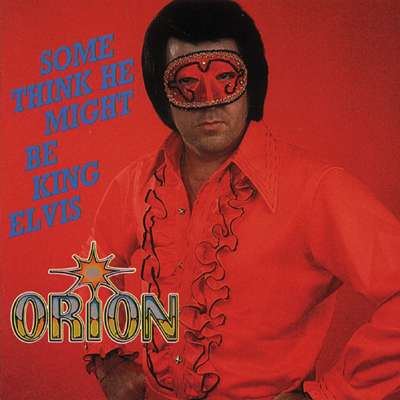 ORION: Some Think He Might Be King Elvis (CD)
Art-Nr.: BCD15548


Sofort versandfertig, Lieferzeit** 1-3 Werktage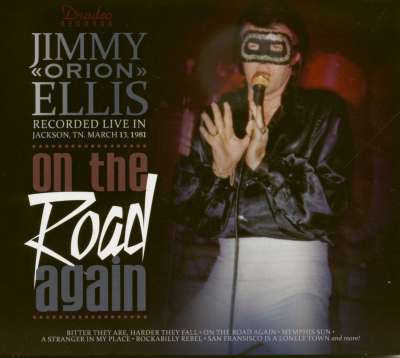 Jimmy Ellis (Orion): Jimmy 'Orion' Ellis - On The Road Again (CD)
Art-Nr.: CDDR260210


Sofort versandfertig, Lieferzeit** 1-3 Werktage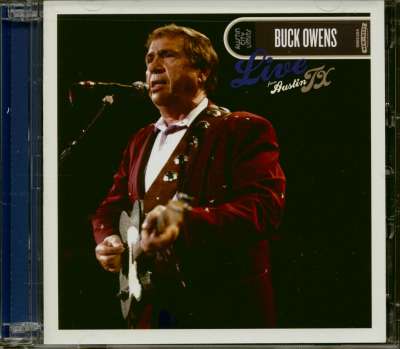 Buck Owens: Live In Austin, Texas (CD & DVD)
Art-Nr.: CDNW6384


Sofort versandfertig, Lieferzeit** 1-3 Werktage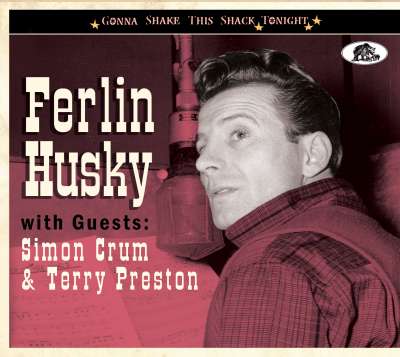 Ferlin Husky: Gonna Shake This Shack Tonight - with Guests:...
Art-Nr.: BCD17415


Sofort versandfertig, Lieferzeit** 1-3 Werktage