Der Artikel wurde erfolgreich hinzugefügt.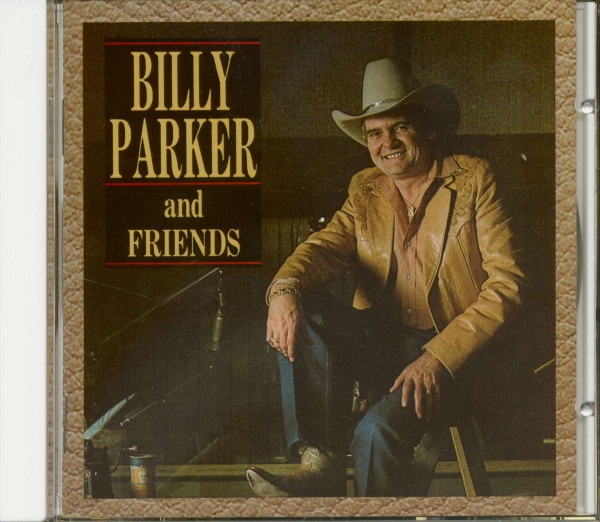 Dieser Artikel ist gestrichen und kann nicht mehr bestellt werden!
Benachrichtigen Sie mich, sobald der Artikel lieferbar ist.
Artikel-Nr.:

BCD15521

Gewicht in Kg.:

0.115
Der ehemalige Texas Troubadour und sehr bekannte Discjockey hat diese Duette in den 80er Jahren...
mehr
PARKER, Billy: Billy Parker & Friends
Der ehemalige Texas Troubadour und sehr bekannte Discjockey hat diese Duette in den 80er Jahren aufgenommen. Das Duett mit
Cal Smith
war ein Hit, insgesamt genommen sind diese Aufnahmen eine Sammlung an klassischer Country Music. Alle Sänger sind entspannt und gut drauf. Sie sind alle Profis, die die Gesellchaft der anderen liebten und niemandem etwas beweisen mußten.
Zu den Aufnahmen gehören Memory # 1 (mit
Webb Pierce
); (Too Many Irons In The Fire & Honky Tonk Tonk Gal (mit Cal Smith); Believe I'm Entitled To You (mit
Bill Carlisle
);
Tomorrow
Never Comes (mit
Ernest Tubb
); Take Me Back To Tulsa (mit Johnnie Lee Wills); The Last Country Song (mit
Darrell McCall
); Something Old Something New (mit
Jack Greene
).
Betty 'Mama' Gibson, wife and business partner of Joe Gibson, the producer of these
Billy Parker
album sessions, is sure that "if you stuck a pin in Billy's finger and he bled, he would bleed Country Music." That sounds about right for some-one who has been picking and singing since he was eleven and for almost twenty years has been an award-winning radio man on 50,000 watt Country station KVOO in Tulsa, Oklahoma as well as 'Oklahoma's Ambassador of Country and
Western
Music,' a title bestowed on him by the State Legislature.
Billy himself describes his life in the entertainment business as a 'combo.' Be-sides playing engagements and recording for various labels, he has also had a full-time career in radio - from DJ to Program Director to sales and advertising. 'Working in radio has given me a unique perspective,' explains Parker, 'Being able to view the industry from two different sides has truly helped my development as an artist and entertainer.'
Artikeleigenschaften von

PARKER, Billy: Billy Parker & Friends
Albumtitel:

Billy Parker & Friends

Genre

Country

Preiscode

AH

Artikelart

CD

EAN:

4000127155214

Gewicht in Kg:

0.115
Parker, Billy - Billy Parker & Friends

CD 1
01
Memory Number One (& WEBB PIERCE)
PARKER, Billy
02
Too Many Irons In The Fire (& CAL SMITH)
PARKER, Billy
03
Who Said Love Was Fair (& JIMMY PAYNE)
PARKER, Billy
04
I Believe I'm Entitled To You (& B. CARLISLE)
PARKER, Billy
05
Milk Cow Blues (& JOHNNIE LEE WILLS)
PARKER, Billy
06
Tomorrow Never Comes (& ERNEST TUBB)
PARKER, Billy
07
When I Need Love Bad
PARKER, Billy
08
Honky Tonk Girl (& CAL SMITH)
PARKER, Billy
09
Love Don't Know A Lady (& DARRELL McCALL)
PARKER, Billy
10
Take Me Back To Tulsa (& JOHNNIE LEE WILLS)
PARKER, Billy
11
The Last Country Song (& DARRELL McCALL)
PARKER, Billy
12
Its's Not Me
PARKER, Billy
13
If I Ever Need A Lady
PARKER, Billy
14
I See An Angel Every Day
PARKER, Billy
15
I'll Drink To That
PARKER, Billy
16
Why Do You Keep Calling You Honey, Honey
PARKER, Billy
17
Can I Have What's Left
PARKER, Billy
18
What's A Nice Girl Like You
PARKER, Billy
19
One More Last Time
PARKER, Billy
20
Hello Out There
PARKER, Billy
21
Something Old, Something New (& JACK GREENE)
PARKER, Billy
Billy Parker Billy Parker wurde am 19. Juli 1937 in der kleinen Stadt Tuskegee, Oklahoma,...
mehr
"PARKER, Billy"
Billy Parker
Billy Parker wurde am 19. Juli 1937 in der kleinen Stadt Tuskegee, Oklahoma, geboren. Er hatte zwei ältere Brüder und eine ältere Schwester, und sein Vater arbeitete für das WPA-Highway-Programm. Als er etwa vier Jahre alt war, zog die Familie nach Tulsa und sein Vater ging zur Arbeit für das, was sie früher das Douglas-Bomberwerk nannten, das heute als McDonald Douglas Aircraft bekannt ist. Sein Leben war bis zur Scheidung seiner Eltern mit vierzehn Jahren stabil, danach war er mehr oder weniger allein. Er war noch ein junger Teenager, als er vorübergehend mit seiner Schwester und ihrer Familie in McAllister, Oklahoma, etwa 150 Meilen außerhalb von Tulsa, lebte und seinen ersten Radiospot als Gitarrist für einen Sänger namens Carl Garnand erhielt. Ihre Show fand jeden Nachmittag von 4:30-4:45 Uhr statt. Billy hatte den Job bekommen, indem er beim Radiosender herumhing, bis er Carl traf und "sie lernten sich einfach kennen und begannen zusammenzuarbeiten".

Carl Garnand blieb nicht im Musikgeschäft, aber diese frühe Verbindung weckte dauerhaft Billy Parkers Interesse an allen Aspekten der Country-Musik und insbesondere an der weitreichenden Funkkommunikation. Sein erster Vollzeitjob im Radio war 1959 beim Tulsaer Sender KFMJ. Diese Position bot ihm die Möglichkeit, seine persönlichen Auftritte bei Clubs, Ballsälen und Veranstaltungen während der Sendezeit zu verknüpfen und so seinen Ruf schnell im gesamten östlichen Ok-lahoma zu verbreiten. Fernsehauftritte in einer lokalen Tulsa-Show, dem Big Red Jamboree", Mitte der 50er Jahre, sowie eine viermonatige Tournee mit Red Foley und Bill Wemberley und den Country Rhythm Boys in 57 trugen dazu bei, seinen Auftrittsstil zu verbessern und seine Präsenz im Mittleren und Südwesten zu erweitern. 1959 nahm Parker Thanks A Lot (auf dem Label Cimarron), einen Song von Eddie Miller und Don Sessions, im Studio von Oral Roberts in Tulsa auf. Es war ein großer Song für Billy und wurde landesweit sowohl auf den Radiostationen "Country" als auch "Pop" gespielt, ein Phänomen, das damals als "C & W (Country & Western) breaking pop" bezeichnet wurde.
Nachdem der Song von Ernest Tubb im Country Field und Brenda Lee im Pop Field (beide produziert von Owen Bradley von Decca Records) gecovert wurde, verschwand Parkers Version irgendwie. "Trotzdem", erinnert er sich, "war der Song immer noch sehr gut für mich, weil er mich wirklich mit Ernest Tubb in Kontakt brachte." Wann immer Tubb und seine texanischen Troubadours durch Tulsa zogen, nutzte Billy Parker die Gelegenheit, sie zu besuchen und mit ihnen zu sprechen. Anfang 1968, als Troubadour Cal Smith beschloss, die Band zu verlassen, um eine Solokarriere zu verfolgen, und mit der Aufgabe betraut wurde, seinen eigenen Ersatz zu finden, rief er Parker an und fragte, ob er ein Texas Troubadour werden wolle. Billy und seine Frau sprachen darüber und beschlossen, dass, wenn sie jemals den Umzug nach Nashville machen würden, dies die Zeit dafür sei. "Ich werde nie vergessen, wann ich das erste Mal mit E. T. im Grand Ole Opty und danach im Ernest Tubb Record Shop gearbeitet habe", erinnert sich Parker.
"Wir sind gleich nach dieser Show auf unserer ersten Reise gegangen - nach Eau Claire, Wisconsin - und ich war den ganzen Weg dorthin nervös. Ich hatte Zweifel an dieser langen Busfahrt - ich dachte: "Oh, mein Gott, in was bin ich nur geraten, nur um im Geschäft zu sein / Hier ist meine Frau mit einem neuen Baby zu Hause und hier gehe ich auf die Straße. Und als du mit Ernest unterwegs warst, bist du einfach nicht ein oder zwei Tage ausgegangen und bist nach Hause gelaufen. Ich war bis zu sechsunddreißig Tage alt und kam für zwei nach Hause und ging noch zwölf weitere - diese Art von Ding. Es war mehr, als ich ausgehandelt hatte, denn ich dachte, aber ich würde jetzt sicher keine Million Dollar für das nehmen, was ich aus der Arbeit mit Ernest Tubb gelernt habe.....
Übersetzt mit www.DeepL.com/Translator
Bewertungen lesen, schreiben und diskutieren...
mehr
Kundenbewertungen für "Billy Parker & Friends"
Bewertung schreiben
Bewertungen werden nach Überprüfung freigeschaltet.