Der Artikel wurde erfolgreich hinzugefügt.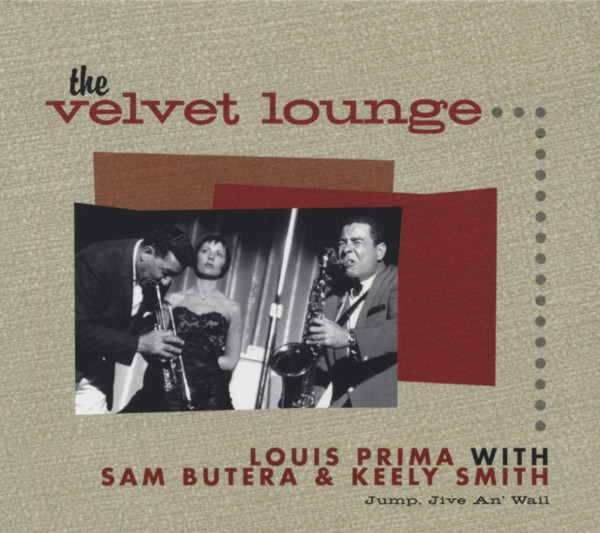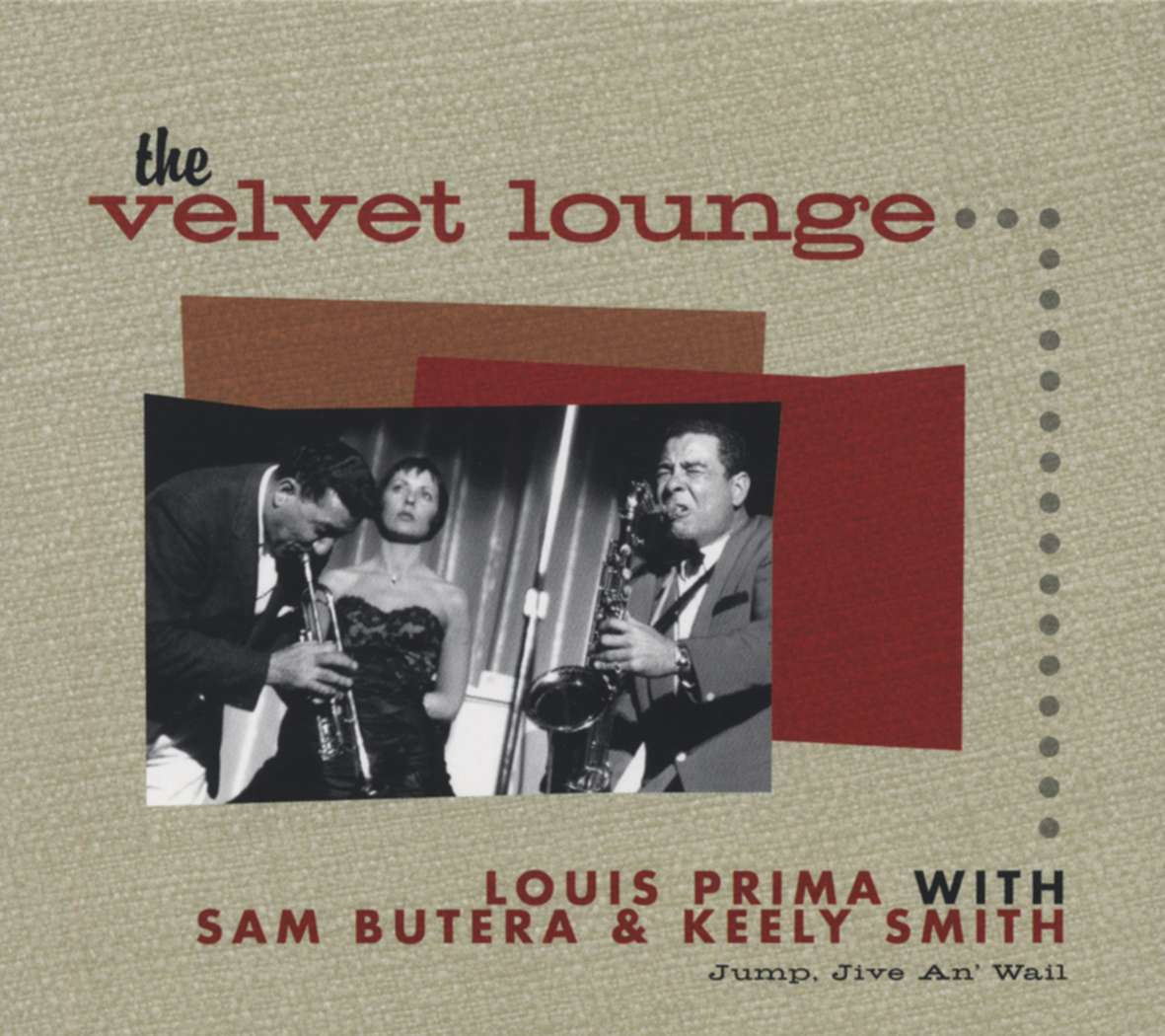 12,55 € *
15,95 € *
(21,32% gespart)
inkl. MwSt. / zzgl. Versandkosten - Abhängig vom Lieferland kann die MwSt. an der Kasse variieren.
Sofort versandfertig, Lieferzeit** 1-3 Werktage
1-CD-Album DigiPac (4-seitig) mit 36-seitigem Booklet, 30 Einzeltitel. Spieldauer ca. 87 Minuten....
mehr
Louis Prima & Sam Butera: Jump, Jive An' Wail - The Velvet Lounge
1-CD-Album DigiPac (4-seitig) mit 36-seitigem Booklet, 30 Einzeltitel. Spieldauer ca. 87 Minuten.
Louis Prima
, mit
Sam Butera
&
Keely Smith
Springen, Springen und Klagen
Als Louis Prima am 19. April 1956 mit der Aufnahme für
Capitol Records
begann, hatte sich seine Karriere in den letzten zwei Jahrzehnten stark verändert. Sein letzter Einbruch hatte etwa fünf Jahre gedauert, seit seinem letzten Überraschungshit Oh
Babe
!, den er 1950 für Robin Hood aufgenommen hatte, einem Label, das er mit Leo Rogers und dem Songwriter Ted Eddy gründete. Aber Robin Hood, ein unabhängiger Musiker, hatte Schwierigkeiten, von Distributoren und späteren Platten für das Label bezahlt zu werden, obwohl gut, scheiterte auf dem Markt.
Dazwischen hatte er eine Reihe von Flops für Columbia, unter der Schirmherrschaft von
Mitch Miller
, und für Decca geschnitten. 1954 wollte ihn keine Plattenfirma mehr.
Aber gehen wir zurück zum Anfang. Louis Leo Prima wurde am 7. Dezember 1910 in New Orleans als Sohn von Anthony und Angelina Caravella Prima geboren. Die enge sizilianische Familie, zu der auch die als Kind verstorbenen Brüder Leon und die Schwestern Elisabeth und Marguerite gehörten, lebte im Little Palermo-Abschnitt des französischen Viertels.
Anthony war ein hart arbeitender, aber passiver Mann, der Jumbo Soda Pop vertrieb, während Angelina den Haushalt führte. Angelina, selbst eine brasilianische Sängerin, sorgte dafür, dass jedes ihrer Kinder ein Musikinstrument spielte. Leon, der Älteste, begann mit Kornett, wechselte später zur Trompete und ging auf die Straße, bevor er nach Hause zurückkehrte, um seine eigenen Nachtclubs zu eröffnen. Louis wurde die Geige zugeteilt, die er hasste, also während Leon mit seiner neuen Trompete in Texas war, lehrte Louis sich selbst, das hinterlassene Kornett zu spielen. Leon erinnerte sich: "Ich blieb etwa ein Jahr oder so draußen, und als ich nach Hause kam, blies Louie die Trompete.... wirklich gut."
Damals lebten Italiener und Schwarze in New Orleans nebeneinander, arbeiteten zusammen und sozialisierten sogar bis zu einem gewissen Grad. In einem solchen Umfeld konnten die Prima-Jungs es nicht versäumen, die Klänge des Jazz zu hören, der von schwarzen Musikern wie
Louis Armstrong
und
King Oliver
gespielt wird. Obwohl das Gesetz Schwarze und Weiße verbot, professionell zusammenzuarbeiten, taten viele dies trotzdem, ohne Werbung.
Louis, ein natürlicher Entertainer, begann sich vor Ort einen Namen zu machen. Er leitete das Prima-Sharkey Orchestra mit Sharkey Bonano und spielte mit Leon Rappolo, beides wichtige Persönlichkeiten in der Geschichte des New Orleans Jazz. Seine erste große Chance kam 1931, als Lou Forbes ihn antrat, um im Saenger Theater der Stadt aufzutreten, wo er an Varieté-Skizzen und musikalischen Comedy-Skits teilnahm und die Bühnentechnik lernte, die ihm in Zukunft gut dienen würde.
1934 hörte der bekannte Bandleader
Guy Lombardo
ihn zufällig bei seinem Bruder Leon's Club Shim Sham spielen. Nachdem er gelaufen war, um seine Brüder dazu zu bringen, diesen jungen Trompeter zu hören, arrangierte Lombardo, dass Louis nach New York ging und ihm half, einen Plattenvertrag bei Brunswick Records zu bekommen, wo er bald Hits wie Let's Have A Jubilee, Chinatown, Lady In Red und die Nummer eins der Chasing Shadows hatte.
Lombardo war weniger erfolgreich bei der Suche nach Clubarbeit für Prima. Der Besitzer von Leon & Eddie's in der 52nd Street weigerte sich, ihn einzustellen, weil er aufgrund seines lockigen Haares, des Akzents von New Orleans und der sizilianischen Färbung glaubte, dass Louis schwarz sei. Aber im März 1935, nebenan bei Jack Colt's Famous Door, öffnete Prima und war ein Erfolg über Nacht, der sowohl junge Leute als auch die wohlhabenden Wellen der Park Avenue fesselte.
Aus Angst, dass Gangster ein Stück seiner Aktion wollen, machte sich Prima später in diesem Jahr auf den Weg nach Los Angeles und kaufte den Blue Heaven Club des Sängers
Gene Austin
und benannte ihn in Famous Door um. Er wiederholte seinen New Yorker Erfolg, wurde zum Liebling der Filmmusik und befreundete sich mit dem größten Star der Zeit,
Bing Crosby
.
Eines
Tages
sang Louis auf der Rennstrecke eine Melodie, die er Sing, Bing, Sing, Sing für seinen neuen Freund nannte. Crosby schlug vor, dass er es in Sing, Sing, Sing, Sing umbenennt, um es universeller zu machen. Nach Primas erster Aufnahme des Songs verwandelte
Benny Goodman
ihn in einen Swing-Klassiker mit dem berühmten Schlagzeugsolo von
Gene Krupa
.
Während seines Hollywoodaufenthaltes trat Louis in einer Reihe von Filmen auf, wie "The Champ's A Chump", "Swing It" und "You Can't Have Everything". Er traf sich auch mit Filmstars wie Jean Harlow und erneuerte seine Freundschaft mit Martha Raye.
Zurück in New York am Famous Door, machte er weitere Hitplatten, wie Pennies From Heaven, Rosalie und Exactly Like You, vergrößerte seine Band entsprechend der Zeit und fügte schließlich die Sängerin Lily Ann Carol hinzu, die während des Zweiten Weltkriegs zu einer großen Attraktion auf den majestätischen Platten der Band werden würde, wie My Dreams Are Getting Better All The Time und I'll Walk Alone.
Video von Louis Prima & Sam Butera - Jump, Jive An' Wail - The Velvet Lounge
Artikeleigenschaften von

Louis Prima & Sam Butera: Jump, Jive An' Wail - The Velvet Lounge
Albumtitel:

Jump, Jive An' Wail - The Velvet Lounge

Genre

Rock'n'Roll

Preiscode

AH

Artikelart

CD

EAN:

4000127172037

Gewicht in Kg:

0.2
Louis Prima, with Sam Butera & Keely Smith By the time Louis Prima began recording for...
mehr
"Louis Prima & Sam Butera"
Louis Prima, with Sam Butera & Keely Smith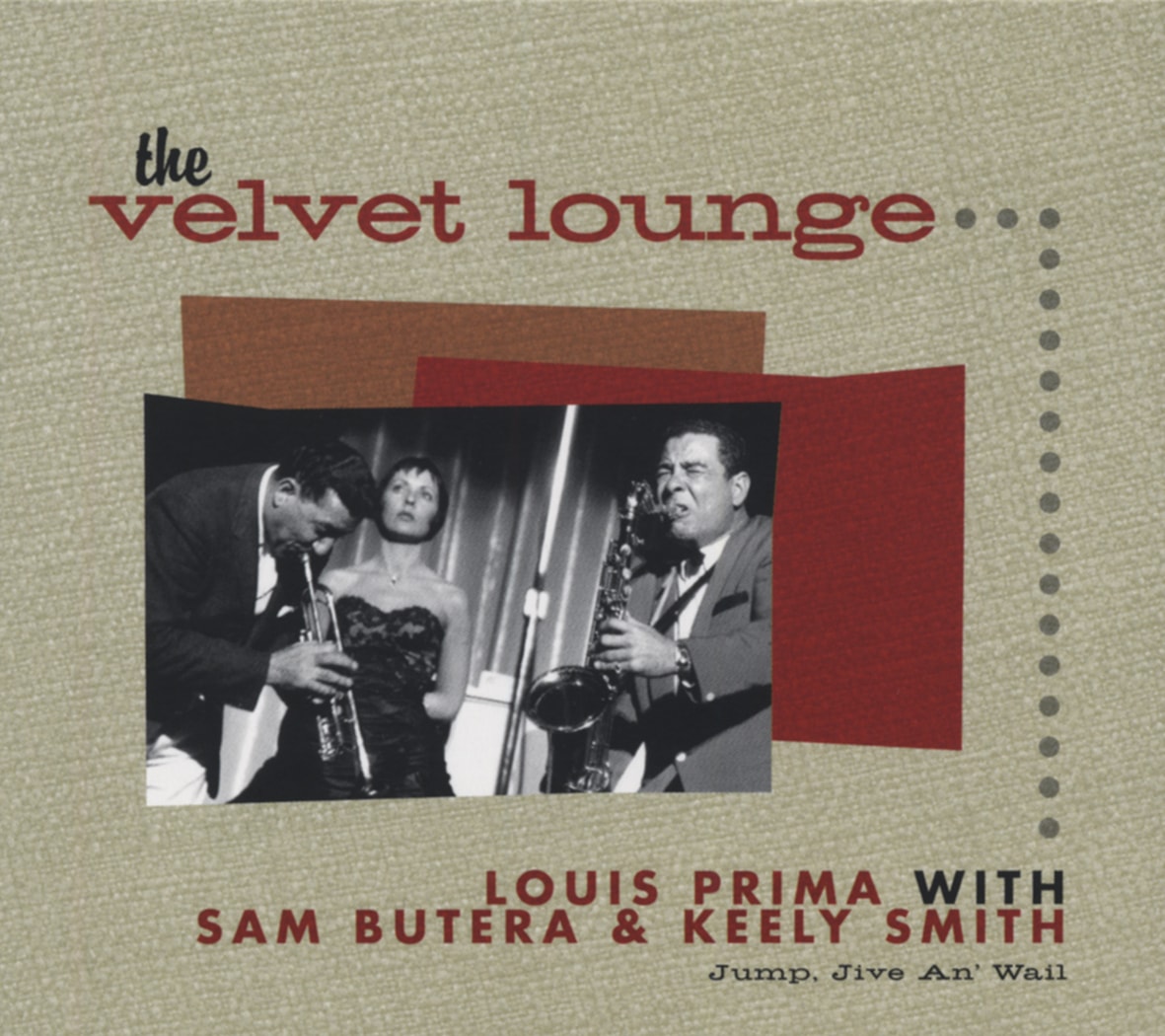 By the time Louis Prima began recording for Capitol Records on April 19, 1956, his up-and-down career had gone through a multitude of changes over the previous two decades. His most recent slump had lasted some five years, ever since his last surprise hit record, Oh Babe!, which he'd recorded in 1950 for Robin Hood, a label he started with Leo Rogers and songwriter Ted Eddy. But Robin Hood, an independent, had difficulty getting paid from distributors and subsequent records for the label, while good, failed in the marketplace.
In between, he'd cut a series of flops for both Columbia, under the auspices of Mitch Miller, and for Decca. By 1954, no record company wanted him.
But let's go back to the beginning. Louis Leo Prima was born on December 7, 1910 in New Orleans to Anthony and Angelina Caravella Prima. The tight-knit Sicilian family, which included brother Leon and sisters Elizabeth and Marguerite, who died as a child, lived in the Little Palermo section of the French Quarter.
Anthony was a hard working but passive man who distributed Jumbo Soda Pop, while Angelina ran the household. A brassy singer herself, Angelina made sure each of her children played a musical instrument. Leon, the eldest, started out on cornet, later switching to trumpet and taking to the road before returning home to open his own nightclubs. Louis was assigned the violin, which he hated, so while Leon was in Texas with his new trumpet, Louis taught himself to play the cornet left behind. Leon recalled, "I stayed out about a year or so and when I came home, Louie was blowing the trumpet…real good."
At that time, Italians and blacks in New Orleans lived near each other, working together and even socializing to some extent. In such an environment, the Prima boys could not miss hearing the sounds of jazz, as played by black musicians, like Louis Armstrong and King Oliver. Although the law prohibited blacks and whites performing professionally together, many did anyway, unadvertised 
A natural entertainer, Louis began making a name for himself locally. He fronted the Prima-Sharkey Orchestra with Sharkey Bonano and played with Leon Rappolo, both important figures in the history of New Orleans jazz. His first big break came in 1931 when Lou Forbes hired him to perform at the city's Saenger Theater, where he participated in vaudeville sketches and musical comedy skits, learning the stagecraft that would serve him well in the future.
In 1934, big name bandleader Guy Lombardo happened to hear him playing at his brother Leon's Club Shim Sham. After running to get his brothers to hear this young trumpeter, Lombardo arranged for Louis to go to New York and helped him get a recording contract with Brunswick Records, where he soon had hits like Let's Have A Jubilee, Chinatown, Lady In Red and the number one Chasing Shadows.
Lombardo was less successful finding club work for Prima. The owner of Leon & Eddie's on 52nd Street refused to hire him because, due to his curly hair, New Orleans accent and Sicilian coloring, he believed Louis was black. But in March of 1935, next door at Jack Colt's Famous Door, Prima opened, and was an overnight success, captivating both young people and the wealthy swells from Park Avenue.
In fear of mobsters wanting a piece of his action, Prima headed to Los Angeles later that year and bought singer Gene Austin's Blue Heaven club, renaming it the Famous Door. He repeated his New York success, becoming the darling of the movie crowd and befriending the biggest star of the era, Bing Crosby.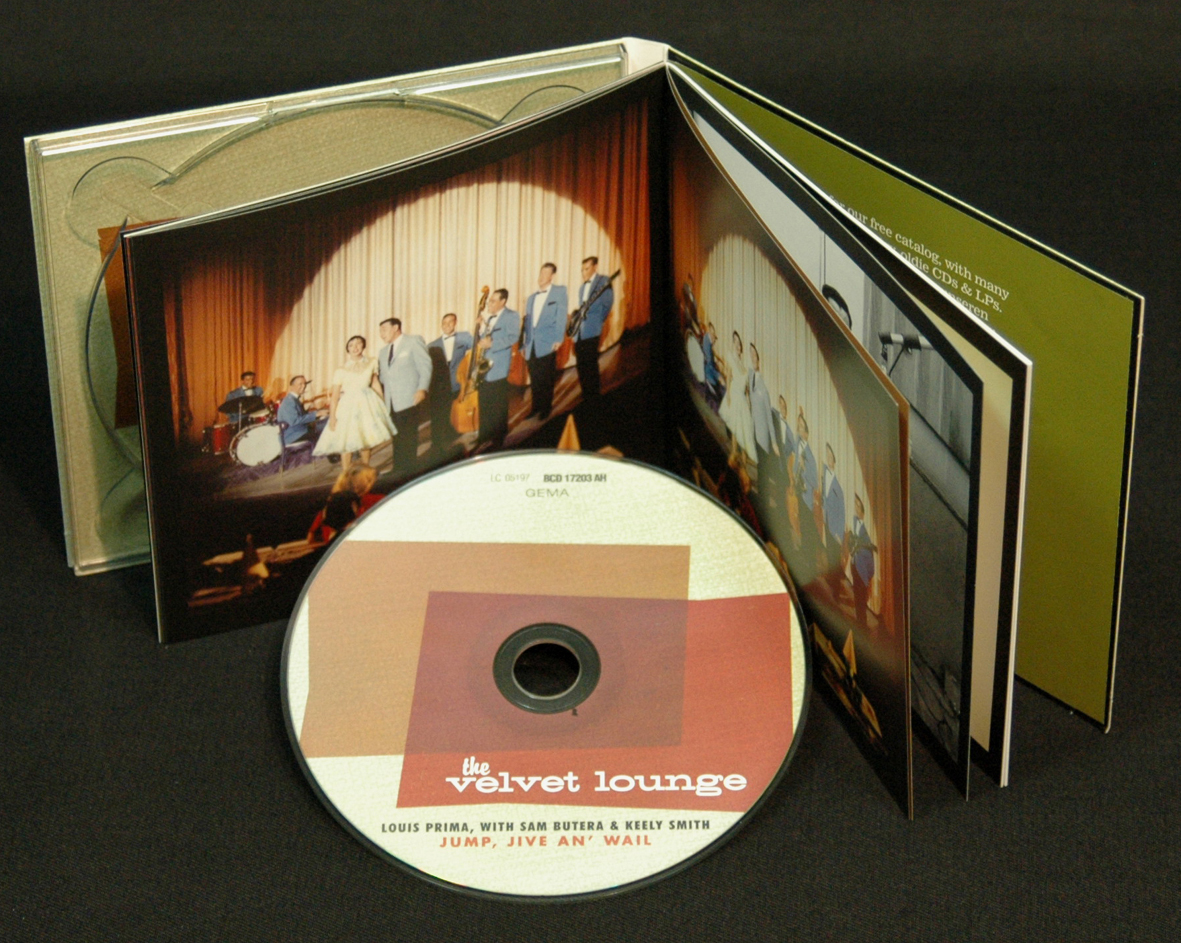 One day at the racetrack, Louis sang a tune he called Sing, Bing, Sing for his new friend. Crosby suggested he rename it Sing, Sing, Sing, to make it more universal. After Prima's first recording of the song, Benny Goodman turned it into a swing classic, with its famous drum solo by Gene Krupa.
While in Hollywood, Louis appeared in a number of motion pictures, like 'The Champ's A Chump,' 'Swing It' and 'You Can't Have Everything.' He also dated movie starlets like Jean Harlow and renewed his friendship with Martha Raye.
Louis Prima & Sam Butera Jump, Jive An' Wail - The Velvet Lounge
Read more at: https://www.bear-family.com/prima-louis-und-sam-butera-jump-jive-an-wail-the-velvet-lounge.html
Copyright © Bear Family Records
Bewertungen lesen, schreiben und diskutieren...
mehr
Kundenbewertungen für "Jump, Jive An' Wail - The Velvet Lounge"
Von:
Michael S.
Am:
08.06.2017
Top
Bewertung schreiben
Bewertungen werden nach Überprüfung freigeschaltet.