Der Artikel wurde erfolgreich hinzugefügt.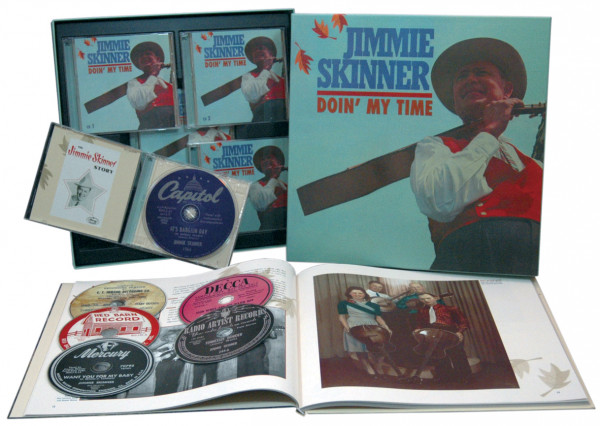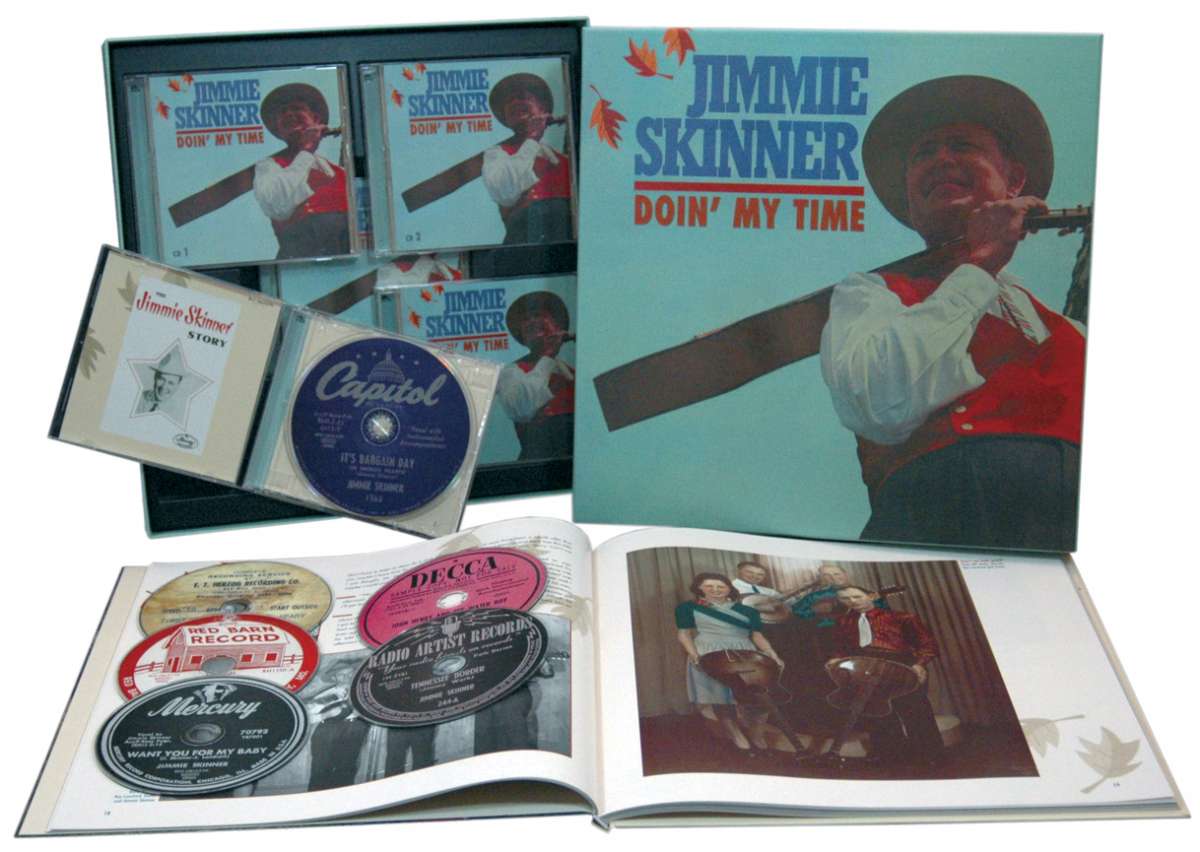 Artikel-Nr.:

BCD16613

Gewicht in Kg.:

2.1
6-CD Box (LP-Format) mit 92-seitigem gebundenen Buch, 162 Einzeltitel. Spielzeit ca. 465 Minuten....
mehr
Jimmie Skinner: Doin' My Time (6-CD)
6-CD Box (LP-Format) mit 92-seitigem gebundenen Buch, 162 Einzeltitel. Spielzeit ca. 465 Minuten.


Jimmie Skinner hat die Richtung vorgegeben, der viele aktuelle Sänger und Liedermacher des 'Alternativ-Country' folgen. Er selbst war beeinflußt von Blues-Künstlern seiner Jugendzeit, schrieb melancholische Lieder voller Verzweiflung und Wut, ausgestattet mit eingängigen, unvergeßlichen Melodien. Enttäuscht darüber, daß er keinen Vertrag bei einem der bedeutenden Labels bekam, produzierte und vertrieb er seine Platten selbst. Als seine Profi-Karriere begann, war er schon fast 40 Jahre alt – berühmt wurde Jimmie Skinner Ende der vierziger Jahre mit populär gebliebenen Songs wie Let's Say Goodbye
(Like We Said Hello), Will You Be Satisfied That Way, You Don't Know My Mind, Don't Give Your Heart To A Rambler und Doin' My Time.
Als eingeschworener Außenseiter der Countrymusic-Szene scherte sich Jimmie Skinner nicht darum, was in Nashville zur Tagesordnung gehörte. Seine Überempfindlichkeit und seine Visionen paßten ganz einfach nicht in die musikalische Landschaft. Jimmie Skinner reduzierte die Countrymusic auf ihre schnörkellose Ursprünglichkeit – in etwa so, wie es Sam Phillips später mit Elvis Presley, Carl Perkins,
Jerry Lee Lewis und speziell mit Johnny Cash und dessen Tennessee Two praktizierte. Jimmie Skinners Begleitung war auf das Nötigste beschränkt und eher rigide, er schlug aggressiv auf die Saiten seiner Gitarre und schuf auf diese Weise einen Backbeat, den sich später eine ganze Generation von Rockabilly-Sängern zueigen machte. Der Mandolinenspieler Ray Lunsford etwa begleitete Jimmie Skinner mit seinem leicht verschrobenem Takt-Verständnis, indem er Takt und Melodie kaum voneinander unterschied. Wenn Jimmie Skinners Phrasierungen auch an die eines Jimmie Rodgers oder frühen Ernest Tubb erinnerten, hatte seine Stimme etwas völlig Eigenständiges – ein warmes Bariton-Geknurre tönte damals aus den Musikboxen.
Als die bedeutenden Labels ihn endlich akzeptierten, kämpfte Jimmie Skinner für seine künstlerische Integrität. Seine Standhaftigkeit zahlte sich Ende der fünfziger Jahre aus – etliche Country-Hits forderten den ansonsten dominierenden Nashville-Sound heraus, darunter I Found My Girl In The U.S.A., What Makes A Man Wander und Dark Hollow. Als sich die Countrymusic zu verändern begann, machte
Jimmie Skinner nicht mit – freiwillig beendete er seine Karriere.
Früher eine der bekanntesten und beliebtesten Persönlichkeiten der Countrymusic, ist Jimmie Skinner heute nahezu vergessen. Nur einige seiner Singles wurden auf LPs wiederveröffentlicht, noch weniger auf Compact Disc. Die vorliegende, lange überfällige Lieder-Sammlung enthält endlich Skinners wichtigste Aufnahmen. Auf fünf CDs sind seine klassischen Aufnahmen für Red Barn, Radio Artists, Capitol, Decca und Mercury aus den Jahren 1947 bis 1962 enthalten – ergänzt durch Azetate und seltene Bluegrass-Tracks, die damals exklusiv über das Jimmie Skinner Music Center verkauft wurden. Auf der 6. CD liest
Jimmie Skinner persönlich Auszüge aus seiner unvollendeten Autobiographie. In einem unverwechselbaren Erzähl-Stil gibt Jimmie Skinner Geschichten aus der Zeit der Weltwirtschaftskrise preis, berichtet über seine ersten Versuche als Musiker, die frustrierenden Bemühungen um einen Plattenvertrag, über seine Hoch-Zeit beim Hörfunk in Knoxville und schließlich über seine Entscheidung, sich ins südwestliche Ohio zurückzuziehen.
Der Countrymusic-Spezialist David Sax hat für diese Edition eng mit Jimmie Skinners Angehörigen zusammengearbeitet, mit Jimmie Skinners früherem Gitarristen Rusty York und anderen, die dem Country-Star nahestanden. Im Zug der Recherche entdeckte David Sax unveröffentlichte Radio-Artists-Master-Azetate sowie Dutzende Fotos, Presseausschnitte und weitere Memorabilia in gedruckter Form.
Für den Text des 92-seitigen gebundenen Begleitbuchs verarbeitete Autor Dave Samuelson Artikel aus Zeitschriften und Fanzines, O-Töne und Interviews – das Resultat ist eine detaillierte Schilderung des aufregenden Lebens, der Musik und Karriere des Jimmie Skinner. 'Doin' My Time' ist die ultimative Edition über eine der faszinierendsten Persönlichkeiten in der Geschichte der Countrymusic.
Artikeleigenschaften von

Jimmie Skinner: Doin' My Time (6-CD)
Albumtitel:

Doin' My Time (6-CD)

Genre

Country

Edition 2

Deluxe Edition

Preiscode

FK

Artikelart

Box set

EAN:

4000127166135

Gewicht in Kg:

2.1
Skinner, Jimmie - Doin' My Time (6-CD)

Box set 1
01
On The Wrong Side Of The Tracks
02
Let's Say Goodbye Like We Said Hello
03
Doin' My Time
04
Dad Too Is Lonely
05
Will You Be Satisfied That Way
06
There Won't Be Much More Time
07
Tennessee Border
08
Don't Give Your Heart To A Rambler
09
I'm Afraid To Love You Anymore
10
If There Were No You
11
On The Wrong Side Of The Track
12
You've Been A Little Careless
13
There Won't Be Much More Time
14
Will You Be Satisfied That Way
15
You're Going To Be On The Receiving End
16
Capital Letters (Wrote Your Name...)
17
Memories And A Heart So Sick And Blue
18
Lula Lee
19
Here's My Good-Bye To You
20
The Rambler's Call
21
Doin' My Time
22
I'm Gonna Put You In My Pocket
23
Yesterday's Winner Is A Loser Today
24
You're My Big Baby Now
25
Blue Banjo Rag (instr.)
26
I Believe I'm Entitled To You
27
You Don' t Know My Mind
28
Muddy Water Blues
Skinner, Jimmie - Doin' My Time (6-CD)

Box set 2
01
Jimmie's Yodel Blues
02
You Locked The Door Of My Heart
03
You're Just A Rolling Stone
04
There's No Love In My Heart For You Now
05
I'd Gamble My Heart
06
There's Nothin' About You Special
07
I'm Giving You No Reason To Forget
08
Who Do You Think You're Fooling
09
I'm A Regular Daddy
10
It's My World
11
It's Bargain Day (In Broken Hearts)
12
The Hem Of His Garment
13
Dad, Too Is Lonely
14
Running Out Of Time
15
Station Door Blues
16
Falling Rain Blues
17
It's All The Same To Me
18
Journey's End
19
I Can't Tell My Heart That
20
Tell Them
21
Kentucky And You
22
Dreaming My Weary Life Away
23
'Tis Sweet To Be Remembered
24
(Send Me) A Penny Postcard
25
Women Beware (Of The Ramblin' Kind)
26
(I Can't Believe) It's Our Goodbye
27
When The Book Of Life Is Read
28
Holy Life Insurance
Skinner, Jimmie - Doin' My Time (6-CD)

Box set 3
01
I Ain't Got Time
02
Help Me Find My Broken Heart
03
Your Flyin' Days Are Through
04
I Saw Your Face In The Crowd
05
Singing Teacher In Heaven
06
Ready To Go Home
07
I've Got A Lot Of Love, Baby
08
By Degrees
09
I'm Allergic To Your Kisses
10
Baby I Could Change My Ways
11
What A Pleasure
12
Don't Give My Heart To A Rambler
13
My Broken Heart's Startin' To Show
14
Too Hot To Handle
15
Don't Get Around Much Anymore
16
John Henry And The Waterboy
17
Blame The Right One
18
I Don't Need A Doctor
19
Beautiful
20
Jesus Loves Us All
21
(My Heart's) On A Budget
22
Steppin' Out On You
23
Want You To Be My Baby
24
Dime A Dozen (That's What You Are)
25
How Low Can You Feel
26
I Need A Little Lovin'
27
Another Saturday Night
28
Just Ramblin' On
29
No Maybe In My Baby's Eyes
30
Hafta Do Somethin' 'Bout That
31
No Fault Of Mine
32
Born To Be Wild
Skinner, Jimmie - Doin' My Time (6-CD)

Box set 4
01
We've Got Things In Common (& CONNIE HALL)
02
Where Do We Go From Here (& CONNIE HALL)
03
What Makes A Man Wander
04
Where My Sweet Baby Goes
05
I Found My Girl In The U.S.A.
06
I'm The Girl In The U.S.A.
07
Doin' My Time
08
On The Wrong Side Of The Track
09
You Don't Know My Mind
10
Dark Hollow
11
Lonesome At Your Table (& CONNIE HALL)
12
Walkin' My Blues Away
13
When Temptation Smiles
14
John Wesley Hardin
15
Misery Loves Company
16
Married To A Friend (& CONNIE HALL)
17
Riverboat Gambler
18
Two Squares Away
19
Reasons To Live
20
I'm A Lot More Lonesome Now
21
Lonesome Road Blues
22
The Hem Of This Garment
23
Careless Love
24
God's Mansion In The Sky
25
I'll Weaken And Call
26
Big City
27
Please Don't Send Cecil Away
28
Four Walls, A Floor And A Ceiling
29
Don't Let Love Get You Down
30
Big City
31
Fallen Leaves
32
Short Life Of Trouble
33
Kentucky Mountain Chimes (inst)
Skinner, Jimmie - Doin' My Time (6-CD)

Box set 5
01
Hobo Bill's Last Ride
02
My Rough And Rowdy Ways
03
Dear Old Sunny South By The Sea
04
Jimmie The Kid
05
The Soldier's Sweetheart
06
My Blue Eyed Jane
07
Moonlight And Skies
08
I Miss The Mississippi And You
09
Never No Mo' Blues
10
Tuck Away My Blues
11
Somewhere Down Below The Mason Dixon Line
12
Jimmie Rodgers' Last Blue Yodel
13
Proof Heartaches
14
Wooden Angels
15
I Know You're Married (But I Love You Still)
16
One Dead Man Ago
17
Rambler's Call
18
Our Worlds Are Far Apart
19
Restless Heart
20
You Sure Don't Know My Mind
21
Jimmie's Theme (Mammy's Lullaby)(with yodel)
22
Down The Road To Love(& JOE CANNONBALL LEWIS)
23
Lost Lover Blues (& JOE CANNONBALL LEWIS)
24
Don't Say That It's Too Late (& LEWIS)
25
Ramblin' Boy Blues
26
Way Down In Dixieland
27
John Henry
28
Headin' South
29
Six Month Blues
30
Down Home Blues
31
Doin' My Time
32
Someone To Love Me Always
Skinner, Jimmie - Doin' My Time (6-CD)

Box set 6
01
Hamilton, Ohio:
02
A Damn Good Night for the Bums
03
Hard Times in Indianapolis
04
Carla DeMuir
05
Muscles, Little Rabbit & Snow-Covered Corpse
06
Writing 'Doin' My Time'
07
Auditioning for Gennett, RCA Victor & Decca
08
Good Old Al
09
Knoxville
Jimmie Skinner Had the category of 'alt-country' existed fifty years ago, Jimmie Skinner...
mehr
"Jimmie Skinner"
Jimmie Skinner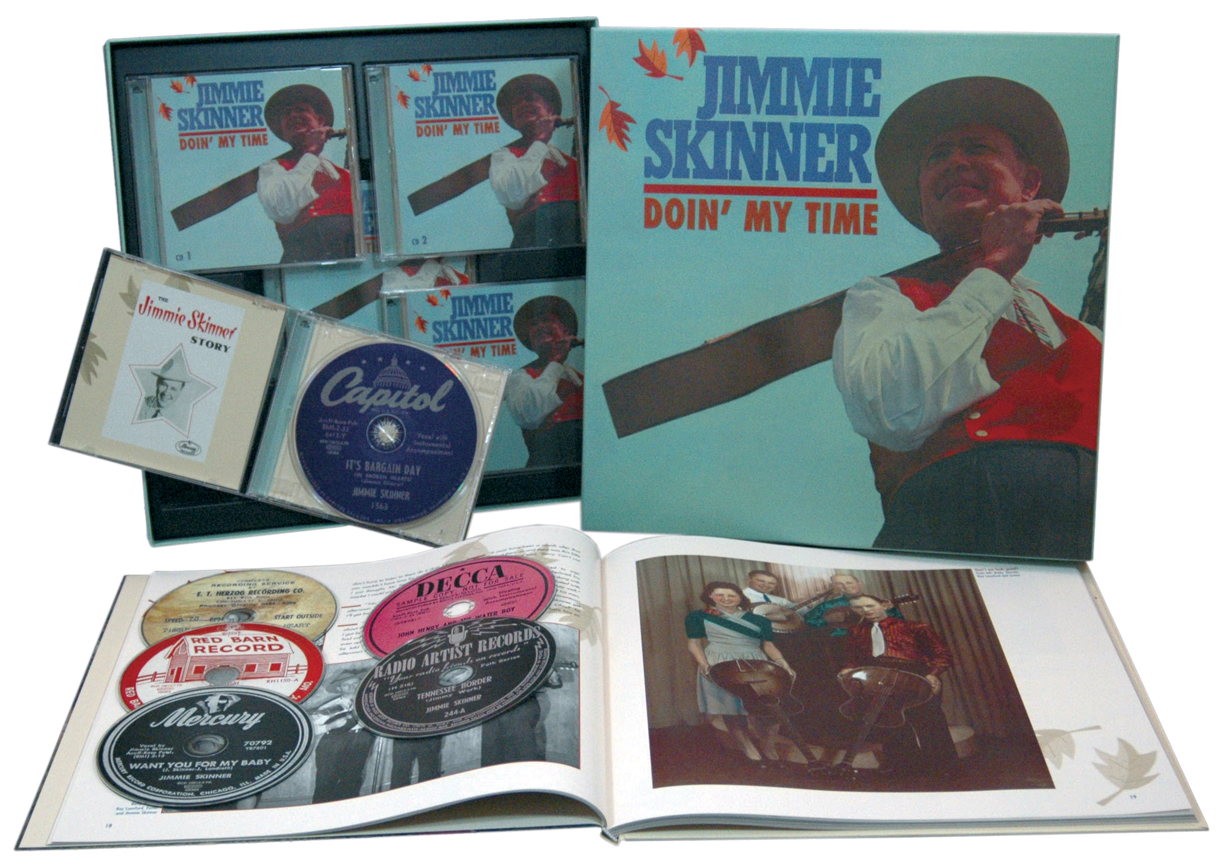 Had the category of 'alt-country' existed fifty years ago, Jimmie Skinner would fit right in. A brilliant singer-songwriter, Skinner was an intriguing personality who literally marched to the beat of his own drummer. His music seems more suited to juke-joint Wurlitzers than genteel living room Crosleys, yet Skinner's appeal crossed gender lines, attracting as many women as men. Some cite Skinner as a primal influence on the first generation of rockabillies. Others notice parallels between Johnny Cash's early Sun sound and the stark minimalism of Skinner's classic recordings.
As a songwriter, his talent was nonpareil. His admirers included Ernest Tubb, Hank Williams, Bill Monroe, Lester Flatt, Fred Rose, Jimmy Martin, and Johnny Cash. His lyrics were usually melancholy and occasionally angry; his melodies were usually catchy and occasionally hypnotic. As a performer, Skinner followed a peculiar internal clock that vexed the most patient, attentive musicians. He thrashed his guitar with as much emphasis on his upstroke as his downstroke, creating a double-time effect. More often than not, Skinner started singing on the backbeat – sometimes early, sometimes late. By his own admission, his singing voice was rough. If his blues-tinged delivery often reflected his heroes Jimmie Rodgers and Ernest Tubb, Skinner's voice was unmistakably his own – a deep, resonant baritone that seemed to growl.
At one time Skinner was one of country music's best-known, best-loved personalities. Through the fifties and sixties, virtually every country music magazine featured a full-page monthly ad promoting The Jimmie Skinner Music Center in downtown Cincinnati. Each type-heavy ad sported a halftone of the store's genial proprietor wearing his trademark Kentucky Colonel hat, narrow necktie and inviting smile. If your local record store didn't stock that new Columbia record by Wilma Lee & Stoney Cooper or that Starday single by Jimmie Williams & Red Ellis that you just heard on WCKY, Jimmie Skinner could send it to you. And when visiting Cincinnati, stop by 222 E. Fifth Street any weekday morning to watch Jimmie broadcast live in person from the Music Center's display window. At one point grocers even stocked Jimmie Skinner coffee, freshly ground and vacuum-packed.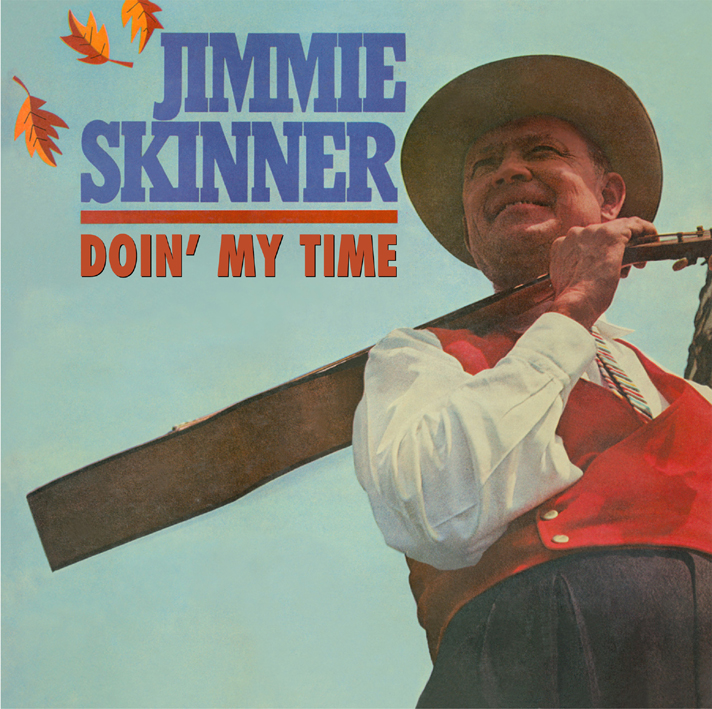 That was then. Mention Skinner's name to any country music fan or knowledgeable radio personality today, chances are you'll get a puzzled stare. Even though he placed ten records in 'Billboard's country charts between 1949 and 1960 – four in the Top 10 – Skinner has largely been forgotten. Relatively few of his singles were reissued on LP, much less on compact disc. Once in awhile you'll stumble across a budget-priced Skinner cassette or compact disc in a Midwestern or Southern truck stop. They're usually disappointing recordings he made late in life, backed by inattentive bluegrass musicians who lacked the finesse that Skinner's singing demands.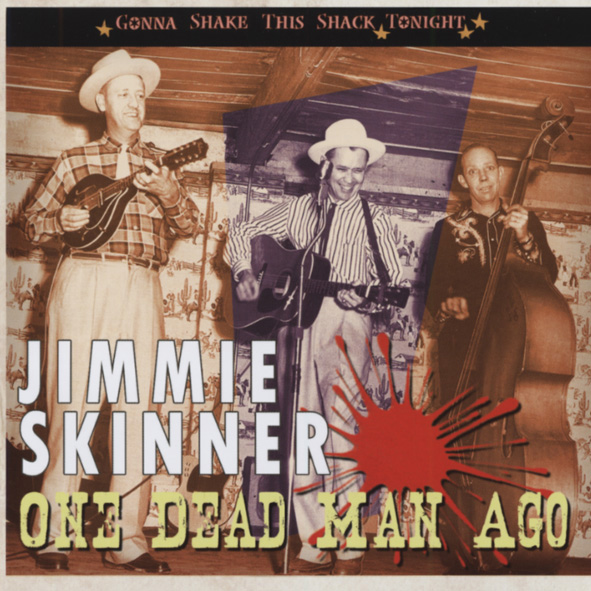 Nor do traces of this country music giant linger near Ohio's Queen City. The Jimmie Skinner Music Center's downtown location – a Mecca to people who loved edgy, uncompromising country and gospel music – was demolished decades ago. The electric sign that proudly hung over its façade deserves a display in the Cincinnati History Museum. Instead, it sits two thousand miles away, a rusty relic treasured by a San Diego record collector.
Jimmie Skinner Doin' My Time
Read more at: https://www.bear-family.de/skinner-jimmie-doin-my-time-6-cd.html
Copyright © Bear Family Records
Bewertungen lesen, schreiben und diskutieren...
mehr
Kundenbewertungen für "Doin' My Time (6-CD)"
Von:
The Country Collector
Am:
05.09.2017
A-plus
An impressive retrospective about this important musician!
Bewertung schreiben
Bewertungen werden nach Überprüfung freigeschaltet.
Weitere Artikel von Jimmie Skinner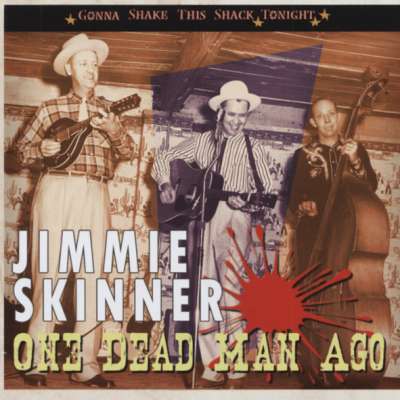 Jimmie Skinner: One Dead Man Ago - Gonna Shake This Shack Tonight
Art-Nr.: BCD16827


Sofort versandfertig, Lieferzeit** 1-3 Werktage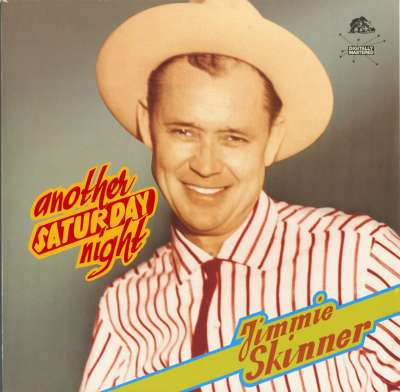 Jimmie Skinner: Another Saturday Night (LP)
Art-Nr.: BFX15266


Sofort versandfertig, Lieferzeit** 1-3 Werktage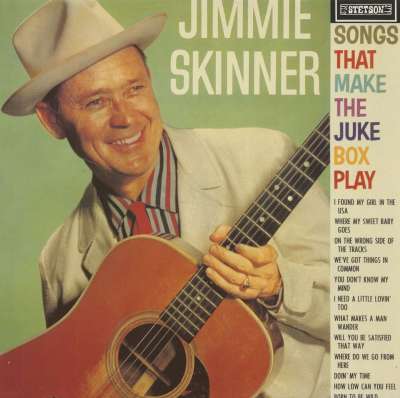 Jimmie Skinner: Songs That Make The Juke Box Play (Vinyl)
Art-Nr.: LPHAT3126


Sofort versandfertig, Lieferzeit** 1-3 Werktage