Der Artikel wurde erfolgreich hinzugefügt.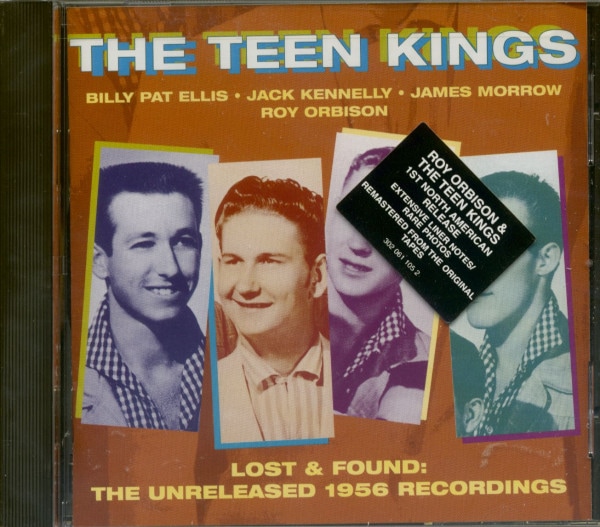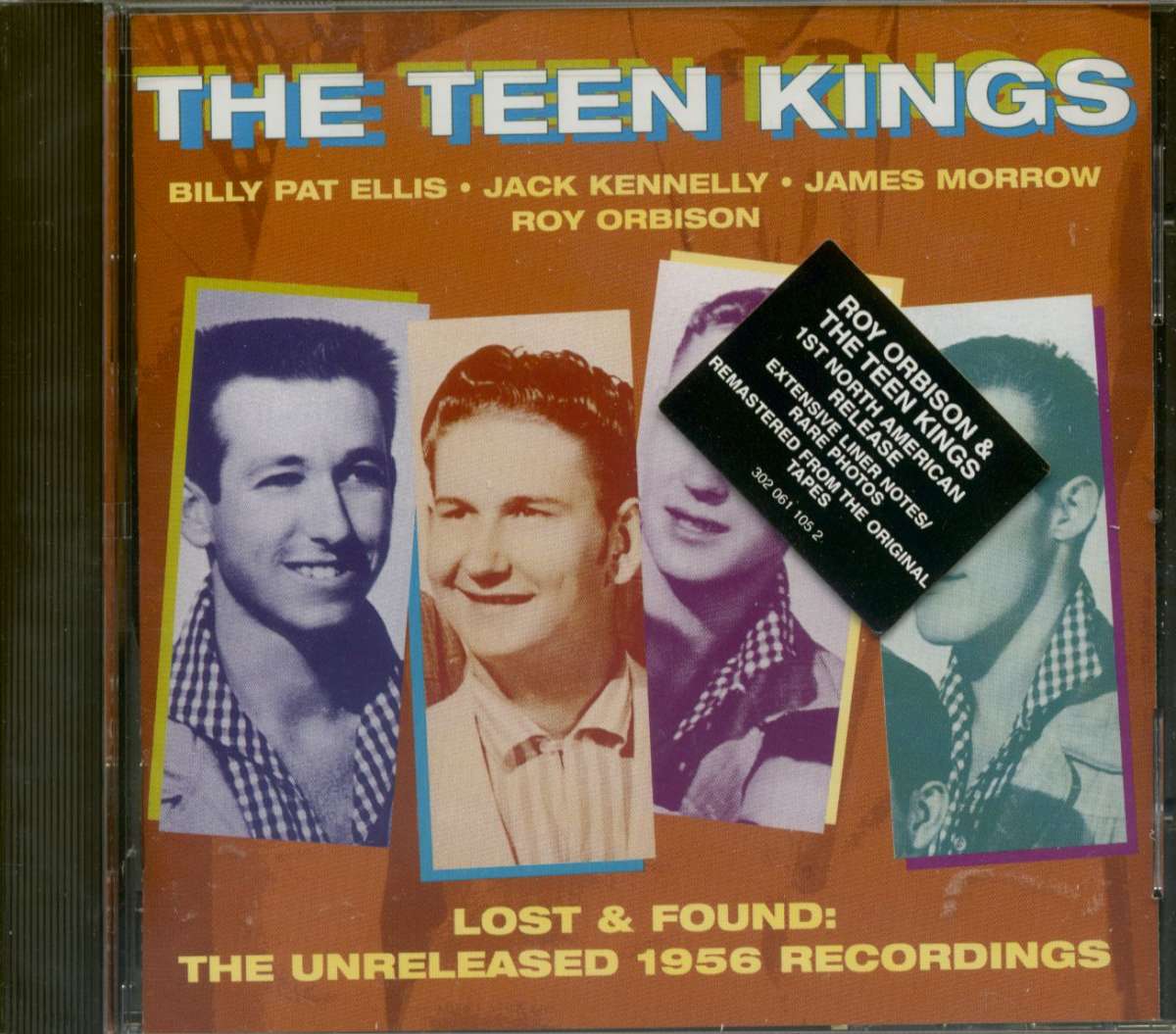 17,95 € *
19,95 € *
(10,03% gespart)
inkl. MwSt. / zzgl. Versandkosten - Abhängig vom Lieferland kann die MwSt. an der Kasse variieren.
Sofort versandfertig, Lieferzeit** 1-3 Werktage
Artikel-Nr.:

CDVSD61105

Gewicht in Kg.:

0.1
(2001/FUEL) 17 tracks - (US) - Cut Out 1956 with 16 page booklet US Version von CD ROLL 3012 in...
mehr
TEEN KINGS feat.Roy Orbison: The Teen Kings (CD)
(2001/FUEL) 17 tracks - (US) - Cut Out
1956 with 16 page booklet US Version von CD ROLL 3012 in Jewelbox mit anderem Cover Picture the scene ...it's 1956... a smoke-filled bar, late Saturday afternoon, Odessa, Texas, a bottle of Lone Star on the counter in front of you and a week of sweat and toil in the oil fields behind you. Through the smoke, someone switches on the black & white TV above the shelf of bottles behind the bar ...slowly a picture forms on the screen and a voice says, a little uncertainly, 'Are you ready?'
The Teen Kings
explode on the screen with a wild version of 'Oohy Dooby'. Wonder where those kids are from_ Nearly thirty years later, the recordings the 'Teen Kings made of sees' of those live television performances must rate historically as the most important release so far of Roy Orhison's long career. For the first time ever, two in the world, we are able to hear again some of the live broadcasts that preceded his world-wide commercial successes of the sixties and onwards that etched Roy's name on the Roll of Honour in the Rock 'n' Roll Hall of Fame. It is fortunate that these recordings have survived. They give us a chance to better understand the music of an era, sadly gone by, and to appreciate more fully the influence these two early groups had on Roy's heritage. This is the story of the Wink Westerners, The Teen Kings and
Roy Orbison
.... Roy's earliest memories of his musical career appear to haye been in 1941 when he was five years old and in the primary grade at school in Vernon, Texas. One of his leachers was A.K. Hamblen (the brother of singer composer
Stuart Hamblen
, writer of 'It is no secret' :trot ole !lousy') who recognised and encouraged (lot abilities. Roy's father, ( Lee, is generally credited with teach-ing Roy to play guitar (Ir was givcn a flat-top acoustic guitar for his sixth birthday I I I( of er, Roy would also have learnt from other family members including
Charlie
Orhison, Orbie Lee's brother, and Kenneth Schultz, brother of Roy's mother, Nadine. Together with Clois Russell, Orbie Lee's neighbour and workmate, the Orbison clan would often sing and play - mostly for their own amusement but occasionally for a local dance - in between work in the local oil fields, Roy sometimes joining in with his rendition of 'You are my sunshine'. Radio was the train opportunity to hear music in the forties and WSM's 'Grand Ole Opry' broadcasts were easily heard throughout Texas.
The Carter Family
were broadcasting from Del Rio, Texas and
Bob Wills
from Fort Worth. The airwaves resound-ed with the music of various Mexican groups from along the southern border area. Roy would never forget the mixture of Country and Spanish-Mexican rhythms from those times. The Orbisons moved to Fort Worth sometime in 1942 and Orbie Lee found employment in the munitions and aircraft factories that had been expanded due to
America
's entry into World War 11. Radio stations WRAP and KFIZ were the main broadcasters in this part of Texas and they regularly featured Bob Wills & The Light Cr'. Doughboys,
Ted Daffan
, and
Ernest Tubb
. In later years Roy often recalled seeing Tubb appear on the hack of a flatbed truck, singing the praises of some local dairy products in between songs. Roy's own repertoire at this time included 'When my blue moon turns to gold', 'Dusty skies', 'No letter today' and 'San Antonio Rose'.
Artikeleigenschaften von

TEEN KINGS feat.Roy Orbison: The Teen Kings (CD)
Albumtitel:

The Teen Kings (CD)

Genre

Rock'n'Roll

Artikelart

CD

EAN:

0030206110524

Gewicht in Kg:

0.1
Teen Kings, The - The Teen Kings (CD)

CD 1
01
Ooby Dooby
TEEN KINGS feat.Roy Orbison
02
Racker Tacker
TEEN KINGS feat.Roy Orbison
03
Blue Suede Shoes
TEEN KINGS feat.Roy Orbison
04
Brown Eyed Handsome Man
TEEN KINGS feat.Roy Orbison
05
St. Louis Blues
TEEN KINGS feat.Roy Orbison
06
All By Myself
TEEN KINGS feat.Roy Orbison
07
Lawdy Miss Clawdy
TEEN KINGS feat.Roy Orbison
08
Jam
TEEN KINGS feat.Roy Orbison
09
Rock House
TEEN KINGS feat.Roy Orbison
10
Singing The Blues
TEEN KINGS feat.Roy Orbison
11
Pretend
TEEN KINGS feat.Roy Orbison
12
Rip It Up
TEEN KINGS feat.Roy Orbison
13
Trying To Get To You
TEEN KINGS feat.Roy Orbison
14
TK Blues
TEEN KINGS feat.Roy Orbison
15
Go! Go! Go!
TEEN KINGS feat.Roy Orbison
16
Bo Diddley
TEEN KINGS feat.Roy Orbison
17
Do You Remember?
TEEN KINGS feat.Roy Orbison
Roy Orbison had a string of nine American Top Ten hits and even more in Britain between 1960 and...
mehr
"TEEN KINGS feat.Roy Orbison"
Roy Orbison had a string of nine American Top Ten hits and even more in Britain between 1960 and 1966. In a period when most successful pop music was decidedly lightweight, his records were sensitive, sombre and overpoweringly emo-tional. Born in Vernon, Texas on April 23, 1936, Roy Kel-ton Orbison began as a rockabilly singer with the Wink Westerners and then the Teen Kings, who included Johnny `Peanuts' Wilson on rhythm guitar. His first records were cut at Norman Petty's studio in Clovis, New Mexico, and re-leased on Jewel. In 1956, Orbison recorded for Sun and `Ooby Dooby' reached No. 59 in the national charts. Further Sun Singles — hard rockers, unsuited to Orbison' voice — were unsuccessful. In 1958, Orbison's song 'Clau dette' was recorded by the Everly Brothers and he moved to Nashville to concentrate on songwriting.
One single for RCA followed, then Orbison signed with Fred Foster's Monument label. His second release on the label was 'Only The Lonely' which went to No. 2 in America and topped the British charts. It set the pattern for the string of big, mournful, almost operatic ballads which followed — 'Blue Angel', 'Runnin' Scared', 'Dream Baby', 'Crying' and 'Blue Bayou' were among them. 'In Dreams' (Top Ten in 1963 on both sides of the Atlantic) was the Orbison song par excellence, with its spoken introduction, ringing tear-jerking theme, soaring falsettos and storming crescendo. His romanticism was a legacy of his Southern upbringing. Many of his best songs reflect the emotional honesty of the best country music and tell of situations well loved by the Dixie audience Orbison was the loner, the rejected lover, the born loser. He took his initial cue, no doubt, from country singer Don Gibson but there was something magical about the qualities of his songs which transcended even the best Gibson numbers.
His voice, too, developed into something great — it contained within it something of Don Gibson's blue, lamenting quality, but it also exhibited much of the raw emotionalism of black music : it was the combination of these two qualities which created the mystique of the Big O's voice. It was tender, but the tenderness never seemed to slip into sentimentality — it was a tenderness permeated by toughness. The mystique of the Orbison voice was emphasized even more strongly at personal appearances, where his stunning lack of movement seemed oddly contradictory in the age of the Shadows and Freddy Cannon. Not only did he stand completely motion-less, but he also managed to sing his hard-hitting material (exact re-creations of the records) without appearing to move his lips any more than the average ventriloquist.
In the middle Sixties, Orbison's popularity and the quality of his material declined, although 'Too Soon To Know' (on MGM, where he moved in 1965) reached the British Top Ten. He was also dogged by domestic tragedy when his wife, Claudette, died in a motorcycle accident in 1966 and his house was destroyed by fire in 1968. His was the most dis-tinctive voice in the pop music of the early Sixties.
Bewertungen lesen, schreiben und diskutieren...
mehr
Kundenbewertungen für "The Teen Kings (CD)"
Bewertung schreiben
Bewertungen werden nach Überprüfung freigeschaltet.
Weitere Artikel von TEEN KINGS feat.Roy Orbison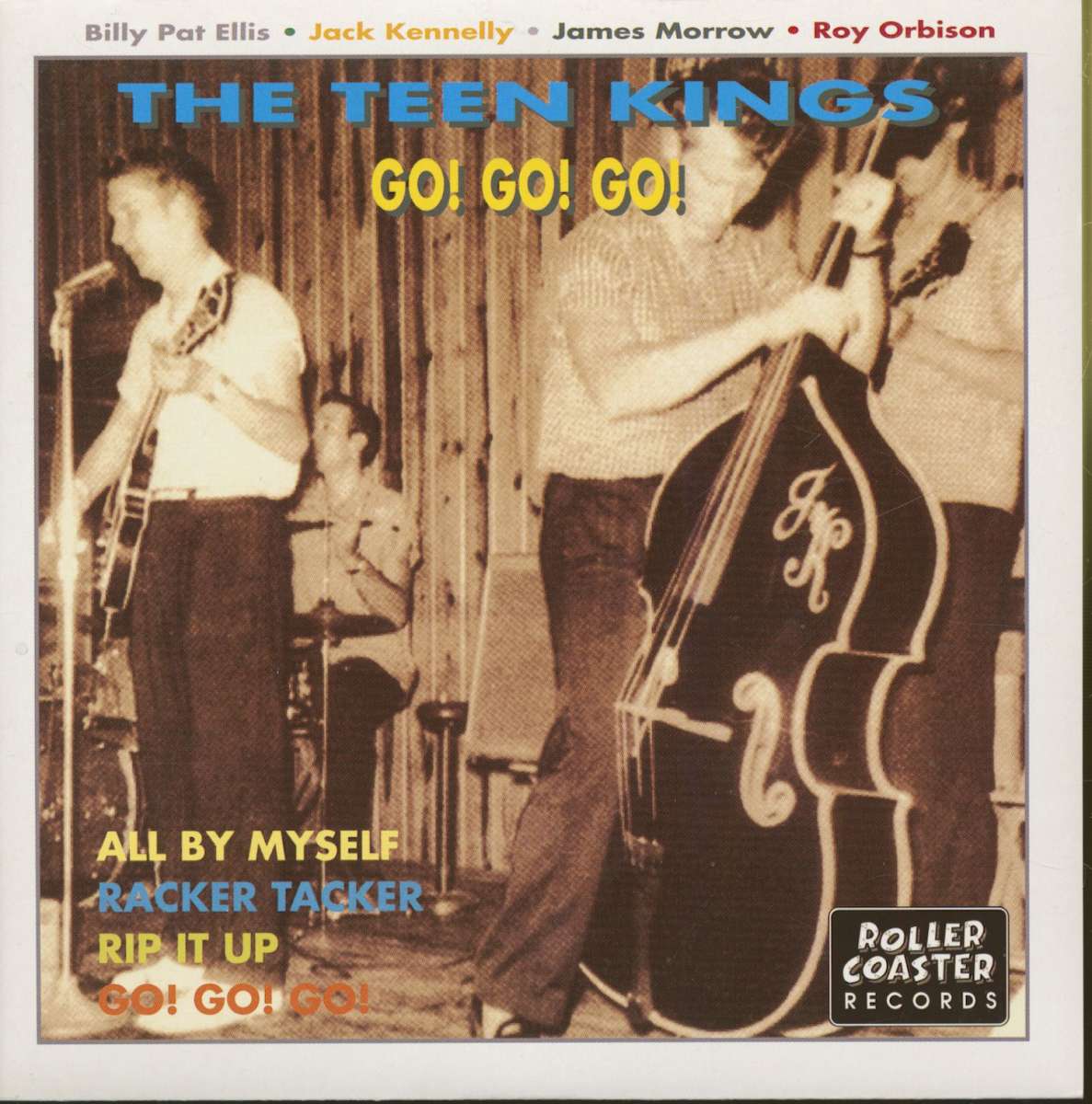 Teen Kings: Go! Go! Go! (7inch, 45rpm, EP, PS, SC)
Art-Nr.: RCEP117


Sofort versandfertig, Lieferzeit** 1-3 Werktage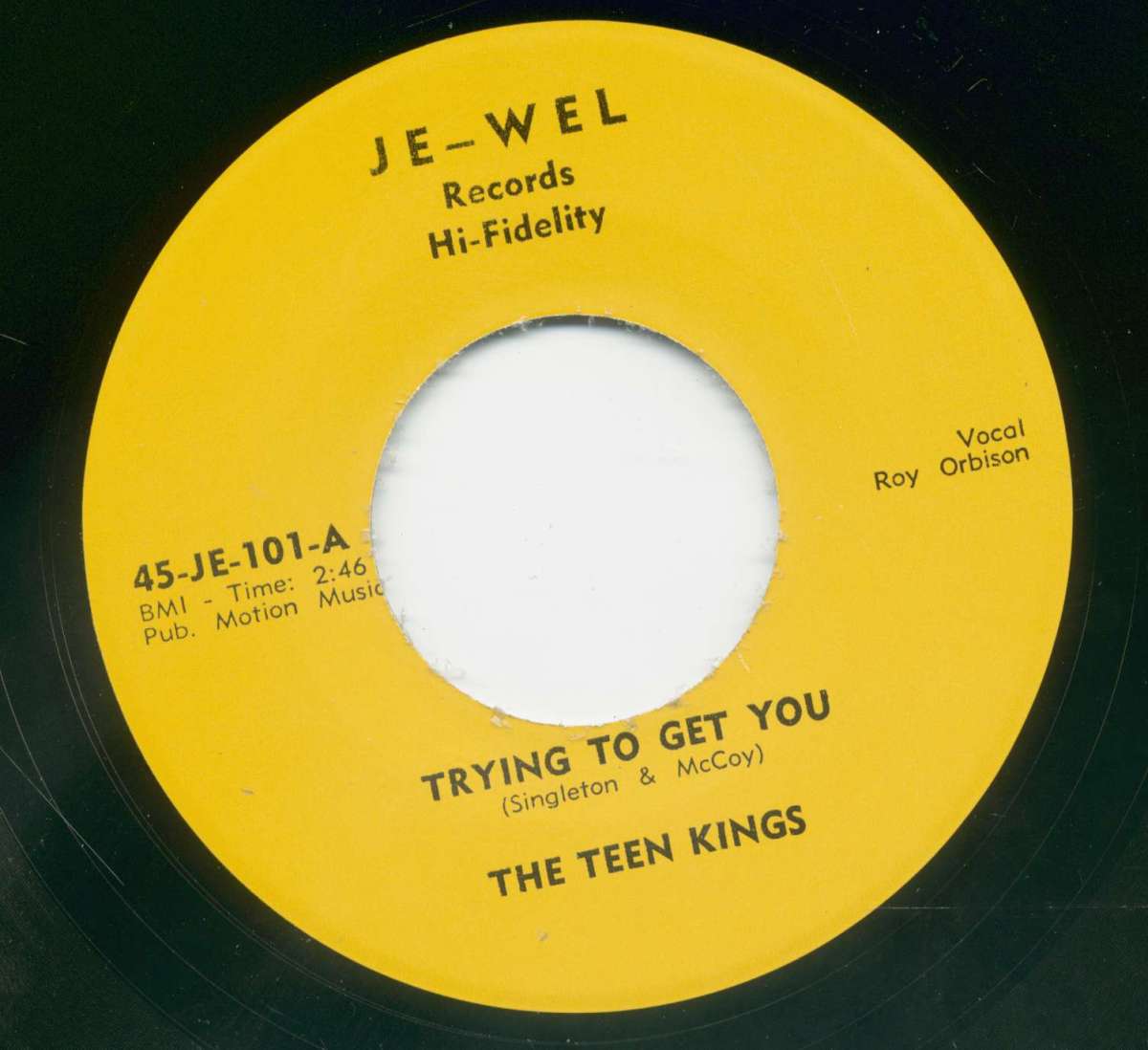 Teen Kings: Oooby Dooby - Trying To Get You (7inch, 45rpm)
Art-Nr.: 45REP20010


nur noch 2 verfügbar
Sofort versandfertig, Lieferzeit** 1-3 Werktage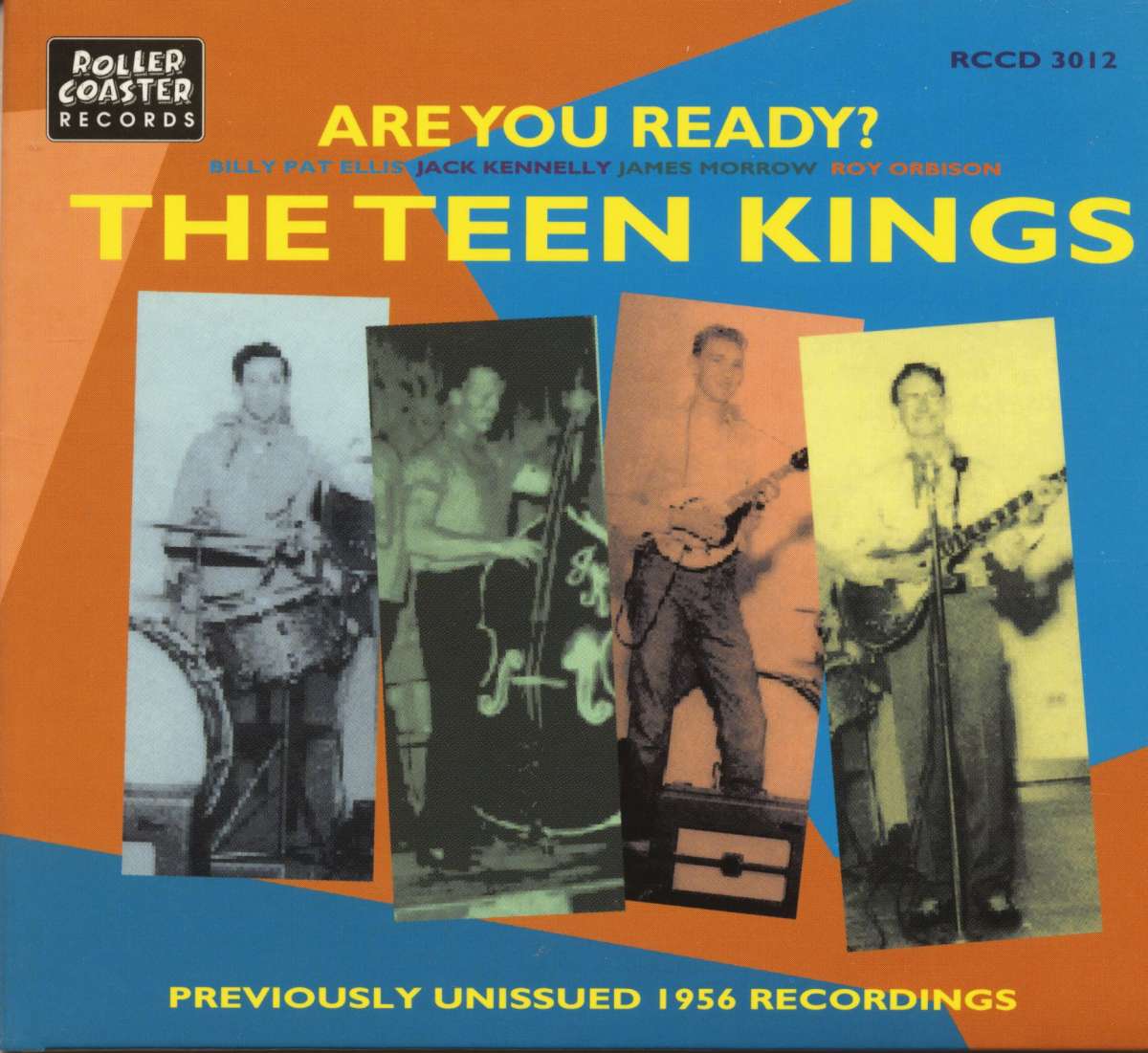 TEEN KINGS feat.Roy Orbison: Are You Ready ? (CD)
Art-Nr.: CDROLL3012


Sofort versandfertig, Lieferzeit** 1-3 Werktage