Der Artikel wurde erfolgreich hinzugefügt.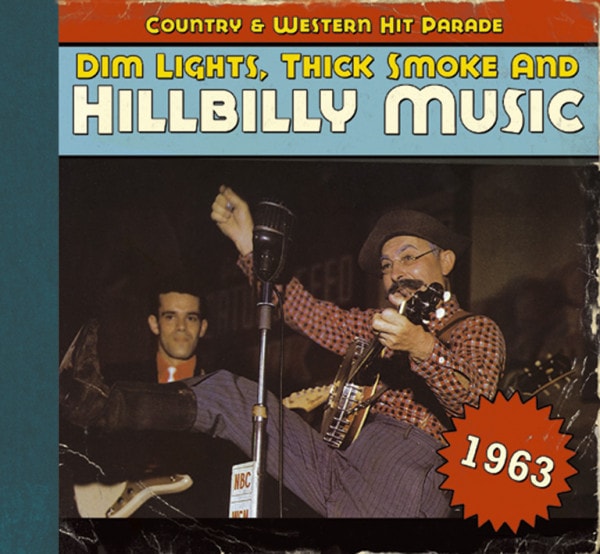 14,95 € *
16,95 € *
(11,8% gespart)
inkl. MwSt. / zzgl. Versandkosten - Abhängig vom Lieferland kann die MwSt. an der Kasse variieren.
Sofort versandfertig, Lieferzeit** 1-3 Werktage
1-CD-Album deluxe mit 72-seitigem Booklet, 32 Tracks. Spielzeit ca. 84 Minuten. Dim Lights,...
mehr
Various - Country & Western Hit Parade: 1963 - Dim Lights, Thick Smoke And Hillbilly Music
1-CD-Album deluxe mit 72-seitigem Booklet, 32 Tracks. Spielzeit ca. 84 Minuten.
Dim Lights, Thick
Smoke
And Hillbilly Music 1963".
Country &
Western
Hit Parade 1963
In der Country-Musikgeschichte geht 1963 als Jahr der Verluste unter. Um 14:00 Uhr am Dienstag, den 5. März, verließ ein Leichtflugzeug der Piper Comanche
Kansas
City
in Richtung Nashville. Es waren drei Passagiere und ein
Pilot
an Bord. Sie landeten gegen 17:00 Uhr in Dyersburg, Tennessee, tankten auf und starteten um 18:07 Uhr wieder. Das Wetter war schlecht, aber der Pilot wollte nach Hause, und alle anderen an Bord auch. Schlechtes Wetter hatte sie bereits um einen Tag verzögert, also beschlossen sie, ihr Risiko einzugehen.
Eine Stunde von Dyersburg entfernt, ein Regensturm und die eindringende Dunkelheit verwirrten den Piloten und er stürzte das Flugzeug in dichte Wälder bei Camden, Tennessee, weniger als hundert Meilen von Nashville entfernt.
Patsy Cline
,
Cowboy Copas
,
Hawkshaw Hawkins
und der Pilot, Randy Hughes, wurden getötet. Hughes, einst selbst Musiker, war
Cowboy
Copas' Schwiegersohn und Patsy Cline' Manager und Liebhaber. Hawkshaw Hawkins hatte einen Platz auf einem Linienflug aufgegeben, so dass sein Grand Ole Opry Co-Star,
Billy Walker
, bei seinem kranken Vater sein konnte. Sie waren alle in Kansas City gewesen, um bei einer Benefizshow für die Familie eines Disc-Jockeys aufzutreten, der fünf Wochen zuvor bei einem Autounfall gestorben war.
Am 7. März fand in Hendersonville eine Gedenkfeier für Patsy Cline statt, deren Überreste in ihr Haus in Virginia gebracht werden sollten. Als er zum Dienst fuhr, wurde Jack Anglin von Johnnie & Jack bei einem Autounfall getötet. Und dann, am 29. März, wurde
Texas Ruby
, die Hälfte des Duos Curly Fox und
Texas Ruby
, bei einem Trailerbrand getötet, während Fox auf der Opry auftrat. In derselben Woche wurde berichtet, dass
George Jones
' Reisebus in eine Schlucht in der Nähe von Grants Pass, Oregon, fiel und fünf Menschen an Bord verletzte.
Und dann, am 27. August, kam die Nachricht, dass Jim Denny gestorben war. Als bärenhafter Mann mit einem verwegenen Toupet hatte sich Denny in der Grand Ole Opry-Hierarchie von der Poststelle bis zum Leiter des Artist Service Bureau hochgearbeitet, von wo aus er die Show effektiv leitete. 1953 hatte er Cedarwood Music gegründet, und 1956 begann die Opry einen Interessenkonflikt zwischen Denny's Arbeit für die Show und seinen Außenaktivitäten zu sehen. Denny verließ die Opry, um sich auf Cedarwood und sein neues Unternehmen, das Jim Denny Artist Bureau, zu konzentrieren.
Zum Zeitpunkt seines Todes war Cedarwood einer der drei großen Musikverlage in Nashville und die Denny-Agentur war einer der herausragenden Buchmacher der Country-Musik. Trotz all seiner Schroffheit pflegte Denny seine Songwriter und Kunden.
Stonewall Jackson
erinnerte sich an Denny, der ihm riet, sich von reichen und schnellen Programmen fernzuhalten und in Immobilien zu investieren. "Der erste große Scheck, den ich bekam, war, dass ich ein schönes Haus gekauft habe, in dem mein Sohn jetzt lebt", sagt Stonewall. "Mit dem Geld von Waterloo" kaufte ich das dreißig Hektar große Land, auf dem ich jetzt lebe. Setz ein Haus darauf. Du musst auf den Rat hören."
Auch 1963 gab es positive Entwicklungen. Im Juli startete
Faron Young
ein Country-Musik-Fanzine, "Music City News". Er engagierte eine junge britische Journalistin,
Dixie
Deen (die später
Tom T. Hall
heiratete), und Deen schrieb einige der ersten Langstreckenjournalisten über Country-Künstler. Und dann, im September, begann'The
Jimmy Dean
Show' mit einem dreijährigen Run auf den Hauptzeitplan von ABC-TV und brachte die Country-Musik näher an den Mainstream als je zuvor.
Im letzten Jahr vor den Beatles änderten sich die populären Musikrichtungen, mehr Country-Songs als je zuvor stiegen in die Pop-Charts ein, und nach
Ray Charles
' Beispiel begannen mehr Pop-Künstler, Country-Songs aufzunehmen oder in Nashville aufzunehmen. Sogar
Nat King Cole
belebte seine Karriere mit der ländlichen Rambling Rose. Der rastlose Ray Charles machte weiter, nachdem er
Johnny Cash
's Busted abgedeckt hatte, aber sein Einfluss hielt an.
Video von Various - Country & Western Hit Parade - 1963 - Dim Lights, Thick Smoke And Hillbilly Music
Artikeleigenschaften von

Various - Country & Western Hit Parade: 1963 - Dim Lights, Thick Smoke And Hillbilly Music
Albumtitel:

1963 - Dim Lights, Thick Smoke And Hillbilly Music

Genre

Country

Preiscode

AR

Edition 2

Deluxe Edition

Artikelart

CD

EAN:

4000127169686

Gewicht in Kg:

0.2
Various - Country & Western Hit Parade - 1963 - Dim Lights, Thick Smoke And Hillbilly Music

CD 1
01
Detroit City
Bare, Bobby
02
I Gotta Get Drunk (And I Shore Do Dread It)
Carson , Joe
03
Busted
Cash, Johnny
04
Leavin' On Your Mind
Cline, Patsy
05
Lonesome 7-7203
Hawkins, Hawkshaw
06
We Must Have Been Out Of Our Minds
Jones, George & Montgomery, Me
07
Talk Back Trembling Lips
Ashworth, Ernest
08
Still
Anderson , Bill
09
B.J. The D.J.
Jackson, Stonewall
10
The Yellow Bandana
Young, Faron
11
Walk Me To The Door
Price, Ray
12
Act Naturally
Owens, Buck
13
Thanks A Lot
Tubb, Ernest
14
Six Days On The Road (Original)
Dudley , Dave
15
Don't Call Me From A Honky Tonk
Mosby, Johnny & Jonie
16
Not What I Had In Mind
Jones, George
17
Mountain Of Love
Houston , David
18
Before I'm Over You
Lynn , Loretta
19
Abilene
Hamilton IV, George
20
Ninety Miles An Hour (Down A Dead End Street)
Snow, Hank
21
Begging To You
Robbins, Marty
22
Five Hundred Miles Away From Home
Bare, Bobby
23
8x10
Anderson , Bill
24
Call Me Mr. Brown
McDonald, Skeets
25
The End Of The World
Davis , Skeeter
26
Ring Of Fire
Cash, Johnny
27
Sweet Dreams (Of You)
Cline, Patsy
28
Let's Invite Them Over
Jones, George & Montgomery, Me
29
Love's Gonna Live Here
Owens, Buck
30
Night Life
Price, Ray
31
T For Texas
Jones, Grandpa
32
I Wanna Go Home
Grammer, Billy
Dim Lights, Thick Smoke And Hillbilly Music Country & Western Hit Parade Diese...
mehr
"Various - Country & Western Hit Parade"
Dim Lights, Thick Smoke And Hillbilly Music
Country & Western Hit Parade

Diese Serie ist das Nonplus ultra, großartig aufgemacht und mit perfektem Mastering
Jack Clement, der Johnny Cash, Roy Orbison, Waylon Jennings, Don Williams und viele andere produziert hat, sagte: "Dies ist fraglos die beste Country-Serie der Musikgeschichte, kein Zweifel!" Und Robert Hilburn schrieb in der 'Los Angeles Times': "Dieses unschätzbar wertvolle Album-Projekt... ermöglicht es den Fans so zuzuhö ren, wie es schon Elvis Presley, Ray Charles und Bob Dylan taten."
Die Hits sind ergänzt um Raritäten, die die Country Music – und die Musik generell – in den Folgejahren be- einflußt haben: zum Beispiel Wanda Jacksons Originalversion von Silver Threads And Golden Needles, Carl Belews Original von Lonely Street und Chet Atkins' wegweisendes Walk, Don't Run.
Diese Serie ist konzipiert, um neue Hörer für das Beste zu gewinnen, das die Country Music je anzubieten hatte, aber auch um alte Fans bestens zu unterhalten. Jede einzelne CD steht für eine wunderbare Zeitreise.
Neben den Hits präsentiert die Serie viele Raritäten, die die Country Music – und die Musik generell – in der Folgezeit beeinflußt haben.
Wie alles begann: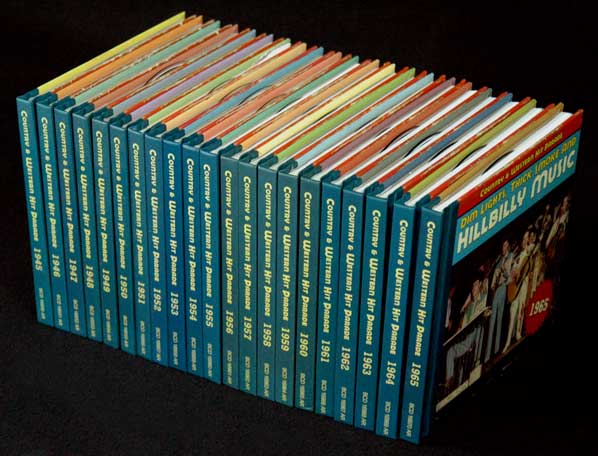 Seit vielen Jahren erhielten wir immer wieder Anfragen nach einer definitiven Country-Serie. Und nachdem unsere chronologisch sortierten R&B-/Soul-Reihen 'Blowin' The Fuse' und zuletzt 'Sweet Soul Music' (denen sich demnächst ein Projekt zur Funk Music anschließen wird) zu Riesenerfolgen wurden, haben wir entschieden: Das machen wir in vergleichbarer Form auch für die Country Music! Die ersten Folgen von 'Dim Lights, Thick Smoke And Hillbilly Music' befaßten sich mit den Jah- ren 1945 bis 1955 – jetzt setzen wir die Reise fort und bewegen uns dabei Richtung Nashville Sound.
Die Serie wurde auf Fans von heute zugeschnitten. Natürlich enthält sie die großen Hits; aber ebenso gibt es klassische Aufnah- men, die es damals nicht nach ganz oben geschafft haben und dennoch später einflußreich wurden. Jede CD glänzt mit bei- spielhaft detaillierten Erläuterungen aus erster Hand sowie mit sensationell seltenen Fotos. Und es wird aufgezeigt, wie sich die Country Music kontinuierlich weiterentwickelte, während es in anderen Bereichen des amerikanischen Musikgeschäftes deutli- che Verwerfungen gab. Jedes einzelne Booklet ist unglaubliche 72 Seiten stark! Also alles wie gewünscht: die definitive Serie!
Superlative werden zwar manchmal überstrapaziert – aber wir sind sicher: Die Serie ist Teil unserer Idee, diese Musik auch nach- gewachsenen Fans näherzubringen – und zugleich die Kenner gut zu unterhalten. Los geht es im Jahr 1956 – als die Country Music sich mit dem Rock'n'Roll arrangieren musste, der für Aufruhr sorgte....
Dim Lights, Thick Smoke And Hillbilly Music - Country & Western Hitparade
Read more at: https://www.bear-family.de/bear-family/country-serien/dim-light-thick-smoke-and-hillbillly-music/
Copyright © Bear Family Records
Bewertungen lesen, schreiben und diskutieren...
mehr
Kundenbewertungen für "1963 - Dim Lights, Thick Smoke And Hillbilly Music"
Von:
David G Martino
Am:
20.12.2020
Another good year to Country Music.
After 40's and 50's hillbilly and country music hits year by year, This series are the best way to welcome Nashville and Bakersfiels sounds with the same quality and cool product.
Von:
Redecker
Am:
13.03.2014
Die fünf CDs bringen die wichtigsten Lieder der Countrymusik der Jahre 1961-1965.
Oldiemarkt 2/12 M. Reichold
Bewertung schreiben
Bewertungen werden nach Überprüfung freigeschaltet.
Weitere Artikel von Various - Country & Western Hit Parade