Wer war/ist

Country & Western Hit Parade

? - CDs, Vinyl LPs, DVD und mehr
Dim Lights, Thick Smoke And Hillbilly Music
Country & Western Hit Parade

Diese Serie ist das Nonplus ultra, großartig aufgemacht und mit perfektem Mastering
Jack Clement, der Johnny Cash, Roy Orbison, Waylon Jennings, Don Williams und viele andere produziert hat, sagte: "Dies ist fraglos die beste Country-Serie der Musikgeschichte, kein Zweifel!" Und Robert Hilburn schrieb in der 'Los Angeles Times': "Dieses unschätzbar wertvolle Album-Projekt... ermöglicht es den Fans so zuzuhö ren, wie es schon Elvis Presley, Ray Charles und Bob Dylan taten."
Die Hits sind ergänzt um Raritäten, die die Country Music – und die Musik generell – in den Folgejahren be- einflußt haben: zum Beispiel Wanda Jacksons Originalversion von Silver Threads And Golden Needles, Carl Belews Original von Lonely Street und Chet Atkins' wegweisendes Walk, Don't Run.
Diese Serie ist konzipiert, um neue Hörer für das Beste zu gewinnen, das die Country Music je anzubieten hatte, aber auch um alte Fans bestens zu unterhalten. Jede einzelne CD steht für eine wunderbare Zeitreise.
Neben den Hits präsentiert die Serie viele Raritäten, die die Country Music – und die Musik generell – in der Folgezeit beeinflußt haben.
Wie alles begann: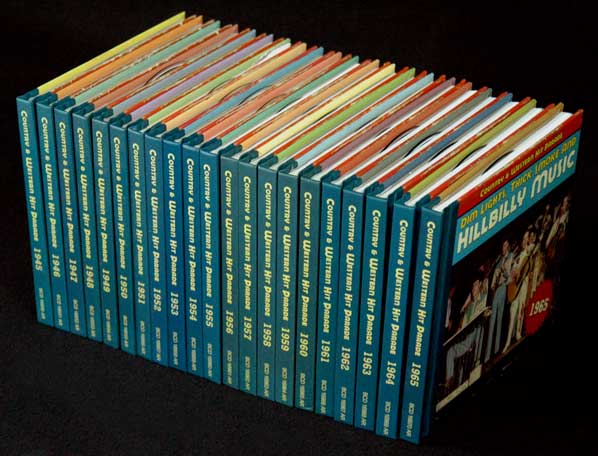 Seit vielen Jahren erhielten wir immer wieder Anfragen nach einer definitiven Country-Serie. Und nachdem unsere chronologisch sortierten R&B-/Soul-Reihen 'Blowin' The Fuse' und zuletzt 'Sweet Soul Music' (denen sich demnächst ein Projekt zur Funk Music anschließen wird) zu Riesenerfolgen wurden, haben wir entschieden: Das machen wir in vergleichbarer Form auch für die Country Music! Die ersten Folgen von 'Dim Lights, Thick Smoke And Hillbilly Music' befaßten sich mit den Jah- ren 1945 bis 1955 – jetzt setzen wir die Reise fort und bewegen uns dabei Richtung Nashville Sound.
Die Serie wurde auf Fans von heute zugeschnitten. Natürlich enthält sie die großen Hits; aber ebenso gibt es klassische Aufnah- men, die es damals nicht nach ganz oben geschafft haben und dennoch später einflußreich wurden. Jede CD glänzt mit bei- spielhaft detaillierten Erläuterungen aus erster Hand sowie mit sensationell seltenen Fotos. Und es wird aufgezeigt, wie sich die Country Music kontinuierlich weiterentwickelte, während es in anderen Bereichen des amerikanischen Musikgeschäftes deutli- che Verwerfungen gab. Jedes einzelne Booklet ist unglaubliche 72 Seiten stark! Also alles wie gewünscht: die definitive Serie!
Superlative werden zwar manchmal überstrapaziert – aber wir sind sicher: Die Serie ist Teil unserer Idee, diese Musik auch nach- gewachsenen Fans näherzubringen – und zugleich die Kenner gut zu unterhalten. Los geht es im Jahr 1956 – als die Country Music sich mit dem Rock'n'Roll arrangieren musste, der für Aufruhr sorgte....
Dim Lights, Thick Smoke And Hillbilly Music - Country & Western Hitparade
Read more at: https://www.bear-family.de/bear-family/country-serien/dim-light-thick-smoke-and-hillbillly-music/
Copyright © Bear Family Records
Copyright © Bear Family Records® Alle Rechte vorbehalten. Nachdruck, auch auszugsweise, oder jede andere Art der Wiedergabe, einschließlich Aufnahme in elektronische Datenbanken und Vervielfältigung auf Datenträgern, in deutscher oder jeder anderen Sprache nur mit schriftlicher Genehmigung der Bear Family Records® GmbH.
Weitere Informationen zu Country & Western Hit Parade auf de.Wikipedia.org