Der Artikel wurde erfolgreich hinzugefügt.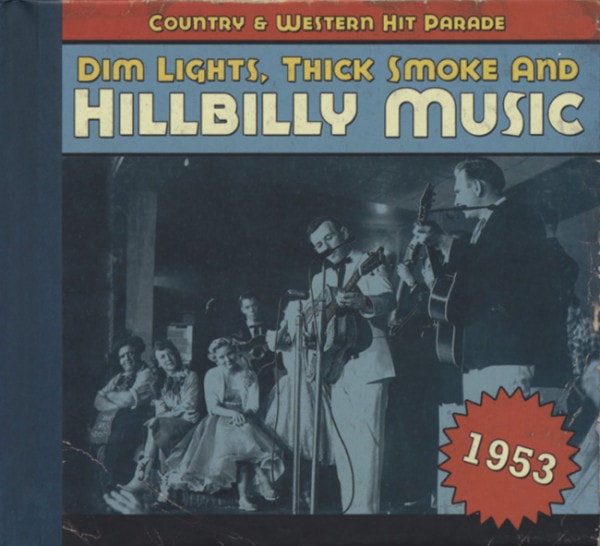 14,95 € *
16,95 € *
(11,8% gespart)
inkl. MwSt. / zzgl. Versandkosten - Abhängig vom Lieferland kann die MwSt. an der Kasse variieren.
Sofort versandfertig, Lieferzeit** 1-3 Werktage
1-CD-Album deluxe mit 72-seitigem Booklet, 28 Tracks; Spieldauer: 75:06 Minuten. Dim Lights,...
mehr
Various - Country & Western Hit Parade: 1953 - Dim Lights, Thick Smoke And Hillbilly Music
1-CD-Album deluxe mit 72-seitigem Booklet, 28 Tracks; Spieldauer: 75:06 Minuten.
Dim Lights, Thick
Smoke
And Hillbilly Music 1953".
Country &
Western
Hit Parade 1953
Ein Ereignis überragte 1953, und es geschah zwischen Mitternacht und Morgengrauen am 1. Januar. Irgendwo in West Virginia starb
Hank Williams
auf dem Rücksitz seines Cadillacs. Wie so oft gab es einen sofortigen Anstieg der Nachfrage nach seinen Platten, und MGM reduzierte seinen Release-Termin Mitte Januar von zwölf auf sechs Platten, um die Aufträge zu erfüllen. Das Werk in Bloomfield, New
Jersey
, arbeitete rund um die Uhr und drehte Hank um. Acuff-Roses zwei Hank Williams Song-Folios verkauften sich in der Regel um die 700 Exemplare im Monat, aber beide verkauften sich in den drei Wochen nach seinem Tod 5500 Exemplare. Dee-jays blockierte seine Musik in Segmenten von bis zu zwei Stunden. Die Tribute-Platten sind überflutet (wir haben eine Auswahl davon auf 'Songwriter To Legend', BCD 16286) und mehr als fünfundfünfzig Jahre später erscheinen die Tribute immer noch. Vermutlich hatte niemand jemals einen größeren Einfluss auf die Country-Musik.
In Bezug auf den Umsatz war Hank Williams nicht der meistverkaufte Country-Künstler seiner Zeit.
Eddy Arnold
und
Red Foley
haben ihn weit überflügelt, aber jüngere Künstler wurden vom Rätsel von Hank Williams so angezogen, dass sie nie von Arnold oder Foley angezogen wurden. Allerdings verdanken zwei der bahnbrechenden Künstler von 1953,
Jim Reeves
und
Marty Robbins
, Arnold viel mehr als Williams. Für Hank Williams war der Tod der beste Karriereschritt, den er je gemacht hat. Um eine Legende zu schmieden, würde es niemand besser machen. Innerhalb weniger Jahre mussten die meisten seiner Zeitgenossen herausfinden, wie sie mit Rock'n' Roll und dann dem Nashville Sound umgehen sollten. Hank war für beides schmerzhaft schlecht gerüstet, und der Tod ersparte ihm die Demütigung, es zu versuchen. Ironischerweise waren drei Künstler, die nach seinem Tod in den Vordergrund traten,
Hank Locklin
, Jim Reeves und
Webb Pierce
, älter als er. Sein Aufstieg und Fall war so kometenhaft gewesen.
Viele der großen Country-Hits von 1953 waren Uptempo-Neuheiten. Tatsächlich war RCAs meistverkaufte CD in allen Kategorien für ein paar Wochen Homer & Jethro's How Much Is That Hound Dog In The Window, aber wir haben sie zusammen mit Eddy Arnold's größtem Hit des Jahres, dem grob selbstverliebten Eddy's Song (der Text waren seine Titel aneinandergereiht), weggelassen. Wir haben auch Goldie Hills Antwortsong zu Don't Let The Stars Get In Your Eyes und Hank Thompsons Kinderreim Rub A Dub Dub weggelassen, die beide die Charts anführten. An ihrer Stelle haben wir mutigere, wenn auch schlechter verkaufte Songs wie Dim Lights, Thick Smoke And Loud, Loud Music und Let Me Go, Devil.
Der nächste Band dieser Reihe, der 1954 erscheint, markiert das Debüt von
Elvis Presley
, und obwohl Elvis auffallend originell war, gab es bereits etwas Aufregendes in der Country-Musik. 1953 veröffentlichte
Curtis Gordon
Rompin' And Stompin' (erhältlich auf einer Bear
Family
CD, die Gordons Werk gewidmet ist), Red Foley bedeckte
Faye Adams
' R&B-Hit Shake A Hand (verfügbar auf 'Sugarfoot Rag' in
Bear Family
's 'Gonna Shake This Shack' Serie), und sowohl Lucky Joe Almond als auch
Little Jimmy Dickens
bedeckten Piano Red's Rockin' With Red (letzteres auch auf Bear Family erhältlich). In diesem Sinne haben wir Merrill Moores Red Light und Tommy Duncans Coverversion von Big Mama Thorntons Hound Dog aufgenommen.
In der breiteren Industrie feierte 1953 den fünften Jahrestag der Einführung der LP, und in diesem Jahr übertrafen die Dollar-Verkäufe von LPs an Privatkunden die Dollar-Verkäufe von Singles und EPs (Zehn-Zoll-LPs verkauften immer noch 12-Zoll-LPs, aber bis 1955 würden die Verkäufe etwa 50/50 betragen). Natürlich kauften Jukebox-Betreiber nur Singles und die Ops machten immer noch einen großen Teil des Geschäfts aus, aber der Trend zu Langspielplatten nahm Fahrt auf. In Anbetracht dessen gründete Columbia Records seine Epic-Tochtergesellschaft hauptsächlich als LP-Label. Country-Musik war jedoch immer noch ein singlesgetriebener Markt, und das sind einige der besten Country-Singles von 1953.
Video von Various - Country & Western Hit Parade - 1953 - Dim Lights, Thick Smoke And Hillbilly Music
Artikeleigenschaften von

Various - Country & Western Hit Parade: 1953 - Dim Lights, Thick Smoke And Hillbilly Music
Albumtitel:

1953 - Dim Lights, Thick Smoke And Hillbilly Music

Genre

Country

Preiscode

AR

Edition 2

Deluxe Edition

Artikelart

CD

EAN:

4000127169587

Gewicht in Kg:

0.2
Various - Country & Western Hit Parade - 1953 - Dim Lights, Thick Smoke And Hillbilly Music

CD 1
01
The Death Of Hank Williams
Cardwell, Jack
02
Goin' Steady
Young, Faron
03
Your Cheatin' Heart
Williams, Hank
04
South In New Orleans
Johnnie & Jack
05
It's Been So Long
Pierce, Webb
06
Let Me Go, Devil
Bond, Johnny
07
Playin' Dominoes And Shootin' Dice
Cook, Red - Jimmy Richards and
08
(Now And Then There's) A Fool Such As I
Snow, Hank - The Singing Range
09
No Help Wanted
Carlisles, The
10
I'll Go On Alone
Robbins, Marty
11
You All Come
Duff, Arlie
12
I Forgot More Than You'll Ever Know
Davis Sisters, The
13
California Blues (Blue Yodel #4)
Frizzell , Lefty
14
Big Mamou
Davis, Link with Bennie Leader
15
Hound Dog
Duncan, Tommy
16
Run 'em Off
Wheeler, Onie
17
Crying In The Chapel
Glenn, Darrell
18
Mexican Joe
Reeves, Jim & the Circle O Ran
19
Let Me Be The One
Locklin, Hank - The Rocky Moun
20
Dim Lights, Thick Smoke (And Loud, Loud Music
Maphis, Joe & Rose Lee
21
Looking At The Moon And Wishing On A Star
Grayzell, Rudy
22
There Stands The Glass
Pierce, Webb
23
Hey Joe!
Smith, Carl
24
Red Light
Moore, Merrill
25
Country Gentleman
Atkins, Chet
26
Take These Chains from My Heart
Williams, Hank
27
Caribbean
Torok, Mitchell
28
A Dear John Letter
Shepard , Jean
Dim Lights, Thick Smoke And Hillbilly Music Country & Western Hit Parade Diese...
mehr
"Various - Country & Western Hit Parade"
Dim Lights, Thick Smoke And Hillbilly Music
Country & Western Hit Parade

Diese Serie ist das Nonplus ultra, großartig aufgemacht und mit perfektem Mastering
Jack Clement, der Johnny Cash, Roy Orbison, Waylon Jennings, Don Williams und viele andere produziert hat, sagte: "Dies ist fraglos die beste Country-Serie der Musikgeschichte, kein Zweifel!" Und Robert Hilburn schrieb in der 'Los Angeles Times': "Dieses unschätzbar wertvolle Album-Projekt... ermöglicht es den Fans so zuzuhö ren, wie es schon Elvis Presley, Ray Charles und Bob Dylan taten."
Die Hits sind ergänzt um Raritäten, die die Country Music – und die Musik generell – in den Folgejahren be- einflußt haben: zum Beispiel Wanda Jacksons Originalversion von Silver Threads And Golden Needles, Carl Belews Original von Lonely Street und Chet Atkins' wegweisendes Walk, Don't Run.
Diese Serie ist konzipiert, um neue Hörer für das Beste zu gewinnen, das die Country Music je anzubieten hatte, aber auch um alte Fans bestens zu unterhalten. Jede einzelne CD steht für eine wunderbare Zeitreise.
Neben den Hits präsentiert die Serie viele Raritäten, die die Country Music – und die Musik generell – in der Folgezeit beeinflußt haben.
Wie alles begann: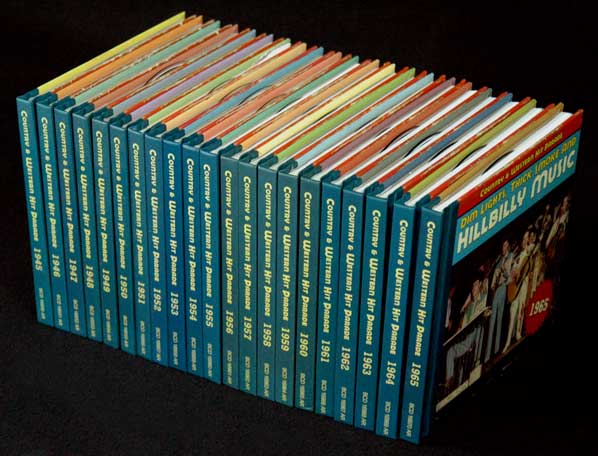 Seit vielen Jahren erhielten wir immer wieder Anfragen nach einer definitiven Country-Serie. Und nachdem unsere chronologisch sortierten R&B-/Soul-Reihen 'Blowin' The Fuse' und zuletzt 'Sweet Soul Music' (denen sich demnächst ein Projekt zur Funk Music anschließen wird) zu Riesenerfolgen wurden, haben wir entschieden: Das machen wir in vergleichbarer Form auch für die Country Music! Die ersten Folgen von 'Dim Lights, Thick Smoke And Hillbilly Music' befaßten sich mit den Jah- ren 1945 bis 1955 – jetzt setzen wir die Reise fort und bewegen uns dabei Richtung Nashville Sound.
Die Serie wurde auf Fans von heute zugeschnitten. Natürlich enthält sie die großen Hits; aber ebenso gibt es klassische Aufnah- men, die es damals nicht nach ganz oben geschafft haben und dennoch später einflußreich wurden. Jede CD glänzt mit bei- spielhaft detaillierten Erläuterungen aus erster Hand sowie mit sensationell seltenen Fotos. Und es wird aufgezeigt, wie sich die Country Music kontinuierlich weiterentwickelte, während es in anderen Bereichen des amerikanischen Musikgeschäftes deutli- che Verwerfungen gab. Jedes einzelne Booklet ist unglaubliche 72 Seiten stark! Also alles wie gewünscht: die definitive Serie!
Superlative werden zwar manchmal überstrapaziert – aber wir sind sicher: Die Serie ist Teil unserer Idee, diese Musik auch nach- gewachsenen Fans näherzubringen – und zugleich die Kenner gut zu unterhalten. Los geht es im Jahr 1956 – als die Country Music sich mit dem Rock'n'Roll arrangieren musste, der für Aufruhr sorgte....
Dim Lights, Thick Smoke And Hillbilly Music - Country & Western Hitparade
Read more at: https://www.bear-family.de/bear-family/country-serien/dim-light-thick-smoke-and-hillbillly-music/
Copyright © Bear Family Records
Bewertungen lesen, schreiben und diskutieren...
mehr
Kundenbewertungen für "1953 - Dim Lights, Thick Smoke And Hillbilly Music"
Bewertung schreiben
Bewertungen werden nach Überprüfung freigeschaltet.
Weitere Artikel von Various - Country & Western Hit Parade