Der Artikel wurde erfolgreich hinzugefügt.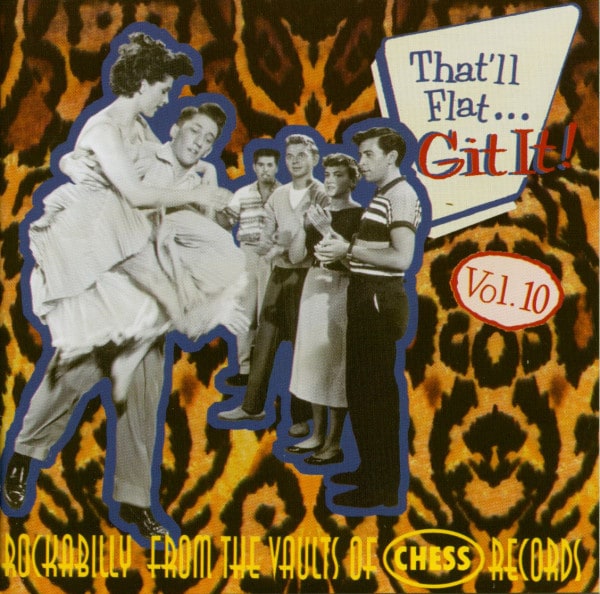 12,55 € *
15,95 € *
(21,32% gespart)
inkl. MwSt. / zzgl. Versandkosten - Abhängig vom Lieferland kann die MwSt. an der Kasse variieren.
Sofort versandfertig, Lieferzeit** 1-3 Werktage
Artikel-Nr.:

BCD16123

Gewicht in Kg.:

0.115
1-CD mit 52-seitigem Booklet, 31 Einzeltitel. Spieldauer ca. 73 Minuten. Leonard Chess...
mehr
Various - That'll Flat Git It!: Vol.10 - Rockabilly From The Vaults Of Chess Records (CD)
1-CD mit 52-seitigem Booklet, 31 Einzeltitel. Spieldauer ca. 73 Minuten.
Leonard Chess (richtiger Name Lazar Shmuel Czyz - ausgesprochen Chez) und sein jüngerer Bruder Philip. waren jüdische Einwanderer aus Polen, die sich 1928 in
Chicago
niederließen. Sie arbeiteten sich in das Spirituosengeschäft ein und besaßen in den 1940er Jahren mehrere Tavernen an Chicagos überwiegend schwarzer South Side, die Jazzmusiker und Jump-Blues-Bands anzogen. 
Durch den Mangel an Aufnahmemöglichkeiten für die in seinen Clubs gebuchten Künstler, kaufte Leonard Chess 1947 Evelyn Aron's Aristocrat-Label. Der Erfolg von
Muddy Waters
zog eine Menge bedeutender Chicagoer Bluesmänner zu dem Label, das 1950 seinen Namen in Chess änderte. Die Checker-Tochter wurde 1952 gegründet, Argo 1956.
Der Einfluss des Unternehmens auf den Rock'n' Roll und den englischen Beat-Boom war enorm: Ohne die Beiträge von
Chuck Berry
und By Diddley ist jede Landschaft kaum vorstellbar. Obwohl Berry als 'Rock-A-Billy Troubadour'  in der Notes zu seinem ersten Chess-Album beschrieben wurde, war Susie O Hitmaker
Dale Hawkins
der Chef-Rockabilly-Künstler des Unternehmens. Er ist hier mit seinem zweitgrößten Hit vertreten, aber auch einige andere Selektionen fallen in seinen Bann.
Die Chess-Brüder nahmen Bobby Sisco und Billy Barrio in Chicago in den Universal Studios von Bernie Clapper und einige der besten Tracks von Dale Hawkins in den Sheldon Studios auf, die über die markantesten und modernsten Echokammern verfügten. Aber in der Hauptsache kauften sie Meister aus den ganzen USA ein. Es gibt Aufzeichnungen aus Cincinnati, Nashville, Oklahoma
City
, Houston, New York, Oakland, Shreveport und Cleveland. Was auch immer die Quelle war, die Chess-Brüder sorgten dafür, dass ihre Veröffentlichungen durch ihre enge und gewinnbringende Beziehung zu Alan Freed, dem beliebten DJ, der bei einigen der ersten Pop-Hits des Labels, darunter Sincerely und Maybellene, mit Co-Komponisten-Gutschriften belohnt wurde, bekannt wurden.
Es war wahrscheinlich Freed, der Leonard Chess mit Gene Goodman, dem in New York ansässigen Besitzer von Regent Music, bekannt machte. Eine andere Geschichte legt nahe, dass, als Leonard in New York nach einem Deal suchte, Goodman (Bruder von Benny) war der einzige Verleger, der bereit war, mit ihm zu sprechen; alle anderen waren mit der Baseball-Weltserie beschäftigt. Jedenfalls gründeten die beiden Männer 1953 Arc Music. Diese hat das von Chess aufgenommene Material bearbeitet und schnell eine gut ausgestattete Bibliothek von Blues- und Rock-'n'Roll-Copyrights aufgebaut. Arc Music erwarb gewöhnlich die Hälfte der Veröffentlichungen von Meistern, die Chess gekauft hatte, und teilte sich damit das Eigentum an Songs mit Jimbo Music (Rock Yea), B Flat All Night Long), TJ (Why Did You Leave Me), Bon Bon Bon (Cool Off Baby), Ashna (Save /t), JEC (Little Girl, Little Girf) etc.
Leonard Chess verkaufte sein Label an General Recording Tape (GAT) für 6,5 Millionen Dollar im Jahr 1969 und starb an einem Herzinfarkt später in diesem Jahr. Er war 52. Die Chess-Brüder waren ursprünglich verwirrt von
Muddy Waters
' Slide-Gitarrenspiel und es gibt wirklich keinen Grund anzunehmen, dass sie Rockabilly mochten oder diesen winzigen Teil des Chess-Katalogs besser verstanden. Aber Leonard Chess war schlau genug, um Bobby Sisco in Dienst zu stellen ("Komm schnell rein.... du hast den
Carl Perkins
Sound und das ist es, was verkauft wird") und rücksichtslos genug, um einen Dale Hawkins Sound wie Maylon Humphries im Regal zu lassen.  (Bill Millar,
Bear Family Records
2000)
Video von Various - That'll Flat Git It! - Vol.10 - Rockabilly From The Vaults Of Chess Records (CD)
Artikeleigenschaften von

Various - That'll Flat Git It!: Vol.10 - Rockabilly From The Vaults Of Chess Records (CD)
Albumtitel:

Vol.10 - Rockabilly From The Vaults Of Chess Records (CD)

Genre

Rock'n'Roll

Preiscode

AH

Artikelart

CD

EAN:

4000127161239

Gewicht in Kg:

0.115
Various - That'll Flat Git It - Vol.10 - Rockabilly From The Vaults Of Chess Records (CD)

CD 1
01
Look Out Mabel
CROCKETT, G.I.
02
Sugaree
YORK, Rusty
03
Jet-Tone Boogie
JET-TONES
04
Go Go Go
SISCO, Bobby
05
Vacation's Over
JOSIE, Lou
06
Save It
ROBBINS, Mel
07
Rock Yea
SAINT, Del & DEVILS
08
All Night Long
FULLER, Johnny
09
Nothin' Shakin'
FONTAINE, Eddie
10
Love Me
LEE, Jimmy & Wayne Walker
11
Tall, Dark And Handsome Man
SISCO, Bobby
12
All Right
BRIDGES, Russell
13
True Love Come My Way
DIAMOND, Larry
14
Cool Off Baby
BARRIX, Billy
15
Sweet Talk
YORK, Rusty
16
Are You With Me
ROBBINS, Mel
17
Why Did You Leave Me
JOSIE, Lou
18
Roses Are Blooming
SILVA-TONES
19
Lazy Susan
BROTHERS
20
Worried About You Baby
HUMPHRIES, Maylon
21
La-Do-Dada
HAWKINS, Dale
22
Little Girl, Little Girl
FAIRLANES
23
Don't Ya Know
FONTAINE, Eddie
24
Crazy Love
GLASSER, Dick
25
Almost
BARRIX, Billy
26
Lealla
LONG, Joey
27
Chill Bumps
CANNON, Jackie
28
Breezin' Out
JOSIE, Lou
29
Old Black Joe
ADAMS, Jerry
30
Just Go Wild Over Rock & Roll
DEAN, Bobby
31
Worried About You Baby (alt)
HUMPHRIES, Maylon
That'll Flat Git It CDs Album-Serie produziert von Bear Family Records 'That'll Flat...
mehr
"Various - That'll Flat Git It!"
That'll Flat Git It
CDs Album-Serie produziert von Bear Family Records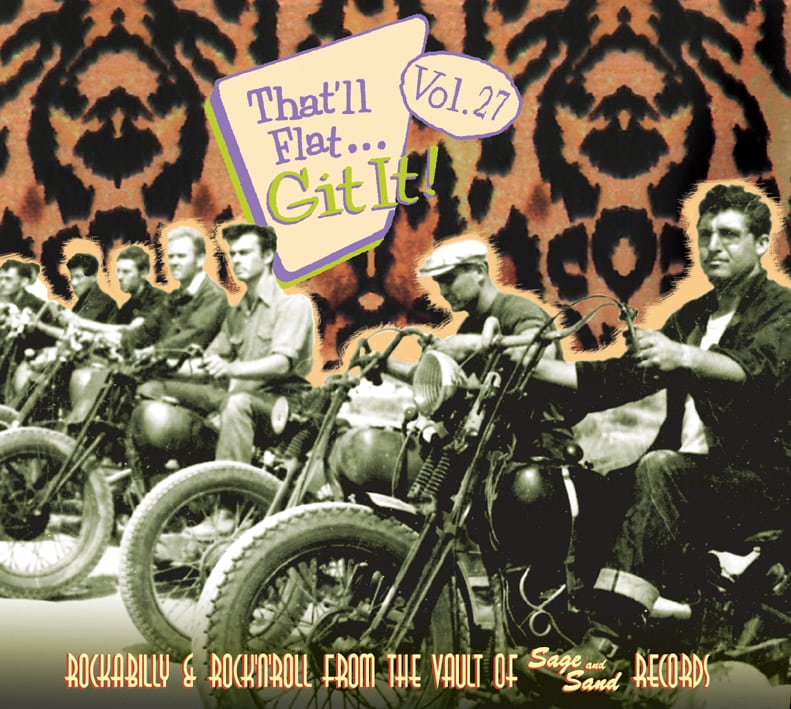 'That'll Flat Git It!' das war das verbale Erkennungszeichen des Memphis Disc Jockeys Dewey Phillip, der keinen geringeren als Elvis Presley erstmalig im Radio spielte... Und 'That'll Flat Git It' heisst unsere Bear Family Records Rockabilly CD-Album Serie! Wer kennt nicht die legendären Lanspielplatten wie die 'MGM Rockabillies', die 'Chess Rockabillies', die 'Rare Rockabilly' Zusammenstellungen der Firma MCA, oder die Columbia Zusammenstellungen. Alle Rockabillykracher, die auf diesen LPs enthalten waren, gibt es bei uns auf CD-Album plus mindestens doppelt so vieler weiterer Rockabilly Songs!
Einzigartige That'll Flat Git It! Rockabilly-Serie
Wir machten uns auf die Suche nach den am besten klingenden Bändern. Ließen sie dann von den führenden Mastering-Spezialisten bearbeiten und haben auch in puncto Verpackung neue Maßstäbe gesetzt. Als übergeordneten Serien-Titel wählten wir ' That'll Flat Git It!', das verbale Erkennungszeichen des ersten Rockabilly-Discjockeys Dewey Phillips.
Außerdem suchten wir unveröffentlichtes Fotomaterial und machten all jene Interpreten ausfindig, nach denen bis dahin vergeblich geforscht worden war.
Unterm Strich steht unsere einzigartige That'll Flat Git It! Serie
Bewertungen lesen, schreiben und diskutieren...
mehr
Kundenbewertungen für "Vol.10 - Rockabilly From The Vaults Of Chess Records (CD)"
Von:
Joachim
Am:
24.05.2017
All Right
nicht alles purer Rock-A-Billy aber klasse Rock & roll super qualität gruss aus Verden
Bewertung schreiben
Bewertungen werden nach Überprüfung freigeschaltet.
Weitere Artikel von Various - That'll Flat Git It!