Der Artikel wurde erfolgreich hinzugefügt.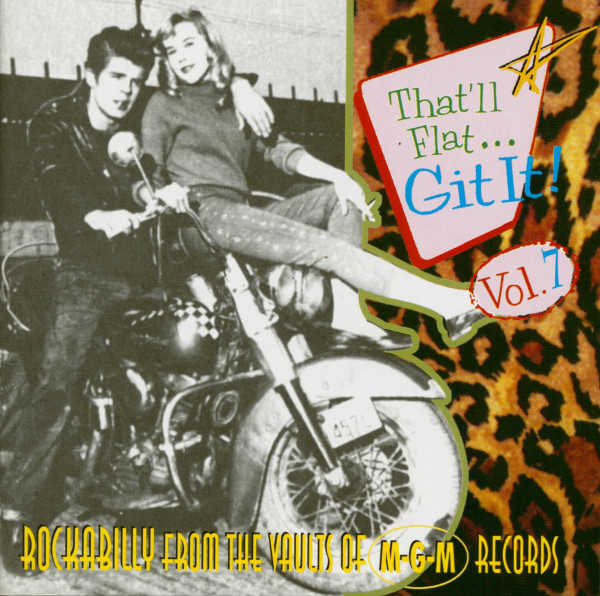 13,95 € *
15,95 € *
(12,54% gespart)
inkl. MwSt. / zzgl. Versandkosten - Abhängig vom Lieferland kann die MwSt. an der Kasse variieren.
Sofort versandfertig, Lieferzeit** 1-3 Werktage
Artikel-Nr.:

BCD15789

Gewicht in Kg.:

0.107
1-CD mit 44-seitigem Booklet, 30 Einzeltitel. Spieldauer ca. 70 Minuten. Ein ansteckender...
mehr
Various - That'll Flat Git It!: Vol.7 - Rockabilly From The Vaults Of MGM Records (CD)
1-CD mit 44-seitigem Booklet, 30 Einzeltitel. Spieldauer ca. 70 Minuten.
Ein ansteckender Beat, akzentuiert durch das Schlagen der Bass-Saiten; die gehackten Rhythmen der Akustikgitarre; eine gelegentliche zitterrnde Geige; glühende E-Gitarren-Soli und die schluckenden, nasalen, erfahrungsreichen Stimmen von echten Sam Hillbilly-Sängern. Das sind die Markenzeichen des besten Rockabilly, und dieses Album hat diese Zutaten in Hülle und Fülle. Die vielleicht authentischste Rockabilly-Kollektion bis heute, es gibt jede Menge echten, harten 'Bop'."

Worte, welche die "The MGM Rockabilly Collection" (der erste von zwei solchen Bänden) im Jahr 1977 einführten sind ebenfalls auf diese Anthologie anwendbar, die die besten Tracks beider Alben enthält und eine Handvoll Blue Collar Bopper aus derselben schwarz und gelb farbigen Quelle hinzufügt.
MGM Records war das Kind von Frank Walker. 1945 von der Muttergesellschaft Loew's Corporation beauftragt, eine Plattenabteilung zu gründen, erschienen 1947 Walkers erste Veröffentlichungen.
Der gebürtige New Yorker mit einem Hintergrund im Musiktheater hatte dennoch ein gutes Ohr für Country- und Bluesmusik.
Er war ein A&R-Mann für Columbia, Victor und V-Disc und wird für die Unterzeichnung von
Bessie Smith
und
Hank Williams
für Columbia bzw. MGM in die Geschichtsbücher eingehen. Es gab eine gerade Linie zwischen Hank Williams' Up-
Tempo
-Country-Dance-Songs und Rock'n' Roll.
Williams sorgte dafür, dass Country-Musik ein Teil von MGMs Zukunft war, und neben den vielen jugendlichen Sängern, die durch den Erfolg von Presley motiviert wurden, enthielt die Liste auch eine Reihe von Veteranen, die ihre Prinzipien in einem letzten verzweifelten Versuch, an Bord des Rockabilly-Zuges zu springen, kompromittierten.
Der Held dieser Serie ist nicht Frank Walker, der kurz vor der Pensionierung stand (
Marvin Rainwater
dachte, er sei ein wenig senil) oder Wesley Rose (der MGM-Produzent, der behauptete, wenn Hank Williams dort gelebt hätte, hätte es keinen Rock'n' Roll gegeben) oder sogar Jim Vienneau (der Land-A&R-Mann des Unternehmens, dessen Hauptqualifikation für den Job zu sein scheint, dass er Frank Walkers Nachbar auf Long Island war).
Die Hörer müssen stattdessen in Richtung Gainesville, Texas, nicken, nur wenige Kilometer von der Grenze zu Oklahoma entfernt, wo Joe M. Leonard
Buck Griffin
und
Andy Starr
für sein kleines Label Lin Records aufnahm. Leonard, ein wohlhabender Ölmann nach Starr, leitete auch KGAF in Gainesville und förderte persönliche Auftritte von jungen Rockabilly-Hoffnungen, darunter Elvis, dessen Sun-Singles sich in Nord-Texas noch nicht durchgesetzt hatten.
In einer Bewegung, die an Presleys Deal mit RCA Victor erinnert, platzierte Leonard Andy Starr auf MGM in Übereinstimmung mit den Aberbach Brothers und ihrem New Yorker Verlagshaus Hill and Range. Die Versprechungen der Presley-Skala Förderung wurden jedoch nicht erfüllt und Starr schmachtete in unverdienter Dunkelheit wie Buck Griffin, der in Starrs Fußstapfen zu MGM trat.
Andere Künstler auf Leonards kleinem, aber beeindruckendem Label landeten auf Imperial, darunter Ken Copeland, der Balladesänger, der 1957 zum Evangelisten wurde, dessen Pledge Of
Love
die Top 20 anstieß, und
The Strikes
, die wenig bekannte, aber beeindruckende Band, die so viel zu Andy Starrs Sound beitrug.
(Bill Millar,
Bear Family Records
BCD15789)
Artikeleigenschaften von

Various - That'll Flat Git It!: Vol.7 - Rockabilly From The Vaults Of MGM Records (CD)
Albumtitel:

Vol.7 - Rockabilly From The Vaults Of MGM Records (CD)

Genre

Rock'n'Roll

Preiscode

AH

Artikelart

CD

EAN:

4000127157898

Gewicht in Kg:

0.107
Various - That'll Flat Git It - Vol.7 - Rockabilly From The Vaults Of MGM Records (CD)

CD 1
01
Rockin' Rollin' Stone
STARR, Andy
02
Rock And Roll Fever
CAMPBELL, Cecil
03
Mr. Blues
RAINWATER, Marvin
04
Watchin' The 7:10 Roll By
GRIFFIN, Buck
05
Rootie Tootie
BERRY KIDS
06
My Square Dancin' Mama
GALLION, Bob
07
Rock Doll
EARLY, Bernie
08
Long Black Train
TWITTY, Conway
09
The Rocking Guitar
CAMPBELL, Cecil
10
Go, Go, Go, Right Into Town
BERRY KIDS
11
Rockin' Chair On The Moon
WELLINGTON, Rusty
12
Round And Round
STARR, Andy
13
Your Kisses Kill Me
EARLY, Bernie
14
Latch On
HARGRAVE, Ron
15
Country Cattin'
SWAN, Jimmy
16
Love Me, Love
BERRY KIDS
17
Dixieland Rock
CAMPBELL, Cecil
18
Hot And Cold
RAINWATER, Marvin
19
Stutterin' Papa
GRIFFIN, Buck
20
There's Good Rockin' Tonight
WILLS, Billy Jack
21
Baby, Love Me
GALLION, Bob
22
Big Money
DAVIS, Paul
23
Buttercup
HARGRAVE, Ron
24
You're My Teen Age Baby
BERRY KIDS
25
Cuddle Lovin' Baby
CHARLEY & JUNIOR
26
All She Wants To Do Is Rock
WILLS, Billy Jack
27
Let's Go Rock 'n' Roll
SANDY, Frank
28
I Wanta Waltz
BLACKMON, Thelma
29
Drive-In Movie
HARGRAVE, Ron
30
Rockin' And Rollin' With Grandmaw
ROBISON, Carson
That'll Flat Git It CDs Album-Serie produziert von Bear Family Records 'That'll Flat...
mehr
"Various - That'll Flat Git It!"
That'll Flat Git It
CDs Album-Serie produziert von Bear Family Records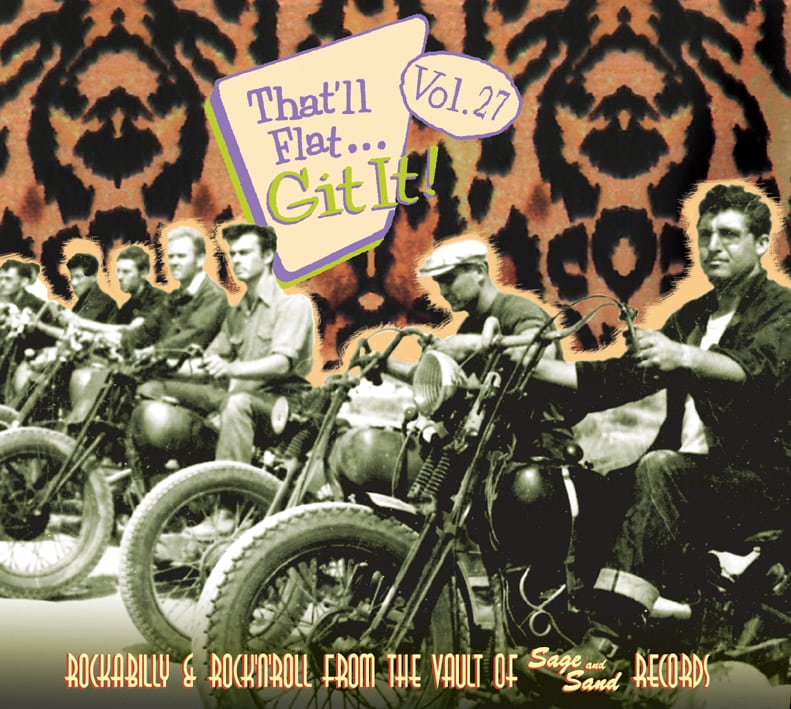 'That'll Flat Git It!' das war das verbale Erkennungszeichen des Memphis Disc Jockeys Dewey Phillip, der keinen geringeren als Elvis Presley erstmalig im Radio spielte... Und 'That'll Flat Git It' heisst unsere Bear Family Records Rockabilly CD-Album Serie! Wer kennt nicht die legendären Lanspielplatten wie die 'MGM Rockabillies', die 'Chess Rockabillies', die 'Rare Rockabilly' Zusammenstellungen der Firma MCA, oder die Columbia Zusammenstellungen. Alle Rockabillykracher, die auf diesen LPs enthalten waren, gibt es bei uns auf CD-Album plus mindestens doppelt so vieler weiterer Rockabilly Songs!
Einzigartige That'll Flat Git It! Rockabilly-Serie
Wir machten uns auf die Suche nach den am besten klingenden Bändern. Ließen sie dann von den führenden Mastering-Spezialisten bearbeiten und haben auch in puncto Verpackung neue Maßstäbe gesetzt. Als übergeordneten Serien-Titel wählten wir ' That'll Flat Git It!', das verbale Erkennungszeichen des ersten Rockabilly-Discjockeys Dewey Phillips.
Außerdem suchten wir unveröffentlichtes Fotomaterial und machten all jene Interpreten ausfindig, nach denen bis dahin vergeblich geforscht worden war.
Unterm Strich steht unsere einzigartige That'll Flat Git It! Serie
Bewertungen lesen, schreiben und diskutieren...
mehr
Kundenbewertungen für "Vol.7 - Rockabilly From The Vaults Of MGM Records (CD)"
Bewertung schreiben
Bewertungen werden nach Überprüfung freigeschaltet.
Weitere Artikel von Various - That'll Flat Git It!